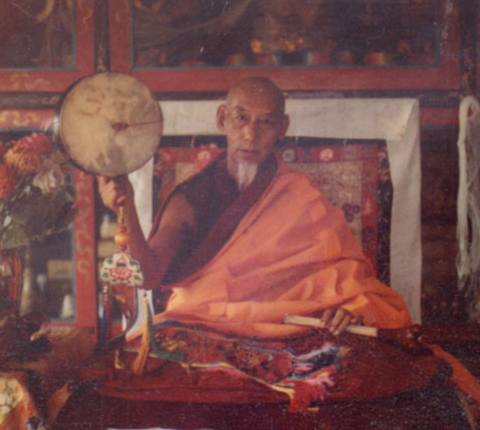 Kyabje Zong Rinpoche Zongtrul Jetsun Losang Tsondu Thupten Gyaltsen was born in 1905 in the Tibetan province of Kham in the female wood serpent year. He entered Ganden Shartse Monastery at the age of eleven. The late HH Kyabje Trijang Rinpoche, who was then fourteen years old, helped the new incarnate lama by going with him through his first lesson in elementary dialectics; he was later to become his chief mentor. At twenty five Zong Rinpoche entered the geshe lharampa examinations of the famous Lhasa Monlam ceremonies. He was extremely successful.
This would be followed by an equally successful examination at Gyuto Tantric College. After these crowning achievements, which marked the completion of his studies, Kyabje Zong Rinpoche's name as an accomplished scholar became firmly established. Some months following his studies, Zong Rinpoche was appointed abbot of Ganden Shartse Monastery, the seat of which he held for nine years.
In the following year he went to the Tantric College of Gyutö for further studies and in 1937 he became abbot of the Shartse college, putting special emphasis on the art of debate, monastic disciplin and the performance of tantric rituals. In 1946, he resigned from the abbot's throne to work as a magician against black magic, disturbances caused by various ghosts (Pretas) and lower gods, became a 'weather-maker', performed many fire rituals and lived in different parts of Tibet, being on a kind of continuous pilgrimage. So his name spread all over the country of being a powerful tantrician and he gave many empowerments and teachings on those subjects with a special emphasis on the tantras of Heruka, Hayagriva, Yamantaka, Gyelchen Shugden, Guhyasamaja, Vajrayogini, White Tara, Vaishravani and others. As a philosopher he was a follower of the Middle-Way school and gave many teachings on Madhyamika and Abhidharma.
In 1959 following the Chinese invasion he went to India and worked there as a teacher at Serme College, in 1965 as principal of a college in Mussoorie, 1967 as principal of the Institute of Higher Tibetan Studies and in 1970 he settled at Mundgod in South India. He was also know as a talented astrologer and artist. Since 1978, on the request of Lama Yeshe he travelled together with Lama Yeshe and Lama Zopa on several world tours to give tantric teachings, empowerments as well as sutra teachings.
Zong Rinpoche passed away the 15th of november 1984. His new incarnation was born in the Kullu valley (place in Northern India), later on duly recognized by His Holiness the Dalai Lama and enthroned at Ganden Shartse monastery in India. Like his previous incarnation he also shows many heart moving signs confirming that he is the real Zong Rinpoche and has only changed his physical outlook. The present Zong Rinpoche is currently fully engaged in the study of Sutra and Tantra at Ganden Shartse Monastic University under the care of Khensur Lati Rinpoche.
---
MORE GREAT BIOGRAPHIES: