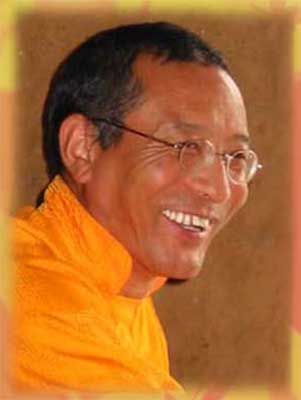 Zasep Jamseng Rinpoche
Zasep Tulku Rinpoche, the thirteenth and present incarnation, was born in the year of the Earth-Ox-with-golden-nose-ring on July 1, 1948. His father's name was Karma Dugdak, and his mother's name Paltso.
As Jetrung Rinpoche had predicted, the father had been born in the Tiger year and his mother in the Bird year. Prior to his birth, Paltso had auspicious dreams and during his birth she experienced no pain. The family had very good dreams, and the whole of Gerjel province had a fine year with no pestilence or disease and good seasonal weather. The high Kagyu, Sakya and Gelug lamas recognised Zasep Tulku when he was born and pointed out, referring to the miraculous signs that had appeared at his birth, that he was a very highly realised and powerful Rinpoche.
Installation at Zuru Gompa
Until the age of five, Zasep Tulku remained at home. He was then taken on horse in procession to Zuru Gompa. As he entered the gompa he passed between rows of musicians playing sacred instruments and was escorted into the temple under an ornamented victory umbrella. He was installed with great ceremony. Thousands of people came to Zuru Gompa to meet young Zasep Tulku, to receive blessings and to make offerings. Rinpoche received the robes, hats and bowl of the previous incarnation.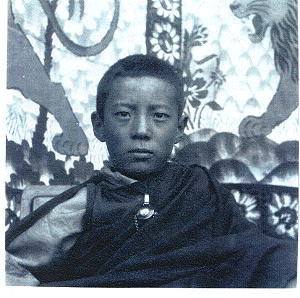 He stayed for two years in Zuru Gompa and learned the alphabet, the many daily prayers of Zuru and the Tunzhi prayer. He liked to read the One Thousand Songs of Milarepa (Mila Gurbung) and the Sutra of Great Liberation (Tharpa Chenpodo).
When he was seven, Zasep Tulku visited his parents and the people of his village. His family invited his uncle, a renowned Kagyupa teacher who had meditated in seclusion for nineteen years, to his home to meet him. From this holy lama, the Venerable Sachyu Tulku, Zasep Tulku received Amitayus (Tib. Tsepame) long life and Tara (Tib. Drolma) initiations.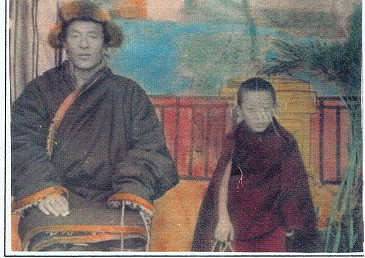 Rinpoche's grandfather took him to Tashi Lhapug Gompa to study. Tashi Lhapug, where there were 700 monks, is the largest monastery of the Gelug order in that area. Here Zasep Tulku took eight precepts and robes from the holy Gelug lama Chonjor Gyaltso. He received the name Jamyang Thubten Lodro.
Lama Chonjor Gyaltso Mahasiddha was a disciple of the great Pabongkha Dechin Nying Po. He became oracle of Damchen Chogyal or Kalarupa, the Dharma Protector of the Gelugpa Lineage, an emanation of Yamantaka. He had completed the 108 Cemetery meditations and had meditated by 108 springs so as to help the cemetery beings and nagas. He gave many blessings to Zasep Tulku.
Zasep Tulku studied and meditated at Tashi Lhapug and received Yamantaka (Tib. Dorje Jigje Pawo Chikpa) initiation from the great Bodhisattva Lama Lodro Dragpa.
To Lhasa and Sera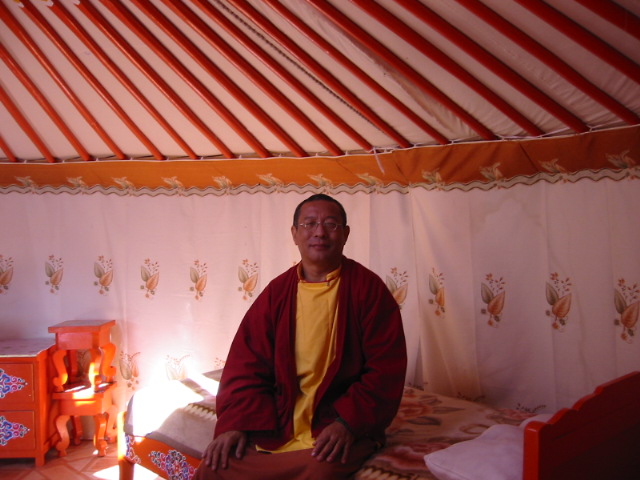 At the request of the many Kagyupa monks at Zuru, he returned to learn Kagyu practice from Lama Trinlay Konchob. From Geshe Tsegyam, a Kagyupa monk who had studied at Sera, he received teachings on Je Tsongkhapa's Lam Rim.
Zasep Tulku left Zuru Gompa in the spring of 1957, due to bad conditions existing in Kham province following the communist invasion of that year. He was accompanied on a journey to Lhasa by his uncle.
On the way to Lhasa, Zasep Tulku stayed for three months at Nalanda, a Sakyapa monastery, to receive detailed teachings. He felt great devotion for the Sakyapa teachings. From the abbot, Lama Zinwog Dorjechang, he received an Amitayus initiation.
In Lhasa he met His Holiness Yongzin Trijang Rinpoche, who was the junior tutor of His Holiness the Dalai Lama. He was one of the greatest Lamas in this century. Yongzin Trijang Dorjechang, a very holy yogi Bodhisattva who has total clairvoyance, immediately recognised Zasep Tulku as the incarnation of Konchog Gyurme. He suggested that Zasep Tulku go to Sera Monastic University to further his studies and learn Madhyamika philosophy.
On his arrival at Sera, Zasep Tulku entered Sera Je Tratzang where he was installed as a lama with great ceremony. From Geshe Jampa Chogdup he received teachings on Pramanavatika by Dharmakirti.
In 1958, Sera Ngapa Tratzang (the Tantric College) invited Yongzin Trijang Dorjechang to the college to give initiations. From this holy lama, Zasep Tulku – then ten years old – received Guhyasamaja Akshobhya Vajra, Heruka Tilbu Lhanga, Thirteen Deities of Yamantaka, and Kunrig Yoga Tantra initiations.
At the end of 1958, Zasep Tulku went on a pilgrimage for six months. He visited Tashilhunpo Monastery, the Sakya monastery, and Tingri Langkor, the temple of Pha-Dampa Sangye (the lineage holder of Chod practice. He was the Guru of Machig LabKyi Dolma.) Tingri is the town on the Tibetan slope of Mount Everest where the great yogi Pha-Dampa Sangye taught.
Then Rinpoche and his party went to Mount Kailash. At this holy mountain Zasep Tulku made two months of Ngondro (preliminary practices) including prostrations, and a Migtsema retreat. He went to three of Milarepa's caves: Zurtrul Pug (manifestation cave), Dra Pug (yak horn cave), and Choku Pug (Dharmakaya cave). He then returned to Sera.
Escape from Tibet
Three months later the communists invaded Lhasa. Zasep Tulku escaped from Sera walking by night across the monolithic mountain range between Lhasa and Penpo. He went to Nalanda Gompa for two days. In order to escape the communists he continued by horse across the great western grass plains of Tibet, carrying only a tent and a few possessions. His small party had to go many days without food. They turned south and traveled by day and night to cross the Nepalese border at Mustang, into freedom.
At Mustang's border is the holy pilgrimage town of Muktinath. Zasep Tulku stayed there for three months to do another set of Ngondro and a Guru Yoga retreat. Rinpoche's mother passed away near Mustang due to illness and the Chinese taking away and jailing of Rinpoche's father.
Rinpoche then went to Kathmandu to see the three great stupas of Swayambhunath, Boudhanath and Namo Buddha. At Parping, the holy place of Vajrayogini (Tib. Dorje Naljorma) and Padmasambhava, he made more prostrations and mandala offerings.
In the small Nepalese village behind the Great Stupa of Boudhanath, Zasep Tulku did a five-month Vajrasattva (Tib. Dorje Sempa) and Guru Yoga retreat.
In 1961, he went to Dharamsala in north India. Here he rejoined his kind and holy teacher, the Venerable Trijang Dorjechang and met Yongzin Ling Rinpoche again. In the same year he took Getsul (novice monk) ordination from Trijang Rinpoche.
The Ven. Geshe Thubten Wanggyel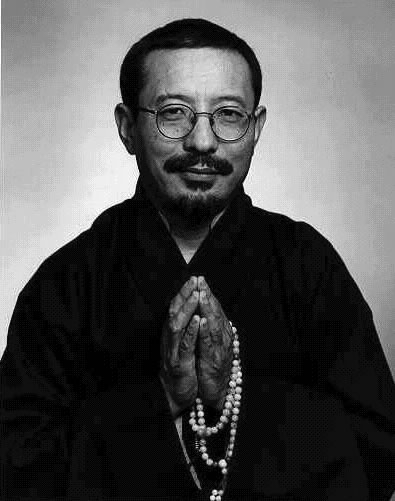 Wanting to practice Dharma very strongly, Zasep Tulku asked Trijang Rinpoche where to go to receive further teachings on Sutra and Tantra. Trijang Rinpoche told him to go to Dalhousie in the high Himalayas to live and study with Geshe Thubten Wanggyel, a highly realised being. When Trijang Rinpoche mentioned the name of this great teacher, Zasep Tulku felt very happy because of a strong karmic connection existing between them.
Zasep Tulku arrived at the home of Geshe Thubten Wanggyel on the morning that Geshe was completing his six-month Demchog (Sri Heruka) retreat with a fire puja. Although Zasep Tulku had not seen Geshe Wanggyel before, great faith and devotion rose in him at their meeting and he made request to stay with Geshe to meditate and receive teachings. Geshe happily accepted Zasep Tulku as his disciple. Geshe-la said, "I'm honored to accept you as my student because my root Guru Trijang Dorjechang sent you to me. Trijang Dorjechang knows that we will develop good teacher and student relationship."
Geshe Thubten Wanggyel lived in an austere and simple manner. He had few possessions, as he had totally abandoned the eight worldly dharmas. Zasep Tulku studied with him for ten years and during that time received teachings on the Pramanavatika, Prajnaparamita, Madhyamika, Abhidharma, Vinaya and Tzong Khapa's Lam Rim. He also received many profound Tantric teachings.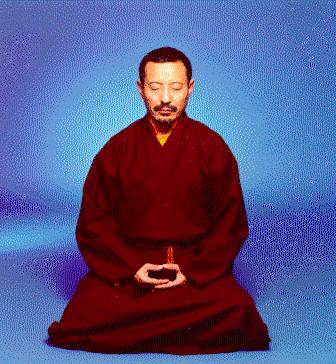 Almost every winter for ten years, Zasep Tulku did four months' retreat with his teacher in the mountains above Dalhousie. He and his guru lived in an old colonial English cottage called Bright View, from which they could see the whole Himalayan chain. Sometimes the snow against the cottage was eight feet deep and they couldn't open the door in the morning. Zasep Tulku did Lam Rim, Bodhicitta and Shunyata retreats as well as Chenrezig, Tara, Vajra Yogini, Yamantaka and other daily retreats.
During the summer, Zasep Tulku received teachings on five different texts simultaneously. At night he meditated and recited sadhanas with Geshe Wanggyel. Having been taught a technique of quiescence and concentration meditation one day, Zasep Tulku would be questioned the following day about his meditation experience. If his answer was not satisfactory, Geshe asked him to practice more and more. Geshe was wrathful and he was a very strict teacher. Zasep Tulku was known as a good student and practitioner.
One evening Zasep Tulku was very tired and as he was meditating in front of Geshe, he started to drop off to sleep. Geshe picked up the small mud butter lamp, his daily offering to the Triple Gem, and threw it at Zasep Tulku. The lamp hit his head and broke into many pieces. Zasep Tulku wrapped his upper robe around his injured head to stop the blood. Seeing this, Geshe beat him and kicked him out of the house. Zasep Tulku had great devotion to his teacher and took his teacher's harsh treatment as a blessing and initiation.
Early the next morning he went to Geshe's house and made prostrations before him. Geshe laughed for minutes, then patted Zasep Tulku on the head and gave him his old mala (rosary) as a blessing. That whole day Zasep Tulku was especially happy; his meditations were good and he realised that his teacher had helped him to quickly purify much bad karma. Geshe was a very loving and humble Bodhisattva. Zasep Tulku understood that these beatings were only for his own benefit, and although they caused physical pain, they never made him unhappy.
Geshe used to say, "After overcoming many physical difficulties and mental hindrances with enthusiasm and calm perseverance, your mind will naturally open, revealing its inner radiance, just as the Blue Lotus which remains closed by the pale light of the moon opens as the sun rises to reveal its true beauty and splendor."
In 1966, Zasep Tulku received the transmission of the complete works of Tsongkhapa on Sutra and Tantra from Pangnang Rinpoche and the transmissions of four volumes of Gyaltsab-je, a disciple of Tsongkhapa. In addition, he received the transmission of eight volumes of Kadruje and the transmission of Getongpa (Prajnaparamita in 8,000 verses.)
Teachings from High Lamas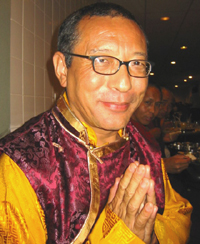 Zasep Tulku received the complete Guhyasamaja initiations, commentary on Kye Rim and Tzog Rim (generation and completion stages) of Guhyasamaja practice, and transmission of the Sri Guhyasamajamahatantraraja (Guhyasamaja root text). He received Six-Armed Mahakala (Tib. Gonpo Chakdruk) initiation. In 1968, he received the complete teachings on the Lam Rim Chenmo and teachings on the Gaden Lha Gya Ma with commentary by the Seventh Dalai Lama, and he was ordained Gelong (complete monk's ordination) that same year.
In 1970, he received the Kalachakra initiation and again received teachings on Lam Rim Chenmo. In 1971, he received the complete Lama Chopa (Guru Yoga) teachings and teachings on the Mahamudra root text with commentary by the Second Panchen Rinpoche. In 1973, he again received the Kalachakra initiation and the Chenrezig Wangchen.
From His Holiness Yongzin Trijang Dorjechang he received Guhyasamaja initiations in 1964. In 1965, he received Lam Rim teachings, Bodhicitta Thought Training, Eight-verse Training of the Mind, Thirty-Seven Practices of the Bodhisattvas by Thogmed Zangpo, and Atisha's Lam Rim. He also received the complete Lama Chopa, and Vajrasattva initiation and teachings.
In 1966, he received the complete set of Heruka five deities and body mandala initiations and teachings. He received all the Vajrayogini initiations and teachings several times and transmissions, and the set of Twenty-one Taras initiation as well as Chenrezig initiation. He received initiations of Amitayus and White Heruka for Long Life. Rinpoche also received very special teachings on the uncommon inconceivable yoga practice of Vajrayogini. This teaching is only given to three students at one time. Rinpoche alone received this teaching when he was about eighteen.
From His Holiness Kyabje Ling Rinpoche he received all the Yamantaka initiations and teachings on the commentaries as well as transmission of the Yamantaka Tantra root text. He received Gaden Lhargyame teachings. At Bodhgaya in 1969, he received Lam Rim Chenmo teachings and White Tara (Tib. Drolma Karmo) initiation. In 1972, he received the complete Lama Chopa teachings. Rinpoche received initiation of Amitayus, Chenrezig, Vajrayogini, Guhyasamaya, Haryagirva, King Garuda and Vajrapani. He received commentaries on Lojong and Samayavajra.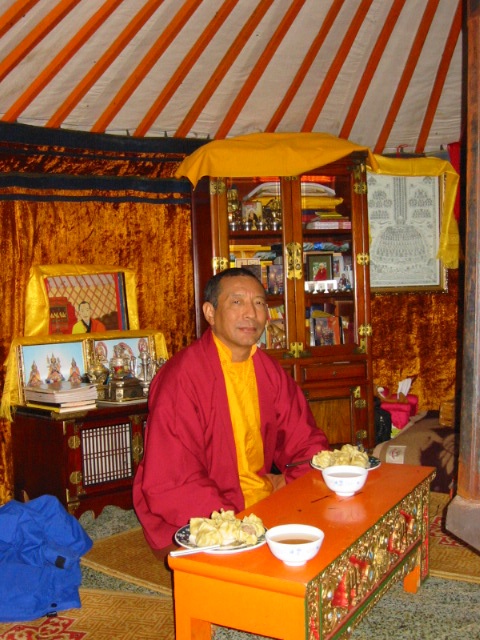 Rinpoche also received one of the very rare sacred teachings called The combination practice of peaceful and wrathful Manjushri (Tib. Jamyang Zhe Tro Drag Drup Thun Moomg Ma Yin Pa.) Not many people know about this teaching; few Lamas have received this teaching. According to the Gelug tradition, you have to wait for a long time in order to receive this teaching. One has to wait for three years, three months and three days. Each year you have to make new request to the lamas.
Five Lamas made this request to H.H. Ling Rinpoche: Ven. Zasep Rinpoche, his teacher Ven. Geshe Thupten Wanggyel, Ven. Sha Ko Ken Rinpoche, Ven. Ja Moon Rinpoche, and Ven. Jhampa Kelsang Rinpoche. After three years, three months and three days waiting, a letter arrived from H.H. Ling Rinpoche saying, "Now it is time for you to come and receive this teaching."
The five Lamas traveled to Dharamsala from Dalhousie. It was a great honor and happiness to receive this rare sacred teaching. The actual duration of receiving this teaching was less than three hours. H.H. Ling Rinpoche lent his own text for them to copy by hand. The text is not allowed to be printed or published.
Rinpoche's other teachers are Kyabje Zong Rinpoche, Ven. Lati Rinpoche, Ven. Tara Tulku Rinpoche, and Ven. Khalkha Jetsun Dampa Rinpoche.
From H.H. Kyabje Zong Rinpoche, he received the initiations of Chakrasamvara Five Deities and Body Mandala, Vajrayogini, Cittamani Tara, and Chöd. He received the commentaries on Chittamani Tara, Chod according to Gaden Ear Whispered Lineage, and Six Yogas of Naropa according to Lama Je Tsongkhapa.
From Tara Rinpoche, he received initiations of Hayagriva Sangdrup, Guhyasamaya, Vajrasattva, White Manjushri, and Six-Armed Mahakala.
From Ven. Lati Rinpoche, he received the initiations of Chakrasamvara Five Deities and Body Mandala, Orange Manjushri, Medicine Buddha, White Heruka, Goddess Svarasvati, and Dharmapala Sher Tab Chen.
From Ven. Khalkha Jetsun Dampa Rinpoche, he received Chöd initiations and teachings of Gelugpa tradition. The initiations of Chöd according to Gaden Ear Whispered Lineage and Dakini Ear Whispered Lineage. He also received initiation of Chöd according to Kagyu Lineage. Rinpoche received Kurukule initiation from Ven. Khalkha Jetsun Dampa Rinpoche.
The above teachings and initiations are only the most important ones Zasep Tulku received.
Studies, Travels and Teachings
Zasep Tulku studied for three years at Varanasi and received his Acharya (Master's) degree.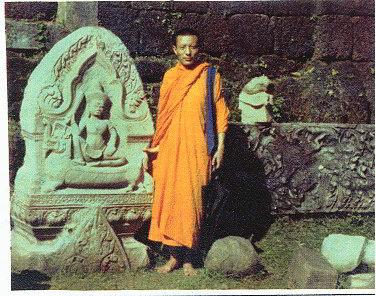 In 1975, he went to Thailand where he stayed for eighteen months, and practised vipassana and anapanasati in many forest temples, as well as studying with Achaan Buddhadasa at Wat Swanmokkhaballaram.
He was then requested by Lama Thubten Yeshe to come to Australia to act as translator for His Presence Geshe Thubten Loden. Accordingly he arrived at Chenrezig Institute for Wisdom Culture in mid-1976.
During his three-year stay in Australia, Zasep Rinpoche traveled widely, giving Lam Rim meditation courses in Sydney and Melbourne and lectures in Adelaide and Linsmore College, Sydney. His Tasmanian students established near Devonport Darjeerling Retreat Centre in Lorinna, and in New South Wales the Tenzin Ling retreat centre was formed under his direction, near Quaama.
Rinpoche is spiritual head of Tashi Choling Centre in Hobart, Dharma Foundation of Tasmania, Tenzing Ling Centre in Quaama, Lobsang Gyalwa Mandala in Sydney and Tang Soo Tai Martial Arts Centre in Mooroochydore in Queensland, Australia and Vajra Ling Centre in Uralla, N.S.W. Since 1984, Rinpoche goes to Australia every second year to teach at various centres.
The Move to Canada
After being invited to Canada by his students and relatives there, Zasep Rinpoche arrived in early 1980. He took up residence in Nelson, British Columbia, where he gave a six-week course on the theory and practice of Buddhism at David Thompson University.
In the fall of 1980, His Holiness Ling Rinpoche arrived in Toronto at the same time as Zasep Rinpoche. During that time, many students requested H.H. Ling Rinpoche for his permission and blessing in creating a centre for the Gelug order. His Holiness gave the centre the name Gaden Choling Mahayana Buddhist Meditation Centre and appointed Zasep Rinpoche as the resident teacher.
Once the centre was well-established, Zasep Rinpoche invited His Holiness Zong Rinpoche, who came to teach in Toronto in the spring of 1981. His Holiness was very pleased about Dharma activity in Toronto.
In July 1981, the growing centre occupied a house in which regular teachings could be held. Since then, Rinpoche has given many teachings at Gaden Choling, including Lam Rim (the gradual path to enlightenment), the Bodhisattvacharyavatara (Shantideva's Guide to the Bodhisattva's Way of Life), teachings on death, rebirth and the intermediate state, Buddhist logic and debate, Kalachakra sadhanas, seven-point thought transformation, Mahamudra teachings, and the Four Foundations (Ngondro).
He has also given Chenrezig, Manjushri, Vajrapani, Medicine Buddha, White and Green Tara initiations, White Manjushri, Svarasvati, Mahakala, White Dzambala, Vajrasattva, Heruka, Yamantaka, Vajrayogini, and Cittamani Tara many times. He also gave a commentary on the sadhana of Yamantaka, Vajrayogini and Cittamani Tara, and led weekend retreats, and has given private teachings for individual students, both formally and informally.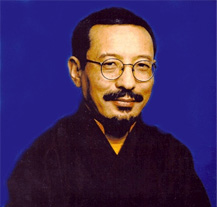 Since Zasep Rinpoche arrived in Canada, his students there have started four other centres: Tashi Choling in Nelson, Zuru Ling in Vancouver, Cittamani Group in Ottawa, and Potala Centre in Thunder Bay. American students have founded Golden Blue Lotus Tara Centre in Moscow, Idaho and Lama Tsong Khapa Centre in Kalamazoo, Michigan. Rinpoche and his students at Tashi Choling, Nelson, British Columbia, are in the process of raising funds to purchase land for a temple and retreat facility in the Nelson area.
Rinpoche regularly visits his centres and offers extensive teachings, initiations and retreats which his many students attend enthusiastically. As well as establishing these Dharma centres, Rinpoche has taught courses at Naropa Institute in Boulder, Colorado on Buddhist logic and debate, Pramanavartika, and Madhyamikavatara during the summers from 1980 to 1982.
He has lectured at McMaster University in Hamilton, Ontario and Carleton University in Ottawa, and has twice led two-week retreats at Ainsworth Hot Springs, B.C., on Medicine Buddha (Tib. Sangye Menlha) and on the Lam Rim.
Zasep Rinpoche has also taught the Dharma community in Edmonton, at the Tibetan Buddhist Temple (la Temple Boudhiste Tibetaine) in Montreal, Quebec, at Thubten Dhargye Ling Centre in Los Angeles, at Vajrapani Institute in Santa Cruz and at Melaripa Centre in Vermont, and also Rinpoche has taught in Anchorage, Alaska.
Rinpoche and his students are involved in various levels of spiritual organisation, inviting many high lamas and teachers to Canada and the U.S., such as Venerable Tara Rinpoche, Lati Rinpoche, and His Holiness the Ninth Khalka Jetsun Dampa, also inviting the late Serkong Rinpoche and the Gaden Tripa.
Recently the incarnation of His Holiness Kyabje Zong Rinpoche came to visit many centres across Canada. Over the years Rinpoche has organised pilgrimages to India and Nepal to visit the major holy sites five times. These pilgrimages have been very meaningful for students in terms of making connections with Lord Buddha and deepening their Dharma practice.
In November 1997, Venerable Acharya Zasep Tulku Rinpoche brought all his centres together in Vancouver for the first Presidents meeting. We now are working together as Gaden for the West: An international organisation of Rinpoche, his students and centres, created for the express purpose of bringing, interpreting and integrating Gelugpa Tibetan Buddhism to the western world. Venerable Acharya Zasep Tulku Rinpoche created this vehicle to make Gelugpa Tibetan Buddhism accessible to as many people as possible.
Source: Golden Blue Lotus Tara Tibetan Buddhist Meditation Centre (http://community.palouse.net/lotus/biop4.htm)
---
MORE GREAT BIOGRAPHIES: