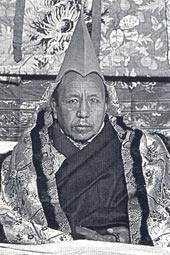 Ven. Taktra Rinpoche
Taktra Rinpoche, was a Tibetan monk and regent of Tibet, who succeeded the fifth Reting Rinpoche, Jamphel Yeshe Gyaltsen, at the beginning of 1941. He was responsible for raising and educating His Holiness the 14th Dalai Lama, Tenzin Gyatso.
When the 14th Dalai Lama was still a boy, he was supposed to have received his ordination vows from the Regent Reting himself. However, Reting did not have the confidence to grant ordination vows because he had damaged his own moral discipline. It was generally known that he was engaging in many actions that were inappropriate for a monk. So, because of this, he requested his own Teacher, the elderly Taktra Rinpoche, to hold the position of Regent for three years, and during that time to teach the Buddhist way of life and grant ordination vows to the Dalai Lama. Taktra Rinpoche agreed to this request.
Sources:
Wikipedia (http://en.wikipedia.org/wiki/Taktra_Rinpoche)
Western Shugden Society (http://www.westernshugdensociety.org/dalai-lama/the-false-dalai-lama/)
---
MORE GREAT BIOGRAPHIES: