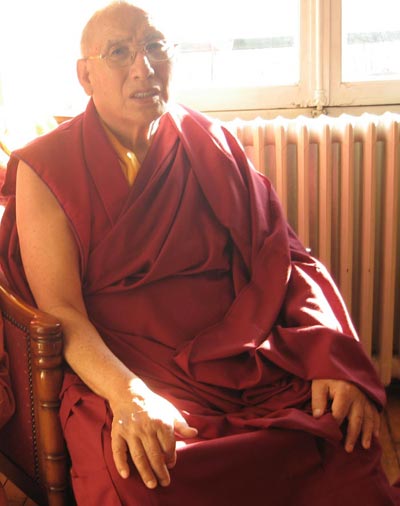 The term of office for the current Gaden Tripa has finished. He has successfully finished his term. He has the
title now of His Holiness Gaden Trisur Rinpoche Jetsun Lungrik Namgyal. He primarily resides in France
although he has a ladrang in Gaden Shartse, Nepal and Yangthing, Tibet.
Gaden Tripa-Gaden throne holder
Gaden Trisur-Gaden's ex-throne holder Emeritus
Gaden Trisur Rinpoche belongs to the Dokhang Khangtsen house of Gaden Shartse Monastery formerly. He
studied and recieved his geshe degree in Gaden Shartse. Later he became Gaden Tripa.
Gaden Trisur Rinpoche has never journeyed to Gaden Shartse Monastery to swear in or take a oath that he
gives up Dorje Shugden. In a stunning turn around, he has officially left Gaden Shartse Monastery and joined
SHAR GADEN MONASTERY similar with other elite lamas such as Trijang Rinpoche and Dromo Geshe
Rinpoche recently.
Gaden Trisur's household (ladrang) all together with HH Gaden Trisur Rinpoche have joined Shar Gaden
Monastery.
It is a stunning and 'shocking' move as Gaden Trisur Rinpoche is a very high ranking Lama within the Gelug
Heirachy.
Gaden Trisur's assistant was sent to speak with the current Gaden Shartse Abbot that he is leaving Shartse
Monastery and joining Shar Gaden. It is exactly what happened to Trijang Rinpoche and his ladrang in Gaden.
So two big ladrangs from Shartse has left and joined Shar Gaden.
Gaden Trisur's throne that is in Shartse will remain in Shartse just like Trijang Rinpoche's throne although he
has left Shartse Monastery completely.
HH Gaden Trisur Rinpoche was the student of the previous Kyabje Trijang Dorje Chang.
This eventful move will embarrass the Tibetan Government in exile and also 'teach' them a lesson. That not
everyone is afraid of them and there are high ranking lamas who will stand up for what they believe. With time,
more and more monks will defect to Shar Gaden Monastery because they remain loyal to their lineage, lamas,
and practices.
In Sera, Gaden, Drepung, Tashilungpo, Gyuto and Gyurme Monasteries take a fake oath as they put it to
temporarily quiet down the Tibetan Government and their unjust/undemocratic persecution of Dorje Shugden
devotees.
They stand up in front of the congregation(if they don't, then expulsion from the Monastery) and read the
words that 'swear' they abandon Dorje Shugden and will not be associated with Dorje Shugden followers in any
manner. The monks say they just read the words and do not feel anything from their heart. It is pure
persecution. Many monks dare not say or speak out against the Tibetan government, but they are in that
opinion. With Gaden Trisur's recent move, it will give strength to many who are persecuted up till today.
———————————————————————————————————————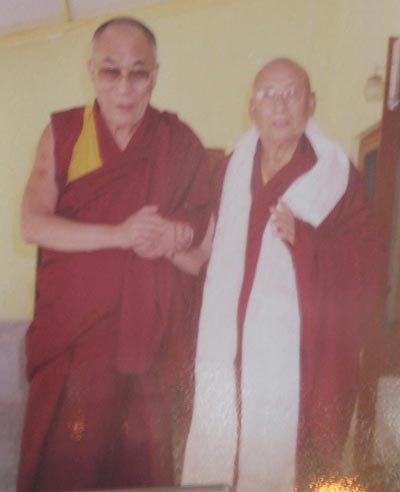 ADDITIONAL CONFIRMATION: Tuesday Jan 26,2010
Half hour ago, a phone call was made to HH Trisur Rinpoche's personal assistant to confirm their entry into
Shar Gaden.
Trisur Rinpoche's personal assistant replied a firm YES.
His Holiness Gaden Trisur Rinpoche Jetsun Lungrik Namgyal who was the 101st Throne Holder of Tsongkapa
HAS OFFICIALLY ENTERED SHAR GADEN MONASTERY and left Gaden Shartse Monastery! He openly
practices Dorje Shugden now!
He gives us so much strength, hope and inspiration. We thank HH Trisur Rinpoche from the bottom of our
hearts. With tears streaming down my face as I type this to everyone here.
HH Trisur Rinpoche's assistant said that he went to meet Gaden Shartse's current abbot and told the abbot that
their province in Tibet, their lamas, their lineage, their monasteries in Tibet all practice Dorje Shugden and that
they would not be able to give up the practice.
HH Trisur Rinpoche CANNOT GIVE UP THE PRACTICE OF DORJE SHUGDEN. HH TRISUR RINPOCHE
COMPLETED HIS 7 YEAR TERM OF OFFICE AS GADEN TRIPA (HEAD OF GELUG) AND NOW THAT HE IS
A TRISUR, he will resign from Gaden Shartse Monastery and join Shar Gaden Monastery.
HH Trisur Rinpoche had to wait this long until the term of office as Gaden Tripa completed to MAKE THIS
MOVE BECAUSE IF HE HAD MADE THIS MOVE EARLIER, THE DALAI LAMA WOULD HAVE REMOVED
HIM FROM OFFICE. And that would not be good for the Gelug on the whole. NOW THAT HE HAS FINISHED
HIS TERM, HE CAN DO WHAT HE LIKES. NO ONE CAN TOUCH HIM, DISTURB HIM OR DISGRACE HIS
POSITION. INCREDIBLE PLANNING. THIS WAS RELAYED BY HIS PERSONAL ASSISTANT!
HH Gaden Trisur Rinpoche is residing in France currently but there are rumours he might visit Shar Gaden this
year. Let's hope HH Trisur Rinpoche makes a historical visit to Shar Gaden. That would make a further huge
statement.
The Tibetan Govt has been silent. No comments so far whatsoever.
The abbot of Gaden Shartse had nothing to say unsurprisingly. The new abbot of Gaden is said to have no
strength and will power. The new abbot is VERY FRIGHTENED of Dalai Lama and Tibetan Govt it is very well
known.
Video of H.H. Gaden Tripa
Article extracted from the Forum: http://www.dorjeshugden.com/forum/index.php?topic=567.0
---
MORE GREAT VIDEOS:

Tags: dokhang khangtsen, dorje shugden, dromo geshe, gaden shartse, gaden trisur rinpoche, monastery, shar gaden, trijang rinpoche