The controversial Tibetan artist and scholar, Gendun Chopel (1903-1951), lived at a crucial time in modern Tibetan history – he was born before the British army invaded Lhasa in 1904 and he passed away just as the Chinese People's Liberation Army (PLA) soldiers occupied Lhasa in 1951. During this explosive climate, Gendun Chopel was a Tibetan monk who broke all barriers to find himself and his passionate wish for Tibet to become more open and progressive.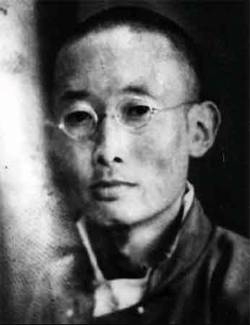 In the late spring of 1903, Gendun Chopel was born in Sholpang, in the remote region of Amdo in eastern Tibet. He spent his early years at Yama Tashikyil, which was the monastic seat of Shabkar Tsogdruk Rangdrol. Shabkar was a proponent of the Rime ideal and had nothing but the highest regard for the teachings and practices of all schools of Buddhism in Tibet. At the age of 9, Gendun Chopel was recognized by several high lamas as an incarnation of a former abbot of Dorje Drak, one of the main Nyingma monasteries. However, his parents declined for their son to take on the position of a Rinpoche so he continued his studies following the traditional monastic curriculum. Gendun Chopel's previous life's imprints were unmistakable though, as he was able to recite complex liturgical texts from memory only after hearing it once. At 13 years of age, he went to Ditsa, a prestigious Gelugpa monastery and it was at Ditsa that Gendun Chopel received his novice ordination from the 4th Amdo Shamar Gendun Tendzin Gyatso (1852-1912).
When Gendun Chopel turned 18 in 1920, he left Ditsa for Labrang Tashikyil, a major monastic center serving the region of Amdo. During his six years at Labrang Tashikyil, Gendun Chopel excelled at his studies and became well known as an expert dialectician. He was also renowned as a master debater, often taking up positions which were thought to be indefensible and winning them with great eloquence and wit. It was also here that he became friends with an American missionary, the Reverend Marion Griebenow, who was not popular with the monastic community nor Gendun Chopel's family. From his friendship with Marion, the young Gendun Chopel learned basic English and a fascination with clockwork mechanics.
While Gendun Chopel became well known for his intelligence, he also gained notoriety for brazenly criticizing the traditional monastic curriculum. After several scandals in the debate hall, and reportedly too much a penchant for mechanical toys, Gendun Chopel was expelled from Labrang Tashikyil in 1926. Gendun Chopel then made an arduous four-month trek to Lhasa, where he joined the illustrious Drepung Gomang monastery in 1927, under the tutelage of Geshe Sherab Gyatso (1884-1968), an accomplished Gelug scholar. However, this Guru-disciple relationship became strained as Gendun Chopel continued to criticize the Dharma doctrines expounded in the monastic texts and often argued with his teacher. Guru and disciple often became embroiled in shouting matches. It was said that Sherab Gyatso became so frustrated that he refused to address his student by name, calling him instead "the madman", which inspired the name of Gendun Chopel's biographical account by Lopez.
During his time in Lhasa, Gendun Chopel largely neglected his studies and eventually stopped attending classes altogether. He would still go to the debate courtyard and engage in debate, decimating his opponents easily with his razor-sharp mind. As he was quickly running out of financial resources, he began to earn a good living through painting. He was a talented artist and became popular for his extremely life-like portraits, including among his clientele famous names such as H.H. Pabongkha Rinpoche.
In 1934, at Geshe Sherab Gyatso's residence, Gendun Chopel met the 40-year-old Buddhist scholar and author, Rahul Sankrityayan, who was known as the Father of Hindi Travel literature and one of the most widely traveled Indian scholars. A prolific author and an avid researcher of Buddhist teachings, Rahul Sankiryayan was also a communist activist for the Indian struggle for independence from British colonialists. These two unconventional personalities were immediately drawn to each other. While in Tibet, they traveled together to search for rare Sanskrit scriptures which had been destroyed in India but preserved in remote monasteries of Tibet. This experience distressed Gendun Chopel as he saw how, out of ignorance, the local Tibetans used precious texts to put in amulets and decorate their altars. Together, they traveled through Lhasa, Shalu-Shigatse, and Sakya and succeeded in finding a few original copies of Sanskrit texts which are now in the Patna museum, India. Soon after, Rahul invited Gendun Chopel to join him on a trip to India and Ceylon.
Thus, Gendun Chopel left Tibet for India in 1936; a journey which was to take him away from his homeland for 12 years. Gendun Chopel was stunned by India. For the first time, Gendun Chopel, who was fascinated with clockwork, saw the technological advances in India, such as the railway. Where Tibet and the monastic system had suffocated him, in India, he became inspired and liberated. While he had not written much in Tibet, he became hugely prolific during his 12- year period out of Tibet. Under his authorship were a travelogue, an unfinished history book, a Tibetan version of the Kamasutra and a pilgrimage guidebook. He also translated a Tibetan book on the history of Buddhism, and completed Tibetan translations of Indian classics like Shakuntala, Bhagavad Gita and Ramayana, and the Pali Theravadin cannon, Dhammapada. In addition, he wrote several Tibetan newspaper articles and essays in English for the Maha Bodhi Society Journal.
The Maha Bodhi Society was an international Buddhist missionary organization with whom Gendun Chopel established a strong relationship. It was this relationship which led him to later visit Ceylon. There, Gendun Chopel learned about Theravadan monks and their philosophy, and wrote for their journal in English. He also authored a Guide to Holy Places in India, published by the society, which is acknowledged by many as the first example of modern Tibetan literature. This book, written in a practical, simple and conversational style, broke away from the style of traditional guidebooks and carried much useful information as well as dispelling much misinformation and assumptions about India which were commonplace in Tibet.
Away from the isolation and insular mentality that characterized Tibet, Gendun Chopel began to question traditional Tibetan views on history and geography and even the origin of Tibetan script. Around 1938, Gendun Chopel met his former teacher, Geshe Sherab Gyatso in Calcutta. During their discussion, Gendun Chopel argued with Geshe Sherab Gyatso about whether the earth was flat or round. Geshe Sherab Gyatso had replied that it was flat, according to traditional cosmology as stated in the Buddhist scriptures at the time, which of course made the passionately progressive young man disgusted with the backwardness of Tibet.
Around then, Gendun Chopel also met with George Roerich (1902 – 1960), a Tibetologist who was the son of the renowned artist and poet, Nicolas Roerich (1874-1947). George Roerich invited Gendun Chopel to stay with them, which he did for two years. During this time, George and Gendun Chopel collaborated on the English translation of the Blue Annals, which was a seminal work of Tibetan history authored in 1476 by Gö Lotsāwa Zhönnu Pel (1392-1481). The Blue Annals was a Tibetan historical survey with a Rime view, focusing upon the dissemination of various sectarian spiritual traditions throughout Tibet. The English translation by George Roerich and Gendun Chopel was published in 1949 and has since been one of the most widely consulted sources on the history of Tibetan Buddhism up to the fifteenth century.
Gendun Chopel's own most well known writing was probably his unfinished work, the White Annals. This was a groundbreaking history of Tibet which was based more on documented archives rather than on the traditional Tibetan Buddhist version of Tibetan history. Tibetan history up until then was often a concoction of half-truths and mythology. Although unfinished, the White Annals has since become a powerful source of reference for modern scholars.
In the 1930s, while India was fighting for independence, it was also a time of change in Tibet. The 13th Dalai Lama Thubten Gyatso (1876-1933) had passed away in 1933, and in 1938, the newly enthroned 14th Dalai Lama was only 3 years old. There was much political upheaval in Tibet and it was to this unstable environment which Gendun Chopel was to eventually return.
Gendun Chopel and Rahul were separated when Rahul was arrested and put in jail by the British colonial government in India for his anti-British activities. Gendun Chopel was later to be drawn to the same fate. In the 1940s, he used to frequent the Kalimpong area, which bordered India and Tibet and had become a haven for Tibetan political refugees. En route back to Tibet, Gendun Chopel stopped at Kalimpong and became involved with the Tibetan Improvement Party which was based there. The Tibetan Improvement Party's mission was to overthrow the Tibetan government which was deemed tyrannical by its members. Gendun Chopel became friends with Rabga Pomdatsang, the founder of the party, and he even designed the logo for the radical party: a sickle and a sword. He also drew a detailed map of Tibet for Rabga Pomdatsang, which was sent to the Chinese government but intercepted by the British India colonial government. It is unknown whether Gendun Chopel knew the purpose of the map. Naturally, when the map was intercepted, Gendun Chopel was suspected as a communist spy. British-India did not tolerate any kind of communist activity and officially informed the Tibetan Government through their diplomatic representative, Hugh Richardson (1905–2000), in Lhasa regarding Gendun Chopel's allegedly subversive activities to overthrow the Tibetan Government in Lhasa.
When Gendun Chopel returned to Tibet in 1946, he was already under observation by the Tibetan government. In 1947, Gendun Chopel was arrested, imprisoned and whipped under the false charges of circulating counterfeit currency. While in prison, he was said to have passed time reciting Tara mantras, painting and getting drunk. In 1949, on the occasion of the enthronement of the Dalai Lama, along with other prisoners who received clemency, Gendun Chopel was released from prison a broken man. He was given to stay in an apartment near Jokhang, paid a stipend and instructed to complete the White Annals. However, the bulk of his copious and meticulous research notes which he had brought back from his 12-year sojourn were missing. They had been confiscated when he was arrested and never seen again. Without them, he could not complete the work, nor did he really have the desire to.
He continued to smoke and drink heavily although it was said that he was not affected by the alcohol. It was also after his release from prison that his last and most explosive work was published, a treatise called 'An Ornament to Nagarjuna's Intent'. It is not known whether he wrote this before his arrest or after, but the ramifications of this text are controversial to this day. It is most commonly accepted that the treatise was compiled from instructions he gave on Madhyamika to his student, the Nyingma lama Dawa Zangpo, shortly before he was arrested, and published after his death through the sponsorship of H.H. Dudjom Rinpoche. Even the authorship of the treatise is contentious as Dawa Zangpo is sometimes mentioned as the actual author.
Only two years after his release from prison, Gendun Chopel passed away from illness, just as the Chinese army occupied Lhasa. Gendun Chopel was a Tibetan largely misunderstood by his fellow Tibetans. As the Tibetan historian Tsering Shakya (1959-) says, "What is noteworthy about Gendun Chophel's work is that his interests were primarily confined to the examination and exploration of his own cultural tradition. Despite the fact that he had acquired a good knowledge of English and was able to compose poems and write articles in that language, there is no evidence that he showed much interest in Western literature. Gendun Chophel's interest lay in the sources of his own tradition rather than in a search for new fields, just as his studies of Sanskrit and Pali were a part of his research into the original sources of the Tibetan canon. His focus on authenticity and on the roots of Tibetan culture to some degree shows an element of nationalist thought, of an effort to construct a new understanding of the past."
Further reading and research:
She-rab-rgya-mtsho / Mengele, Irmgard. 1999. dGe-'dun-chos-'phel, Biography of the 20th Century Tibetan Scholar. Dharamsala: LTWA
Lopez, Donald S. 2006. Madman's Middle Way: Reflections on Reality of the Tibetan Monk Gendun Chopel, Chicago: University of Chicago Press
---
MORE GREAT BIOGRAPHIES: