View the original video on YouTube: http://www.youtube.com/watch?v=98gnYSNl0H4


His Holiness Kyabje Zemey Rinpoche is one of the most erudite scholar-yogi masters of
this century to arise from the esteemed Gaden Shartse Monastery.
Zemey Rinpoche was a very devoted student of H.H. Kyabje Trijang Rinpoche.  And Zemey
Rinpoche held all the lineages, transmissions and practices that Trijang Rinpoche had.
When HH the 14th Dalai Lama visited China in the 50's, Zemey Rinpoche was one of the
esteemed masters that Dalai lama invited to follow him to China
(see photo below, Zemey Rinpoche in colored robes).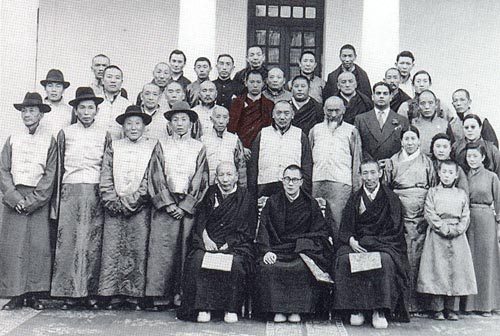 Zemey Rinpoche has many great disciples within Gaden Monastery as he is highly revered.
The current translator of the Dalai Lama, Geshe Thupten Jinpa is a direct disciple of Zemey
Rinpoche and lived in Zemey Rinpoche house (labrang) for many years studying directly
under Zemey Rinpoche in Gaden Shartse.
The Zemey Rinpoche line of tulkus comes from the Yangding, Kham district of Tibet where
is highly revered by the populace. He belongs to the same monastery as the current Gaden
Tri Rinpoche Jetsun Lungrik Namgyal in Yangding.
The current Kyabje Zemey Rinpoche's incarnation has been successfully found in Tibet and
enthroned as shown in this video.
May this current splendid incarnation manifests the activities and speech of Lord
Tsongkhapa once again.
---
MORE GREAT VIDEOS:
Tags: china, Dalai Lama, dorje shugden, gaden shartse monastery, Gaden Tri Rinpoche Jetsun Lungrik Namgyal, Geshe Thupten Jinpa, kham, kyabje zemey rinpoche, tibet, trijang rinpoche, Tsongkhapa, Yangding