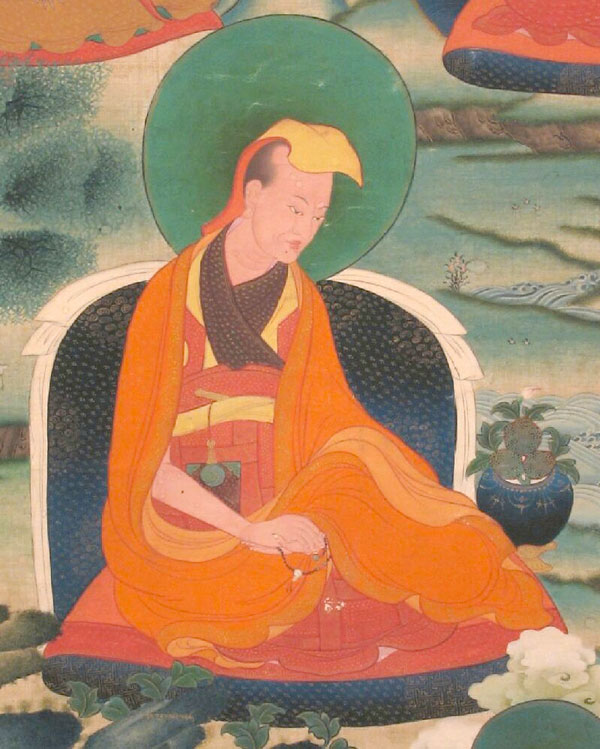 Duldzin Drakpa Gyelsen
Duldzin Drakpa Gyeltsen was the famed great holder of the vinaya, or pure morality. Duldzin was a direct disciple of Lama Tsongkhapa who built Gaden Monastery, the first and world's greatest Gelug monastic institution in Tibet, and was also considered as an emanation of Lama Tsongkhapa himself.
Dulzin was so highly respected that he was offered the position of the first Gaden Tripa (Tsongkhapa's successor or throne holder) after Tsongkhapa's passing. He turned this offer down, choosing instead to dedicate the rest of his life to upholding these precious teachings. It was with this incredible devotion and commitment that he made a promise to arise as an uncommon Protector to preserve and guard the lineage of his teacher, Tsongkhapa.
This is the Drakpa incarnation that began the story of the uncommon and most powerful Protector, Dorje Shudgen.
Nechung, a worldly spirit subdued by the 8th Century Indian Master Guru Rinpoche to be the general dharma protector of the Buddhadharma, appeared in one of Lama Tsongkhapa's teachings as a white dove. After the teachings, he transformed into a young boy dressed in white and came to speak to Dulzin. He requested Duldzin to become the special protector of Lama Tsongkhapa's teachings on Nagarjuna's precious philosophy of the Middle Way. Dulzin promised Nechung that he would do so. However, after he had completed building Gaden Monastery, Dulzin went into retreat in a cave and passed away.
Tulku Drakpa Gyeltsen, the incarnation of Dulzin Drakpa Gyeltsen a few lifetimes later, was reminded by Nechung about his promise to arise as an uncommon protector. Tulku Drakpa Gyeltsen agreed to fulfill his promise to protect Lama Tsongkhapa's teachings so it may flourish and spread far and wide. As Tulku Drakpa Gyeltsen had no anger in his mindstream at all, Nechung agreed to help by creating the right, conducive conditions for him to manifest wrath in order to arise as the special Dharma Protector. He did so, through various circumstances, thus allowing Tulku Drakpa Gyeltsen to arise as the uncommon protector Dorje Shugden to fulfill the promise made many years ago by Dulzin Drakpa Gyeltsen.
---
MORE GREAT BIOGRAPHIES:

Tags: Dulzin Drakpa Gyeltsen, gaden monastery, Gelugpa, lama tsongkhapa