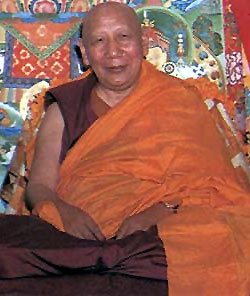 H.H. Kyabje Ling Rinpoche
His Holiness Kyabje Yongdzin Ling Rinpoche (1903-1983) held the special position of being both the Yongdzin (tutor) to the 14th Dalai Lama, and also the head of the Gelugpa school of Buddhism as the 97th Gaden Tripa, the throne holder of Lama Tsongkhapa's lineage.
This accomplished Master held the teachings of Panchen Sonam Drakpa in the highest regard. In his autobiography, H.H. Ling Rinpoche gave a list of specific texts that he studied and debated on. They included texts by Haribhadra, Lama Tsongkhapa, Gyaltsab Je and Panchen Sonam Drakpa. Ling Rinpoche considered that the most important commentaries to Dharmakirti's Pramanavartika were by Panchen Sonam Drakpa and Gyaltsab Dharma Rinchen. On the study of Vinaya, Ling Rinpoche advised that the additional texts by Kunkhyen Tsonawa, Gendun Drup and Panchen Sonam Drakpa should be studied.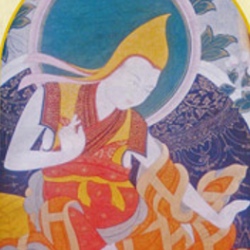 Panchen Sonam Drakpa
H.H. Ling Rinpoche, such an accomplished Lama, would not study nor even encourage his dharma students to study the works of Panchen Sonam Drakpa if Dorje Shugden was a mere worldly spirit or a demon. Panchen Sonam Drakpa and Dorje Shugden are one and the same. Historical documents clearly state that the Protector Dorje Shugden is the same mindstream as Panchen Sonam Drakpa. As such, Dorje Shugden shares the same mental continuum as Panchen Sonam Drakpa. This means Ling Rinpoche is not an ordinary Lama and he would have definitely known the difference.
Ling Rinpoche was a great scholar cum teacher. He was born in 1903 at Yapu, a holy place northwest of Lhasa. Yapu is famed for its holy places associated with Chakrasamvara and Vajrayogini. It has a precious image of Naropa's Vajrayogini that was known to have spoken many times.
As Ling Rinpoche's previous life was a Yongdzin to the 13th Dalai Lama, His Holiness confirmed his reincarnation and enthroned him in Lhasa at the age of seven. The State Oracles of Nechung and Gadong also confirmed his recognition.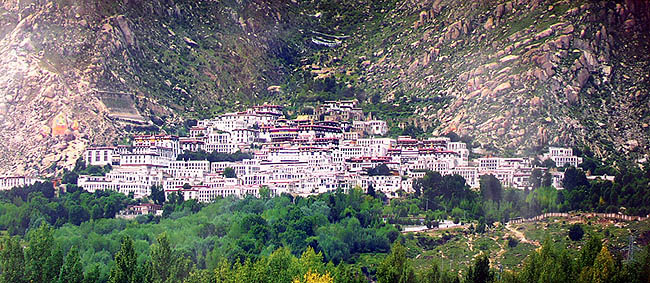 Drepung Loseling
When he was 10 years old, H.H. Ling Rinpoche entered Drepung Loseling and began his Buddhist studies by studying the five major texts. A year later, he received the lay and monastic ordinations of Genyen and Getsul from H.H. the 13th Dalai Lama. At the age of 12, H.H. Ling Rinpoche received Lam Rim Chenmo teachings from the 13th Dalai Lama and Solitary Hero Yamantaka and Vajrayogini initiations from H.H. Pabongka Rinpoche.
Ling Rinpoche received his full ordination from the 13th Dalai Lama in 1922. At the exceptionally young age of 20, H.H. Ling Rinpoche took his geshe degree examination. He was awarded second position as Geshe Lharampa with honors by H.H. the 13th Dalai Lama at the age of 22.
Then, he proceeded to Gyuto, the Upper Tantric College, and excelled in all four classes of Tantra, especially Heruka, Guhyasamaja and Yamantaka. For Guhyasamaja practice, he relied on many texts including Panchen Sonam Drakpa's text on the development and completion stage. At 23, he achieved first place in the tantric examinations. A year later, he became the gekul or disciplinarian for Gyuto for four months.
In addition to the classical Gelug education, Ling Rinpoche also received many teachings from the greatest masters of that period. After graduating from the Upper Tantric College, Ling Rinpoche writes this of his Gurus:
"One of my teachers during this time was Je Pabongkhapa Dechen Nyingpo, manifestation of the glorious Chakrasamvara (Pal Khor Dompa). Among my other teachers were the great Kyabgon Yongdzin Sikyong Tradag Dorje Chang, Kyabje Yongdzin Trijang Dorje Chang, Kyabje Khangsar Dorje Chang, Chone Lama Rinpoche Losang Gyaltsen Palzangpo and others. I studied with thirty scholars and practitioners. Their kindness cannot be repaid even by holding them on my head for infinite lifetimes."
Thupten Gyatso, 13th Dalai Lama (1876–1933)
When he was 28, Ling Rinpoche travelled to southern Tibet to give teachings and visited many pilgrimage sites. When H.H. the 13th Dalai Lama passed into clear light in 1933, H.H. Ling Rinpoche was in charge of the preservation of His Holiness' body and the consecration of his reliquary in the Potala palace for a period of two years.
In 1936, at the age of 34, H.H. Ling Rinpoche was appointed by the ruling Regent, Gyaltsab Radreng Hothogtu, as the abbot of the Gyuto, the Upper Tantric College, having previously served the term as gekul (disciplinarian) there with distinction. Soon after, he was appointed as the tsenshab  to the 14th Dalai Lama.
A year after H.H. the 14th Dalai Lama was enthroned in 1940, H.H. Ling Rinpoche was appointed as the Yongdzin, or junior tutor, to the Dalai Lama. Ling Rinpoche's superior qualities were recognised when he was appointed the position of Sharpa Choeje in 1949. The position of Sharpa Choeje is the second highest rank in the Gelug Tradition, after the Gaden Tripa or Gaden Throneholder.
Not too long after, H.H. Ling Rinpoche became His Holiness' Senior Tutor. He transmitted many teachings on Lam-Rim and tantric teachings on Heruka, Guhyasamaja and Yamantaka to His Holiness. In 1954, he gave full ordination to the Dalai Lama in front of the sacred image of Buddha Shakyamuni at the main Temple, the Tsuglakhang, in Lhasa, during the Annual Prayer Festival.
In 1954, H.H. Ling Rinpoche accompanied His Holiness on a state visit to China, after which they visited Kubum Jampa Ling in Amdo. Two years later, he accompanied His Holiness to Bodhgaya, India to celebrate the 2500th anniversary of the Buddha's Parinirvana. Upon returning to Tibet, he gave many teachings on Tantra including the development and completion stages of Vajrabhairava and Guhyasamaja. During the civil unrest in Tibet in 1959, both H.H. Ling Rinpoche and H.H. Trijang Rinpoche accompanied His Holiness to India.
The following year, after the passing of the 96th Gaden Tripa in Tibet, H.H. Ling Rinpoche was appointed as the 97th Gaden Tripa. He ascended the throne at Gaden Phelgye Ling monastery at Bodhgaya, the most auspicious and holiest place for Buddhists. He also became the abbot of that monastery. In 1968, H.H. Ling Rinpoche and H.H. Trijang Rinpoche were invited to Switzerland to consecrate Choekhorgon Monastery in Rikon, Zurich. On this trip to Europe, both Tutors gave many teachings and initiations to Tibetans and others, and visited various countries in response to invitations, and delayed their return to India in 1969.
Back in Bodhgaya, India, in 1969, at Guru Deva Rinpoche's request, Kyabje Ling Dorjechang gave an extensive 6-week discourse on Lama Tsongkhapa's treatise on the Graduated Path to Enlightenment, in the assembly hall of Gaden Phelgye Ling monastery, to around 700 disciples.
In his capacity as Gaden Tripa, he also presided over the Annual Prayer Festivals in Bodhgaya and at other monasteries. In 1972, he gave teachings at Gaden, Sera and Drepung monasteries in India. He also visited Europe once again and also spent a month in North America during the summer and autumn of 1980 where he gave many teachings.
In Dharamsala, at his private residence, Chopra House, which was graciously provided by the Indian Government, H.H. Ling Rinpoche dedicated himself to restoring the waning teachings of the Buddha, and of the Second Buddha, Lama Tsongkhapa's stainless views on Sutra and Tantra, and their pure traditions of practice. At the request of many Tibetans and the growing number of his Indian and Western disciples he gave many expositions of the major subjects of Sutrayana and initiations, oral transmissions and explanations on the Yogic systems of the four classes of Tantra. He often gave novice and Bhikshu ordinations as well.
His last public teachings included an extensive discourse on the Lamrim Chenmo, the Graduated Path to Enlightenment, given in Bylakuppe to a gathering of nearly 2000 at the request of Sera monastery and a five-day exposition of the Four Mindfulnesses at Tibet House, New Delhi, which was concluded by a permission of Avalokiteshvara and a long life initiation.
In September 1983, H.H. Ling Rinpoche, then aged 81, had a serious stroke. Finally, on December 25th, he passed into the state of clear light. His current incarnation was found when he was only 18 months old. Ling Choktul Rinpoche was officially recognized by His Holiness the 14th Dalai Lama as the true reincarnation of the late Kyabje Ling Rinpoche at the age of 2. He was enthroned in 1987.
Source: The Autobiography of Kyabje Ling Rinpoche. The Tibet Journal, vol. 8, no. 3.
---
MORE GREAT BIOGRAPHIES:

Tags: 13th dalai lama, 97th gaden tripa, kyabje ling rinpoche, Panchen Sonam Drakpa