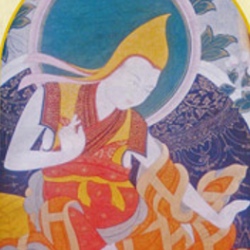 The Fifteenth Ganden Tripa, Trichen Sonam Drakpa was born into the family of Nangpa Ralampa that was based near the Tsetang Monastery in Lhoka in 1478, the earth-dog year. At a young age, Sonam Drakpa received the vows of novice monk from Lechenpo Sonam Tashi , who gave him the ordained name Sonam Drakpai Pal.
Sonam Drakpa enrolled at Tsetang Monastery and received his primary monastic education of reading and writing, memorization of prayer texts and other root-verses of important texts. He studied Pramana for some time, and then went to Yazang for some clarification on the critical points of this subject with some scholars. While he was at Yazang, he studied traditional philosophical texts under the tutorship of Choje Dakpo Rabjampa and other scholars. He also studied grammar, poetry, composition, and so forth.
Sonam Drakpa travelled to Lhasa and then entered Sera Monastery at the age of sixteen. At Sera, he studied Abhisamayalankara, Madhyamika, Abhidharmakosha, Pramanavartika and Vinaya, the five major subjects of the Geshe Lharampa curriculum, mainly under the three eminent masters: Kunkhen Donyo Palden (1445-1524), the tenth abbot of Sera Monastery; Nyalton Paljor Lhundup (1427-1514) and Tonpa Khetsun Yonten Gyatso (1443-1521). While studying these traditional texts, he also received many teachings on Tantra. In the meantime, he received the vows of full ordination at the age of twenty from Wona Lama Sanggye Zangpo.
At the age of twenty-seven, Sonam Drakpa enrolled in the Gyuto College and studied Tantra in detail for three years under the tutorship of Tantric Lopon Choden Lodo who gave him many and various teachings, initiations, empowerments, esoteric instructions, and transmissions on Tantra. Thus, Sonam Drakpa became a scholar in Tantra too. He took a test in Tsetang Monastery at the age of thirty that was so impressive that it became one of the most significant events of his life. The following year, Sonam Drakpa returned to Gyuto College and resumed his studies in Tantra under the same tutor. He studied the Tantra more extensively and in greater detail. Consequently, he became an outstanding scholar in Tantra and composed a comprehensive commentary on general Tantra.
Other teachers of Sonam Drakpa include Kunga Gyaltsen (1432-1506), an important Gelug master and historian who studied at Tsetang Monastery and also the master Rinchen Chozang whose details did not survive.
Sonam Drakpa was appointed to the post of lopon, the ritual master at Gyuto College at the age of thirty-four and served for fourteen years, giving comprehensive teachings on Tantra. He retired from the post at the age of forty-seven but in the following year, he was appointed to the abbot of Drepung Loseling Monastery by the Second Dalai Lama Gendun Gyatso (1475-1542) who was also one of his teachers. Panchen Sonam Drakpa served for five years as the abbot.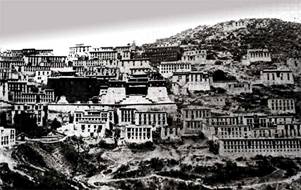 At the age of fifty-two, in 1529, Panchen Sonam Drakpa was enthroned as the Fifteenth Ganden Tripa and served for seven years with the responsibilities of giving teachings and leading important religious activities and events. After serving till the age of fifty-eight, Trichen Sonam Drakpa retired from the seat and settled in Ganden Monastery, where he lived without official duties for eight years. Thereafter, he served as the Lama to several monasteries including Kyormolung, Pagmo Chode, Nyiding, and Chode Rinchenling.
At the age of sixty-six, Panchen Sonam Drakpa accepted the post of abbot in Drepung Monastic University and served for four years. He gave the vows of upasaka to the Third Dalai Lama, Sonam Gyatso (1543-1588) and served as his tutor. Trichen Sonam Drakpa then served as the abbot of Sera Monastery for about nine years, from the age of sixty-nine to seventy-seven. Thus, Panchen Sonam Drakpa was unique for serving as the abbot of all the three main Gelug monasteries in Lhasa.
Some of Panchen Sonam Dragpa's disciple included the Twenty-First Ganden Tripa Gelek Palzang (1505-1567); Lhatsun Sonam Palzang who studied in Tashilhunpo, the Twenty-Fifth Ganden Tripa Paljor Gyatso (1526-1599) and the Second Demo Paljor Tashi whose year of birth is not known but lived for sixty-three years according to written sources.
Sonam Drakpa began his major compositions on both Sutra and Tantra from the age of thirty-six. They include works on Guhyasamaja, commentaries on Prajnaparamita, Madhyamika, Vinaya, Pramana, and Abhidharmakosha – the five major subjects of Gelug monastic curriculum, along with history and other subjects. His written works were collected into six volumes and constitute some of the main textbooks still used in major Gelugpa monasteries, especially by Drepung Loseling and Ganden Shartse monastic colleges. His works are also used as textbooks in some monasteries of Gelug tradition in Mongolia.
At the age of seventy-seven, in 1554, the wood-tiger year, Trichen Panchen Sonam Drakpa enter clear light.
Sources
Bya bral lha dbang rgya mtsho. 1998. Pan chen bsod nams grags pa'i rnam par thar pa dad pa'i rol rtsed. In Tshad ma rnam 'grel gyi dka' 'grel dgongs pa rab gsal, pp. 1-24. Beijing: Krung go'i bod kyi shes rig dpe skrun khang.
Don rdor and Bstan 'dzin chos grags. 1993. Gangs ljongs lo rgyus thog gi grags can mi sna. Lhasa: Bod ljongs mi dmangs dpe skrun khang, pp. 577-580.
Grags pa 'byung gnas and Rgyal ba blo bzang mkhas grub. 1992. Gangs can mkhas grub rim byon ming mdzod. Lanzhou: Kan su'u mi rigs dpe skrun khang, pp. 986-988.
Sde srid sangs rgyas rgya mtsho. 1989 (1698). Dga' ldan chos 'byung baiDU r+ya ser po. Beijing: Krung go bod kyi shes rig dpe skrun khang, pp. 81-82.
Samten Chhosphel
September 2010
---
MORE GREAT BIOGRAPHIES:

Tags: Gyuto College, Kunga Gyaltsen, Panchen Sonam Drakpa, sera monastery, Trichen Sonam Drakpa, Tsetang Monastery