Video of the Grand Opening of Serpom Monastery
Or view video on YouTube:
Part 1 Part 2 Part 3 Part 4
Video of the Oracle taking trance at Serpom Monastery
Or view video on YouTube: click here
December 18th, 2011 was a historical day as it was the long awaited, much anticipated official opening of Serpom Monastery. Serpom is located in South India, a five-hour pleasant drive from Bangalore. Built by the kind donations of sponsors and devotees, it has taken a few years to construct and now houses over 800 monks.
Sera Mey Monastery has many *Khamtsens of which one is Pomra Khamtsen which was the largest in Sera Mey Monastery. Pomra has over 800 monks and its principal Dharma protector for hundreds of years is Dorje Shugden. The growth of learning, study, and practice was very successful in Pomra Khamtsen as attested by the many scholars, tulkus, abbots, and masters it has produced for centuries. In 1959, it was the abbot of Sera Mey (who hailed from Pomra Khamtsen) and also 30 monks from Pomra who acted as bodyguards to personally escort His Holiness the Dalai Lama out of Tibet into India for safety (see video: http://dorjeshugden.com/wp/?p=1239 ).
Within Pomra Khamtsen there is a famous shrine to Dorje Shugden and various other protectors such as Jowo Chingar, Setrap and Kache Marpo. The oracle monk blessed and trained by His Holiness Kyabje Trijang Rinpoche also resides in Pomra Khamtsen. The oracle monk will take possession of Shugden or Kache Marpo to answer the questions of both Sera Jey and Sera Mey Monasteries. Thousands of lay people would congregate yearly to hear the advice of Dorje Shugden and Kache Marpo via the oracle in trance. The trances were famous and accurate and was an integral part of the benefits Pomra Khamtsen has to offer to the public and Buddha Dharma. When Dorje Shugden or Kache Marpo took trance, high lamas, incarnate tulkus, abbots, administrators, scholars, attendants would all come to make offerings, pay homage, and ask their questions or simply just to get a blessing. Because Dorje Shugden and Kache Marpo are enlightened protectors the holy Sangha will invite them to take trance within the Monastery in the presence of the Sangha.
Yearly during Losar or Tibetan new year's, four protectors will take trance in Pomra Khamtsen. Dorje Shugden, Setrap, Jowo Chingar and finally Kache Marpo to bless the Sangha/lay people, accept offerings and give highly sought after accurate prophecies for the Monastery. The lay people very much sought the blessed rice given by these protectors which can be used for protection, healing, averting negative weather conditions, spirit afflictions or simply as a powerful blessing.
Here in this extremely rare video it shows the grand opening of Serpom Monastery attended by hundreds from around the world. High Lamas, Abbots, Indian dignitaries and government leaders came to celebrate the monumental opening of this monastery that stands as a testament to religious freedom and the great faith many have in Dorje Shugden. The first abbot of Serpom is the holder of the Gaden Nyegu (secret oral lineage) His Eminence Kyabje Yongyal Rinpoche. You will see Kyabje Yongyal Rinpoche being invited into Serpom for the first time to take up the reigns of his abbotship in this auspicious video. The Sangha makes offerings to Kyabje Yongyal Rinpoche in great happiness.
Dorje Shugden, Setrap, Jowo Chingarwa (red hat) and then finally Kache Marpo takes official trance to receive offerings from Serpom Monastery, Sangha and guests. They also bless the monastery and give prophecies regarding the welfare and future of the monasteries. You will see in the end Kache Marpo taking trance and rising from his seat to make offering to Kyabje Yongyal Rinpoche and the abbot of Shar Gaden Ven. Geshe Lobsang Pende. ***Kache Marpo requests the long life of the abbots and is visibly pleased with them.
Share this incredible video with friends and fellow practitioners. Create awareness of Serpom and Shar Gaden Monasteries who bravely carry on the sacred teachings of Lord Buddha, Je Tsongkapa and their erudite discipeles.
Admin
*Houses within the monastery that are grouped together according to the region in Tibet, Mongolia or India in which the monks are from. They are grouped together because the dialects can be very different.
** His Holiness the Gaden Tripa Kyabje Ling Rinpoche did not take Dorje Shugden as a principal protector but worshipped Him also take Him as one of his practices.
***Kache Marpo is one with Hayagriva and is the main minister of Dorje Shugden.
---
Assorted Pictures from Serpom's Grand Opening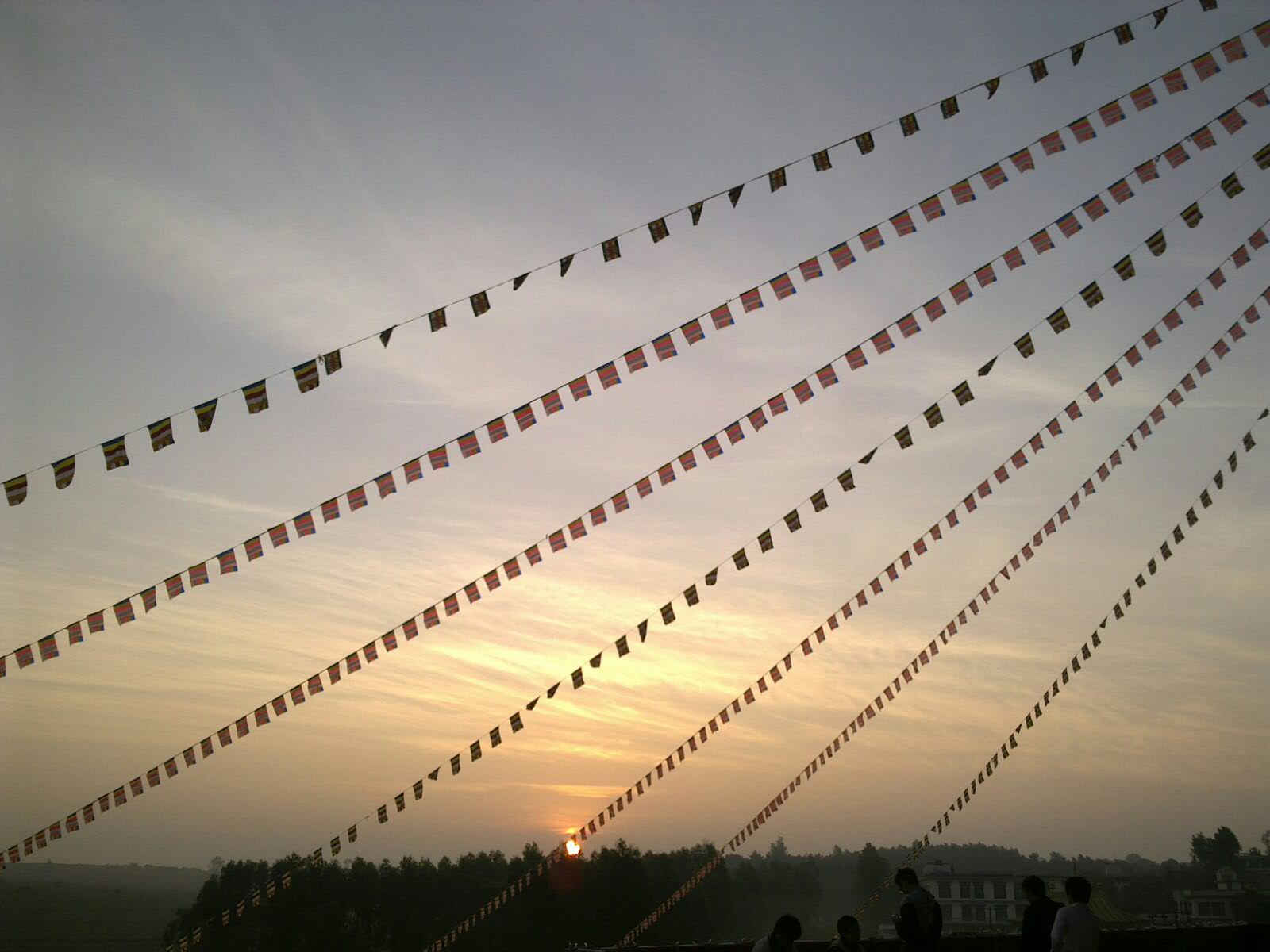 Serpom Monastery at dawn
Preparing Protector throne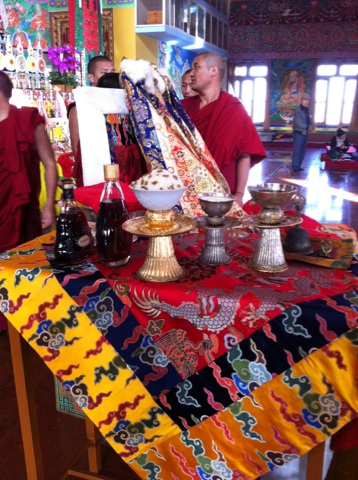 Preparing Protector Throne. Preparing for the Oracle to take trance of Dorje Shugden, Setrap, Jowo Chingar, Kache Marpo to bless the new temple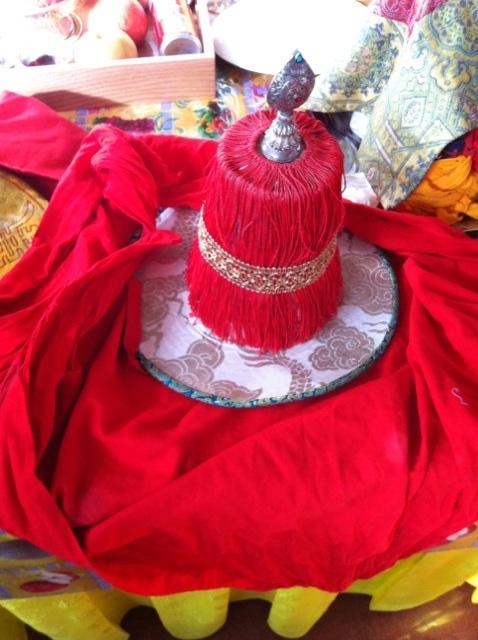 Protector Hat of Jowo Chingar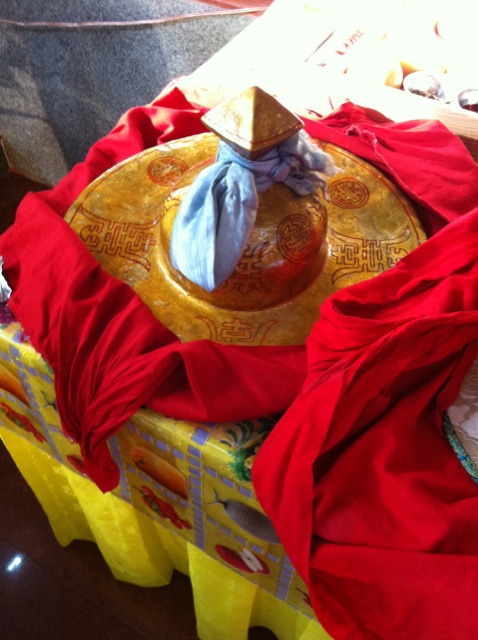 King Dorje Shugden's hat.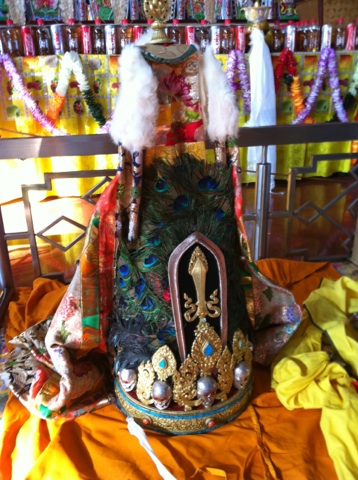 Setrap and Dorje Shugden's hat to be worn by oracle during trance of the respective deities
Kache Marpo's holy hat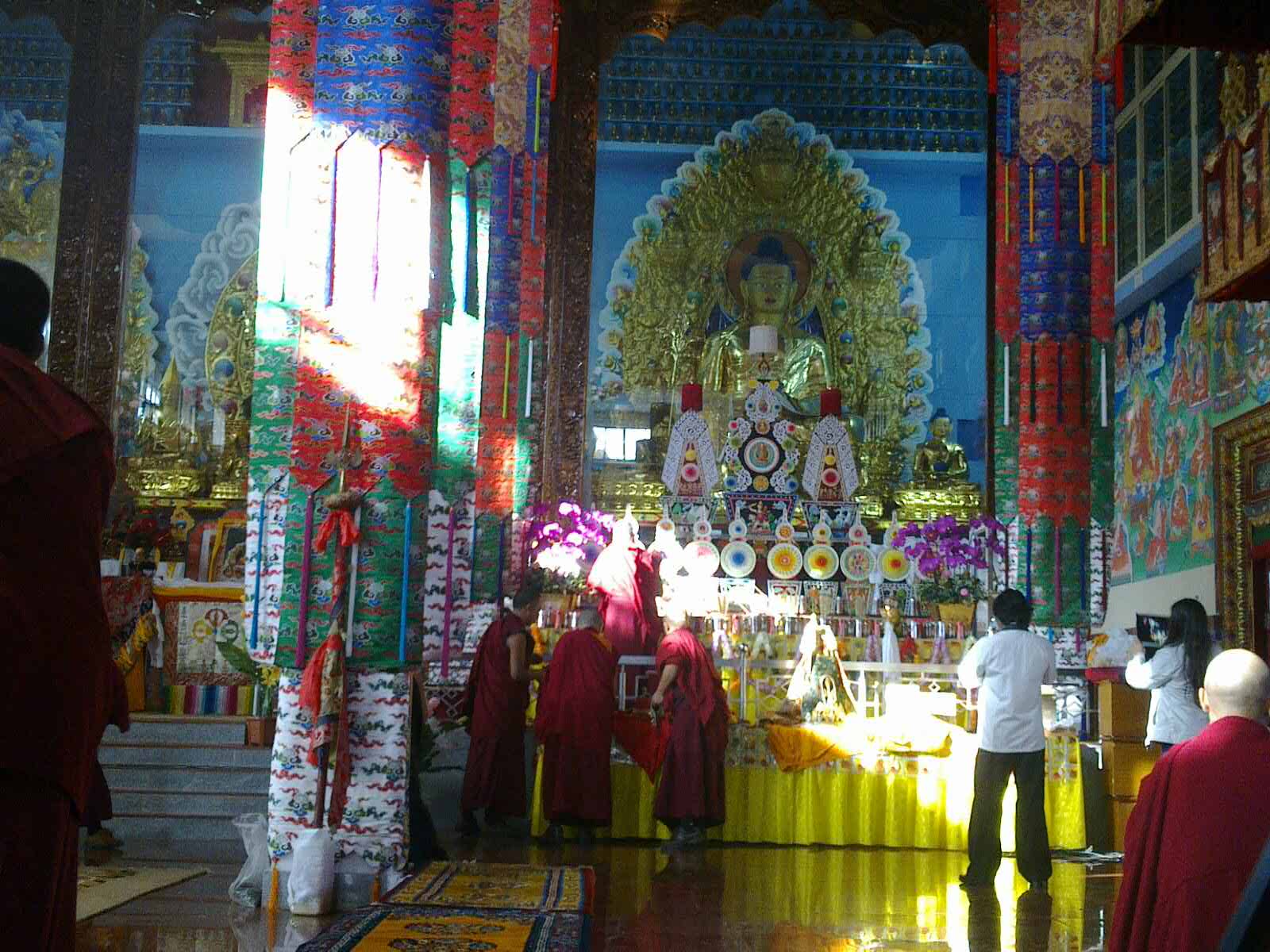 Altar Main Prayer Hall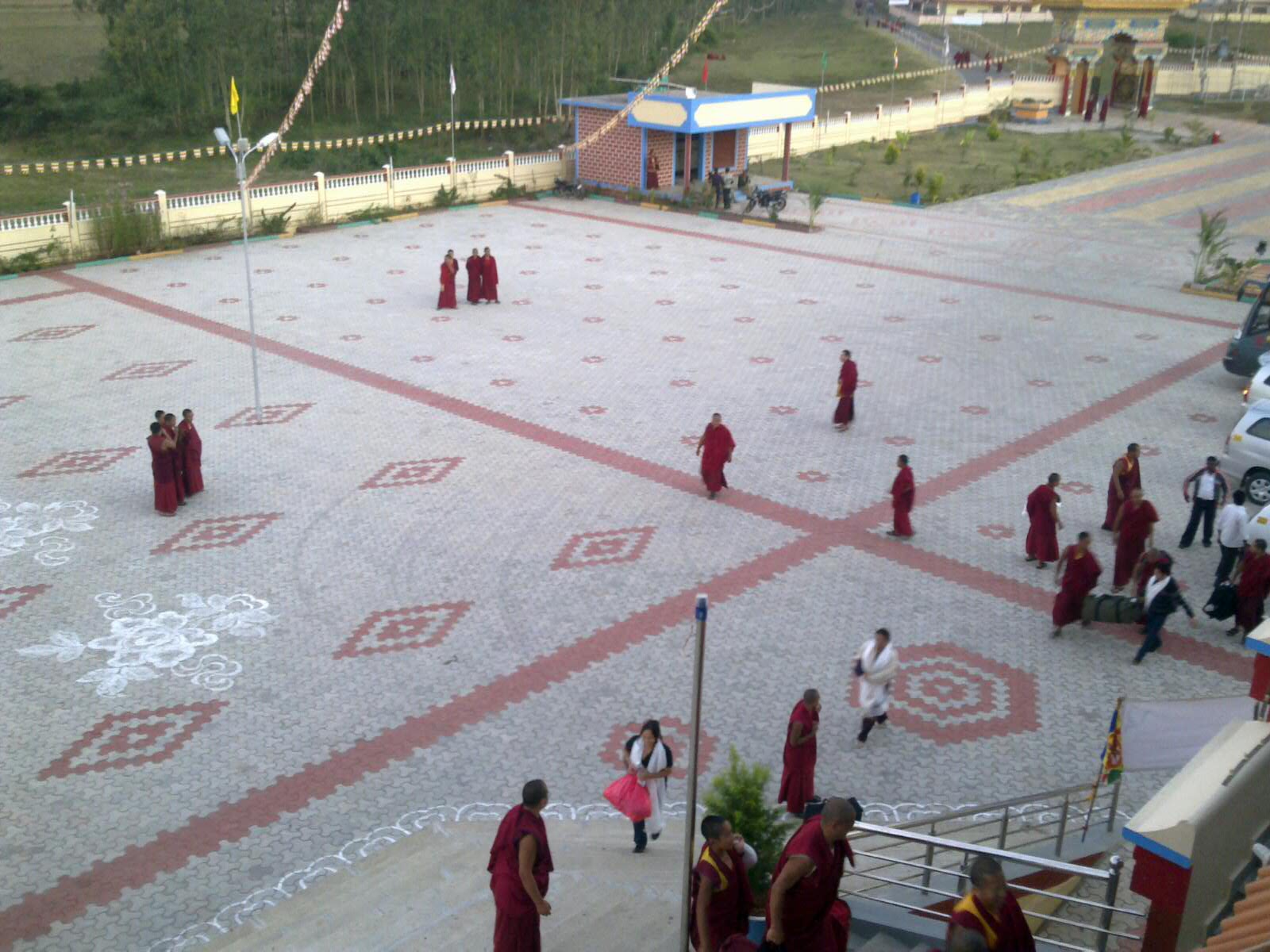 Guests arriving at the Monastery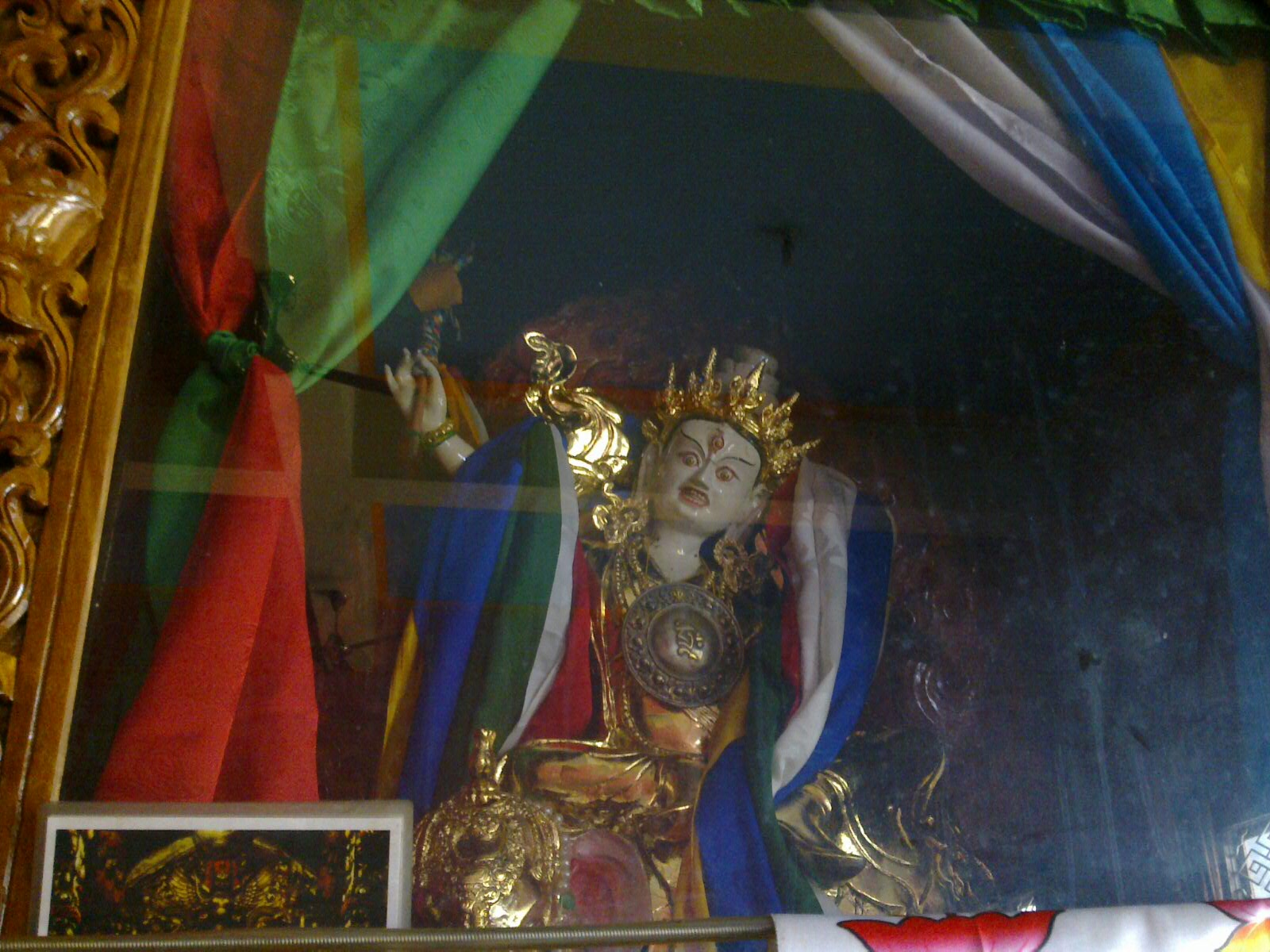 Shitze or peaceful Dorje Shugden in the Protector Chapel of Serpom Monastery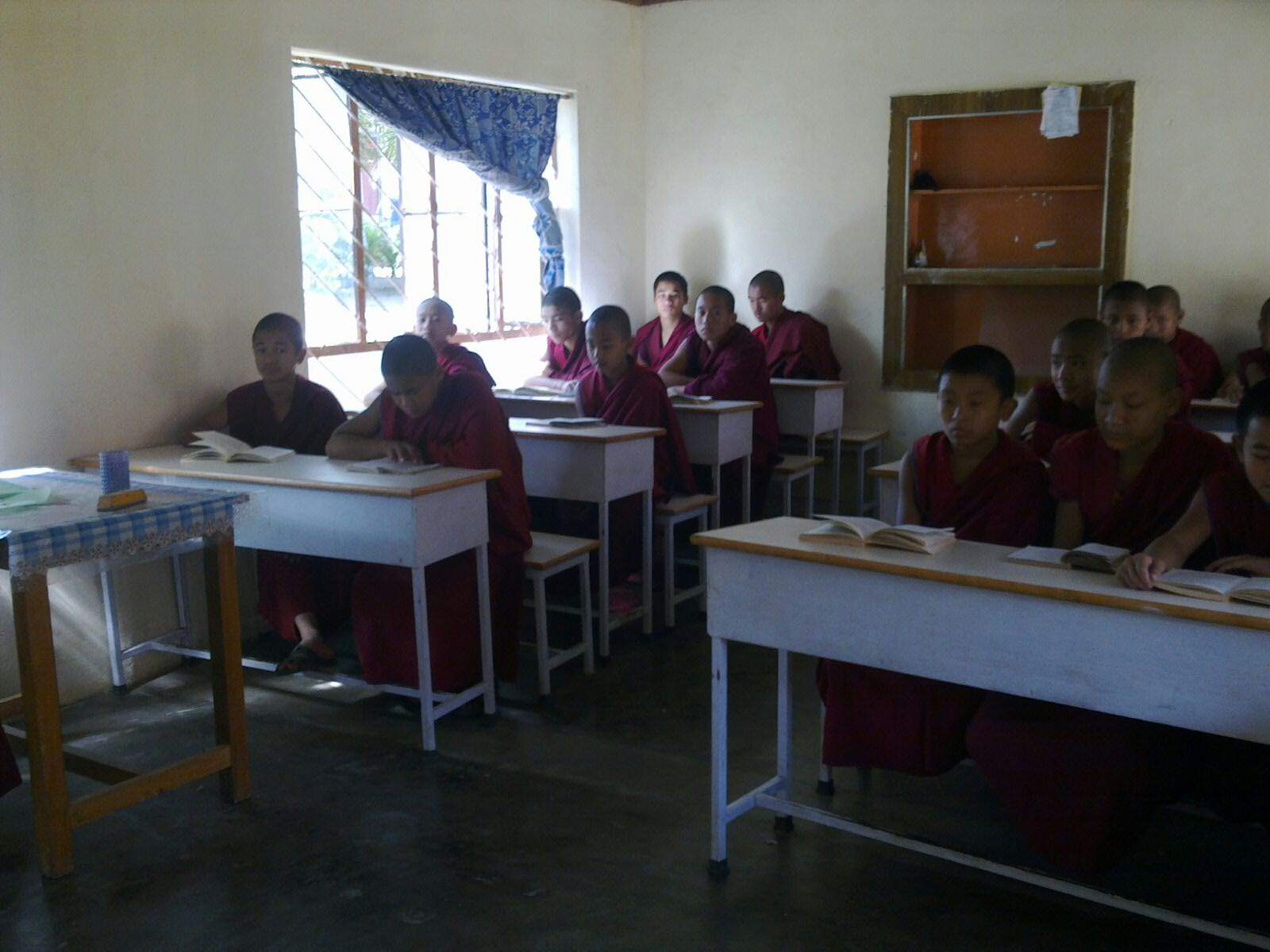 Classroom in Serpom Monastery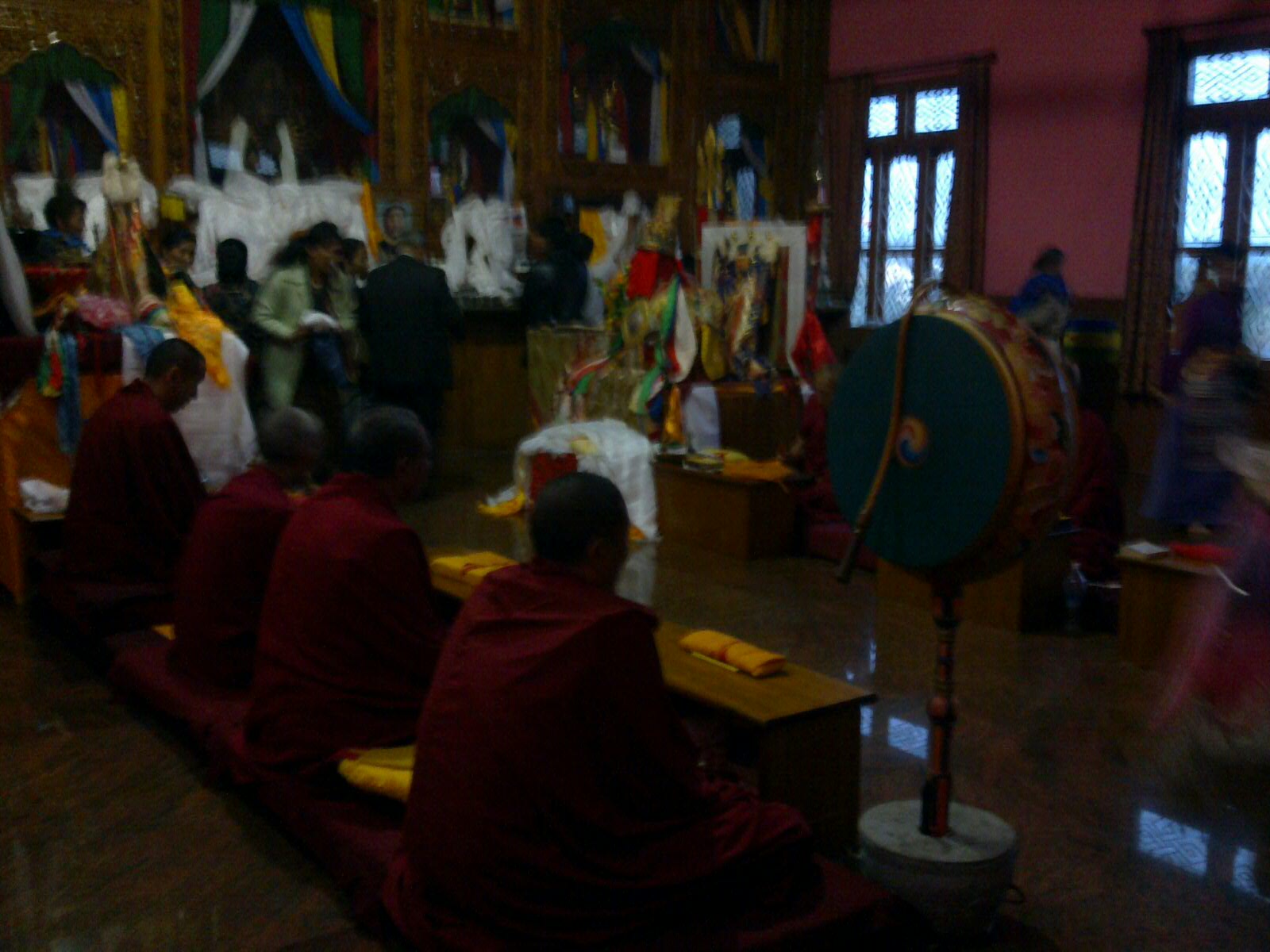 Prayers in Protector Chapel of Serpom Monastery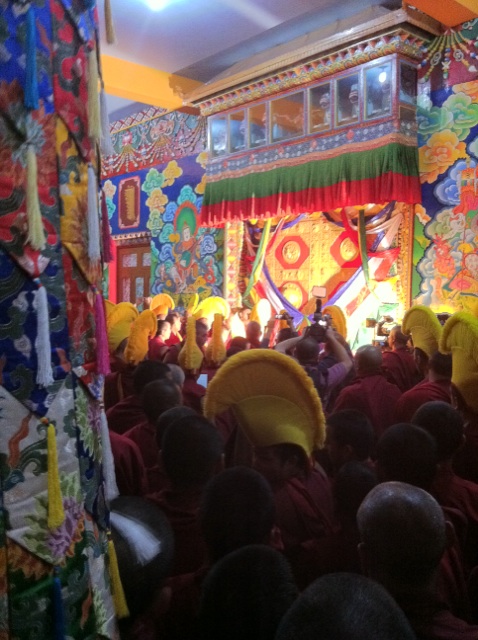 Arrival of the Abbot (Kenpo) Kyabje Yongyal Rinpoche for Official Opening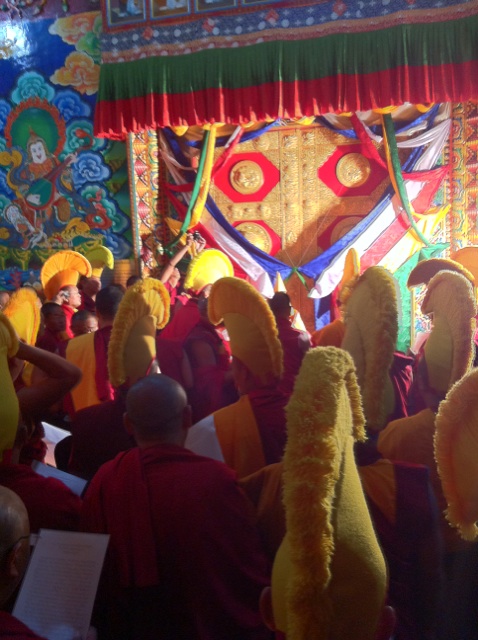 Cutting the ribbon to enter the new prayer hall by the abbot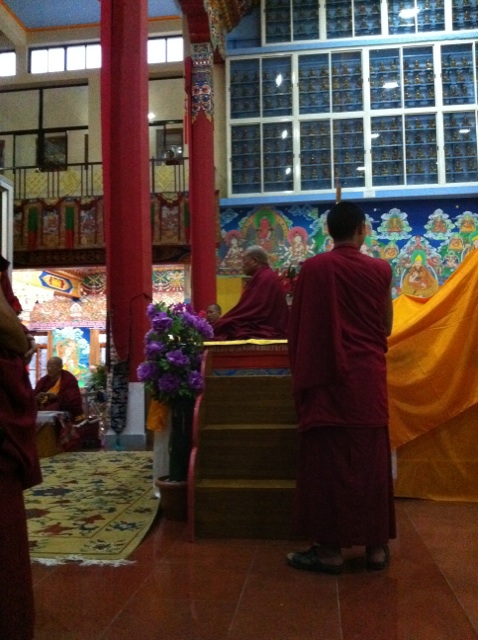 Kyabje Yongyal Rinpoche enthroned as the first historic abbot of Serpom Monastery on the throne leading the new prayer hall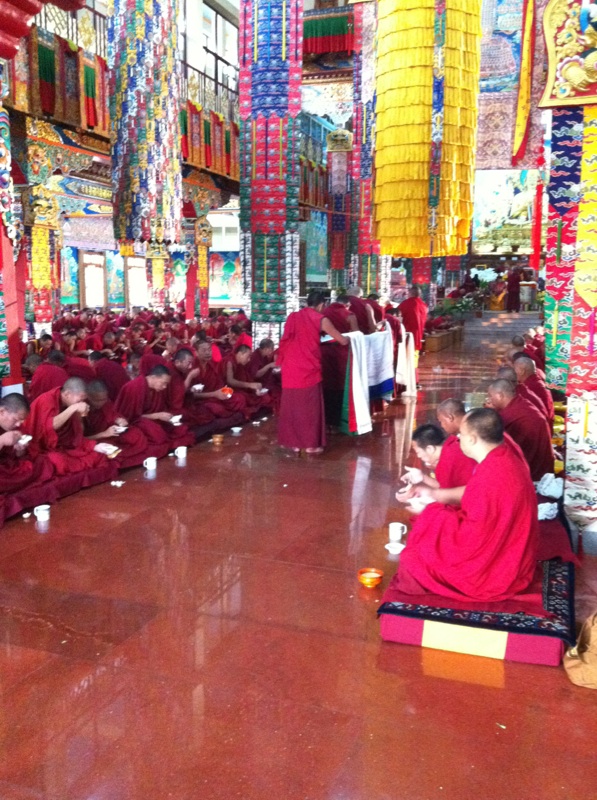 Monks making offerings to Abbot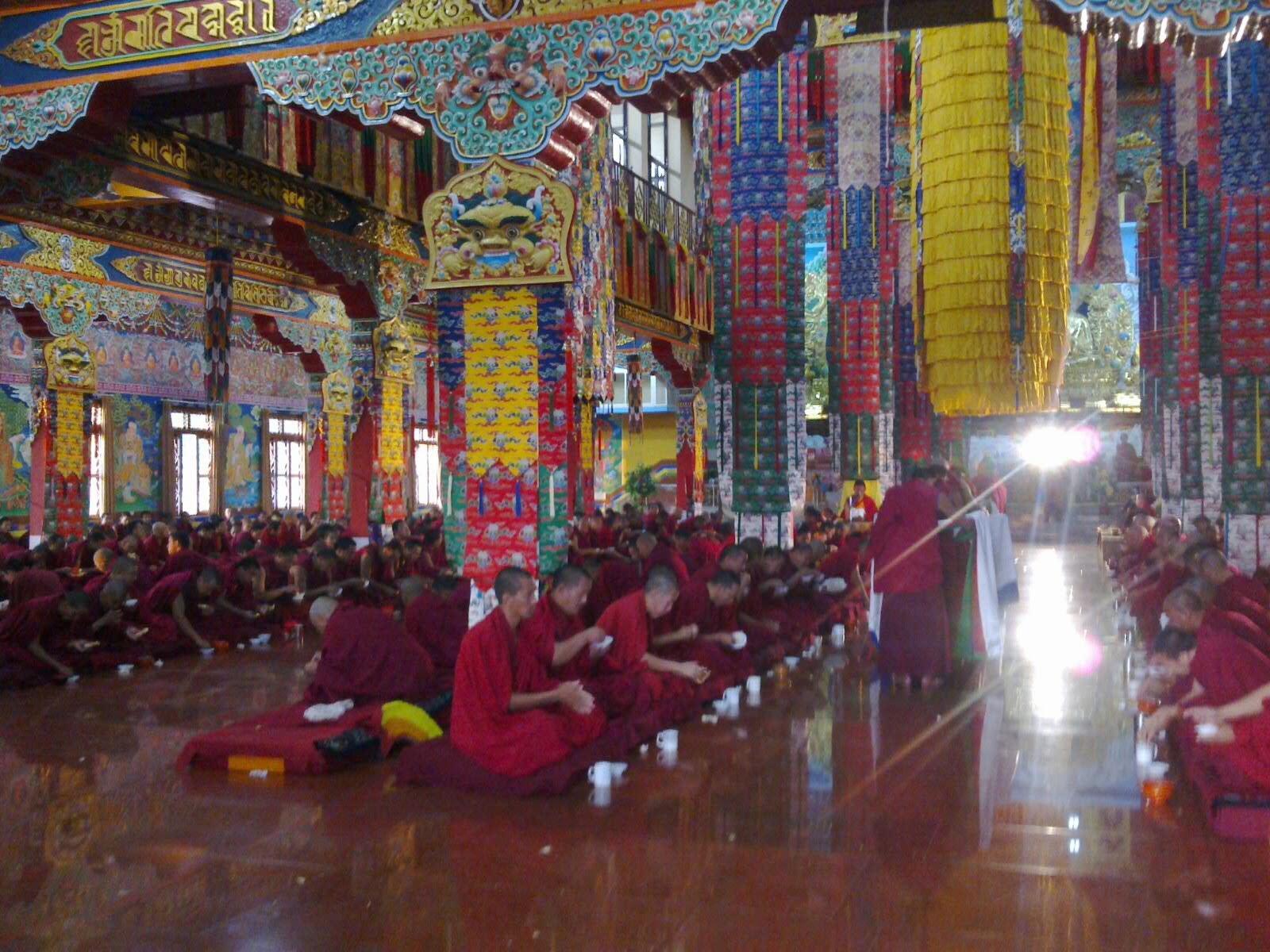 Monks making offerings to Abbot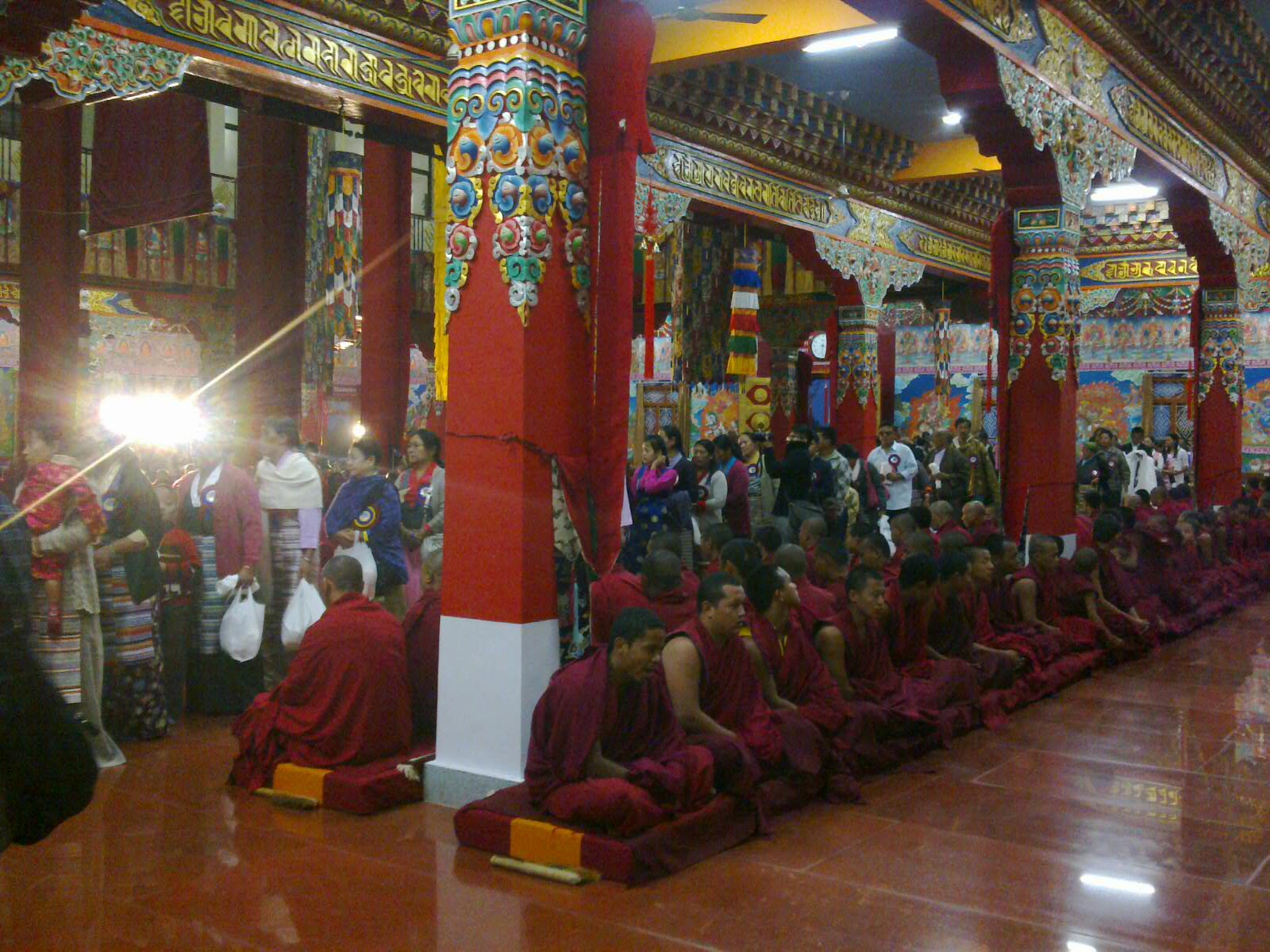 Many lay people lining up to make offerings to Kyabje Yongyal Rinpoche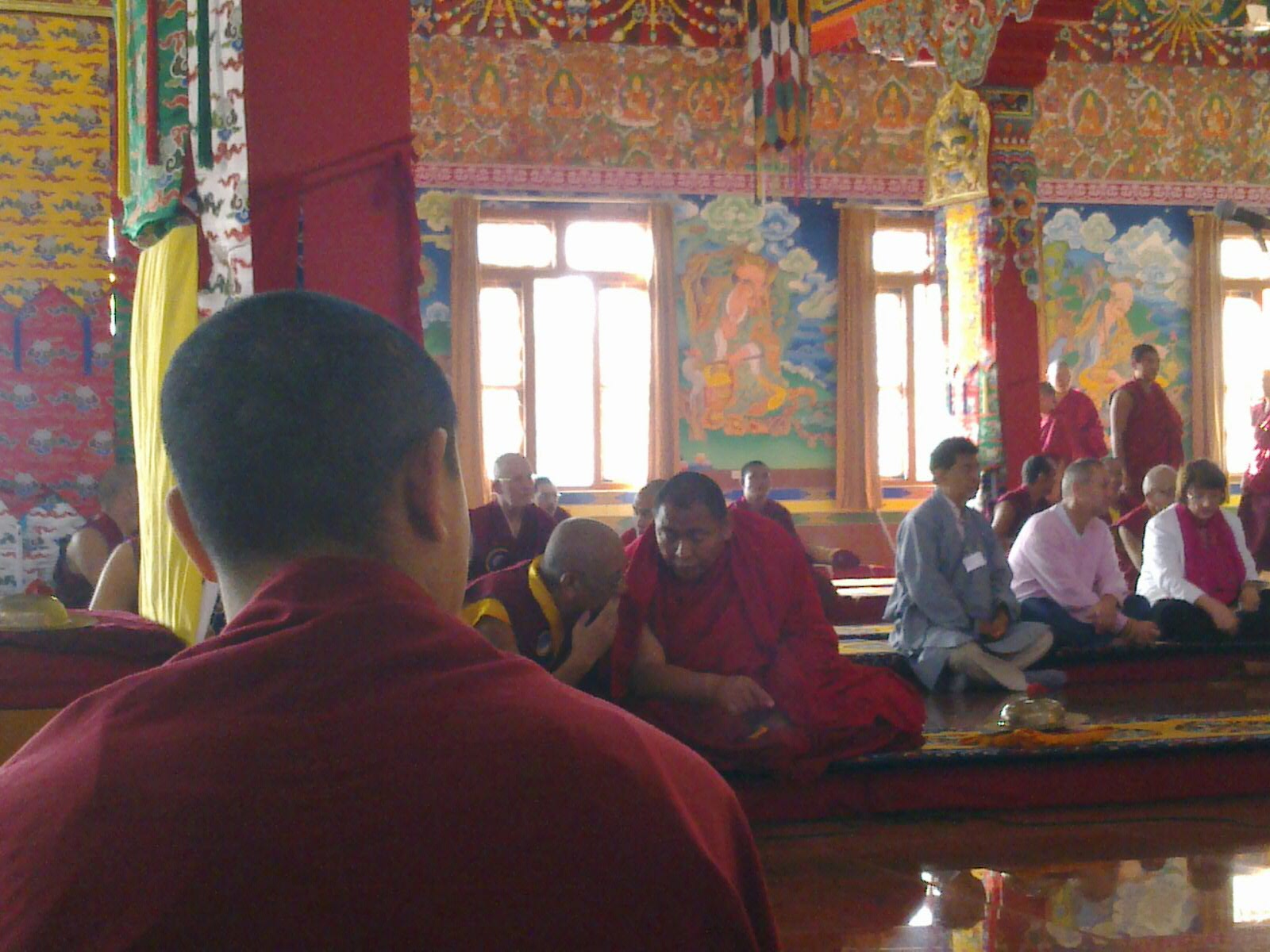 Gameng Dulzin Kuten Lama arrives from the USA to attend the special opening seated here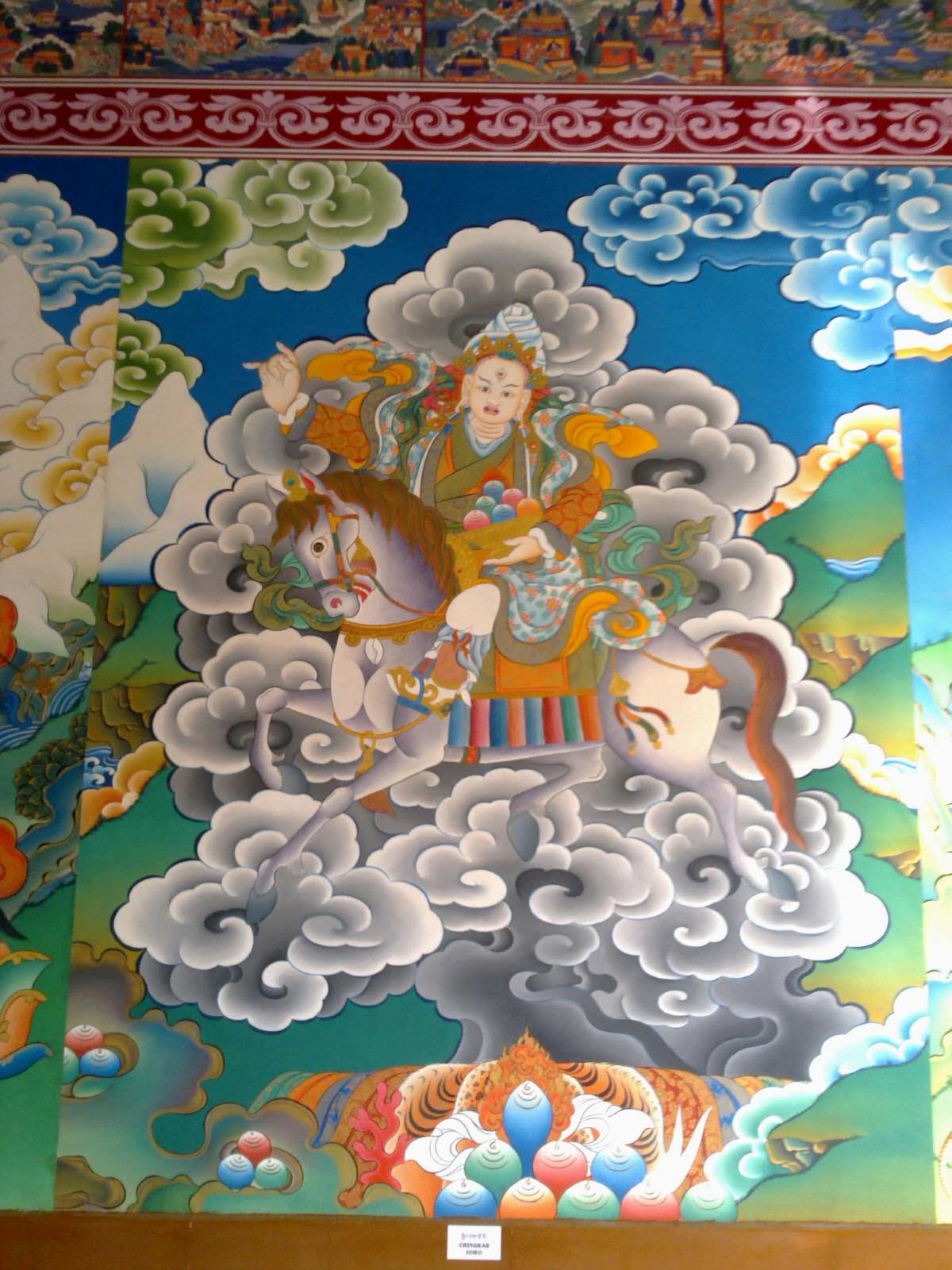 Jowo Chingar (Atisha's protector) painted onto the wall of main gompa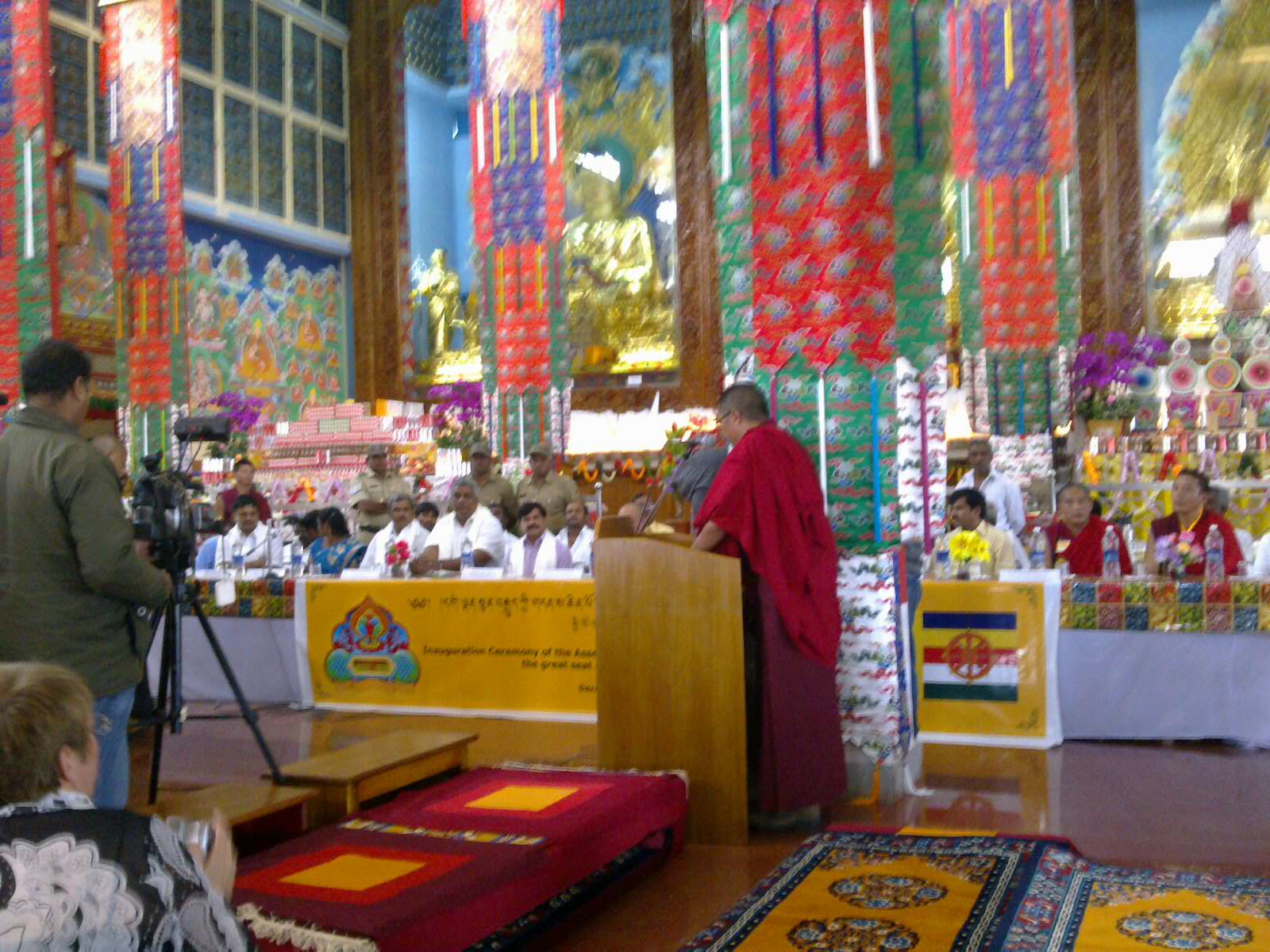 Panel of Indians sitting in front of the altar in main gompa – Amongst them Honorable Karnataka Minister and Mysore Minister, His ExcellencyS. A. Ramdas, Shri K. Venkatseh (member of legislature assembly)
The Indian Government supports Serpom Monastery as it is a religious institution. The Government of India guarantees all religious worship and practice under their democracy. They make no bias or discrimination based on religion. The Indian Government protects where CTA does not.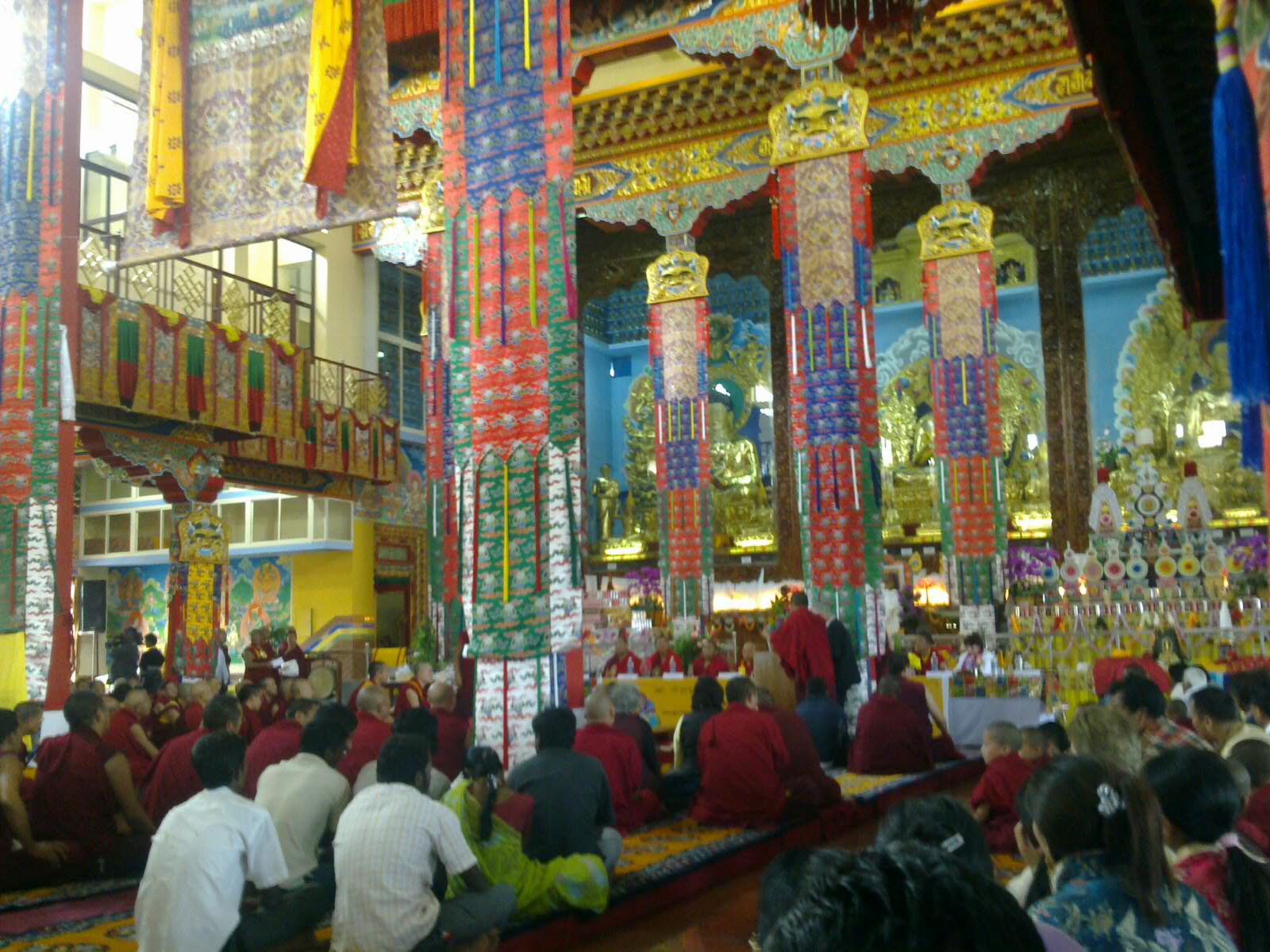 Main hall of Serpom Monastery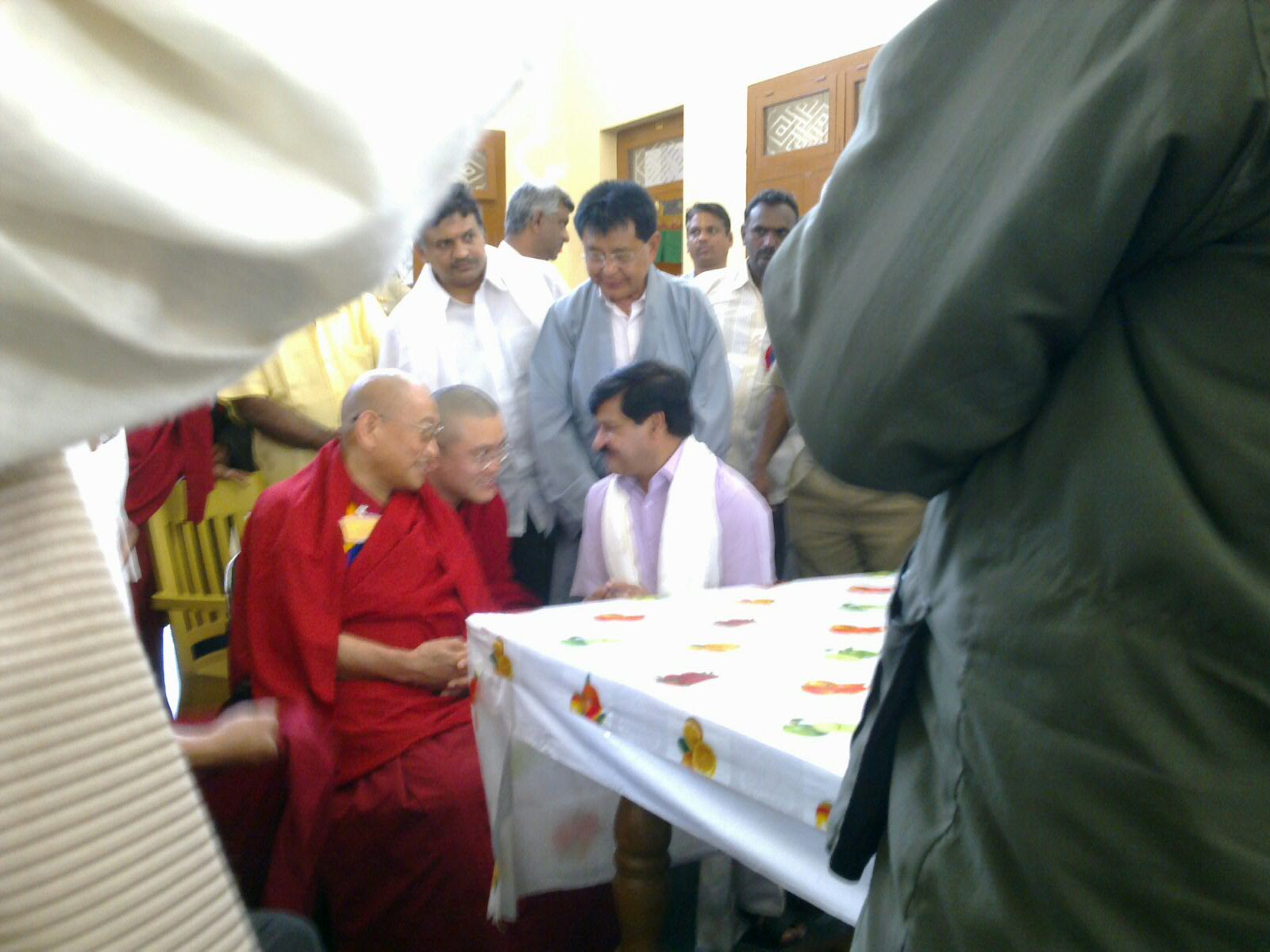 Indian Govenment official from Bangalore (who officiated the opening) talking with Yongyal Rinpoche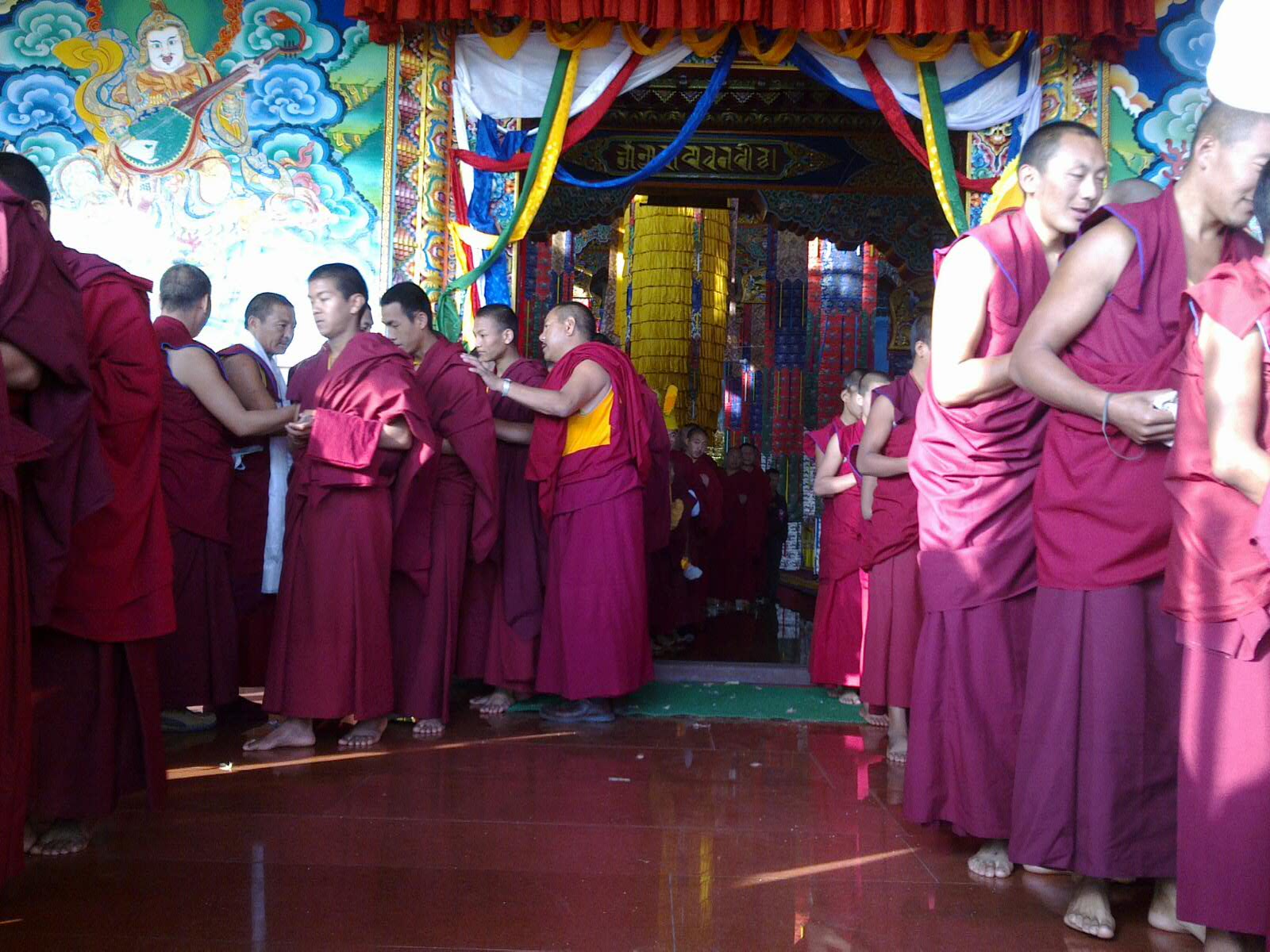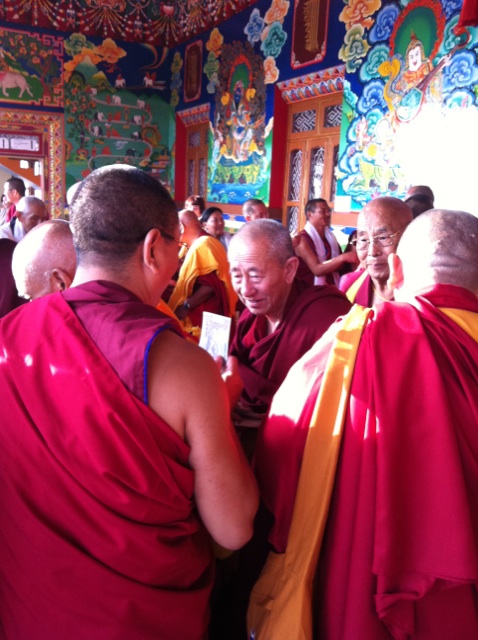 Famous and learned Geshe Thupten from Switzerland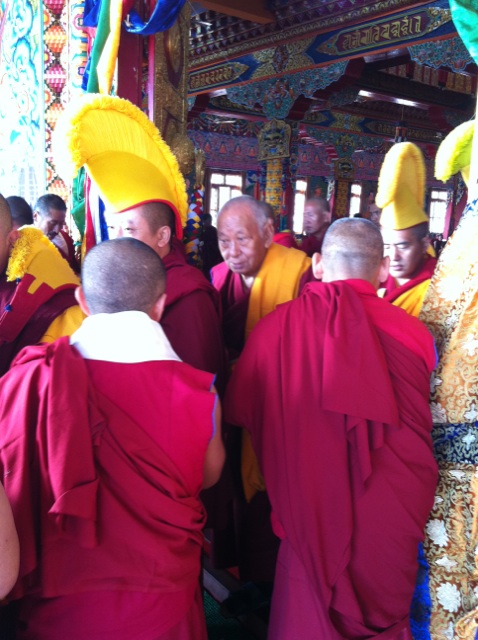 Chonzey-la from Trijang Ladrang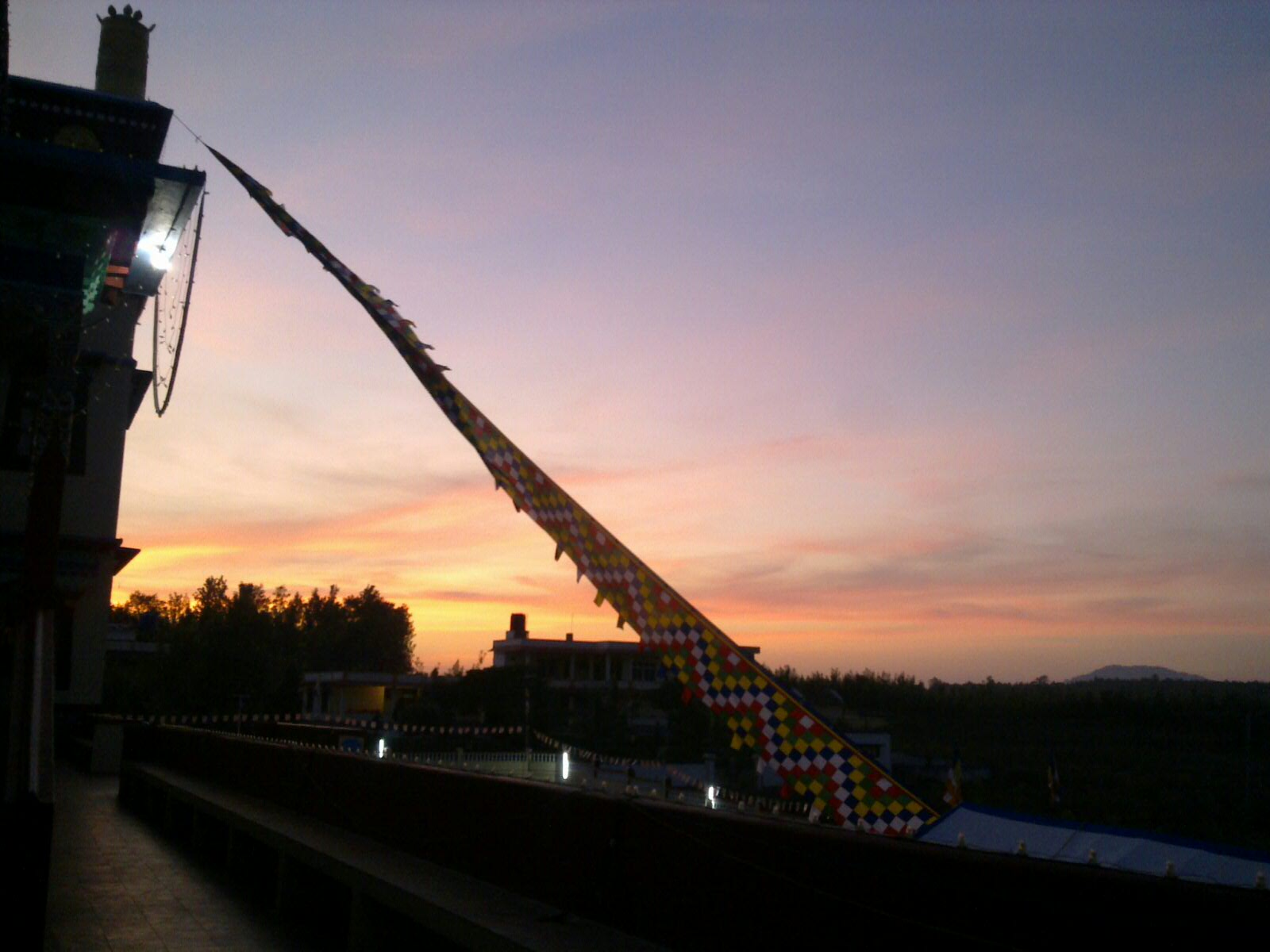 Massive prayer flag fluttering in the wind during sunset
---
MORE GREAT NEWS: