View the original video on YouTube:  http://www.youtube.com/watch?v=Ehr8ePFyWoY
In the 17th Century, the Fifth Dalai Lama had Trode Khangsar built in dedication to the Protector Dorje Shugden.
The main image
inside was also commissioned by the 5th Dalai Lama. By the end of the 17th Century, the Fifth Dalai Lama's Regent Desi Sangye Gyatso entrusted Trode Khangsar to Riwo Choling, a Gelug Monastery.
Today it is in full use and located behind the main Chapel of Jowo Buddha or central Cathedral of Lhasa just off the
main circumambulation circuit or barkor.
Many pilgrims visit and monks are available daily performing
pujas/ceremonies to Dorje Shugden daily. It is open to tourists.
This chapel is over 350 years old in the heart of Lhasa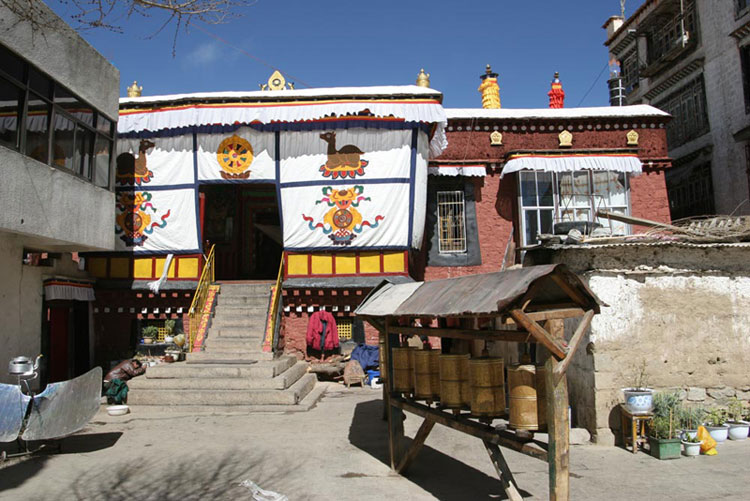 Dorje Shugden Chapel is 8 mins walk from Jokhang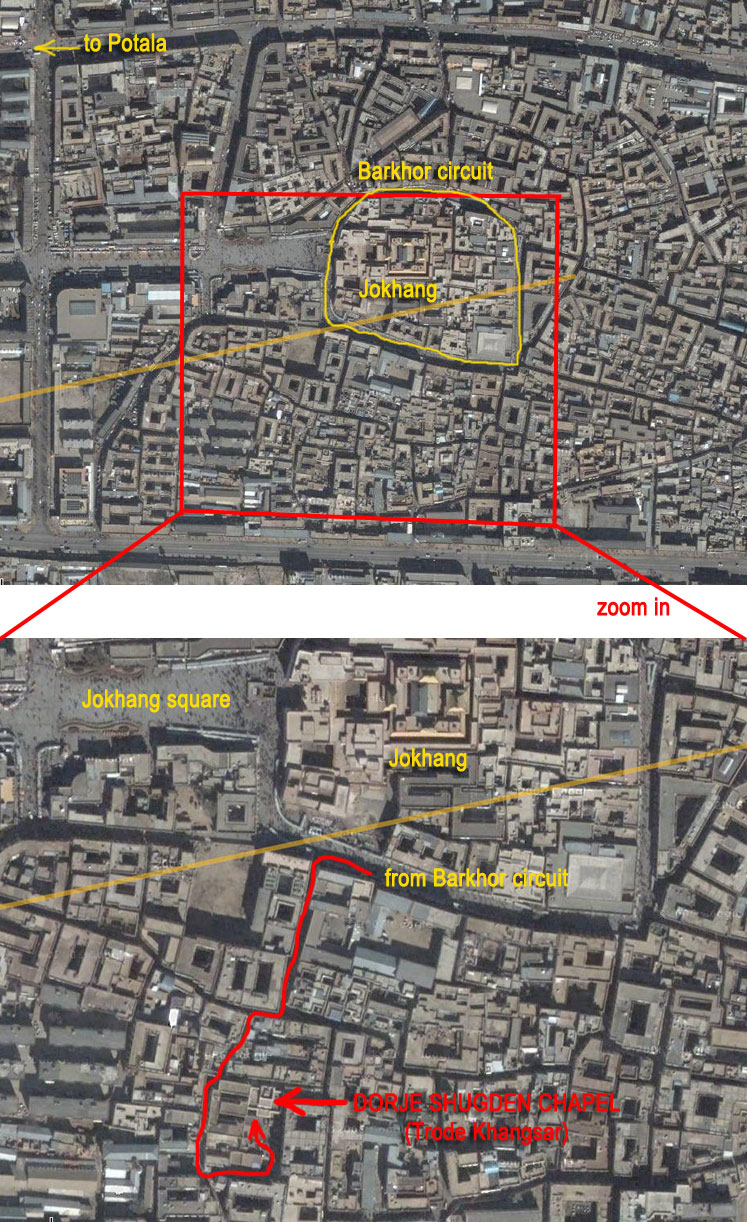 More information on Trode Khangsar can be found in this book, page 195-199. It is available on Amazon.com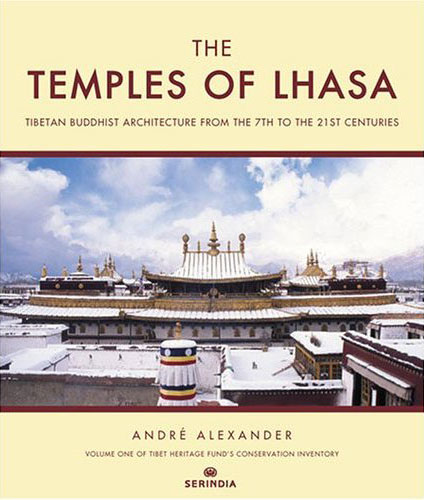 Book Details
Hardcover: 336 pages


Publisher: Serindia Publications; illustrated edition edition (November 15, 2005)


Language: English
(from the front flap of this book) The Temples of Lhasa is a comprehensive survey of historic Buddhist sites in the
Tibetan capital of Lhasa. The study is based on the Tibet Heritage Fund's official five-year architectural conservation
project in Tibet during which the author and his team had unlimited access to the buildings studied. The documented
sites span the entire known history of Tibetan Buddhist art and architecture from the 7th to the 21st centuries.
The book is divided into thirteen chapters, covering all the major and minor temples in historic Lhasa. These include
some of Tibet's oldest and most revered sites, such as the Lhasa Tsuklakhang and Ramoche, as well as lesser-known
but highly important sites such as the Jebumgang Lhakhang, Meru Dratsang, and Meru Nyingpa. It is illustrated with
numerous color plates taken over a period of roughly fifteen years from the mid-1980s to today and is augmented with
rare photographs and reproductions of Tibetan paintings. This book also provides detailed architectural drawings and
maps made by the project. Each site has been completely surveyed documented and analyzed. The history of each site
has been written — often for the first time — based on source texts and survey results, as well as up-to-date technology
such as carbon dating, dendrochronology, and satellite data. Tibetan source texts and oral accounts have also been
used to reconstruct the original design of the sites. Matthew Akester has contributed translations of Tibetan source
texts, including excerpts from the writings of the Fifth and Thirteenth Dalai Lamas.
This documentation of Tibetan Buddhist temple buildings is the most detailed of its kind, and is the first professional
study of some of Tibet's most significant religious buildings. The comparative analysis of Tibetan Buddhist
architecture covers thirteen centuries of architectural history in Tibet.
MORE GREAT MONASTERIES:

View video on YouTube: http://www.youtube.com/watch?v=x6Bk1YvMZds
His Holiness Kyabje Trijang Rinpoche with his older brother Prince TJ Versace, who now lives in America and Europe as a private citizen.
MORE GREAT VIDEOS:

View video on YouTube: http://www.youtube.com/watch?v=bnOiZuFY6Fw
This is a trailer for a documentary on the State Oracle of Tibet (http://www.inspiration-productions.com/english/). Maud Kristen, a renowned French medium, visits Northern India, the bastion of Tibetan civilization in exile, to discover their oracle system. 
She meets Thupten Ngodup, the medium of Nechung, in Tso Pema and follows him on his pilgrimage to the sacred places of Guru Rinpoche, the famous saint who introduced Buddhism to Tibet.
Nechung has been one of the spiritual protectors of Tibet since the 8th century and has, over the years, developed a special relationship with the Dalai Lamas. Nechung manifests through Thupten Ngodup as a state oracle and advises the Tibetan government and the Dalai Lama on important issues…
Maud Kristen is a clairvoyant and psychic, and she became famous in the late 1980s because of her public demonstrations of her gifts of precognition and the many experiments in parapsychology in which she has participated. She is actively campaigning for recognition and a serious study of psychic phenomena by the scientific community.
Source : http://fr.wikipedia.org/wiki/Maud_Kristen
MORE GREAT VIDEOS:

View video on YouTube: http://www.youtube.com/watch?v=bT06ui6stB0
Ngawang Lobsang Gyatso, "The Great 5th" Dalai Lama was the temporal and spiritual ruler of Tibet from 1642-1682. He unified Tibet under the Gelug school of Buddhism, made Lhasa the capital city, established friendly relations with the Manchu Emperor in Beijing and built the Potala Palace. He was a great writer on spiritual subjects and an adept administrator, putting in place the dual system of government that ruled Tibet for centuries. The Great Fifth Dalai Lama also wrote a prayer to Dorje Shugden.
(Prayer link to http://dorjeshugden.com/wp/?page_id=341)
MORE GREAT VIDEOS:

In ancient times and throughout history, an oracle is a person or agency considered to be a source of wise counsel or prophetic opinion. It may also be a revealed prediction or precognition of the future from deities, that is spoken through another object or life-form (e.g.: augury and auspice).
In the ancient world, many sites gained a reputation for the dispensing of oracular wisdom: they too became known as "oracles," and the oracular utterances, called khre-smoi in Greek, were often referred to under the same name — a name derived from the Latin verb o-ra-re, to speak.
Tibet
In Tibet, oracles have played, and continue to play, an important part in religion and government. The word "oracle" is used by Tibetans to refer to the spirit that enters those men and women who act as media between the natural and the spiritual realms. The media are, therefore, known as kuten, which literally means, "the physical basis".
The Dalai Lama, who lives in exile in northern India, still consults an oracle known as the Nechung Oracle, which is considered the official state oracle of the government of Tibet. The Dalai Lama has, according to a custom that has endured for centuries, consulted the Nechung Oracle during the new year festivities of Losar. Before fleeing from Tibet however, he consulted the oracle of Dorje Shugden. Another oracle he consults is the Tenma oracle, for which a young Tibetan woman is the medium for the goddess. The Dalai Lama gives a complete description of the process of trance and spirit possession in his book Freedom in Exile.


China
Oracles were common in many civilizations of antiquity. In China, the use of oracle bones dates as far back as the Shang Dynasty, (1600–1046 BC). The I Ching, or "Book of Changes", is a collection of linear signs used as oracles that are from that period. Although divination with the I Ching is thought to have originated prior to the Shang Dynasty, it was not until King Wu of Zhou (1046–1043 BC) that it took its present form. In addition to its oracular power, the I Ching has had a major influence on the philosophy, literature and statecraft of China from the time of the Zhou Dynasty (1122 BC – AD 256).


Egypt
The earliest known oracle was in the renowned temple of Per-Wadjet. This was an important site in the Pre-dynastic era of Ancient Egypt, which includes the cultural developments of ten thousand years from the Paleolithic to 3100 BC. The temple was dedicated to the worship of Wadjet and may have been the source for the oracular tradition that spread to Ancient Greece from Egypt. The Per-Wadjet tradition continued through the entire history of the Ancient Egyptian culture. The later Greeks called both the goddess and the city, Buto.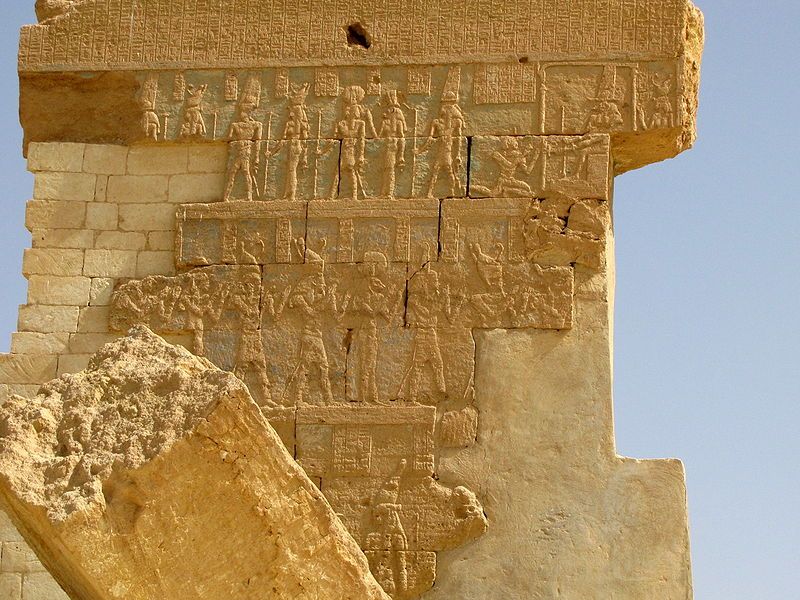 The remains of the oracle temple of "Amun" at Siwa Oasis.
Another oracle of note lay in Egypt during the Eighteenth dynasty (1550–1292 BC), is a temple dedicated to Amun, a god who rose to importance during that time. The Greeks associated him with Zeus. Alexander the Great once visited it, and although no record of his query remains, the oracle is thought to have hailed him as Amun's son, influencing his conceptions of his own divinity.


Greece
The earliest tradition of oracular practice in Hellenic culture is from the archaic period shortly after arrival of the Hellenes in their current place of settlement c. 1300 BC. The oracle was associated with the cults of deities derived from the great goddess of nature and fertility, the pre-eminent ancient oracle — the Delphic Oracle — who operated at the temple of Delphi. Oracles were thought to be portals through which the gods spoke to man. In this sense they were different from seers (manteis in Greek) who merely interpreted signs sent by the gods through bird signs, animal entrails and other various methods.
The Pythia, the oracle at Delphi, only gave prophecies the seventh day of each month out of a nine-month working period; thus, Delphi was not the major source of divination for the ancient Greeks. Many wealthy individuals attempted to bypass the hordes of people attempting a consultation by making additional animal sacrifices to please the oracle lest their request go unanswered. As a result, seers were the main source of everyday divination.
The temple was changed to a center for the worship of Apollo during the classical period of Greece, and priests were added to the temple organization — although the tradition regarding prophecy remained unchanged. The apparently always-female priestess continued to provide the services of the oracle exclusively. It is from this institution that the English word, oracle, is derived.
The Delphic Oracle exerted considerable influence throughout Hellenic culture. The Greeks consulted her prior to all major undertakings, wars, the founding of colonies, and so forth.
The semi-Hellenic countries around the Greece world, such as Lydia, Caria, and even Egypt also respected her and came to Delphi as supplicants. Croesus of Lydia consulted Delphi before attacking Persia, and according to Herodotus was told, "If you cross the river, a great empire will be destroyed." Believing the response favorable, Croesus attacked, but it was his own empire that ultimately was destroyed by the Persians.
She allegedly also proclaimed Socrates to be the wisest man in Greece, to which Socrates said that, if so, this was because he alone was aware of his own ignorance. After this confrontation, Socrates dedicated his life to a search for knowledge that was one of the founding events of western philosophy. This oracle's last recorded response was given in 393 AD, when the emperor Theodosius I ordered pagan temples to cease operation.
Dodona is another oracle devoted to the Mother Goddess identified at other sites with Rhea or Gaia, but is here called Dione. The shrine of Dodona was the oldest Hellenic oracle, according to the fifth-century historian Herodotus and, in fact, dates to pre-Hellenic times, perhaps as early as the second millennium BC when the tradition spread from Egypt. It became the second most important oracle in ancient Greece, which later was dedicated to Zeus and to Heracles during the classical period of Greece.
During the period, in Crete lay another important oracle, sacred to Apollo. It ranked as one of the most accurate oracles in Greece.


India
In ancient India, the oracle was known as Akashwani, literally meaning "voice from the sky" and was related to the message of God. Oracles played key roles in many of the major incidents of the epics Mahabharat and Ramayana. An example is that Kamsa, the evil uncle of lord Krishna, was informed by an oracle that the eighth son of his sister Devaki would kill him.


Mesoamerica
In the migration myth of the Mexitin, i.e., the early Aztecs, a mummy-bundle (perhaps an effigy) carried by four priests directed the trek away from the cave of origins by giving oracles. An oracle led to the foundation of Mexico-Tenochtitlan. The Yucatec Mayas knew oracle priests or chilanes, literally 'mouthpieces' of the deity. Their written repositories of traditional knowledge, the Books of Chilam Balam, were all ascribed to one famous oracle priest who correctly had predicted the coming of the Spaniards and its associated disasters.


Nigeria
The Igbo people of southeastern Nigeria in Africa have a long tradition of using oracles. In Igbo villages, oracles were usually female priestesses to a particular deity, usually dwelling in a cave or other secluded location away from urban areas, and, much like the oracles of ancient Greece, would deliver prophecies in an ecstatic state to visitors seeking advice. Though the vast majority of Igbos today are Christian, many in Nigeria today still use oracles.
In Igboland of present-day Nigeria, many different oracles were regularly consulted. Two of these became especially famous: the Agbala Oracle at Awka and the Chukwu Oracle at Arochukwu.


Scandinavia
In Norse mythology, Odin took the severed head of the mythical god Mimir to Asgard for consultation as an oracle. The Havamal and other sources relate the sacrifice of Odin for the oracular Runes whereby he lost an eye (external sight) and won wisdom (internal sight; insight).
Source: FROM WIKIPEDIA
MORE GREAT ARTICLES:


As a universal Protector whose time has come, there are countless stories of the benefits that Dorje Shugden's practice brings to his practitioners. From protection from black magic, to help with mundane worldly issues; from guidance in spiritual matters to teachings that change a person's life – these are the stories of those who have been helped. These are some real-life stories to show that he is here and with us.

I am very new to Dorje Shugden's practice as I was formally introduced to the Protector only about a month or so ago. It would be hard to write a testimonial when I do not have months and years of practice behind me, but I would still like to seize the opportunity to share a few things related to my practice of Dorje Shugden:

When I first became involved actively with the study of the Lamrim, and as I did further research on the Internet about the Gelugpa teachings and its lineage, I came across the controversy of Dorje Shugden. At first, I searched more to find out what it was about and quickly realized that I just could not make any sense of it AT ALL!

The statements of the Dalai Lama seemed contradictory and it didn't make much sense at all to me. Then I saw the images of monks demonstrating with banners asking the Dalai Lama to stop…. lying???? Some were even describing him as a… dictator??? Then, he also said that his own teachers were… wrong??

I had been through some parts of the Lamrim by then, and had the determination to study it more as it was answering all of my questions. So I decide to COMPLETELY ignore the topic of Dorje Shugden. Every time I came across it on the Internet, I just did not look at it, did not read anything about it and kept it at the back of my mind, to be explored later when I would have sufficient knowledge and be able to understand the dynamics at play.

I did this because there was one answer from the Dalai Lama to a formal request for clarifications sent by Western Gelugpa monks: "Your main concern should be the study and realization of the 18 volumes of Lama Tsongkhapa". And so, following the Dalai Lama's advice, I too set myself to study the Lamrim before entertaining a polemic in my mind.

It was only months later that, through the kindness of my teacher, I was given more detailed explanations and gained more understanding as to why the whole thing seemed to make no sense at all: The very fact that it made no sense indicated that sense is to be found at another level, at a larger scale. Then, instead of undermining my determination to learn and practice, the controversy made it stronger. I realized that His Holiness was acting out of great compassion and with a pure and sincere motivation. His actions are truly remarkable! The controversy is helping many and will continue to help many more!

I run my own business, and very, very soon after having connected with the Dharma and with Dorje Shugden, my business collapsed and all my ventures got suspended or cancelled. ALL! And all within only four weeks. I had 18 employees in October 2008; by the beginning of 2009, I only had two left and we were working only four-day weeks with salary cuts.

Until then, I lived out of a suitcase, travelling 20 days a month, from the States to the Maldives, Dubai, Singapore, China… As such, I would not have been able to study the Lamrim, as I was away most of the time. So, by losing all my jobs, I suddenly had lots more free time at hand. I must say here that I never panicked in this situation. Instead, I took the opportunity at hand to study the Lamrim; I knew that it was a unique opportunity.

My business never collapsed completely and it survived. As a matter of fact, we are now busy working on projects that are spreading the Dharma, and now, even my working hours have been made meaningful!

This is a story I do not talk about openly to just anyone because in the mind of new practitioners, Dorje Shugden is supposed to "protect" us, so how could he have created conditions such that my business collapsed? If some people heard this story, they may not even want to make prayers to Dorje Shugden or do his practice.

Dorje Shugden is a Dharma Protector and his "role" is to create conducive conditions for people to practice the Dharma. In my case, the loss of business created the conditions for me to practice Dharma and as a result, my life is now meaningful, I am happier and, looking at the bigger picture, I have received tremendous help from him. I feel very fortunate.

I wish for my mind to be completely free of any confusion, and may such achievement come to be helpful to others.

~ Eva ~
Last year, my company held a huge outdoor festival close to our office premises, with many activities organized in the open space around the main building. It was a wonderful day that brought many people from the nearby community. The place was filled all day with exciting sounds, colors and aromas of food, and the weather was perfect for an outdoor celebration.

Then, as evening fell, large dark clouds started to gather from the west. As one of the main organizers of this evening, I became very worried because we anticipated more people would come to the festival for dinner and we still had a whole night of traditional cultural performances lined up. There was nothing I could do but make strong prayers to Dorje Shugden in my heart. You may think this is a coincidence but soon after, the black clouds slowly shifted away and there, in front of all of us, rainbows appeared instead!

Thank you, Protector. Once again, you show that if we have a sincere motivation, you would help practitioners.

~ Bernie ~

I was very fortunate to be introduced to Dorje Shugden by my Lama seven years ago. He advised me to chant the mantra as much as I could and told me that things would go smoothly. At that time, I had just got married and we were in the midst of applying for my visa to stay in my husband's home country.

There were so many procedures and we had to submit many documents to different places in order to obtain the visa. Everything went smoothly and during our interview with the immigration officer, he suddenly offered me a multiple-entry visa so that I would be able to travel in and out of the country easily. My husband and I were very surprised; we never knew that there was even such a thing as a multiple-entry visa. We had expected to get only a single-entry visa.

This multiple-entry visa made things much more convenient because it enabled me to travel to other countries for work and to go home to my own country. I said a big thank you to my Lama for his love and care, and did a thanksgiving serkyem offering to thank Dorje Shugden for clearing all obstacles so that I could obtain my visa without any problems.

Throughout my first pregnancy, I was very worried and nervous about the delivery. Since I was very young, I have always been very scared of pain; I would even avoid an injection if I could! Giving birth to a baby – be it by natural childbirth or by Caesarian – is a very big thing and I was very scared.

My Lama again kindly advised me to chant Dorje Shugden's mantra daily and blow onto my stomach after I finished chanting for the benefit of the baby. I did this everyday, and during my pregnancy, the usual migraines I suffered disappeared and I suffered no sickness, headaches, flu or fever (which I usually get once every few months). I only had a little vomiting after meals, which is normal during pregnancies.

My Lama also gave me advice on what to do during my labor and the visualizations I should do. He told me to not worry, not to be scared of the delivery, and that everything would be fine.

On the day of the delivery, I went through all the procedures without any problem. Even as the baby was moving down, which caused pain in my back, it was still at a level of pain I could bear. I followed what my Lama had advised me: I thought about my Lama and Dorje Shugden as one and chanted Dorje Shugden's mantra. I visualized that any pain experienced by the people I knew would come to me and that I could absorb their pain so that they may be free of suffering. I thought about this again and again, starting with the people who are close to me, and moving on to include strangers.

Finally, the baby moved down and came out by natural delivery. I was conscious throughout the birth and knew everything that happened. I just felt very weak (as I was not allowed to eat for a whole day in case there was an emergency and I needed to go for an operation.)

My baby was born healthy and well. I chanted Manjushri's mantras and blew on her mouth and ears right after she was born, as advised by my Lama. I stayed at the hospital overnight and was allowed to go home the very next day with my baby. My baby was easy to take care of throughout her infancy and hardly ever cried unless she was hungry. She was blessed by Dorje Shugden.

I'm very grateful to my Lama and my Protector. They have protected me and my family, and have helped me during difficult times, to make sure everything went smoothly. Their love and care towards us are unending and they really benefit all beings.

~ Winnie Wong ~

I don't really know how to describe my experiences after praying to Dorje Shugden, but I know I feel much happier and lighter. My faith in Dharma has become stronger and stronger. This is hard to explain as this kind of thing is difficult to measure, but I am very sure that because of my practice and reliance on the Protector, my anger has lessened and doesn't arise as quickly as it used to. Before, if I became angry with someone, it would take me two to three hours to calm down. It is different now – I still get angry but I also calm down very quickly. Sometimes, the anger disappears within just a few seconds. And even if people are sometimes screaming or shouting at me, I can accept it much more easily than I could before and not hold on to it.

Another specific example of how the Protector has helped me was while I was working in theatre a few years ago. In one particular production, I faced a lot of obstacles. People would cancel on me at the last minute, leaving me in the lurch without the right people to finish the job. I felt constantly tense and a bit nervous; I really didn't know what to do. However, in my heart, I prayed strongly and sincerely to the Protector. You wouldn't believe it – the very next day, someone called me and said he wanted to help me find people for the areas I was struggling to fill. Within two or three days, the people and materials I needed all came together completely. We made the deadline! I believe that it was because of the Protector that my obstacles disappeared so quickly. Very blessed!

~ Mary ~

As a universal Protector whose time has come, there are countless stories of the benefits that Dorje Shugden's practice brings to his practitioners. From protection from black magic, to help with mundane worldly issues; from guidance in spiritual matters to teachings that change a person's life – these are the stories of those who have been helped. These are some real-life stories to show that he is here and with us.
I am sure there have been countless incidents when the Protector Dorje Shugden has helped me without me even knowing. The fact that I'm still on this path is, I'm sure, by his blessings and protection – I quite fickle by nature and I think, given any other situation, I would have left when the going gets tough. I am ashamed to realize that I have probably taken the Protector very much for granted.

And yet, in his infinite kindness, he never, ever forsakes us. At the most urgent moments, he is always there – swift, immediate and with so much compassion. He has helped me even in the smallest things – it seems almost silly actually. For example, there have been moments when I've had to attend important Dharma activities or events and travel or parking is difficult around the area. All I have to do is make a little wish in my heart, "Protector, please help me find a parking bay, I really need to be here for my Dharma path!" and almost immediately a car will pull out, leaving a parking spot for me in the most convenient, safe place, right in front of the venue. This hasn't just happened once or twice, but over and over again, every time I have asked.

There have also been very desperate situations where I've needed urgent help. This is just one of those cases:

One of my relatives was going through a very difficult, personal situation and as a result, had become very depressed, addicted to alcohol and very aggressive when he became drunk. One day, I got a call from my aunt saying that this uncle was threatening to kill himself and had locked himself in the bedroom. I was with my Lama at the time and when I told him what happened, he advised me to go to them directly, to visualise my Lama and Protector as one on my head and to recite the Wangse's mantra constantly.

By the time I got there, my uncle had totally lost it and had started to hurl all manner of things around the house. There was broken glass, machines and wrecked furniture everywhere, and he wouldn't stop drinking. He was completely uncontrollable. I did as my Lama had advised – including the visualisations and reciting mantras under my breath. I don't know how it happened, but as I did so, all the right words would spontaneously tumble out of my mouth which would calm him down temporarily, until we could work out our next move. Even I was surprised I was saying those things – it seemed like I was watching a movie of myself speaking.

Given the circumstances, I would have normally have totally freaked out and broken down. But by relying strongly on the Protector this time, I remained very calm and had such a sharp sense of focus which I never normally have even. I was able to calm down my uncle, stay strong for my aunt (who was totally falling into pieces) and strategise how to keep him contained and stop doing more damage. It felt like I was in some terrible movie but at the same time, throughout the episode, I felt like I could always anticipate what would happen next and move accordingly. The focus was abnormal and extremely sharp.

This focus also allowed me to rally round just the right support, call and get hold of just the right people. Just finding ways of getting hold of these people were riddled with obstacles, but by reciting the mantras over and over, other alternatives and solutions came to mind very quickly and easily. These other relatives were able to come over in the middle of the night and appease this uncle completely, until he finally went to bed peacefully.

There was damage, but it was salvageable and fortunately, nobody was hurt at all. The Protector, through the control aspect of Wangse showed me just how powerful and immediate his help is for a situation that could have potentially been very dangerous, even at the cost of people's lives.

Also, I didn't do any elaborate pujas or rituals. Everything turned out well and calmed down drastically just by reciting his mantra and having deep faith, knowing that both my Protector and Lama were protecting my whole family nearby and from afar. For this, I am always grateful and know for sure then, that the Protector is always there. All we have to do is believe and call.

~ Anonymous ~
Relying on a Dharma Protector to clear the obstacles to our Dharma practice is what we are taught, but it is so rarely practiced. We choose to rely on our Dharma Protector to clear obstacles to the things we think we want, not what our Dharma Protector knows we need.

Back in 2004, I had a chance audience with the Protector, through an oracle, where he gave me the following personal advice: "Stay longer, learn more Dharma, start work and business here." This meant that I should stay in the same country as my wife and do Dharma work and practice there.

Being new to Dharma, I did what any newbie would do. I thought that I knew my life best and planned to go back to my home country, take care of personal matters and then return to join my wife as soon as possible. Well, the obstacles kept coming – from wanting to start a career, to getting work experience, to paying off debts, to getting some savings to support me coming back to do Dharma…

It took me three years and an ultimatum from my wife to take the Protector's advice. All my friends and colleagues thought I was nuts. I had no savings and no job prospects. I only had two thoughts: to do live and breathe Dharma and have a long relationship with my wife in a Dharma community.

It's coming up to almost four years since I made that shift and finally moved to be with my wife and commit to the Dharma. Along the way, the Protector has been there when I needed him the most. For example, there was a time when I overstayed my travel visa, when I first came back to be with my wife. The Protector arranged circumstances so I would meet the right people at the right time and the obstacle was overcome. There were no penalties nor further delays.

If we are sincere in our motivation to be in the Dharma, I do believe the Protector will answer our prayers. Never think he is not there, never struggle with your attachment to your expected outcome; rely on the Protector and know that he will protect you. It is his sworn oath to all the Buddhas.

~ Drew ~
Unlike asking a friend for a favour and physically seeing him/her follow it through, it's hard to know the exact moments where Dorje Shugden played a major role in the outcome of a situation. I feel like I've gone through life pretty smoothly and perhaps that itself could be how he has helped: removing major personal obstacles.

Without me even knowing, Dorje Shugden has always watched over me and my family. Since 1996, my mum has been a Dorje Shugden practitioner and even though we had a 3-feet statue in the house, I never knew who it was as my siblings and I were told it was Manjushri!

It was when I was 17 that I had done my first Dorje Shugden retreat and during that period I was in the middle of doing my A-levels at a local college. Studying at that local college was a decision made based on the result of a Dorje Shugden divination. After graduating from an international school, I was given the choice of studying in the school's 6th form, in a boarding school in England or at a local college. Obviously wanting to remain in the same school (with the same friends) or to jet-set over to England were very favourable choices for me, but at that time my family was not in a good financial situation, and choosing those options would've put a heavier strain on my parents.

The divination came out stating that I should pursue my pre-university course in a local college, and so following the words I left the bubble of an international school to a college where half of the student population was on government scholarships. Prior to entering the college, I never had any friends who were from local schools and those that I mixed around with were from the same social circle and social class, where our school fees per month were double the minimum wage.

I entered the college 2 weeks late, as I tried dragging my holiday on for as long as possible, and I walked into a class full of studious faces staring at me as if I had a booger on my face. I was asked to introduce myself in front of everyone and so I shyly muttered, 'Hi, my name is Lily and I just graduated from the International School of Manila'. I realized that as I spoke, everyone was looking at each other, whispering and looking a little amused.

During lunch, I talked to some of my classmates and they kept asking questions regarding my life as if I was from a different country. After what seemed like an interview, one of the guys asked me politely how much my school fees were and after I told him he replied, 'My parents don't even make that much in a year'. His reaction hit me really hard as I realized that every single one of my classmates was not from the city and had worked really hard to get the scholarship to study where I thought was 'such a piece of crap'.

I spent the next 2 years surrounded by down-to-earth, innocent (in a sense that they haven't been corrupted by social politics) and really kind people. Those two years took me out of a silver-spoon-fed bubble and showed me people of my generation who reminded me of where my parents came from. Through a paralleled comparison, it reminded me of how hard my dad had to study to be able to provide what he can today.

With all outward things stable (finances, family etc.), I believe that our personal attitude and personality might be an obstacle that would probably be the hardest to overcome. We pray that we might get this car, get this job or get this grade, but never pray that we will be nicer, less angry or less miserly.

Like I wrote above, I feel that my life has been pretty smooth. However, I strongly feel that Dorje Shugden has shaped my personality to what it is today, and had I gone down a different path, I would most probably be someone quite spoilt, arrogant and obnoxious. I might not even be attracted to the Dharma or volunteer in charitable work like I do now.

It might be that some readers of this testimonial will find it silly that such a subtle impact is the one that I'm writing about, but if that divination has influenced me to becoming who I am today, i.e. being open and attracted to Dorje Shugden's practice and actively promoting it, then I feel that it is worth mentioning.

~ Anita ~
View the video on YouTube: http://www.youtube.com/watch?v=EY0UF6VTVFo
Geshe Kelsang gave a short talk in Tharpa Publications on distributing wisdom with Dharma books.
MORE GREAT VIDEOS:

View the video on YouTube:
http://www.youtube.com/watch?v=8OhTJzlFqA4
A collection of photos from Ser-pom Monastery. Sera has produced innumerable scholars, masters, yogis, abbots,
reincarnated tulkus and even regents. Currently Sera is in South India 6 hours away from Bangalore in Bylakuppe
Tibetan Colony, Mysore State .
Due to the ban His Holiness the Dalai Lama has enforced, Dorje Shugden practitioners may not associate with
non-Dorje Shugden practitioners in any way, shape or form. It is illegal for a Tibetan to associate with another
Tibetan that practises this Protector. This is what His Holiness the Dalai Lama says for Dharma and secular
lives, we must keep away from Dorje Shugden practitioners.
Hence, a large group of monks wishing to continue their practice of Dorje Shugden, had to separate from Sera
Monastery in order to carry out this directive. They have formally started a new Monastery nearby.
This new monastery is SERPOM NORLING MONASTERY. Watch this video of beautiful collection of photos
from this monastery. They have currently many qualified Geshes, six Tulkus and altogether 500 monks.
They may be contacted at:
Serpom Norling Monastery
P.O. Bylakuppe
571104, Mysore , K.S., India
Email: [email protected]
View the video on YouTube:
http://www.youtube.com/watch?v=HY9kLvONEOk
A haunting Tibetan song (no English subtitles) accompanies rare footage of the 10th Panchen Lama.
Amazing scenes of the massive crowds greeting this High Lama.
View the video on YouTube: http://www.youtube.com/watch?v=7XdiRw7sQjo
Tibetan spiritual leader Dalai Lama offered prayers in Dharamsala to mark the 51st anniversary
of Tibetans' aborted uprising against the Chinese rulers….
Video 2
View the video on YouTube: http://www.youtube.com/watch?v=MkCOyqgUkaY
SFT Kolkata organised a Candle Light Vigil on this day to commemorate the Uprising and to
stand in solidarity with the 6 million people of Tibet.
Video 3
View the video on YouTube: http://www.youtube.com/watch?v=_mZEgu8bt8k
51st Anniversary of Tibet Uprising, 10th March 2010 in Dublin
Video 4
View the video on YouTube: http://www.youtube.com/watch?v=2jIA_jNuq8Q
March 10, 2010 march to the Chinese Embassy in NYC as seen by Tenzin Loden Gyaldrong
MORE GREAT VIDEOS:

View the original video on YouTube: http://www.youtube.com/watch?v=hiBHg-dFng4
How would you advice people to be greener citizens?
As a man of peace, what can we do to combat the problem of violent crime and anti-social behaviour?
Watch this video for Dalai Lama's response to the interview questions through BBC.
MORE GREAT VIDEOS:

View the video on YouTube: http://www.youtube.com/watch?v=vKGVgSl76js
Justifications of Dalai Lama gives for his ban of the worship of the deity Dorje Shugden
vary considerably depending on the audiences. here is the truth and respond to his comments.
Exposing the truth in the mirror of reality to west and east spectacles.
View video on YouTube: http://www.youtube.com/watch?v=2Si-5Vx4OUk
This excerpt from "The Story of Conishead Priory" details Geshe Kelsang Gyatso's arrival at
Manjushri Centre, and how he served as the beacon of inspiration for its restoration.
MORE GREAT VIDEOS:

View the video on YouTube: http://www.youtube.com/watch?v=51Vm-J3bg4k
In this excerpt from "The Guide: Following the Buddhist Path," Tibetan Buddhist master
Geshe Kelsang Gyatso explains the "middle way" between sectarianism and eclecticism:
cherishing one's own tradition while respecting all other traditions and the right of each
individual to follow the tradition of his or her choosing.
MORE GREAT VIDEOS:

View the video on YouTube: http://www.youtube.com/watch?v=xQY9vuQSi7Q
Is the Fourteenth Dalai Lama following the example of the Great Fifth Dalai Lama by
banning the practice of Dorje Shugden?
MORE GREAT VIDEOS:

View the video on YouTube: http://www.youtube.com/watch?v=DByTiMxmppo
Video footage showing the cover of a book, Buddhism in the Tibetan Tradition by Geshe Kelsang Gyatso,
with foreword written by H.H Dalai Lama in 1984.
MORE GREAT VIDEOS:

View the video on YouTube: http://www.youtube.com/watch?v=LUM19fCn-WM
In 1996 followers of the Dalai Lama stoned and hurled insults of followers of an
ancient Buddhist practice that was banned. How did the Dalai Lama respond?
MORE GREAT VIDEOS:

View the video on YouTube:http://www.youtube.com/watch?v=vVWijumtZSI
The Dalai Lama was enthroned age 5 in Lhasa Tibet in February 1940. Since then there has
been 68 years of unelected rule in which the Tibetan (and since 1959 the Tibetan exile
community) has had ONE political and religious leader whose decisions can never be
questioned.
MORE GREAT VIDEOS:

View the video on YouTube: http://www.youtube.com/watch?v=wPu7TU2KGW8
The Dalai Lama explains to his followers the need for dialogue, compromise, and
reconciliation as there will always be difference and conflict. He then urges for peaceful and
non-violent method to tackle these differences.
MORE GREAT VIDEOS:

View the video on YouTube: http://www.youtube.com/watch?v=4gY1RbAlTrc
Antique thangka of Dorje Shugden with Guru Rinpoche directly above Dorje Shugden.
Surrounding them are various well known Yidams propitiated by the Nyingmapa order as
well as Yidams mostly propitiated by the Gelugpa order.
MORE GREAT VIDEOS:

View the video on YouTube: http://www.youtube.com/watch?v=URh5szppPxk
ABC Radio National's interview with Kelsang Pema, the international spokesperson for the Western
Shugden Society. This interview by Stephen Crittenden was aired on 11 June 2008 on The Religion
Report. 
MORE GREAT VIDEOS:

View the original video on YouTube: http://www.youtube.com/watch?v=FzpFDxbEbdQ
A Dorje Shugden practitioner and student of Domo Geshe Rinpoche shares her personal reasons
for why she practises Dorje Shugden, and why she is protesting.
MOB OF ANGRY DALAI LAMA FOLLOWERS ATTACK PROTESTORS
On July 17, 2008 a group of hundreds of angry followers of the Dalai Lama attacked a group of
peaceful Buddhist protestors. Imagine the persecution faced by Dorje Shugden practitioners in
India and other countries.
View the original video on YouTube: http://www.youtube.com/watch?v=-UMF_i7l7J8
MORE RELIGIOUS PERSECUTION BY THE DALAI LAMA
View the original video on YouTube: http://www.youtube.com/watch?v=8QnKP5jdPBk
Dorje Shugden monks are forced to leave their monastery and then their water is cut off.
WHY PROTEST THE DALAI LAMA?

View the original video on YouTube: http://www.youtube.com/watch?v=vpp86u62Q3c
Interviews with protesters about why they are protesting:
"I'm here to protect our lineage because at the moment, our lineage is under threat…
DALAI LAMA'S BAN AFFECTS CHILDREN

View the original video on YouTube: http://www.youtube.com/watch?v=VBB_X5UTnV0
A ban the Dalai Lama imposed on followers of JeTsongkhapa's teachings affects even children and takes
away their right to continue their education.
ASK DALAI LAMA 3 QUESTIONS

View the original video on YouTube: http://www.youtube.com/watch?v=PMJcXA7M54Y
According to the Dalai Lama who can attend his teachings? Everyone except followers of his root guru…
MORE GREAT VIDEOS:

View the original video on YouTube: http://www.youtube.com/watch?v=3CvKLJmd_U8
News coverage of protests by Dorje Shugden practitioners over the ban the Dalai Lama has
placed on the practice. Is this ban about the hypocrisy of Dalai Lama? What is he lying about?
What this video.
MORE GREAT VIDEOS:

View the original video on YouTube: http://www.youtube.com/watch?v=049hESiYrbQ
A CNN video explains how the Dalai Lama relies on spirit oracles for political advice on Tibet and China,
for instance, with the State Oracle of Tibet in Dharamsala.
Dalai Lama asks Spirit Nechung for Political Advice
View the original video on YouTube: http://www.youtube.com/watch?v=049hESiYrbQ
Nechung's advice on Tibetan affairs has been sough by HH Dalai Lama for hundreds of years.
MORE GREAT VIDEOS:

View the original video on YouTube: http://www.youtube.com/watch?v=XrmPrwTcKOg
Are the actions of the Dalai Lama those of a Buddha of Compassion? His ban on the religious
freedom of many Buddhist followers would seem otherwise. Interview with an oppressed Tibetan
monk.
MORE GREAT VIDEOS:

download this video part 1 part 2 part 3
Watch this video of monks in Gaden Shartse Monastery, engaged in their daily practice of rituals,
prayers, studying, debates at the courtyard… Dorje Shugden has been practiced for 350 years as
the principal protector of Lama Tsongkhapa's lineage. These monks are devastated due to the
ban imposed by the Dalai Lama.
download this video
or
watch this video on Youtube
Part1 Part2 Part3 Part4 Part5 Part6 Part7
May we receive the vast reservoir of blessings from this illustrious master, perfect lineage holder
and heart disciple of Je Pabongkha.

Audio: KYABJE TRIJANG CHOCKTRUL RINPOCHE teaches LAMRIM (in Tibetan)
Kyabje Trijang Dorje Chang was His Holiness the XIVth Dalai Lama's philosophical
assistant and personal tutor for fifty years.
Trijang Rinpoche also received these lineages of Tapo Dorje Chang. Pabongka was his root
guru and helped him to grow. He was very kind to Trijang Rinpoche. Kyabje Trijang
Rinpoche was responsible for keeping the teaching of Pabongka and especially Dorje
Shugden. Pabongka said Dorje Shugden helped him all through his life and gave him the
opportunity to spread Tsongkhapa teachings.
View the original video on YouTube: http://www.youtube.com/watch?v=ri1gSO_69sU
Ganden Monastery had a strong practice of Dorje Shugden.
This video shows the wrathful Dorje Shugden ritual taken at Zong Labrang's temple, 1985
View the original video on YouTube: http://www.youtube.com/watch?v=EvtX9nrRcL0
On 13 of Feb 2008, Department of Culture and Religion, Tibetan Government in exile, issued an announcement;
it concerns about resolving a conflict through vote-sticks consistent with Vinaya, which has been taken in 14 monasteries
of Gelug establishments, regarding the worshipping of Dholgyal (Dorje Shugden). Those who do not want to share spiritual
and material relation with Dholgyal followers would pick the yellow colored vote-stick. Those who continue Dholgyal
worship and who want to share spiritual and material relation with them need explanation of picking the red colored vote-stick.
In 1622, the First Panchen Lama Lobsang Chokyi Gyeltsen recognized the boy to be the incarnation of Yonten Gyatso, the Third Dalai Lama, along with further confirmations from Protectors. The Panchen Lama gave him the name Lobsang Gyatso but the recognition was plagued with controversy. Even before the recognition, the boy had also been unsuccessfully recognized to be the reincarnation of a Kagyu Lama, the Fourth Tsurpu Gyaltsap Dragpa Dondrup.
Due to pressures by the Tsang Empire, Panchen Lama had to make great efforts to please the Tsangpa governor so arrangements could be made to bring the Fifth Dalai Lama to Drepung Monastery. At Drepung, the young boy was in competition for the position of Dalai Lama with another candidate, who was later identified as the incarnation of Panchen Sonam Dragpa, Tulku Drakpa Gyeltsen. In the end, the young Lobsang Gyatso was finally enthroned at Ganden Phodrang in Drepung Monastery at the age of six.
Lobsang Gyatso received his full monastic ordination in 1638. Lingme Shapdrung and the First Panchen Lama were the monastic preceptors and bestowed upon him the name Ngagi Wangchuk. The Fifth Dalai Lama studied at the feet of many leading Lamas of his day. He also began his monastic studies with his tutors, Lingme Shapdrung Konchok Chopel and the First Panchen Lama, in Prajnaparamita, Madhyamaka, Vinaya and Abhidharma.
He also trained in grammar and poetics, astrology and divination, and related topics, with Mondro Pandita. His accomplishments are legendary as he continues to be considered a significant lineage holder by the Nyingmapas. He trained with the lineage holders of the Changter and Zur tradition of the Kama. His own family also maintained good relations with the Drukpa Kagyu via his cousin Pagsam Wangpo, who was recognized as the Fifth Gyalwang Drukpa.
In 1637, Gushri Khan marched into Tibet with a contingent of 800 soldiers, purportedly on a pilgrimage but most likely to assert political control over Tibet. This was not unusual as the Mongols tribes were fragmented and various tribal leaders sought to reestablish the ideal patron-priest model created by Kubilai Khan and Chogyal Pagpa in the 13th century. It seems that Gushri's incursion into Tibet was at the invitation of Sonam Chopel, the Fourth Dalai Lama's treasurer and was part of his covert mission to find a Mongol ally in the Gelug struggle against the Tsang forces who were Kagyupas.
In the Fifth Dalai Lama's autobiography, not long after Tulku Dragpa Gyaltsen's death Nechung possessed an oracle and told the Fifth Dalai Lama that there were disturbances in the teahouse. True enough, the Fifth Dalai Lama had visions of a monkey about eight years old appearing. Then, the Great Protector told him to go far away from where Tulku's body was being cremated, and so he went to the Potala Palace where he engaged in purification practices. While he had hoped for signs that the trouble was over, he continued to receive disturbing dreams of a monk who became an animal and other inauspicious signs. This may indicate that he was already aware at this point of foul play associated with the regent and that he was feeling guilty by his association with the regent.
Actually, the Fifth Dalai Lama's apology and recognition of Dorje Shugden as the reincarnation of Tulku Dragpa Gyaltsen, is not clearly mentioned in his autobiography. This is only more clearly elucidated in later years by other highly attained lamas. However, accounts of the Fifth Dalai Lama attempting to subdue or destroy Dorje Shugden through various rituals and the building of shrines are found in writings of both Dorje Shugden detractors and proponents, as well as in the Great Fifth's own autobiography. Other events associated to Tulku Dragpa Gyeltsen remain obscure or even completely omitted from his biography.
According to the White Conch Dictionary, the Fifth Dalai Lama later founded Trode Khangsar, which was on the south side of old Lhasa as a Dorje Shugden shrine. Trode Khangsar was taken care of by monks of Riwo Choling Monastery of Lhoka in Southern Tibet. There was a caretaker from Riwo Choling that performed regular propitiation service and a Dorje Shugden oracle was even established there. Morchen Kunga Lhundrup, who contributed to the first major Dorje Shugden rituals, mentions Trode Khangsar in his autobiography so it was clear that Trode Khangsar existed and was founded since the time of the Great Fifth. On the east side near the outer gate of Trode Khangsar was a smaller shrine, Monkyi Khangsar where Kache Marpo was invoked. It is interesting to note that among the Great Fifth's prolific works, is also a propitiation to Kache Marpo, the principal attendant to Dorje Shugden.
The Dalai Lama spent the next several decades consolidating power, a process that involved the construction of the Potala Palace, a declaration of himself as the emanation of the Bodhisattva Avalokitesvara (the patron protector of Tibet), a state visit to Beijing, and the invocation of the Golden Age of the Tibetan Empire by tracing his previous incarnations to King Songtsen Gampo. The Dalai Lama continued to consolidate his power through the removal of all remaining rivals by suppressing the Jonang tradition and by forcing the Karma Kagyu to return Gelug Monasteries that were converted into Karma Kagyu during the reign of the Tsangpa Kings. It was known that many Kagyu institutions converted to the Gelugpa lineage during that time.
Under the Fifth Dalai Lama, the city of Lhasa flourished. Foreign traders and intellectuals came in droves to the city that acted as a confluence of the arts, medicine, and architecture. He established a wide infrastructure of taxation and administration for both secular governance and religious governance of the monasteries. He was also a prolific writer, with his written works spanning histories and religious commentaries, which are all collected into a collection of more than thirty large volumes.
The Fifth Dalai Lama's death was famously hidden under a shroud of mystery. In 1682, Desi Sangye Gyatso concealed the knowledge of the Dalai Lama's passing for 15 years. In the meantime, he himself continued to consolidate Gelug power of Tibet, and had the Dalai Lama's remains mummified and entombed. He also searched and found the incarnation so that within the same year that the death was announced, the 15-year-old Sixth Dalai Lama could be immediately enthroned.
MORE GREAT BIOGRAPHIES:

View the original video on YouTube: http://www.youtube.com/watch?v=O0jQpQlUGJ8
France 24 documentary about the Dalai Lama's religious persecution of Dorje Shugden practitioners in India.
Dorje Shugden practitioners have become outcasts in their own communities in India due to the
Dalai Lama's political ban against them.
View the original video on YouTube:  http://www.youtube.com/watch?v=wC-F6VUyGZM
An interview with Australian Buddhist nun Kelsang Lachog of the Western Shugden Society
on a Australian news program.
View the original video on YouTube: http://www.youtube.com/watch?v=VClQpd4QXHc
The Dalai Lama has been taken to court for religious discrimination for his ban on the Buddhist deity Dorje Shugden.
View the original video on YouTube: http://www.youtube.com/watch?v=sgO5DiIedSc
A musical production about the Western Shugden Society's protest against the Dalai Lama's ban on Dorje Shugden.
View the original video on YouTube: http://www.youtube.com/watch?v=mn4s5SFv8mE
Western Shugden Society protests outside the Dalai Lama's teaching at Colgate University in New York.
View the original video on YouTube: http://www.youtube.com/watch?v=0wxUTbsKo-0
Part of a speech the Dalai Lama gave enforcing the ban on Dorje Shugden and a glimpse at what followed.
View the original video on YouTube: http://www.youtube.com/watch?v=kQRGCIXlq0c
The war in Iraq had no popular mandate from any nation and no legal mandate from the international community.
Since the invasion there have been several hundred thousand civilian casualties and nearly 5000 Coalition soldiers
have died. If ever there was a war that could be definitively condemned it is this one. But the Dalai Lama won't condemn
this war. He says it is too early to tell. Why?
View the original video on YouTube: http://www.youtube.com/watch?v=C_iWlOpT0Bo
The Dalai Lama is the most famous Buddhist teacher alive – but what is the caliber of his talks?
Is he the real deal – an authentic Buddhist master – or just a showman in robes?
Watch the Dalai Lama talk and decide for yourself .
View the original video on YouTube: http://www.youtube.com/watch?v=QNQpCACYim8
This is a short clip from Penn and Teller about the state department documents that
reveal the details about money the Dalai Lama received from CIA.
Footages in Tibet of the CIA training site, the first firearms drop, interviews with guerrilla trainees…
View the original video on YouTube:: http://www.youtube.com/watch?v=W5_TP6xVTsc
Interesting historical documentary featuring footage and rare black and white photos of CIA training of Tibetan guerrillas,
interviews with CIA trainers and Tibetan trainees
View the original video on YouTube: http://www.youtube.com/watch?v=awB-9gn1zrE
This is a brief video about Dudjom Rinpoche and how he was falsely accused of being a Chinese spy by
the Dalai Lama and the Tibetan Government in Exile.
View the original video on YouTube: http://www.youtube.com/watch?v=01zgjcdTorU
VOAvideo  Reports : February 19, 2010 — U.S. President Barack Obama met Thursday at the White House
with the Dalai Lama, the exiled spiritual leader of Tibet, despite diplomatic protests from China.
The meeting took place amid growing tensions between Washington and Beijing. Elizabeth Lee has this report.
View the original video on YouTube: http://www.youtube.com/watch?v=DrjauRA0RiM
This video highlights news articles about the Dalai Lama controversy in the news.
View the original video on YouTube: http://www.youtube.com/watch?v=PvWn6oLXUco
Webster Tarpley debunks some of the myths about Tibet and the Dalai Lama on Russia Today.
Precious video footage of Dalai Lama and Panchen Lama's trip to China meeting Mao