View video on YouTube: http://www.youtube.com/watch?v=NXxMoixOLPk
From http://www.dorjeshugdenimagelibrary.wordpress.com
Some beautiful images of the Dharma Protector and Wisdom Buddha Dorje Shugden for you to enjoy
---
MORE GREAT VIDEOS:

View video on YouTube: http://www.youtube.com/watch?v=YfXSuIezmT0
From http://www.dorjeshugdenimagelibrary.wordpress.com
Some beautiful images of the Dharma Protector and Wisdom Buddha Dorje Shugden for you to enjoy
---
MORE GREAT VIDEOS:


As a universal Protector whose time has come, there are countless stories of the benefits that Dorje Shugden's practice brings to his practitioners. From protection from black magic, to help with mundane worldly issues; from guidance in spiritual matters to teachings that change a person's life – these are the stories of those who have been helped. These are some real-life stories to show that he is here and with us.

I was first introduced to Dorje Shugden by my Lama about 10 years ago during a time of economic recession when our family businesses were badly affected. My Lama kindly requested his own Lama to give the oral transmission of the Dorje Shugden mantra to myself and my husband. At the time, I really had no idea who Dorje Shugden was and had not heard of the controversy surrounding Dorje Shugden. I just followed the advice that my Lama gave me.

From that time onwards, Dorje Shugden became my main Dharma Protector. I would do all my prayers daily without fail and put my trust wholeheartedly in him. Whatever assignments or retreats I was given – such as to complete 10,000 serkyem offerings and 10 million mantra recitations! – I would do and complete them happily and without any hesitation or complaint as I trusted my Lama 100%. I knew that all the prayers I needed to do were to help me clear the obstacles we were facing and that Dorje Shugden's practice was the fastest way to remove the heavy negative karma that we were experiencing.

Looking back all these years, Dorje Shugden has helped me and my family so much. Even during those difficult times, we still had food on the table and a roof over our heads. We were able to get through those years without facing many difficulties. Our financial situation improved quickly and everything in our lives improved and continued smoothly. I can now only repay the kindness of my Protector by being sincere and honest in my Dharma practice and by putting in more effort towards my spiritual growth.

It is also through the blessings of Dorje Shugden, whom I have placed my trust and faith in, that I had the fortune to find sponsors and support to help me set up a branch of our Dharma centre in another city, to spread the doctrine of Lama Tsongkhapa and benefit the people here.

Now, through the blessings of my Dharma Protector, I am able to commit myself more towards my spiritual practices. I have more confidence in myself to pursue what I want to do and not be hindered by family commitments. Now, even my family supports my Dharma work.

I am glad that I did not give up my Dharma practice when I was faced with obstacles. Without the help from my Lama and Dorje Shugden, who have patiently helped and guided me throughout all these years, I would not be who I am today. I am glad that I have moved on compared to most of my old friends who are still stuck in their secular world.

To my Guru and my Protector, thank you for saving me and giving me the best gift – the gift of Dharma.

~ Pema ~
There must have been numerous times when the Protector has helped me without my knowledge. The fact that I am still on the Vajrayana path, when my delusions are so strong, is due to the help of my Protector, Lord Dorje Shugden. And this is the greatest help any one can get – to be kept on the path until we are out of samsara.

On an outward level, I recall an incident in 2008. I was talking on my cell phone, while walking down the street near my home. The briefcase I was carrying contained everything that was essential for work, including my brand new laptop, my most prized treasure!

I remember feeling as if someone tapped me on my shoulder and before I knew it, my briefcase had been snatched by a man on his bike. It all happened so quickly. Needless to say, I was very upset. But after awhile, I realised how lucky it was that I was not the slightest bit hurt in any way and had escaped unscathed! There have been numerous incidents, reported in the media, of how people around the city were not just victims of snatch theft but were dragged along in a tug-of-war, hit, pushed or even clubbed to death.

I am grateful to my Protector and wish many more people can receive his blessings.

~ Yuri ~

My Lama gave me a private audience once, just before he travelled abroad. He said that since I would just be waiting for his return and not doing any work where I was, he would like to put me on a retreat. He said that my family had a strong affinity with a particular Dharma Protector and since I was now going through a challenging period, this practice would be very beneficial for me on all levels. It was a time of financial crisis where many businesses were hit by the credit crunch and currencies were very unstable. I wasn't spared from it.

That was the first time I heard the name of Dorje Shugden. I remember that when I first heard his name, I thought, "Wow, what an interesting name!" It rang a bell. Even today, I still feel excited whenever I say the name "Dorje Shugden". My Lama told me to complete 100,000 of this Protector's mantra by the time he returned which I did happily.

The first few days were quite challenging as it was my first retreat. Everyday, after completing my sadhana, I would recite the Protector mantra. I must admit that I did the retreat without any visualisation and did not fully comprehend what it was all about. I did it because there was nothing else to do at the time. I also had a lot of trust in my Lama and since he had prescribed me this method to clear my obstacles, I was very diligent in wanting to complete it… and I did complete it by the time he came back 10 days later.

However, there was not much improvement in my financial situation after this retreat. A few months went by and my frustrations grew. I was without a maid and I remember vividly doing housework and sweeping the floor one morning after my kids went to school. I was feeling very sorry for myself and, at the same time, frustrated with the situation I found myself in. Then my untamed mind challenged the Protector, saying to him that if he was real, then he should show me a sign.

A few weeks later, on a Saturday morning just before my husband went to work, I told him angrily to remove my jewellery from the safe in the house as I did not know how to open his safe. I was annoyed that each time I wanted to wear any jewellery, I would have to wait for him to be around. I used to collect a lot of watches and jewellery during my better days but by this time, I had sold most of my things to convert them into cash so that we could start a new business in money lending. I think that the jewellery I had left in the safe at the time would have amounted to about USD150,000.

That evening, my husband took me and the kids out to dinner. He came home late and we rushed out to dinner the moment he came back. He barely had time to leave his briefcase by the side of the door. The briefcase contained several legal documents of the clients who had come to him for financing during the day in the office; he would usually keep these documents in the safe as they were highly confidential.

We returned from dinner at about 10pm and noticed that our gate was unlocked. I remembered clearly that I had locked it before we left. When I tried to open the grill door, I found it had been left ajar. I panicked, realizing immediately that someone had broken into our house. I freaked out as it hit me that my husband's briefcase had been left by the front door and all my jewellery was stored in my unlocked bedside table! That was all I had left! And what about the documents that belonged to our borrowers?!

We called the security guards who were assigned to watch over our gated community. They came immediately, but couldn't open our main wooden door. We feared the worst which was that the robbers were still in the house and had locked the door from the inside. Finally, the guards had to break down our door and charge into the house…. From a distance, where I was watching and waiting, everything inside seemed intact, just as how we had left it a few hours ago!

The guards searched everywhere; they opened up the wardrobes and even went up to the ceiling to check if anyone was hiding. Everything seemed normal. A neighbour, upon hearing the commotion, came over and said he saw four well-dressed Chinese men getting out of a white car and walking into our car porch as soon as we left for dinner. The neighbour had thought that they were our friends who had come to visit!

We found the broken lock left by the robbers in our shoe cabinet in the car porch. The next day, we called the locksmith over. He checked the broken lock and told us that we were indeed very lucky. According to him, the inside of the lock jammed when the robbers tried to open it with a master key. If they had succeeded, they would have gone into the house. Imagine the horrifying episodes we would have had to face had the robbers taken not only the remaining jewellery I had left but our borrowers' documents too! My husband looked straight into my eyes, and asked me frustratingly, "Well, happy now?! So now tell me, who saved us?" It was obviously our Protector, who I had challenged to show me a sign of his presence.

I am relating this with a lot of remorse. Imagine, I had had the audacity to challenge an enlightened being, demanding he prove himself to me!

My faith in him has not wavered since. I know that he is with me all the time, watching, guiding, protecting…

~ Anonymous ~
Sometime in 2009, my aunt was diagnosed with terminal stage cancer which had spread to her thyroid. The doctor said her days were numbered. My Lama very kindly did a puja for my aunt and entrusted her life to Dorje Shugden. He requested that if it was not her time to pass away, then may Dorje Shugden protect her and let her live further; if she was to pass away, may it be painless and peaceful, and may Dorje Shugden guide her consciousness to her next rebirth where she can meet and practice Dharma again.

About a month after the puja, my aunt passed away. The amazing thing was that, on the day of her passing, she could still eat lunch on her own. She even got out of bed and changed her own clothes. Then, she went to sleep and passed away without a sign, without any suffering, without any pain. Dorje Shugden helped her to pass, exactly like my Lama had requested him to – painlessly and peacefully. It is a miracle for a patient who is suffering from cancer at a terminal stage to pass away in such an amazing manner. I have full confidence that Dorje Shugden has also guided her consciousness to take rebirth in a conducive environment to continue her Dharma practice.

~ Marti ~

Very recently, I had to drive a long distance on the motorway to attend an important family event in another city up north. I hadn't slept at all the night before and had only a few hours of sleep the night before that, so I was completely exhausted.

But I really had to make that appointment, which was a four-hour drive away, and there was no choice but to drive, no matter how tired I was. I was falling asleep every five minutes – literally – but miraculously, I always woke up just before my car hit the barrier and the entire four-hour drive was not eventful. I truly believe that Dorje Shugden kept me safe throughout the journey.

~ Kate Walker ~

I find it hard to specify how many times Dorje Shugden has saved me because there have been countless incidents throughout the years. I would like to share with you an incident which I remember very clearly, way before I even knew that it was Dorje Shugden who saved me. This was all because a friend gave me a talisman of Dorje Shugden from a Tibetan monastery.

It was late at night when I was driving home. The car suddenly made a very loud sound and started to jerk when I was about 8 miles away from home. As it was late at night, I couldn't have gotten any help and it was dangerous being out there on my own. I was driving alone and had no money with me. I requested the Protector to help me and finally, even with the roaring engine and jerks, I managed to reach home safely.

The next day, when a mechanic came to check the engine, he was very surprised that I made it home. The mechanic told me that the engine had run out of engine oil, most probably because of a leak. He even showed me the damage. I was surprised because I had never seen any oil stains in the places where I usually parked at work and at home. But really, there was not even a drop of engine oil left in the oil sump. I had to replace the whole engine after that due to engine failure! To this day, neither the mechanic nor I have been able to figure out how the engine oil could have leaked so extensively and how I made it home with the engine failure.

~ Anonymous ~

As a universal Protector whose time has come, there are countless stories of the benefits that Dorje Shugden's practice brings to his practitioners. From protection from black magic, to help with mundane worldly issues; from guidance in spiritual matters to teachings that change a person's life – these are the stories of those who have been helped. These are some real-life stories to show that he is here and with us.
My story with Dorje Shugden started when I was a student facing one of the biggest university entrance exams. I was very nervous in the exam hall and couldn't breathe for some time. Right then, I remembered my Lama's advice to relax and focus my mind on Dorje Shugden. Back then, I had not been initiated or given the practice at all. I was only told to think about the Protector, so I did. Within moments, my mind calmed down and I was able to see and understand what I needed to do for the exam.

While pursuing my studies, I continued to do prayers and mantras of the Protector. It helped me a lot as I was able to focus strongly on my studies. I was not only able to deliver what was needed at university but also excel in everything I did. At the same time, on the side, I was able to do some Dharma study which helped me with my spiritual progress.

Over the years, I have seen myself become more able to control my negative emotions such as anger, jealousy and impatience. I know that it is with Dorje Shugden's help that I have been able to achieve this. There has never been anything better in my life than having this precious opportunity to keep Dorje Shugden as my personal Dharma Protector. He has been watching over me closely and providing me with everything I need to make my life meaningful.

~ Rob ~
When I first received Dorje Shugden's practice, I was also going through a very difficult time in my marriage and was feeling very heartbroken.

What is in my heart? My Lama had advised me to think deeply and decide how I wanted to live my life in future. He told me to have faith and trust, and to recite 100,000 Protector mantras; Dorje Shugden would help me all the way and he would also pray for me. That was the biggest relief to me at the time because my ex-husband was a very violent, difficult person who often threatened me and my children. My faith was very strong in the Protector and eventually, I chose to file for divorce.

A few months later, through my Lama's blessings, I invited Gyenze home. My Lama had said that Gyenze would help me. I never failed to pray and offer serkyem to him every day. I prayed for my divorce to go through smoothly and peacefully. I didn't want any violence or arguments to hurt either one of us further. Within a few months, my ex-husband called and offered to sign the divorce papers. Everything went through as I had prayed for.

I had to start my life over again. I had to set up a new office for my business and move into another apartment with my children; my mother also moved in to stay with me so I could take care of her better. She was experiencing some health problems then and we were constantly going in and out of clinics. Shortly after, my teenage son also began giving me problems.

It was a very frustrating time but at the same time, I was also grateful that I was able to go through it because I have now truly learned to appreciate the good things that I have in my life. The Protector gave me a base to fall down upon so that I could pick myself up, rebuild and grow even further. I know he has watched over me throughout this time. I am ashamed that I have disappointed him many, many times with my laziness, stubbornness and pride. I still slip but I will continue to improve.

Things are much better now. Both my children are becoming more involved in the Dharma centre and are participating regularly in the activities. I am in a very loving relationship with a new partner and have set up my own home with my children. The things I have wished for are being granted one after another. Please have faith, trust and let Dorje Shugden take charge because he knows what's best for us and will never want anything from us.

~ Jillian ~
I like to have fun, go clubbing and live luxuriously. I always used to think that I was still young and still had lots of time to have fun and catch up on whatever I needed to do "later".

When I first encountered the Protector, I prayed only for wealth and fame, hoping that I would get everything I wanted just by praying and making offerings to him. I thought that since he is a Protector, he is supposed to grant all our wishes!

Things became better at the beginning in terms of finance, work and family. But a few weeks later, I was asked to move out from the place I was staying in. I was so angry and felt depressed. I questioned why this was happening to me. I asked why this Protector was not answering my prayers or "doing his job" since I had been praying to him. I didn't realize then that it was all due to my own karma.
Luckily, I did not stop my practice. One day, my Guru gave a teaching on the Protector. He spoke about the Protector's qualities and explained clearly to us the reasons for relying upon a Protector. I realized what I had been praying for was so small when in fact the Protector can help us to gain something much bigger: enlightenment.

In Dorje Shugden's prayers, the main focus is always to practice the teachings of Lama Je Tsongkhapa. Every part of his prayer is a reminder for me to get rid of my bad qualities with confessions (knowing the misdeeds we have done), offering (developing a generous mind), praises (to counter jealousy) etc.

Slowly but steadily, I feel my life improving, as I become more generous, accept karma and praise others' good qualities. Looking back now, I realize that the Protector manifested a "bad" situation for me as a lesson to learn, understand the Dharma and to be close to my Guru.

~ Kelly ~
My experience with Dharmapala Dorje Shugden probably happened a long time ago before I was even aware of him. It was a time when I felt like my whole world was crumbling. Everything I did seemed to cause more problems and life was beginning to seem pointless. The job I had then was heading nowhere and every day felt like a draining day of cyclic existence that was repetitive and robotic. There was no purpose in life and I felt most alone with no one to turn to or trust.

At that time, I was told by my Guru to pray and rely on Dorje Shugden. There have since been many little incidences where I have felt like I was being helped by the Protectors: from car accidents, to finances, career choices, even relationships. The Protectors seem to help when you need them the most. There have been many cases where I thought I was finished! I'd hit a dead end! Then, always, something would seem to just manifest to help me at that moment so that I could continue doing my Dharma work without too many worries and difficulties.

The most memorable experience I had was avoiding a potentially fatal car accident. I was driving towards my sister's home when suddenly, my car lost control. It spun 180 degrees and ended up facing the opposite direction of the oncoming traffic. I looked around and realized I was very, very lucky not to have hit other cars or have other vehicles smash into me; there was not a single car in sight on the highway where I was at the time.

Dorje Shugden is certainly no ordinary Protector but an Enlightened one. Sometimes, whatever you wish for may not come out the way you expect because the Buddhas know what is best for each of us. Dorje Shugden is after all Manjushri. My story is not of something miraculous, magical nor of one huge event that changed my life drastically overnight. Instead, it has been the little things that I have noticed, when you are most down or at a dead end.

The most direct benefit I have experienced is that whenever there is anything to do with Dharma, I always have the good fortune to be able to attend the event or activity, be present for a teaching and be close to the Lama, which I feel is the greatest blessing of all.

~ Anonymous ~
Dorje Shugden has helped me tremendously in my career. For many months, my company didn't have any income. When the funds went down to having enough for only one more month, I started to panic. I told my team of the critical state we were in. All of us had to go out to raise funds.

I prayed to Dorje Shugden for help. Out of much desperation, I approached people who I thought would never help me. After 2 weeks of meeting people, I raised a few hundred thousand dollars. It was almost unreal at that moment. A huge burden was instantly lifted off my shoulders.

I immediately announced the great news to my team, went home and did a thanksgiving offering to Dorje Shugden. Ever since this event, my company's finances have never been a problem.

~ Jon ~
In Tibetan language:
In Chinese language:
Watch this excellent video on Dorje Shugden produced by Denma Gonsa Rinpoche's Monastery
showing beautiful thangkhas and footages in the monastery.
---
MORE GREAT VIDEOS:

View the original video on YouTube:
Part1 Part2 Part3 Part4 Part5
With 600 Tulkus, Geshes, Masters and monks keeping the lineage alive, Shar Gaden is located in
Mundgod South India. It is next to Gaden Monastery and 25 minutes away from Drepung. We can
access this great institute via Bombay or Bangalore. From Bombay/Bangalore you may take train or
Bus which is 8-10 hours to the nearest city of Hubli. From Hubli it is one hour away by taxi.
Since His Holiness the Dalai Lama has said that all Dorje Shugden practitioners must separate from
the Monasteries and the general populace of non-Dorje Shugden practitioners in all ways, this
monastery was formed. All Tibetans who do not practice Dorje Shugden may not have any association
with those that do was the strict decree. As a result many tulkus, geshes, senior practitioners and
monks had no choice but to sadly leave their respective monasteries out of respect for His Holiness
Dalai Lama's decree. They gathered and joined to have Shar Gaden Monastery. Shar Gaden
Monastery was not formed to counter or oppose His Holiness the Dalai Lama in anyway, but to have
the freedom to practice as they have been from the instructions of their root gurus.
H.H. Kyabje Trijang Choktrul Rinpoche's ladrang has also joined Shar Gaden leaving Gaden Shartse
Monastery, where his line of incarnations have been for hundreds of years. Domo Geshe Rinpoche
also has joined.
This video shows Shar Gaden Monastery today alive with practice, debates, pujas, torgyas, and
teachings. They have been ostracized by the whole Tibetan community who are not allowed to have
ANY ASSOCIATION WITH THEM. We need to give them our support now to keep the lineage alive for
future generations. Share this video with others. Shar Gaden's existence is hope, strength, light and
practice exemplified. Its continuation offers us great encouragement.
Obviously Shar Gaden Sanghas are experts in doing many types of beneficial pujas such as Tara,
Medicine Buddha, Dorje Shugden's various rituals, pujas, fire offerings, mandalas, Heart Sutra,
Pelden Lhamo, Namse, Kalarupa, Mahakalas, etc. Wonderful to sponsor a puja for birthday,
anniversary, death, marriage, special events, or just to clear obstacles for whatever plans you may
have.
Do contact, support, visit and do whatever you can for our Sangha who wishes to practice their
lineage as it has been done for 350 years now. It is the least we can do to help safeguard this holy
lineage which is going through obstacles at this time but will shine forth bright in the future as
predicted.
Administration
Mailing address:
Shar Gaden Monastery
Lama Camp #-1, P.O. Tibetan Colony
Mundgod 581411
Distt-Karwar (Karnataka State), INDIA
---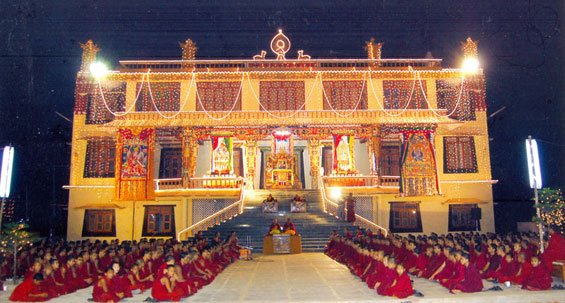 These are recent photos of Shar Gaden Monastery, Mundgod, South India, which separated from Gaden Monastery because the monks held strong to
their commitments towards their Gurus and refused to give up the practice of Dorje Shugden. Today it is a flourishing monastery of around 550 monks,
and increasing.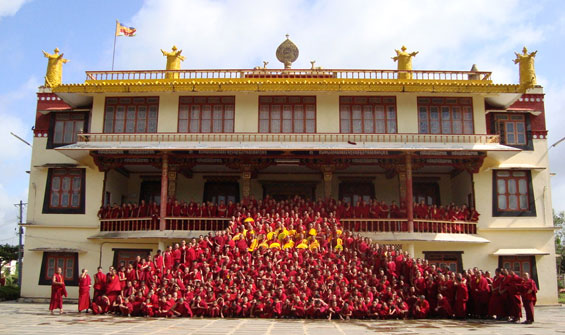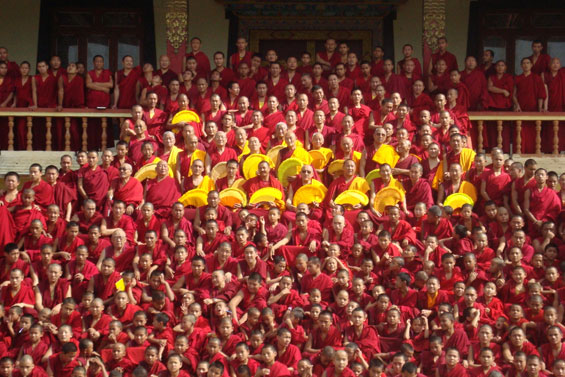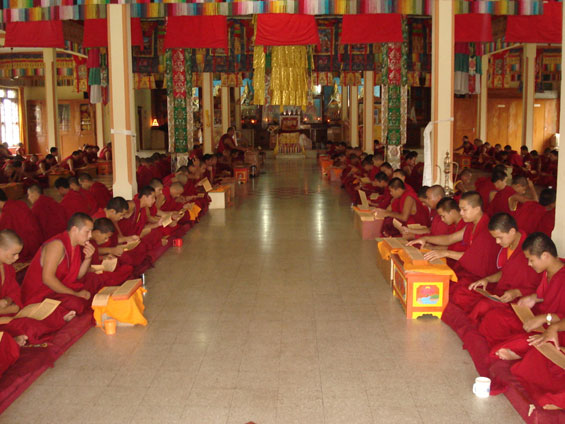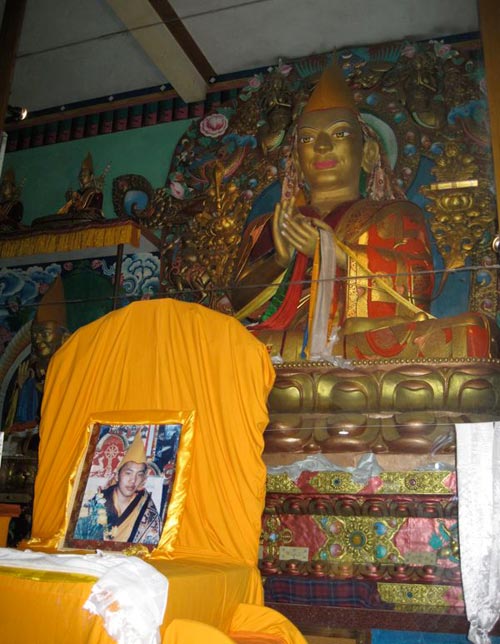 Lama Tsongkhapa with Kyabje Trijang Rinpoche's throne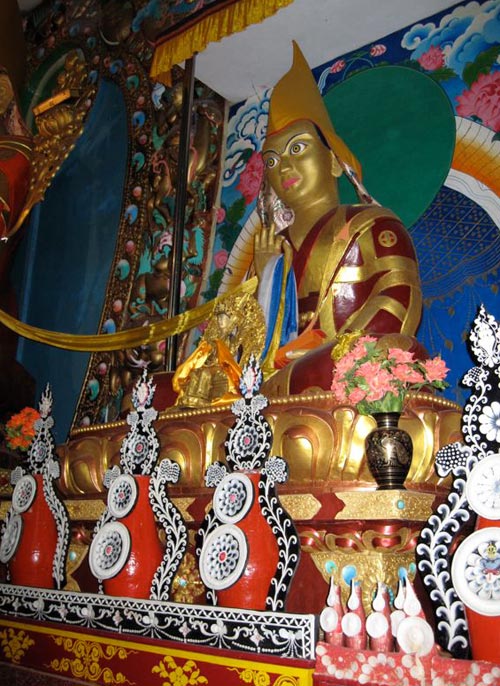 Kedrup Je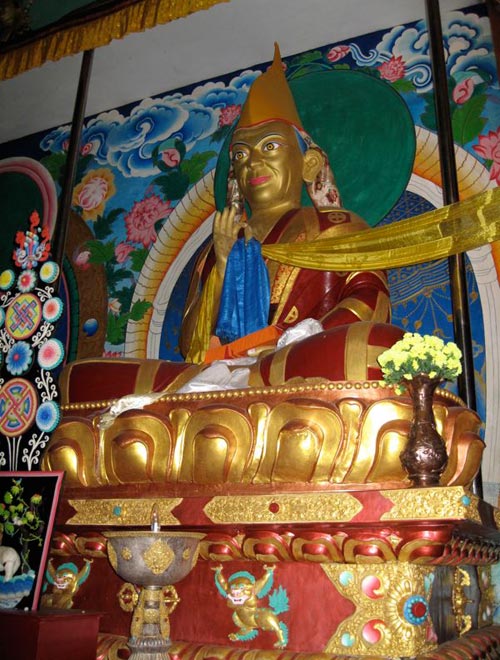 Gyaltsab Je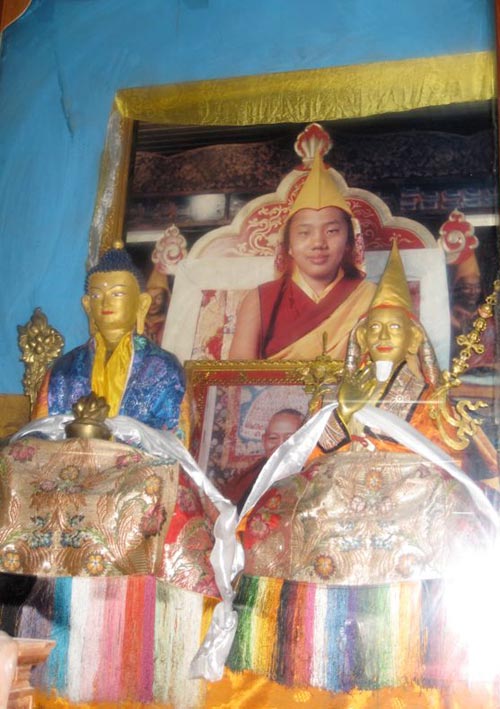 Kyabje Trijang Rinpoche and Kyabje Zong Rinpoche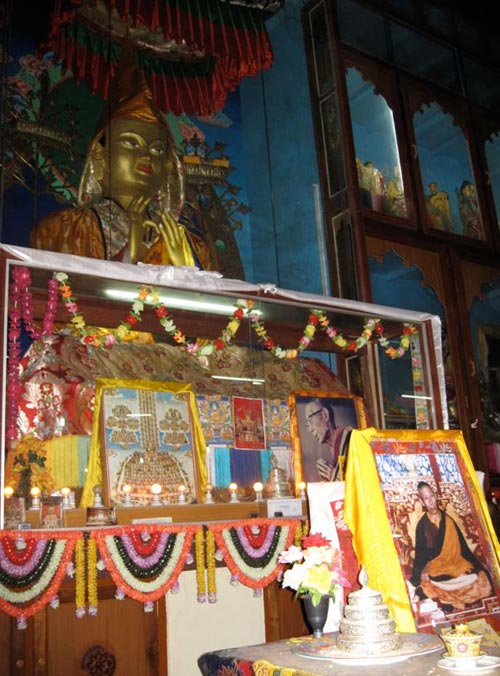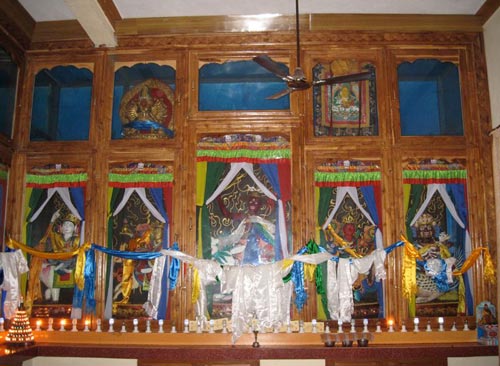 Five Forms of Dorje Shugden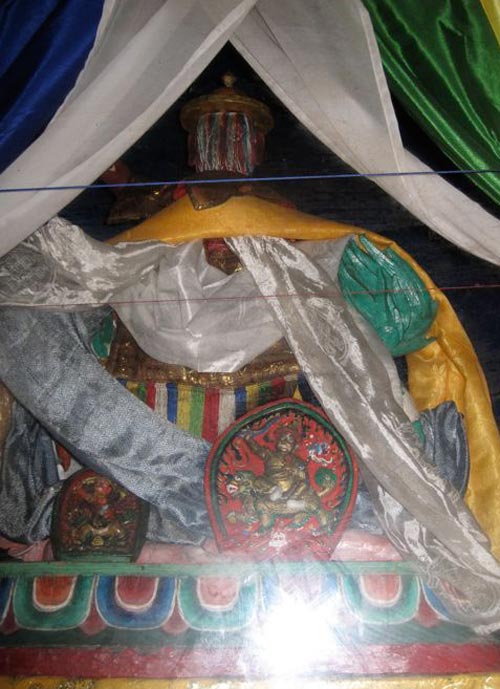 Dorje Shugden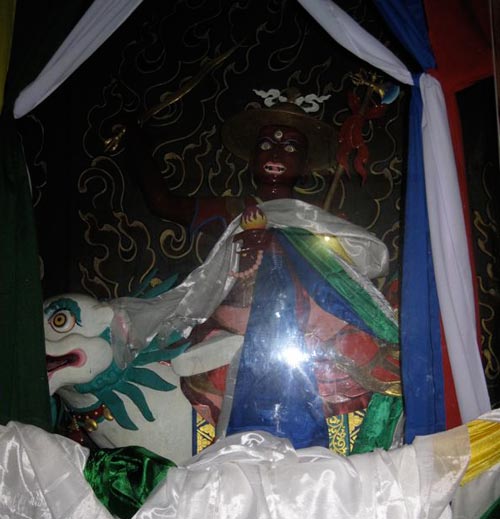 Dorje Shugden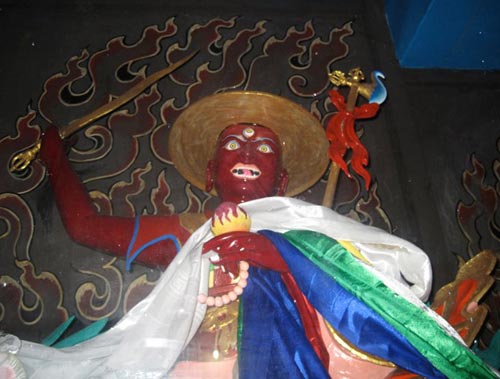 Dorje Shugden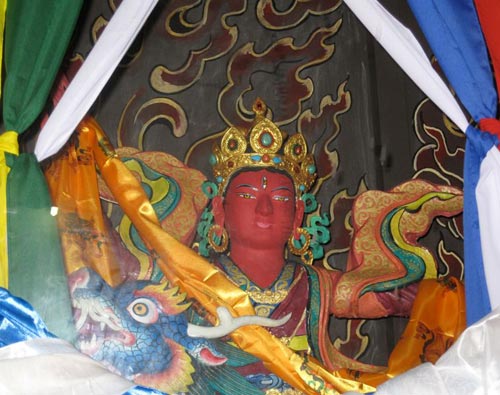 Wangtse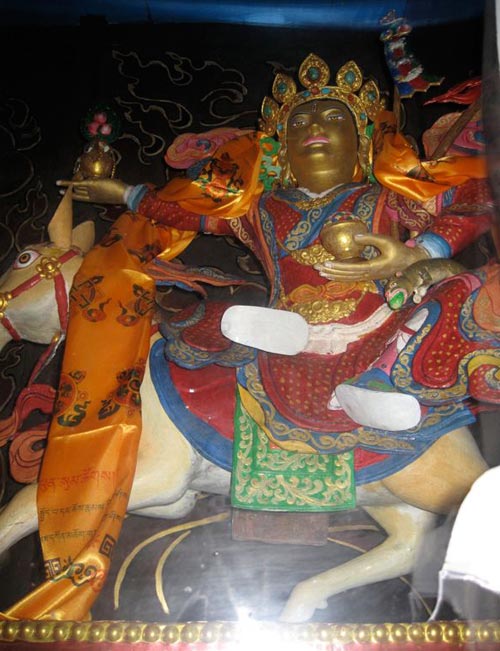 Gyenze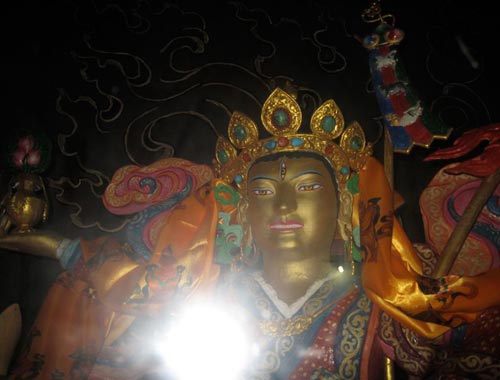 Gyenze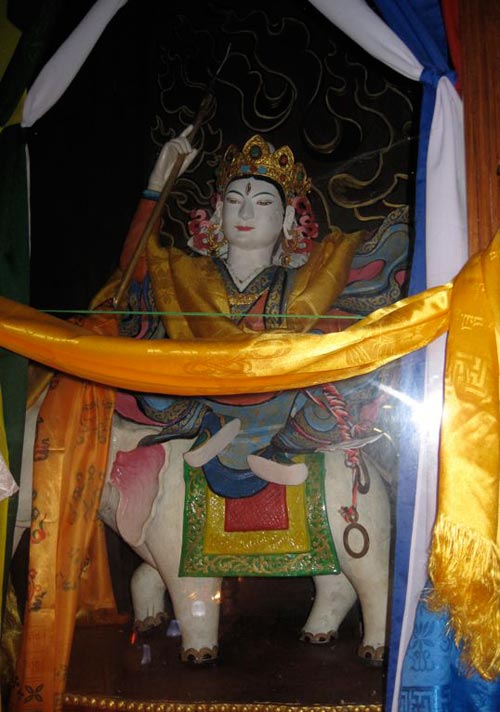 Shitse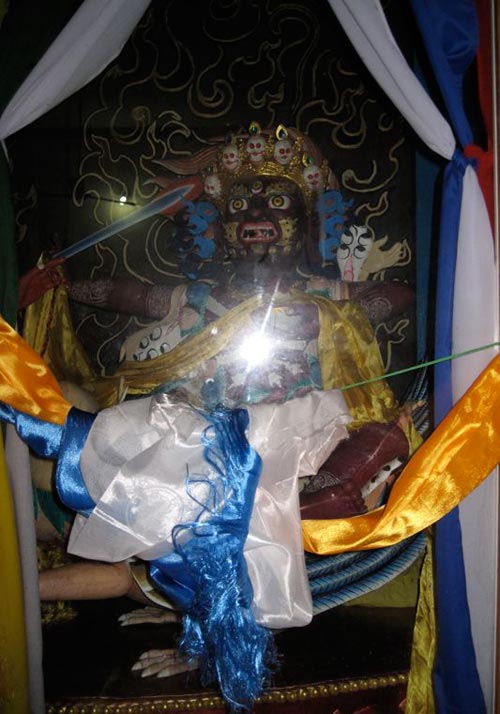 Trakze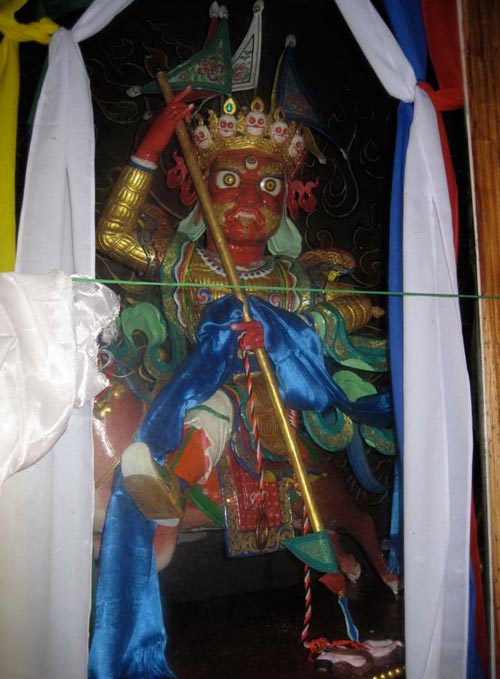 Kache Marpo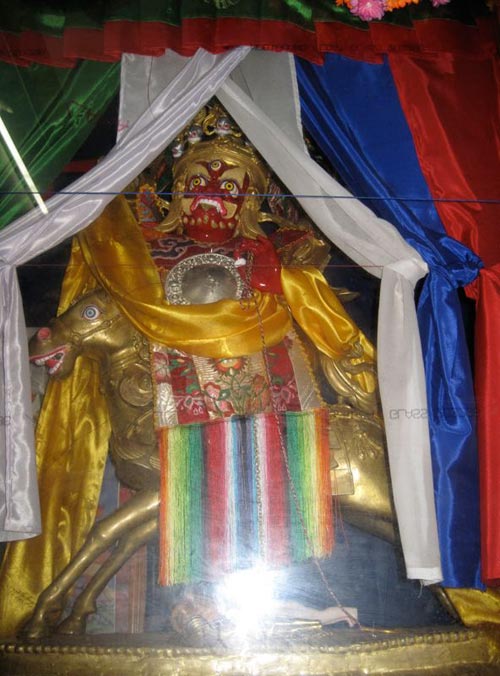 Setrap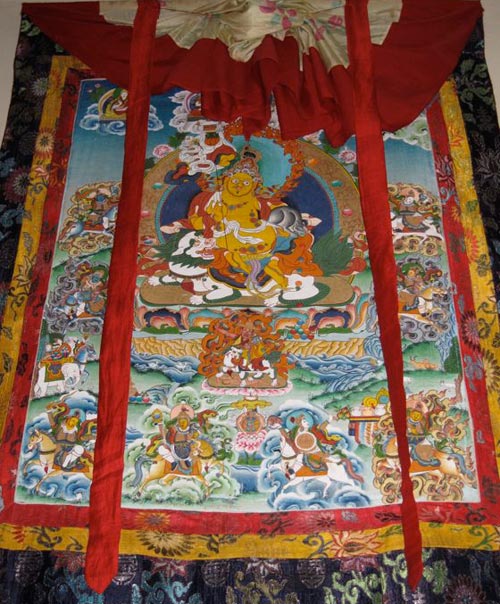 Namtose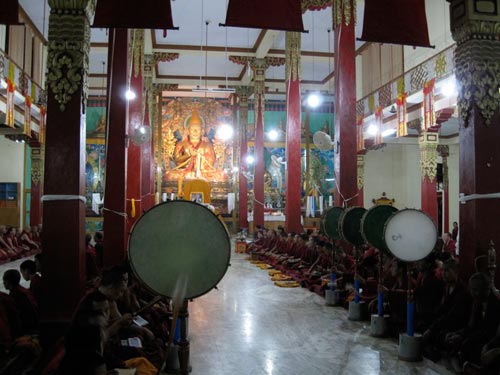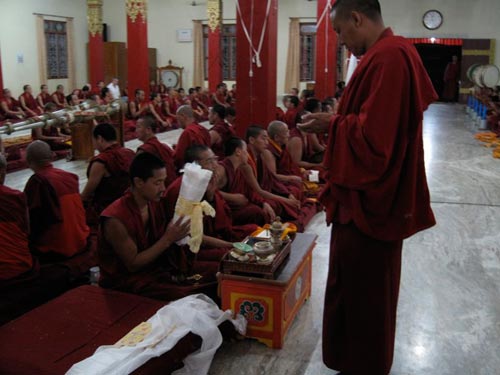 Performing Dorje Shugden's Torgya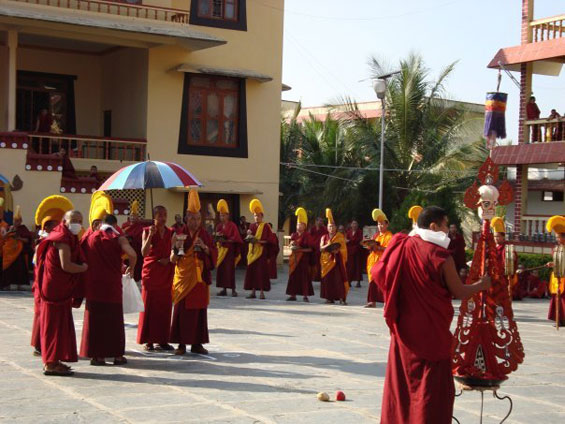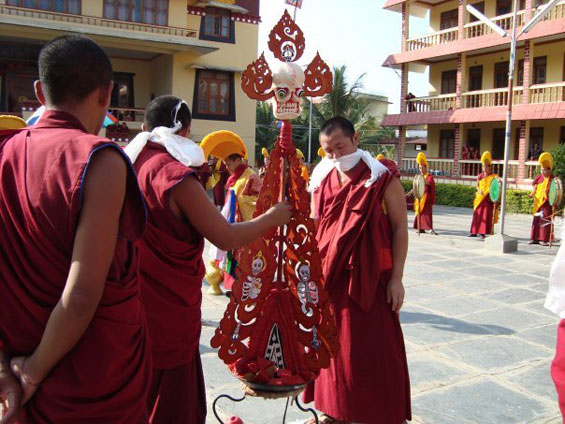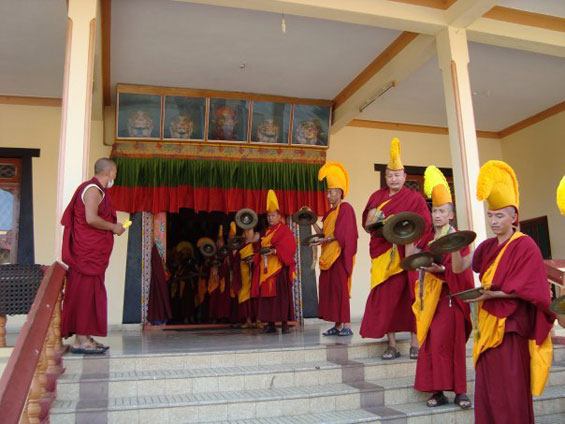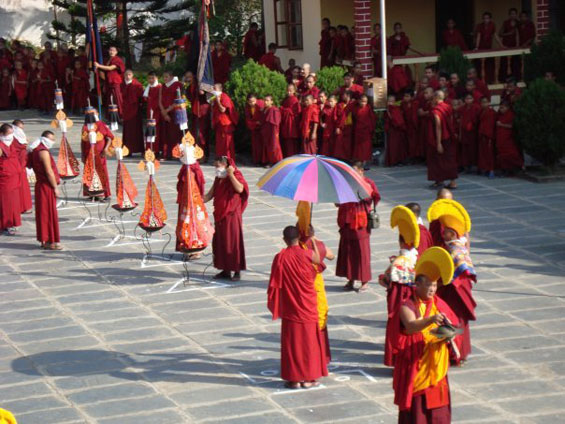 This is a card from the Shar Gaden Namling Buddhist Cultural Association, they have a guest house in Delhi, please
support them by patronizing the guest house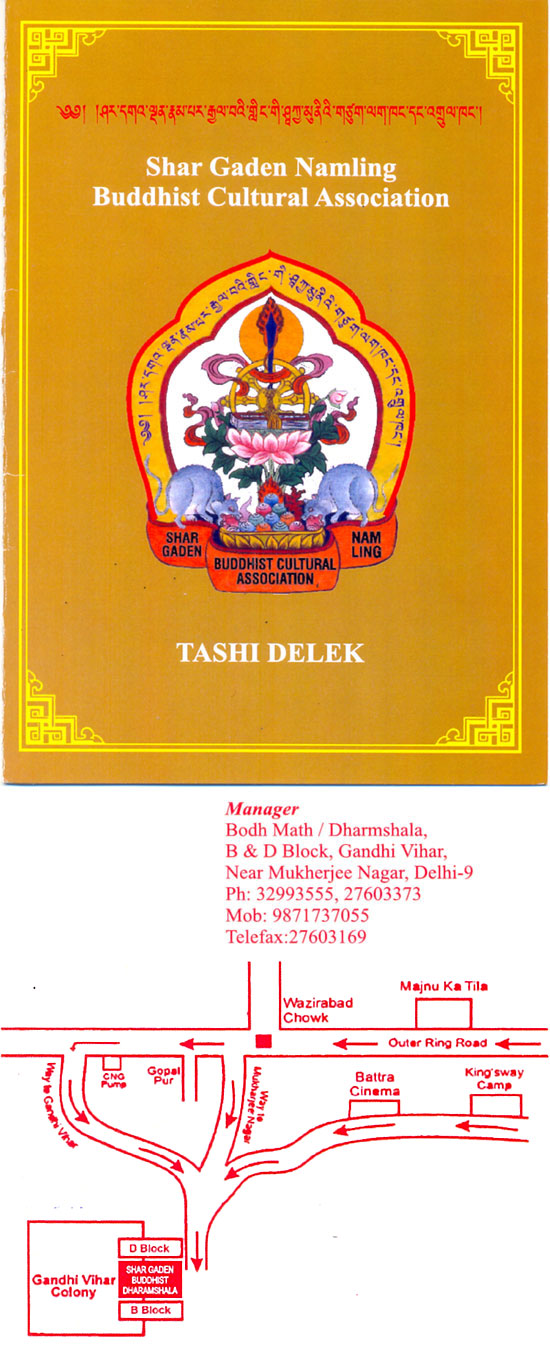 ---
MORE GREAT VIDEOS: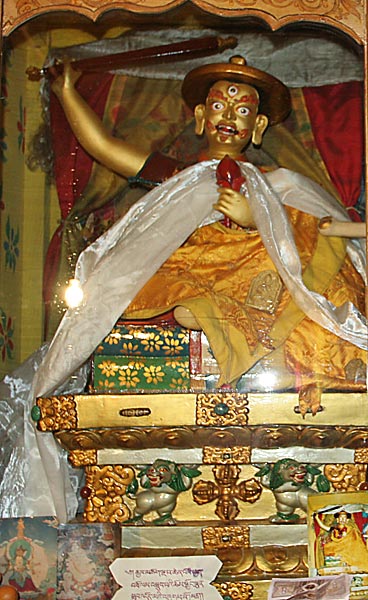 Dorje Shugden is an enlightened Being, an emanation of the Buddha of Wisdom, Manjushri, who arose as a Dharma Protector 350 years ago. He emanated as a Dharma Protector in order to best safeguard the precious teachings of the Second Buddha known as Lama Tsongkhapa, to benefit all sentient beings.
During these degenerate times and due to our karma, Dorje Shugden is the most helpful Dharma Protector for us, because he is swift, powerful and benevolent. He removes our obstacles, protects us and our loved ones, and provides conducive conditions for a successful life and spiritual practice. Above all, he grants us our virtuous and spiritual wishes quickly.

"Dorje" is defined as diamond – the hardest element which cannot be destroyed. In the Buddhist context, indestructibility refers to the fully enlightened mind.
"Shug" means "power" and "Den" means "immovable". Altogether, "Dorje Shugden" means "Diamond of Immovable Power."

A Dharma Protector is a being who manifests in a wrathful form in order to: 
Avert inner and outer obstacles to Dharma practice and to the achievement of spiritual realizations
Create conducive conditions for the practice of Dharma
(Source: Heart Jewel by Geshe Kelsang Gyatso and http://www.westernshugdensociety.org)


Dharma Protector practice is very valuable for helping to remove immediate worldly obstacles, problems and hindrances in our spiritual practice; and to provide conducive conditions for us to engage more effectively in our Dharma work and practice.
There are two kinds of Dharma Protectors: Enlightened Protectors who are emanations of Buddhas, such as Palden Lhamo (an emanation of Tara), six-armed Mahakala (Avalokiteshvara), Dorje Shugden (Manjushri), and Setrap Chen (Amitabha). There are also unenlightened Dharma Protectors, such as Nechung, who may be spirits that were oath-bound by Lamas to stop causing harm and to serve and protect the Dharma as a Protector instead.
We can take refuge in Enlightened Protectors but not in unenlightened Protectors.

As emanations of the Wisdom Buddha, every incarnation that arose before Dorje Shugden manifested was a fully enlightened being. Each incarnation contributed greatly towards the growth of Dharma throughout the Buddhist world. Dorje Shugden's lineage of incarnations includes past great Mahasiddhas (highly attained practitioners), renowned Buddhist scholars, monastics of high moral discipline and outstanding Dharma teachers.


Manjushri

- Dorje Shugden is an emanation of Manjushri, the Buddha of Wisdom.


- Manjushri emanated during the time of Buddha Shakyamuni as one of Shakyamuni's direct disciples.


- Manjushri had already achieved full Enlightenment in a previous age, long before the time of Buddha Shakyamuni.


- In the Sutra Revealing the Abode of Manjushri, Buddha explains how Manjushri manifests countless emanations to help sentient beings.

Mahasiddha Birwapa




-  Manjushri manifested rebirth as the Mahasiddha Birwapa


-  During the day, he studied and meditated on the Sutra teachings and during the night he engaged in highly advanced practices.


-  Whenever he did his prayers, Buddhas like Vajrayogini and celestial beings with whom he had a particularly strong karmic connection would come to his room to participate in the ritual feast.


-  He was nicknamed "Birwapa", which means "bad man" because the monks in Nalanda Monastery where Birwapa studied saw the celestial beings in his room as ordinary women and believed that he was breaking his ordination vows and bringing bad reputation to the monastery.


-  Due to Birwapa's extraordinary deeds, many people developed faith in him and in the Buddhist teachings. In this way, he led many people onto a spiritual path.


Detailed Lineage >>

Sakya Pandita

-  Birwapa later incarnated in western Tibet as the great Lama of the Sakya Tradition, Sachen Kunga Gyeltsen, more commonly known as Sakya Pandita.


-  He was very special even as a young child. Once, he dreamt that the great Indian Pandit Vasubandhu gave him teachings on his text Treasury of Phenomenology. When he awoke, he had memorized the entire text, which was almost 50 pages long.


-  Sakya Pandita's name spread far and wide, reaching even to the Chinese Emperor who developed deep faith in him and the Buddhadharma.


Detailed Lineage >>

Butön Rinchen Drub




-  Sakya Pandita took rebirth as Butön Rinchen Drub in western Tibet. When Butön was a child, he could converse with Manjushri and displayed attainment of compassion and Bodhicitta in his speech and action.


-  In this life, he focused mainly on teaching and writing. He translated many scriptures from Sanskrit into Tibetan and wrote 26 volumes of commentaries on Dharma practice (Kangyur – the spoken words of the Buddha & Tangyur – the commentaries of Buddhist teachings)


Sakya Pandita and Butön Rinchen Drub showed practitioners how to meditate correctly and practice effectively to develop great wisdom and concentration.


Detailed Lineage >>

Duldzin Drakpa Gyeltsen

- Butön Rinchen Drub was later reborn in central Tibet as Duldzin Drakpa Gyeltsen, who became one of Lama Tsongkhapa's principal disciples.

- Duldzin Drakpa Gyaltsen's main activity was to help the teachings of Lama Tsongkhapa to flourish.

- He was especially famed for his pure morality and for upholding his vows very purely. His very name, "Duldzin", means "Holder of the Vinaya".

- Duldzin Drakpa Gyeltsen oversaw the full building of Gaden Monastery, the first and most prominent monastery of the Gelugpa school of Buddhism.

- Lama Tsongkhapa's disciples believed that Duldzin Drakpa Gyeltsen and Lama Tsongkhapa were equal in terms of their realizations, abilities, and wisdom. The position of Gaden Tripa – representing Tsongkhapa on earth, after his passing – was offered first to Duldzin. However, Duldzin declined the honour and offered it to Gyaltsab Je, choosing instead to devote his life to protecting and spreading Lama Tsongkhapa's teachings.

- It was with this commitment and devotion to the Dharma that Duldzin first made a promise to arise as a Dharma Protector specially to protect the Middle view of Nagarjuna, as taught by Lama Tsongkhapa.

Panchen Sonam Drakpa

- Duldzin Drakpa Gyeltsen was later reborn in central Tibet as the special Lama Panchen Sonam Drakpa. Like Duldzin, he devoted his whole life to make Lama Tsongkhapa's lineage and teachings flourish everywhere.


- He was the Spiritual Guide to the 3rd Dalai Lama.


- This Lama was unique in that he was the only person who has ever become the abbot of all three main Gelug monasteries – Gaden, Sera and Drepung in a single lifetime. He was also the Abbot of Gyuto Tantric College and became the 15th Gaden Tripa.


- Panchen Sonam Drakpa wrote many commentaries to both Sutra and Tantra. To this day at Drepung Loseling, the largest Gelugpa monastery, as well as at Gaden Shartse, monks qualify for their Geshe degrees by relying principally upon the scriptures of this great teacher.



Tulku Drakpa Gyeltsen




- Tulku Drakpa Gyeltsen lived in Drepung Monastery during the time of the 5th Dalai Lama. They were both disciples of the First Panchen Lama, Losang Chokyi Gyeltsen. Their affinity went back to the time when Tulku Drakpa Gyeltsen – in his previous incarnation as Panchen Sonam Drakpa was the Spiritual Guide to the 3rd Dalai Lama.

- Tulku Drakpa Gyeltsen was so highly attained that Tibetan, Mongolian and Chinese nobility and royalty would travel immense distances just to make offerings and request teachings from him. His attainments were often likened to those of the Dalai Lama himself.

It was in this lifetime that Tulku Drakpa Gyeltsen fulfilled his promise to become a Dharma Protector and arose as Dorje Shugden.
Duldzin Drakpa Gyeltsen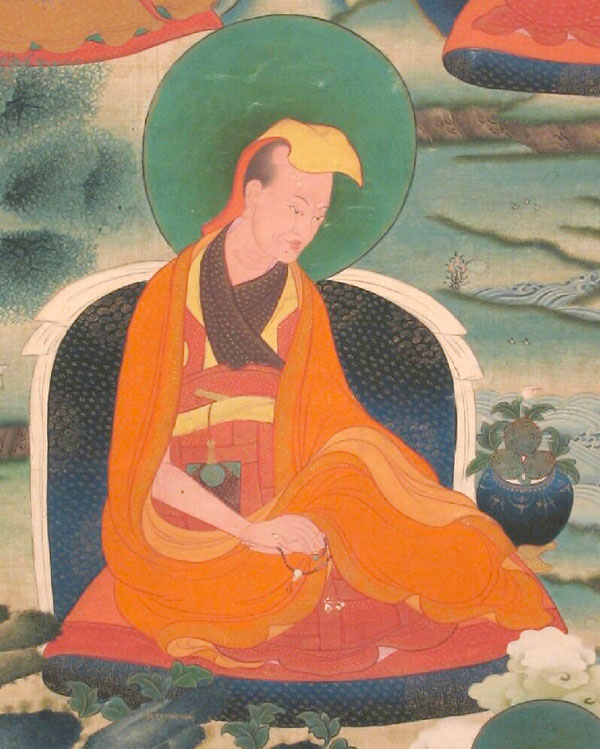 The plan for the "birth" of Dorje Shugden began during the time of Duldzin Drakpa Gyeltsen. He was the great disciple of Lama Tsongkhapa and was reputed to be a very pure and steadfast holder of the Vinaya. Nechung, a worldly spirit, was oath-bound by Guru Rinpoche, the 8th century Indian master, to be the general Dharma Protector to protect the Buddhadharma. It was Nechung who requested Duldzin Drakpa Gyeltsen to make a promise to protect Nagarjuna's priceless Middle view, as taught by Lama Tsongkhapa.
At one of Lama Tsongkhapa's teachings, Nechung emanated as a white dove and flew continuously around the teaching hall. After the teachings ended, Duldzin stayed behind, as he could see through the dove's disguise. He requested Nechung to reveal himself and asked him what he wanted. Nechung transformed into a young boy dressed in white and told Duldzin that the precious teachings that Lama Tsongkhapa had given of Nagarjuna's Middle view required special protection. Then Nechung asked Duldzin to become the Chief Protector of these teachings. Duldzin promised that he would, and Nechung said that when the right time came, he would remind him of this promise. After Duldzin completed building Gaden Monastery, he went into retreat in a cave and passed away there.
Several lifetimes later, Duldzin reincarnated as Tulku Drakpa Gyeltsen. During an audience with Nechung, who spoke through an oracle, Nechung reminded Tulku Drakpa Gyeltsen about his promise. At first, Tulku Drakpa Gyeltsen could not recall such a promise. Then, Nechung gave him some blessed rice to eat to help him remember. Upon eating the rice, Tulku Drakpa Gyeltsen remembered his promise instantly and agreed to fulfil this promise; to ensure that Lama Tsongkhapa's teachings would spread and grow.
However, Tulku Drakpa Gyeltsen was very gentle and did not have any anger at all in his mindstream to manifest as a wrathful Dharma Protector. Understanding this, Nechung told Tulku Drakpa Gyeltsen that he would orchestrate a situation for the wrath to rise within him. Only then would Tulku Drakpa Gyeltsen be able to arise as the Dharma Protector.


(Source: http://www.dorjeshugdenhistory.org/trode-khangsar-7.html)

The Death of Tulku Drakpa Gyeltsen
Tulku Drakpa Gyeltsen lived during the reign of the 5th Dalai Lama. There was political and religious conflict at the time. To unite the country, the Dalai Lama was placed on the throne, given the title "Religious-King and Holder of the Buddhist Faith" and had supreme political and religious authority over Tibet. Tremendous effort was put into establishing the position of the Dalai Lama during these times of uncertainty, and into eliminating oppositions and potential threats. One such threat was Tulku Drakpa Gyeltsen.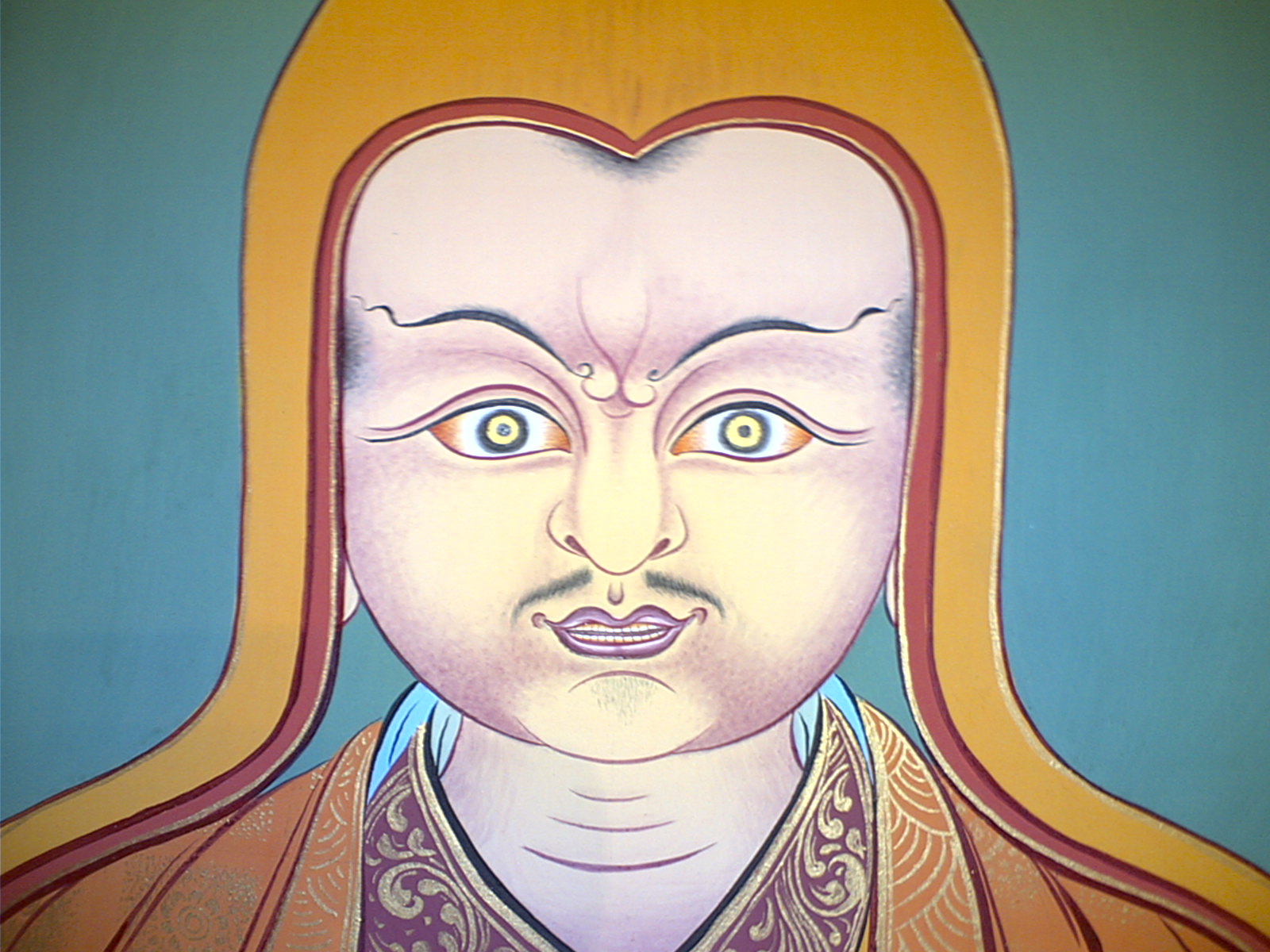 Tulku Drakpa Gyeltsen was perceived as a threat because:
He was also nominated as a potential reincarnation of the 4th Dalai Lama
He was later confirmed as the incarnation of Panchen Sonam Drakpa, who had been the tutor to the 3rd Dalai Lama
He held equal status as the 5th Dalai Lama, and they were both students of the 4th Panchen Lama, Lobsang Chökyi Gyaltsen
His Dharma knowledge and pure spiritual practice was often regarded as equal to that of the Dalai Lama
He was more popular than the 5th Dalai Lama, and had more students and received more offerings than the 5th Dalai Lama.
His growing popularity and influence caused continued tension and jealousy among the Dalai Lama's followers. The Dalai Lama's ministers were very concerned for the security of His Holiness' position among the Tibetans. To secure the Dalai Lama's and their own positions, the ministers plotted the demise of Tulku Drakpa Gyeltsen, without the knowledge of the Dalai Lama.
Sonam Rabten, the principal executive of the Dalai Lama and his protégé, Norbu, tried many times to assassinate Tulku Drakpa Gyeltsen, but failed. Tulku Drakpa Gyeltsen simply did not have the karma to be killed. When they tried to poison him, nothing happened. By Tulku Drakpa Gyeltsen's attainments, he was able to simply dispel the poison from his body. When they tried to stab him, eyes would appear on his body where he was stabbed, and stare back at them.
Out of compassion and commitment to his promise to become a Dharma Protector, Tulku Drakpa Gyeltsen told them that the only way he could be killed was if they were to suffocate him by stuffing a khata down his throat. His assailants then managed to kill him that way.
After his death, official documents concerning Tulku Drakpa Gyeltsen's previous incarnations were tampered with; Butön Rinchen Drub and Panchen Sonam Drakpa's names were removed from Tulku Drakpa Gyeltsen's lineage prayers. The position of Tulku Drakpa Gyeltsen was officially diminished. In addition, Sonam Rabten and Norbu killed members of Tulku Drakpa Gyeltsen's family and seized their property and land.  They also issued a ban on the search of Tulku Drakpa Gyeltsen's reincarnation, after they had dismantled his residence in Drepung and relocated his reliquaries The ban has lasted to this day. All the above was recorded in the autobiography of the 5th Dalai Lama.


(Source: The Great Deception by the Western Shugden Society and http://www.dorjeshugdenhistory.org/trode-khangsar-6.html)

Manifestation of Wrath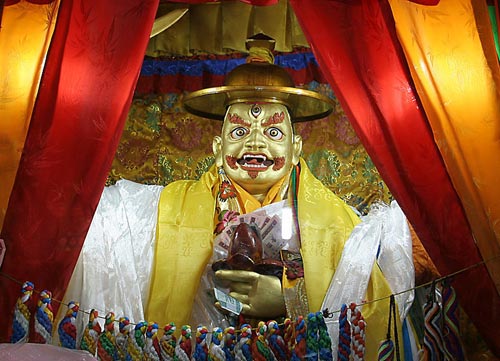 At the time of his death, a slight amount of fierce energy resembling wrath arose in Tulku Drakpa Gyeltsen and this enabled him to arise as the wrathful Dharma Protector, Dorje Shugden. Thousands attended Tulku Drakpa Gyeltsen's funeral. However the funeral pyre could not be lit for his cremation ceremony. During the funeral, the 5th Dalai Lama finally heard what had happened and that it was his own people who had killed Tulku Drakpa Gyeltsen. With great dismay, he wrote a prayer which expressed his great remorse for what had happened and praised Tulku Drakpa Gyeltsen's qualities. This was sent down to the funeral and read aloud by one of Tulku Drakpa Gyeltsen's assistants.
After this was read, the funeral pyre immediately caught fire. From the fire, a large plume of smoke arose and covered all Lhasa in the shape of a large, black hand. Great disturbances arose throughout Lhasa. Livestock and crops died, there were earthquakes, the weather was turbulent and chaos prevailed. This was due to the cumulative negative karma accrued by those who had plotted to murder a High Lama.
The 5th Dalai Lama also experienced difficulties and inauspiciousness. Many began to fear that Tulku Drakpa Gyeltsen had become an angry spirit and powerful rituals to pacify and destroy him were conducted. However, all efforts were in vain. Nothing could destroy this 'spirit' because he wasn't one. He had actually manifested as the great Dharma Protector: Dorje Shugden.


Enthronement as the Dharma Protector
The 5th Dalai Lama finally realized the gravity of the situation and understood that Tulku Drakpa Gyeltsen had not taken rebirth as a vengeful spirit but had arisen as a Dharma Protector. He deeply regretted the attempts to destroy what he thought was a spirit, and recognized Dorje Shugden as an enlightened Dharma Protector in whom he would take refuge.
The Dalai Lama then wrote an official proclamation and prayer, recognizing Dorje Shugden as an undisputed Dharma Protector and a direct emanation of Tulku Drakpa Gyeltsen. He also constructed Trode Khangsar as a place of worship for Dorje Shugden which still exists in Tibet to this day.

Prayer by the 5th Dalai Lama to Dorje Shugden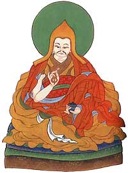 HUM
Though unmoving from the sphere of primordial spontaneity,
With wrathful turbulent power, swifter than lightning,
Endowed with heroic courage to judge good and bad,
I invite you with faith, please come to this place!
Robes of a monk, crown adorned with rhinoceros leather hat,
Right hand holds ornate club, left holds a human heart,
Riding various mounts such as nagas and garudas,
Who subdues the mamos of the charnel grounds, praise to you!
Samaya substances, offerings and torma, outer, inner and secret,
Favorite visual offerings and various objects are arranged.
Although, previously, my wishes were a bit dense,
Do not stop your powerful apparitions, I reveal and confess!
Now respectfully praising with body, speech, and mind,
For us, the masters, disciples, benefactors and entourages,
Provide the good and avert the bad!
Bring increase like the waxing moon in spiritual and temporal realms!
Moreover, swiftly accomplishing all wishes,
According to our prayers, bestow the supreme effortlessly!
And like the jewel that bestows all wishes,
Always protect us with the Three Jewels!
(This prayer can be recited by anyone at anytime, and does not require any initiation or empowerment)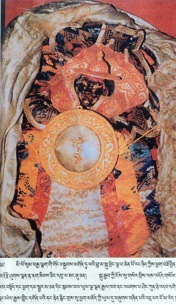 The 5th Dalai Lama also crafted a famous statue of Dorje Shugden with his own hands.
This statue was originally placed in Trode Khangsar but now can be seen to this day in
Gaden Phelgyeling Monastery in Kathmandu, Nepal.
Amazing video of Dorje Shugden's shrine and holy chants, long horns, and other offerings of sound. Must watch this video!
---
MORE GREAT VIDEOS: