View the original video on YouTube:  http://www.youtube.com/watch?v=Ehr8ePFyWoY
In the 17th Century, the Fifth Dalai Lama had Trode Khangsar built in dedication to the Protector Dorje Shugden.
The main image
inside was also commissioned by the 5th Dalai Lama. By the end of the 17th Century, the Fifth Dalai Lama's Regent Desi Sangye Gyatso entrusted Trode Khangsar to Riwo Choling, a Gelug Monastery.
Today it is in full use and located behind the main Chapel of Jowo Buddha or central Cathedral of Lhasa just off the
main circumambulation circuit or barkor.
Many pilgrims visit and monks are available daily performing
pujas/ceremonies to Dorje Shugden daily. It is open to tourists.
This chapel is over 350 years old in the heart of Lhasa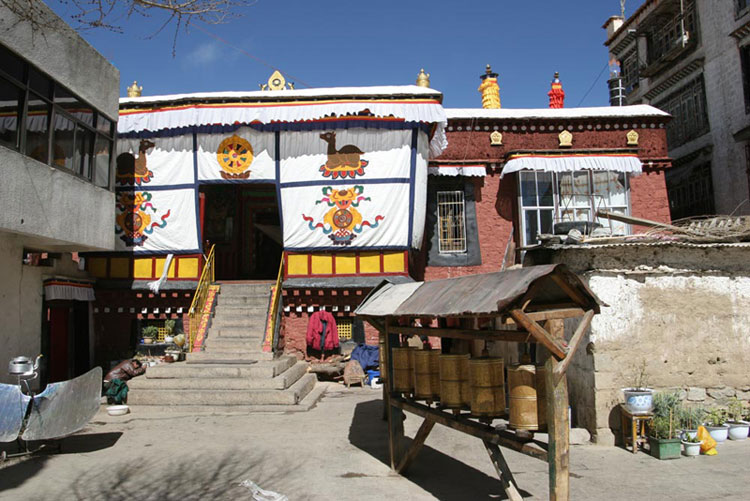 Dorje Shugden Chapel is 8 mins walk from Jokhang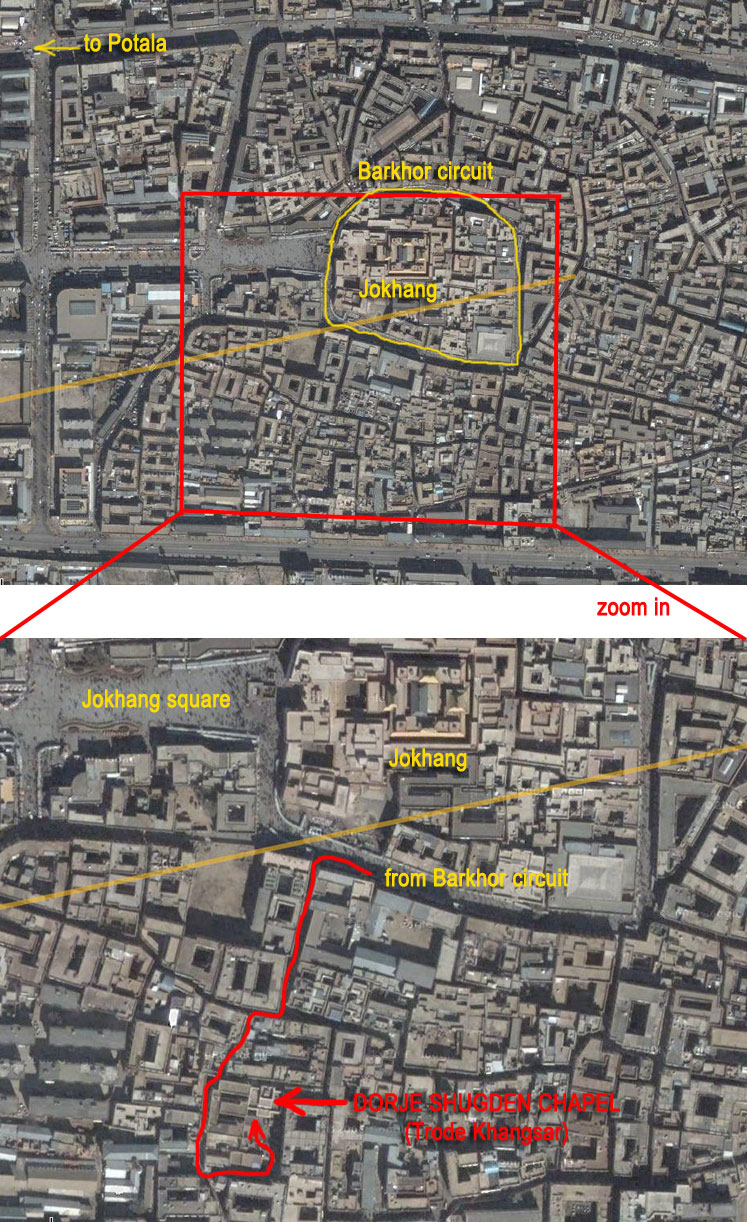 More information on Trode Khangsar can be found in this book, page 195-199. It is available on Amazon.com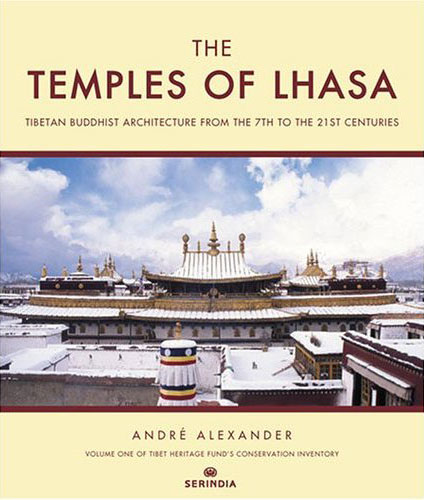 Book Details
Hardcover: 336 pages


Publisher: Serindia Publications; illustrated edition edition (November 15, 2005)


Language: English
(from the front flap of this book) The Temples of Lhasa is a comprehensive survey of historic Buddhist sites in the
Tibetan capital of Lhasa. The study is based on the Tibet Heritage Fund's official five-year architectural conservation
project in Tibet during which the author and his team had unlimited access to the buildings studied. The documented
sites span the entire known history of Tibetan Buddhist art and architecture from the 7th to the 21st centuries.
The book is divided into thirteen chapters, covering all the major and minor temples in historic Lhasa. These include
some of Tibet's oldest and most revered sites, such as the Lhasa Tsuklakhang and Ramoche, as well as lesser-known
but highly important sites such as the Jebumgang Lhakhang, Meru Dratsang, and Meru Nyingpa. It is illustrated with
numerous color plates taken over a period of roughly fifteen years from the mid-1980s to today and is augmented with
rare photographs and reproductions of Tibetan paintings. This book also provides detailed architectural drawings and
maps made by the project. Each site has been completely surveyed documented and analyzed. The history of each site
has been written — often for the first time — based on source texts and survey results, as well as up-to-date technology
such as carbon dating, dendrochronology, and satellite data. Tibetan source texts and oral accounts have also been
used to reconstruct the original design of the sites. Matthew Akester has contributed translations of Tibetan source
texts, including excerpts from the writings of the Fifth and Thirteenth Dalai Lamas.
This documentation of Tibetan Buddhist temple buildings is the most detailed of its kind, and is the first professional
study of some of Tibet's most significant religious buildings. The comparative analysis of Tibetan Buddhist
architecture covers thirteen centuries of architectural history in Tibet.
MORE GREAT MONASTERIES:

View video on YouTube: http://www.youtube.com/watch?v=l8JcZJUhkpw
From http://www.dorjeshugdenimagelibrary.wordpress.com
Thangkas of various Buddhas, Protector Deities, and Tibetan Lamas that include an image of the Wisdom Buddha and Dharma Protector Dorje Shugden.
MORE GREAT VIDEOS:

View video on YouTube: http://www.youtube.com/watch?v=osvN6b3ljTY
From http://www.dorjeshugdenimagelibrary.wordpress.com
Some beautiful thangkas of the Dharma Protector and Wisdom Buddha Dorje Shugden for you to enjoy.
MORE GREAT VIDEOS: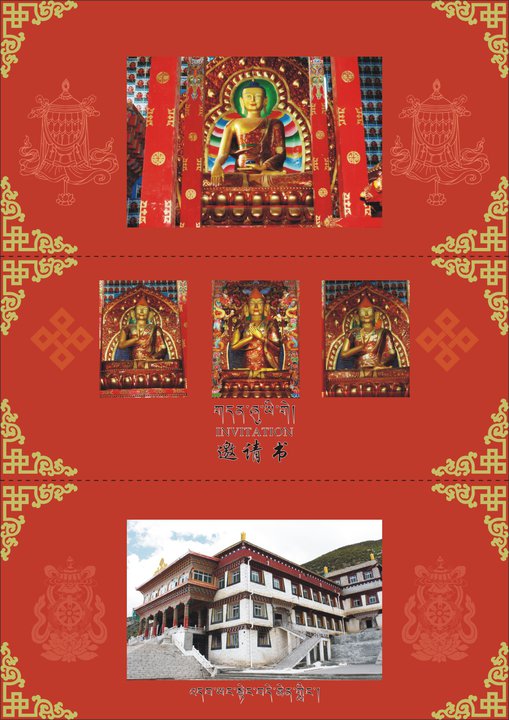 Yangting Dechen Ling Monastery in Kham, Tibet has successfully completed the construction of the new main prayer hall recently after long hard-work and dedications. The original monastery was founded by Yogi Je Lodö Namgyal who was one of the foremost disciples of Je Tsongkhapa in 1421, a couple of years after Jamchen Chöje Shakya Yeshi founded Sera Monastery in 1419 in Tibet
The officials of Yangting Dechen Ling have announced the date of Inauguration Ceremony of this huge mesmerizing hall on 10th August 2010, it will be a four-day long event with diverse programs. This monumental hall was built specifically in order to spread and preserve the Pure Je Tsongkhapa Tradition and pure Buddha Dharma in General.
This is the Monastery in Tibet that His Holiness Gaden Trisur Lungrik Namgyal Rinpoche hails from. Gaden Trisur Rinpoche decided to keep on practicing Dorje Shugden so he has joined Shar Gaden Monastery.
This is another Dorje Shugden monastery!
Source: Shar Gaden Facebook
More photos of Yangting Dechen Ling Monastery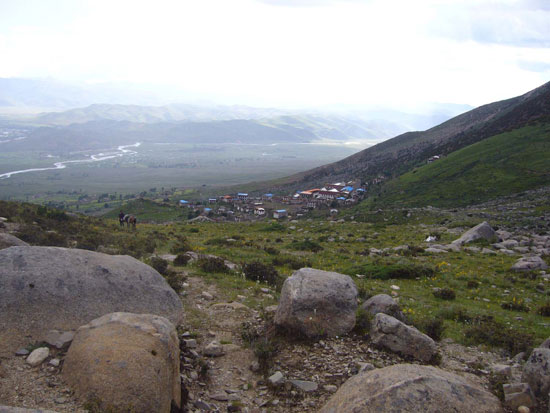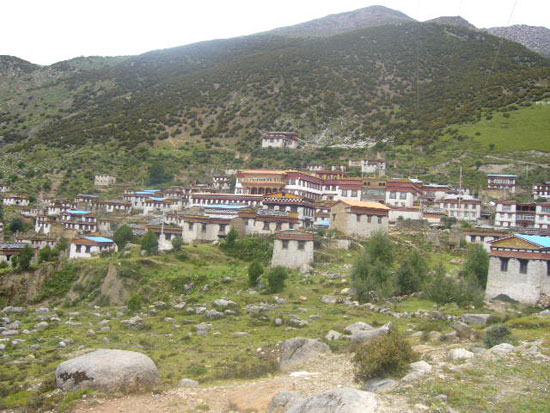 'Dharmapala' – hoary Sanskrit from India, terra firma giving birth to the Vedas;' The End of All Knowledge', innumerable deities, home of the Ganges river and Buddha The Awakened One – means "…guardian of the teachings[i]" Variously, the term is also used to mean defenders or protectors of the law of the 'Diamond Vehicle'.
Vajrayana, or the 'Diamond Vehicle', is a Buddhist school of Indian Mahayana teachings that, so far, can be archeologically traced to the first millennium. Dharmapalas are deified protective agents for the Vajrayana teachings (an evolved style of yoga practice and philosophy derivative of the historical Buddha's practice). As history in the far eastern traditions is constantly being updated and rewritten, it is also possible that these deities were first used in Tantric teachings.
A practical ritual application of all or any one of the Dharmapalas is for today's Tibetan yogi or sadhana practitioner to call them forth during ritual and meditation in order to protect against negative influences that will keep one from advancing along the path of sadhana or practice.
While the Dharmapala deities figure heavily in Tibetan art as horrific and angry, it's understood that here the end justifies the means; actually these are compassionate, Buddhist deities, whose angry sneers, heavily ornamented, husky bodies, and deadly weaponry are protective camouflage devices for the good of the practice, to drive away illusion and evil; in Judeo-Christian parlance we refer to this type of deity as an archangel.
Eight Dharmapala deities are known – each one may be known by several designations – and called upon, each for its specific specialized areas of protection: "Mahakala,Yama,Yamantaka, Hayagriva,Vaisravana,Shri Devi,Changpa,Prana Atma.[ii] " This listing is the traditional hierarchical accounting with Mahakala appearing in the number one position as that Dharmapala who protects the Dalai Lamas (those highest spiritual leaders in the Buddhist community).
Two principle viewpoints are offered for the importance of Dharmapalas: the fundamental and literal; and the metaphorical and often mystic. The fundamental is covered above in the definitions of, and traditional use of these deities. However, what of the metaphorical and mystic?
It is the goal of all yoga to return to the source, and that life in the human body is transcendental. The body and finite mind therein is a powerful instrument of return. Could these Dharmapalas be part and parcel of our higher, dedicated, and as sadhana practitioners, disciplined self? Taking a Jungian view, perhaps these are archetypal elements of self-discipline towards yoga practice. It is not uncommon protocol for a group meditation in the Zen Buddhist school to have one monitor with a fierce face and wielding a bamboo rod skulking the crowd waiting to sharply strike that one – with compassion, of course – who has fallen asleep at his sitting.
Footnote :
[i] 'The Shambhala Dictionary of Buddhism and Zen' –Shambhala Publications, 1991.
[ii] As above.
Source : http://www.helium.com/items/1808311-dharmapalas-history-and-significance
MORE GREAT ARTICLES:

View the video on YouTube:
http://www.youtube.com/watch?v=1BOuT35wE3Q
Kwai Chang Caine: Master, why does such a fearsome statue stand at the entrance to our peaceful place?
Master Po: These are the threshold guardians, grasshopper, set here to keep away those not ready for the
silence within.
Kwai Chang Caine: Must they be so… horrible?
Master Po: Those incapable of understanding the Way see things divine as monsters. Better for them never to
enter here.
Kwai Chang Caine: Yet if a man is unafraid of stone, he may pass unhampered!
Master Po: He may physically pass the guardian, but if his mind is in the outer world, he will leave us, in time,
to rejoin it.
View the video on YouTube:
http://www.youtube.com/watch?v=8OhTJzlFqA4
A collection of photos from Ser-pom Monastery. Sera has produced innumerable scholars, masters, yogis, abbots,
reincarnated tulkus and even regents. Currently Sera is in South India 6 hours away from Bangalore in Bylakuppe
Tibetan Colony, Mysore State .
Due to the ban His Holiness the Dalai Lama has enforced, Dorje Shugden practitioners may not associate with
non-Dorje Shugden practitioners in any way, shape or form. It is illegal for a Tibetan to associate with another
Tibetan that practises this Protector. This is what His Holiness the Dalai Lama says for Dharma and secular
lives, we must keep away from Dorje Shugden practitioners.
Hence, a large group of monks wishing to continue their practice of Dorje Shugden, had to separate from Sera
Monastery in order to carry out this directive. They have formally started a new Monastery nearby.
This new monastery is SERPOM NORLING MONASTERY. Watch this video of beautiful collection of photos
from this monastery. They have currently many qualified Geshes, six Tulkus and altogether 500 monks.
They may be contacted at:
Serpom Norling Monastery
P.O. Bylakuppe
571104, Mysore , K.S., India
Email: [email protected]
View the video on YouTube:
http://www.youtube.com/watch?v=v4KGwJh6gvg
The Oracle taking trance in full regalia of wrathful Dorje Shugden

View the original video on YouTube:
http://www.youtube.com/watch?v=t2AUPI901Ew
Grand Audience for the public with Dharmapala Setrap and Dorje Shugden
The practice of Dorje Shugden is widespread in Kham area of Tibet, this is one of them, a
monastery in Chakzamka, Riwoche, Tibet Kham Area
昌都地区类乌齐县甲 桑卡土登达吉林护法殿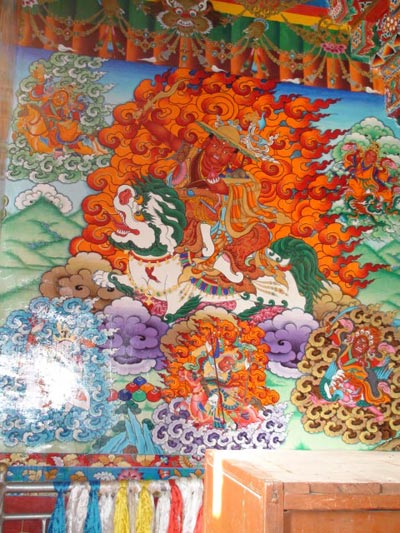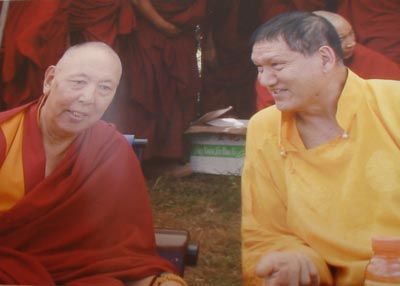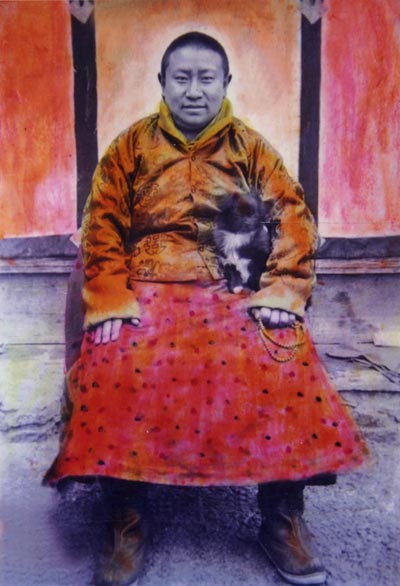 MORE GREAT VIDEOS:

In Tibetan language:
MORE GREAT VIDEOS:

View the original video on YouTube:
Part1 Part2 Part3 Part4 Part5
---
These are recent photos of Shar Gaden Monastery, Mundgod, South India, which separated from Gaden Monastery because the monks held strong to
their commitments towards their Gurus and refused to give up the practice of Dorje Shugden. Today it is a flourishing monastery of around 550 monks,
and increasing.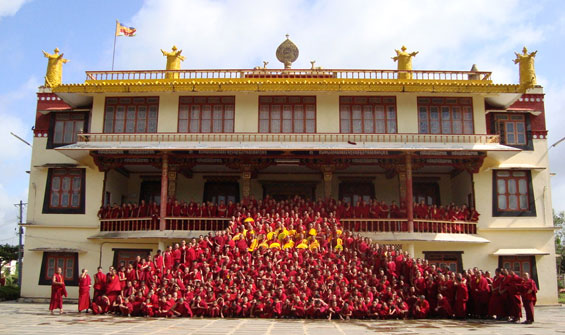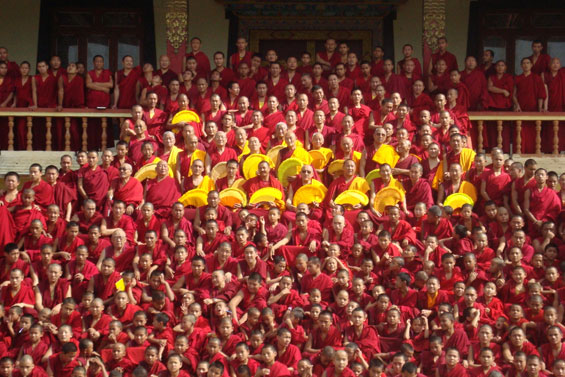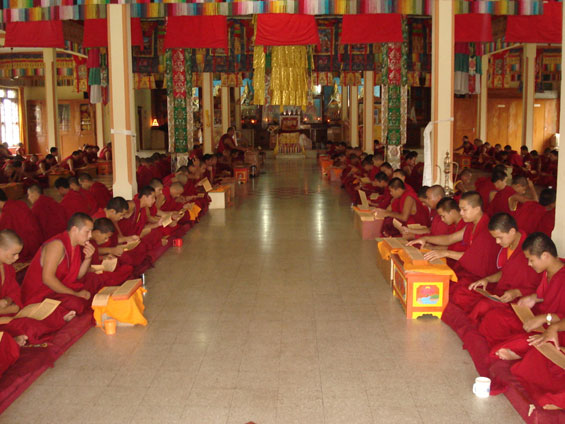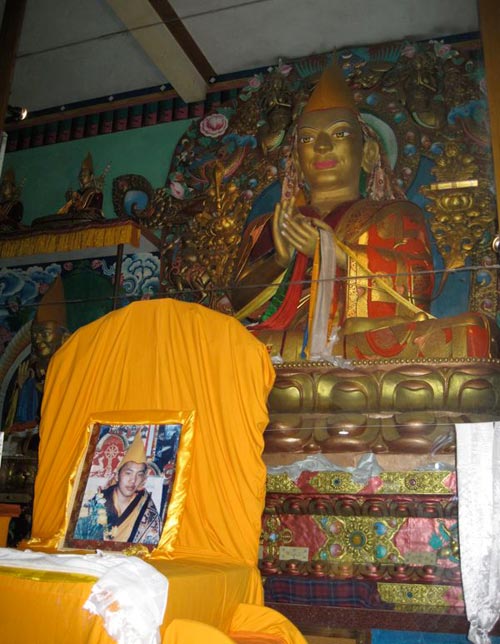 Lama Tsongkhapa with Kyabje Trijang Rinpoche's throne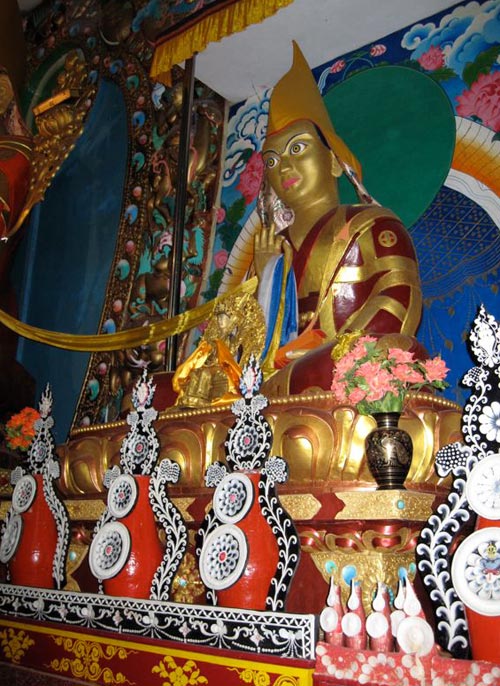 Kedrup Je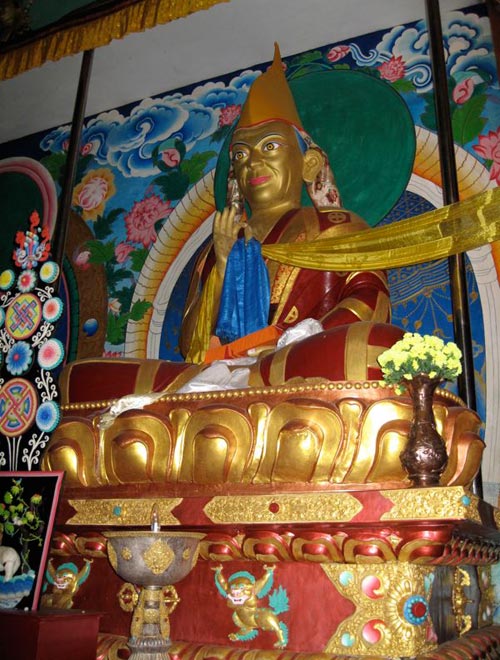 Gyaltsab Je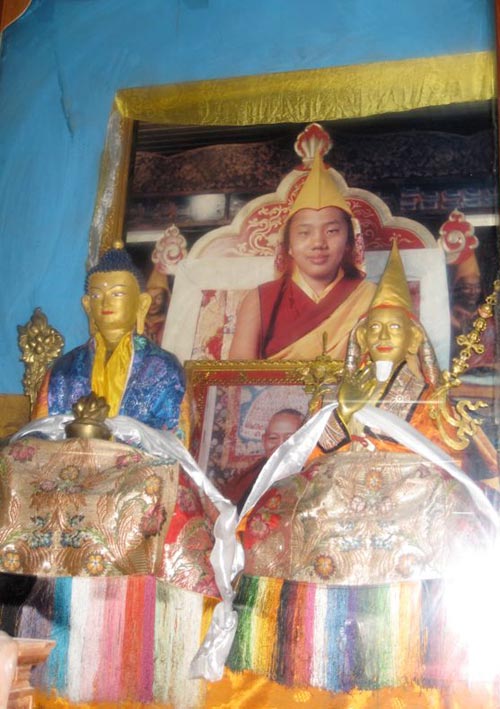 Kyabje Trijang Rinpoche and Kyabje Zong Rinpoche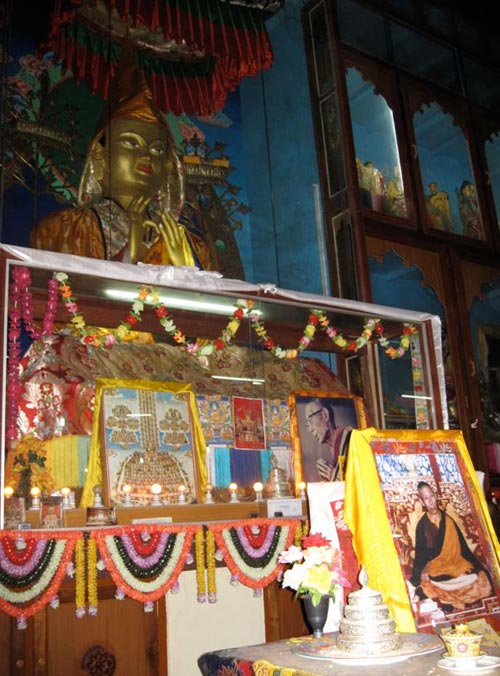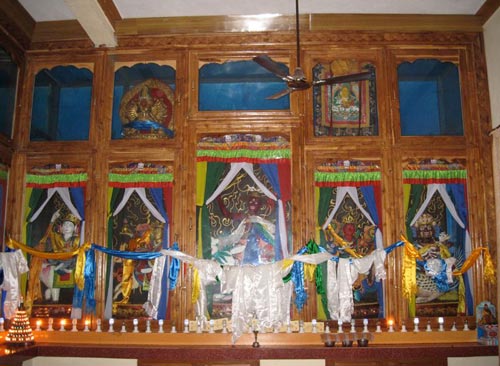 Five Forms of Dorje Shugden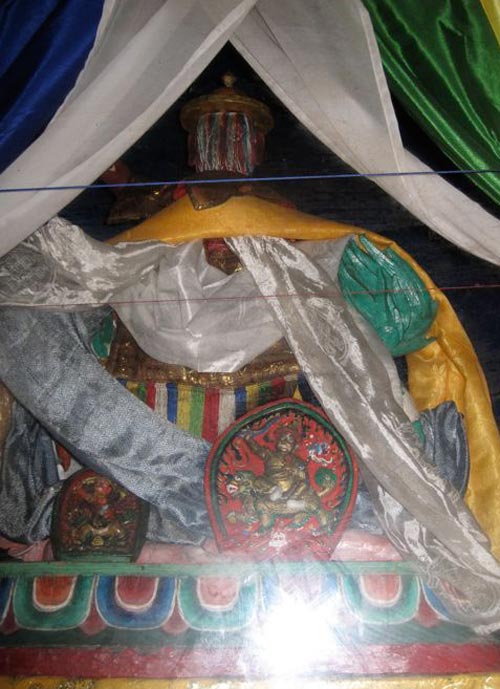 Dorje Shugden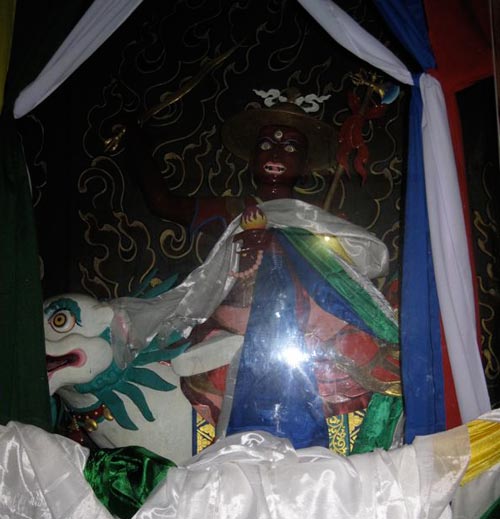 Dorje Shugden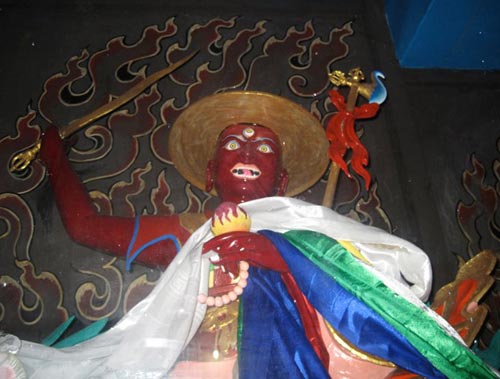 Dorje Shugden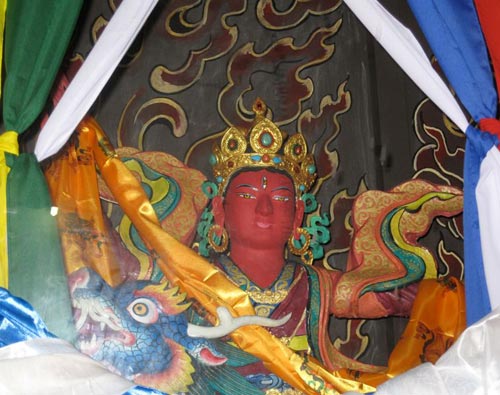 Wangtse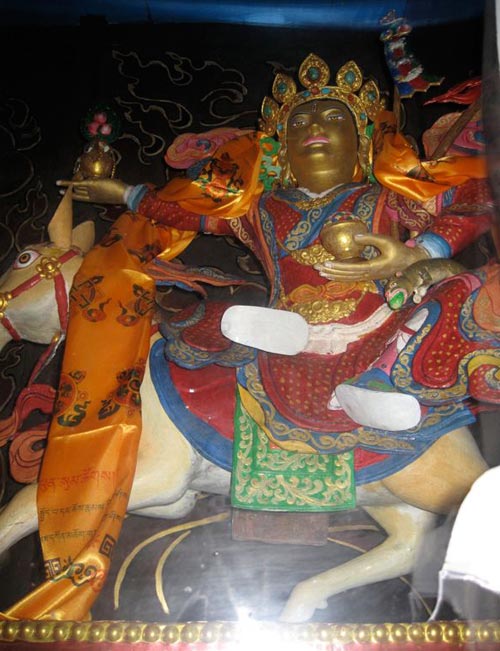 Gyenze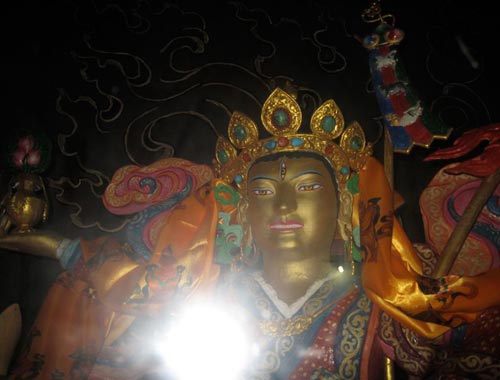 Gyenze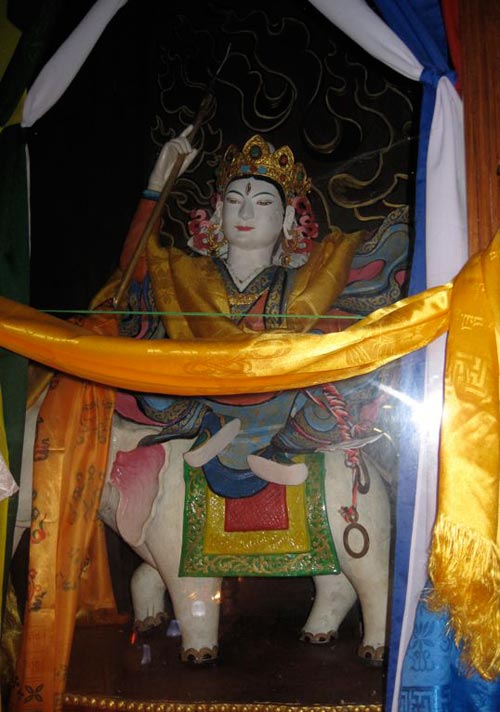 Shitse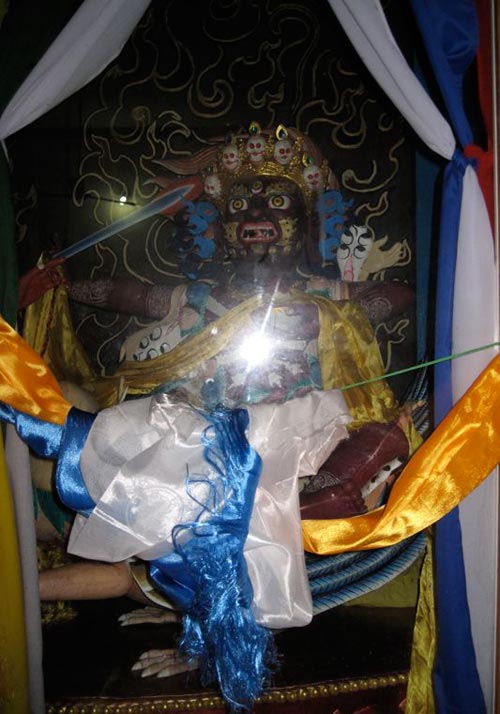 Trakze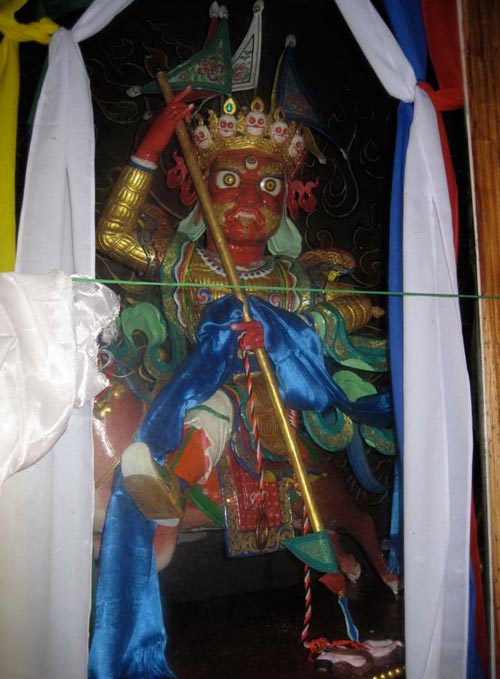 Kache Marpo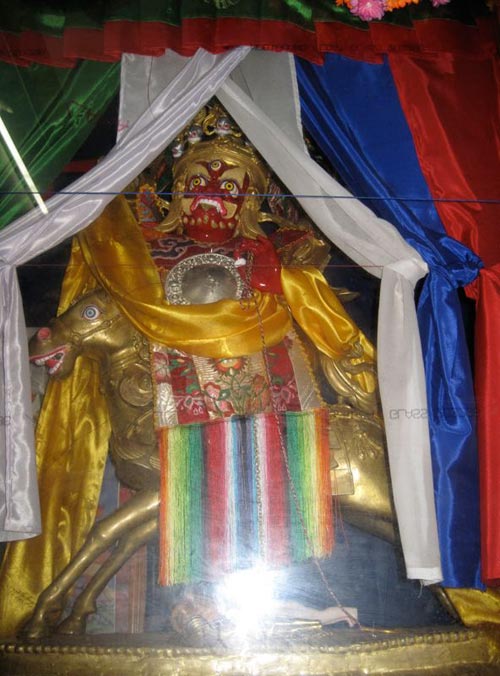 Setrap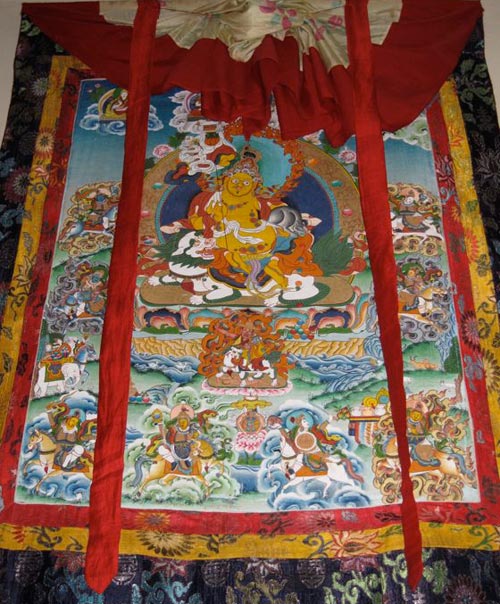 Namtose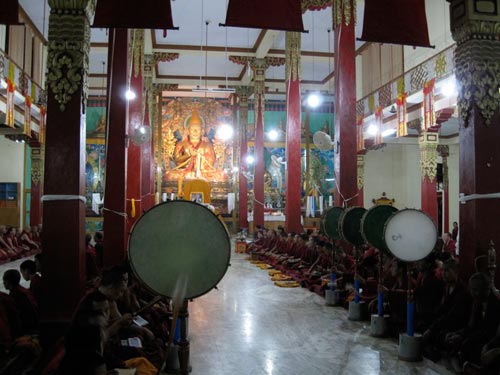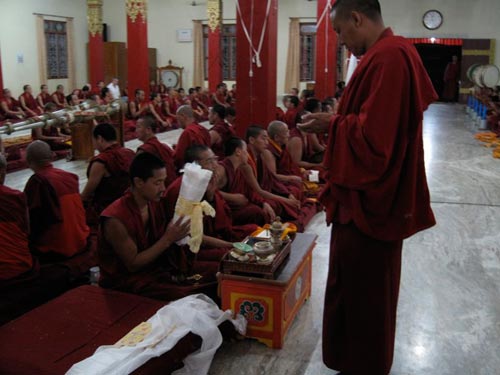 Performing Dorje Shugden's Torgya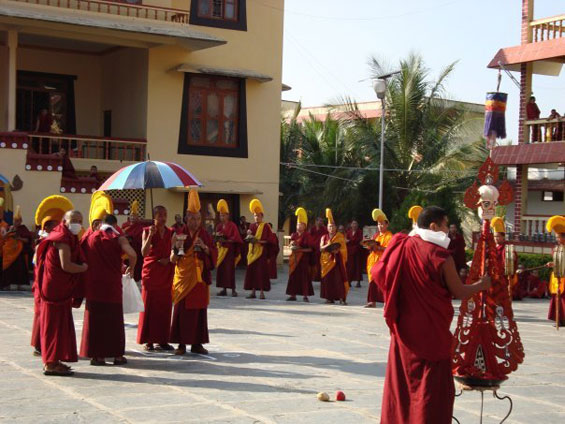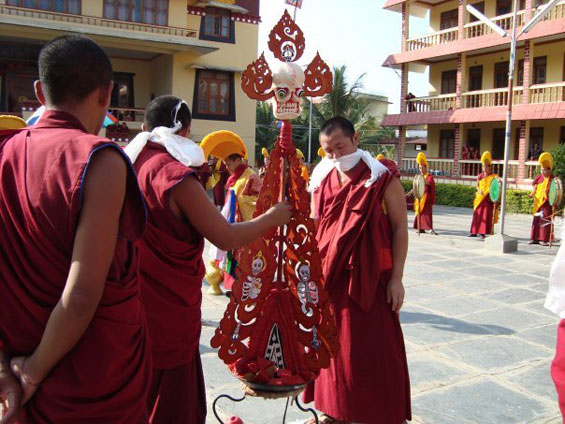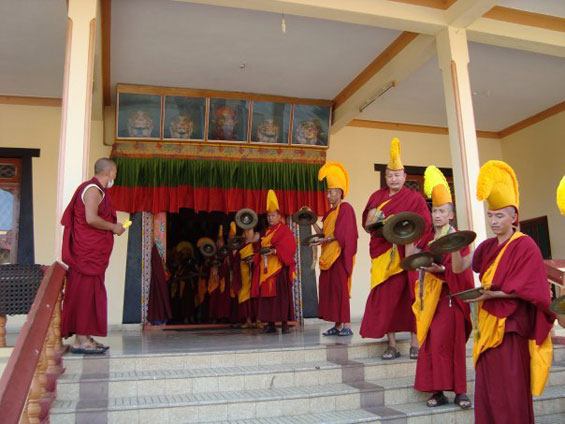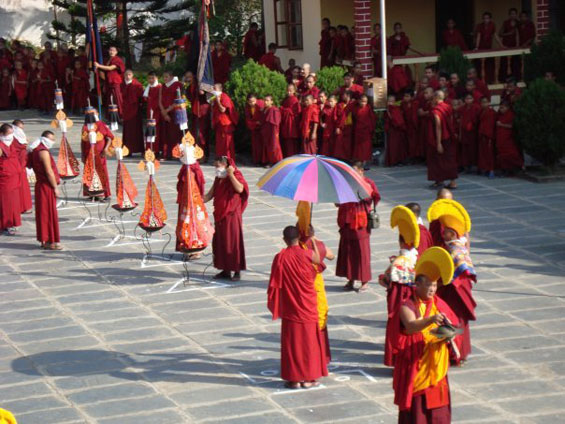 This is a card from the Shar Gaden Namling Buddhist Cultural Association, they have a guest house in Delhi, please
support them by patronizing the guest house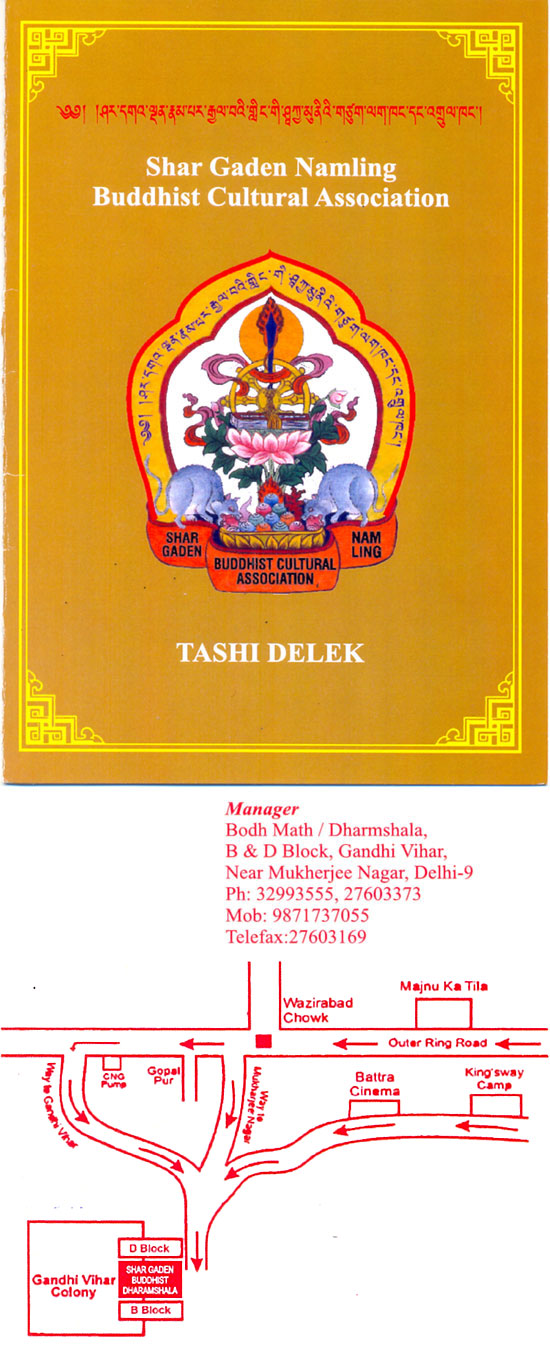 MORE GREAT VIDEOS:

View the video on YouTube: http://www.youtube.com/watch?v=LUM19fCn-WM
In 1996 followers of the Dalai Lama stoned and hurled insults of followers of an
ancient Buddhist practice that was banned. How did the Dalai Lama respond?
MORE GREAT VIDEOS:

View the video on YouTube: http://www.youtube.com/watch?v=4gY1RbAlTrc
Antique thangka of Dorje Shugden with Guru Rinpoche directly above Dorje Shugden.
Surrounding them are various well known Yidams propitiated by the Nyingmapa order as
well as Yidams mostly propitiated by the Gelugpa order.
MORE GREAT VIDEOS:

View the original video on YouTube: http://www.youtube.com/watch?v=FzpFDxbEbdQ
A Dorje Shugden practitioner and student of Domo Geshe Rinpoche shares her personal reasons
for why she practises Dorje Shugden, and why she is protesting.
MOB OF ANGRY DALAI LAMA FOLLOWERS ATTACK PROTESTORS
On July 17, 2008 a group of hundreds of angry followers of the Dalai Lama attacked a group of
peaceful Buddhist protestors. Imagine the persecution faced by Dorje Shugden practitioners in
India and other countries.
View the original video on YouTube: http://www.youtube.com/watch?v=-UMF_i7l7J8
MORE RELIGIOUS PERSECUTION BY THE DALAI LAMA
View the original video on YouTube: http://www.youtube.com/watch?v=8QnKP5jdPBk
Dorje Shugden monks are forced to leave their monastery and then their water is cut off.
WHY PROTEST THE DALAI LAMA?

View the original video on YouTube: http://www.youtube.com/watch?v=vpp86u62Q3c
Interviews with protesters about why they are protesting:
"I'm here to protect our lineage because at the moment, our lineage is under threat…
DALAI LAMA'S BAN AFFECTS CHILDREN

View the original video on YouTube: http://www.youtube.com/watch?v=VBB_X5UTnV0
A ban the Dalai Lama imposed on followers of JeTsongkhapa's teachings affects even children and takes
away their right to continue their education.
ASK DALAI LAMA 3 QUESTIONS

View the original video on YouTube: http://www.youtube.com/watch?v=PMJcXA7M54Y
According to the Dalai Lama who can attend his teachings? Everyone except followers of his root guru…
MORE GREAT VIDEOS:

View the original video on YouTube: http://www.youtube.com/watch?v=049hESiYrbQ
A CNN video explains how the Dalai Lama relies on spirit oracles for political advice on Tibet and China,
for instance, with the State Oracle of Tibet in Dharamsala.
Dalai Lama asks Spirit Nechung for Political Advice
View the original video on YouTube: http://www.youtube.com/watch?v=049hESiYrbQ
Nechung's advice on Tibetan affairs has been sough by HH Dalai Lama for hundreds of years.
MORE GREAT VIDEOS:

View the original video on YouTube: http://www.youtube.com/watch?v=ri1gSO_69sU
Ganden Monastery had a strong practice of Dorje Shugden.
This video shows the wrathful Dorje Shugden ritual taken at Zong Labrang's temple, 1985