View video on YouTube: http://www.youtube.com/watch?v=c8KaPPDB9II
Khandro Lhamo Tseringma (Tsering Chen-nga), Nechung and Gadong, State Oracles of Tibet, during the Long Life Puja for His Holiness the 14th Dalai Lama at the  Kalachackra initiation in Bodhgaya, India, on 10 January 2012.
At 1:05, you can see Tseringma trying to invite the Karmapa and the Gaden Tripa Rizong Rinpoche to come forward to the Dalai Lama's throne, the Karmapa was unsure, and the Gaden Tripa seemed reluctant but went anyway after some persuasion, perhaps that was not really done according to Tibetan protocol.
---
MORE GREAT VIDEOS:

What immediately comes to mind when we hear or see the name, Duldzin Drakpa Gyeltsen, are two things – he built Ganden Monastery, which stands to this day, and he offered it to his Guru, Lama Tsongkhapa.
These two great deeds alone would be enough to illustrate what kind of Lama and disciple this extraordinary individual was.
Duldzin Drakpa Gyeltsen was well known for being a great holder of the vinaya (the monks' vows), or pure morality. It is said that he held his vows so purely and his monkhood that his body smelled of clean, fragrant flowers. This is why they called him "Duldzin" – "dul" means vinaya; and "zin" means hold. Thus, a direct translation of his name means "Holder of the vinaya".
He was considered as an emanation of Lama Tsongkhapa himself, as his attainments were said to be of Tsongkhapa's equal. In this case, Duldzin emanated as a direct disciple of Lama Tsongkhapa in order to play the role of "Teacher and Student". This arrangement enabled Dharma to be brought to many others.
It was Duldzin who raised the funds needed to construct Ganden, the first and greatest Gelugpa monastery in Tibet. He also personally oversaw the construction of Ganden until its completion. Upon its completion, Duldzin offered the monastery to his Guru, Lama Tsongkhapa.
Duldzin was so highly respected among the Sangha that he was offered the position of the first Ganden Tripa (Tsongkhapa's successor or throne holder) after Tsongkhapa's passing. However, he turned down the offer. He chose instead to dedicate the rest of his life to upholding these precious teachings. It was with this incredible devotion and commitment that he made a promise to arise as an "Uncommon Protector" to preserve and guard the lineage of his teacher, Tsongkhapa.
This promise was made to Nechung, a worldly spirit subdued by the 8th Century Indian Master Guru Rinpoche to be the general Dharma Protector of the Buddhadharma, who appeared in one of Lama Tsongkhapa's teachings as a white dove.
It was said that one day while Lord Tsongkhapa was giving teachings in the Ganden prayer hall among a vast assembly of Sangha, a white dove appeared and flew about the prayer hall, creating a disturbance. It even hovered above Tsongkhapa's head.
After the teachings, Tsongkhapa descended from the throne and retired to his quarters. Duldzin recognised that the dove was not a mere dove, and remained behind to investigate.
Then the dove, who was actually Nechung, transformed into a young boy dressed in white and spoke to Duldzin. He requested Duldzin to become an "Uncommon Protector" of Lama Tsongkhapa's teachings on Nagarjuna's precious philosophy of the Middle Way.
An 'Uncommon Protector' is not a general protector but one who arises specifically to protect something. In this case, Nagarjuna's Madyamika view, as taught by Lama Tsongkhapa.
Duldzin promised Nechung that he would do so. Nechung then said, "Don't forget your promise, I will come back to remind you." Then the boy left.
Later, after he had completed building Ganden Monastery, Duldzin went into retreat in a cave and passed away.
Duldzin Drakpa Gyeltsen is the Drakpa incarnation that began the lineage of the uncommon and most powerful Protector, Dorje Shudgen.
---
MORE GREAT ARTICLES: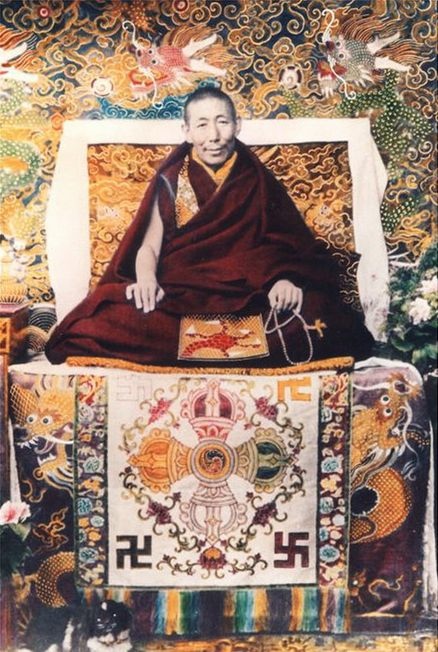 The Third Trijang, Lobzang Yeshe Tendzin Gyatso was born on March 10, 1901, in Gungtang (gung thang). His mother was Tsering Drolma; his father, Tsering Dondrub, was a descendent of an uncle of the Seventh Dalai Lama, Kelzang Gyatso (1708-1759). Tsering Dondrub had previously been Tsering Drolma's father-in-law, until they married after the death of his son, Tsering Drolma's husband. Altogether Tsering Dondrub fathered children with three women, and in each case at least one male child was recognized as a tulku.
As a child, he was recognized as the reincarnation of the Second Trijang, Lobzang Tsultrim Pelden (1939-1901), who served as the Eighty-fifth Ganden Trichen from 1896 to 1899.
After his recognition, he was moved to Lhasa in 1904, first to Trijang Labrang and then to the Chuzang Ritro hermitage of the First Trijang, the sixty-ninth Ganden Tripa, Trichen Jangchub Chopel (1756-1838). Although the young tulku had been recognized by both the Nechung and Gadong state oracles, the title was contested by a rival candidate for some time.
It was during these early years that Tenzin Gyatso first met his would-be root guru Pabongka Dechen Nyingpo (1878-1941). Pabongka spent a number of years at the hermitage and spent time playing and eating with his young student. He also received teachings from Pabongka, such as the empowerment related to Mañjūśhrī, including Dharmarāja, and instructions on how to draw the hearth mandalas for fire rituals.
Tenzin Gyatso also studied with other teachers in his early youth. When he was eight, he received the Kālachakra initiation from the famed yogi Serkong Dorjechang, Ngawang Tsultrim Donden (1856-1918). In 1907, he received novice ordination from the fourth Reting Rinpoche, Ngawang Lobzang Yeshe Tenpai Gyeltsen.
His life was not without difficulties. When Tenzin Gyatso was five years old, his father took monastic vows, which eventually caused considerable difficulties for the family. His mother and her two other children were evicted from their house by the relatives who had been left to care for her, in a situation which Trijang Rinpoche compares in his autobiography to what happened to Milarepa's (1040-1123) mother. Tenzin Gyatso himself also often lived on the edges of poverty, at times going without sufficient food. To make things worse, during the brief Chinese occupation of Lhasa, which began in 1910, he contracted a severe case of smallpox. His brother, who also contracted smallpox during this epidemic, died.
When he was fourteen, Tenzin Gyatso received numerous empowerments and teachings from Drepung Gomang's Buldud Tulku Lobzang Yeshe Tenpai Gyeltsen, including those of Vajrabhairava (both Ekavira and Thirteen-Deity), Guhyasamāja Akṣobhyavajra, Luipa's Sixty-two Deity Heruka Cakrasaṃvara, Ghaṇṭāpa' Five-Deity Heruka and the initiation of The Great Compassionate One, Avalokiteśvara according to the lineage of Bhikṣuṇī Śrī Lakṣmī (alternatively Śrīmatī, 8th. century).
Most of Tenzin Gyatso's youth was spent studying. He joined the Dokhang Khamtsen of Ganden Shartse Monastery and was tutored by Geshe Lobzang Tsultrim. After concluding his study of the five topics of Pramāṇa, Mādhyamaka, Prajñāpāramitā, Vinaya and Abhidharma, in 1919 he received the Geshe Lharampa degree as well as full bhikṣu ordination from the Thirteenth Dalai Lama Tubten Gyatso (1876-1933). After this he entered Gyuto Monastery to engage in a detailed study of the tantras. When he turned twenty-one, at Chuzang, he received from Pabongka, the empowrment of the Mañjūśhrī cycle again, as well as the Thirteen Golden Dharmas of the Sakyapas. He also received the four initiations into the sindhura mandala of Vajrayogīni Naro Kechari, together with commentaries on the generation and completion stages, as well as the Thirteen Pure Visions of Takphu, including Cittamaṇi Tārā. Furthermore he received other teachings associated with the Ganden Nyengyu, such as the Gelug Mahāmudrā and Panchen Lobzang Chokyi Gyeltsen's (1570-1662) Guru Puja.
Tenzin Gyatso was Pabongka's closest student, the one to whom he passed all of his lineages. In his autobiography, Trijang Rinpoche notes that during his time at Gyuto he would often travel to wherever Pabongka was teaching to receive instruction and that he would spend his free time meditating on the Lamrim and completing the approximation retreats of deities such as Vajrayoginī, Vajrabhairava Ekavira, Ghaṇṭāpa's Five-Deity Heruka, Secret Hayagrīva and Bhikṣuṇī Śrī Lakṣmī's Avalokiteśvara cycle. Each of these deities features prominently in Trijang Rinpoche's writings. He also received the lineage of the Kadam Lekbam from Pabongka.
From Pabongka, Tenzin Gyatso also received teachings and transmission for the deity Dorje Shugden, which was the main protector practice emphasized by Pabongka. Trijang Rinpoche never spoke out publicly on the controversy that erupted over the worship of Dorje Shugden in the later half of the 1970s due to the Dalai Lama's disapproval of the practice; instead he instructed his students to keep faith in both the Dalai Lama and Dorje Shugden.
After completing his education, Tenzin Gyatso travelled throughout Tibet, including a visit to Kham. By this time, he was already giving teachings, oral transmissions and empowerments, including those of Heruka, Vajrayoginī and Guhyasamāja. One of his earliest teachings took place when he was twenty-four. At the request of Geshe Yonten of Ganden Shartse's Dokhang Khamtsen, he gave the oral transmission of the collected works of Tsongkhapa and his main two students to about two hundred monks.
Tenzin Gyatso visited India and Nepal in 1939, passing through Dungkar Monastery in the Chumbi Valley, where he bestowed the empowerments of Guhyasamāja, Heruka Cakrasaṃvara, Vajrabhairava and others. Although the majority of his teaching activities were associated to the Gelug tradition, there are exceptions. When he was twenty-eight years old, for example, during a stay in Chatreng, Kham, he gave the empowerment for the peaceful and wrathful forms of Padmasambhava and other Nyingma empowerments. Interestingly, later on in India, in 1965, he also gave the Fourteenth Dalai Lama the oral transmissions for two treasures of the Nyingma terton Choggyur Lingpa (, 1829-1870), the Barche Lamsel and Sampa Lhundrub .
After the passing of the Thirteenth Dalai Lama in 1933, Tenzin Gyatso played an important role in the construction and enshrining of the Dalai Lama's remains inside a golden stupa in the Potala Palace. In his autobiography, he recounts how he visited the Potala every day for year in order to perform the necessary offerings and rituals.
Following the discovery and selection of the Fourteenth Dalai Lama, Tenzin Gyatso, in 1941 Trijang Rinpoche was appointed as his assistant tutor, and, in 1953, as his junior tutor, or yongdzin , teaching him grammar and spelling. It was also in 1941 that Pabongka Dechen Nyingpo passed away.
Trijang Rinpoche's Collected Works comprise eight volumes. Famous examples of his work include a condensed sādhāna of the Heruka Body Mandala, a gaṅacakra offering text of Heruka and a sādhāna of Cintacakra White Tārā. A comprehensive collection of ritual texts associated with Dorje Shugden which Pabongka Rinpoche asked Trijang Rinpoche to complete entitled "Music Delighting an Ocean of Oath-Bound Protectors", comprises a whole volume of his Collected Works. The second volume, further includes a number of essential ritual texts associated with the cycle of Cittamaṇi Tārā such as a four maṇḍala offering text, a gaṅacakra ritual, and a pacifying fire ritual text. Another important example of his writing includes the lyrics of the Tibetan National Anthem .
Trijang Rinpoche's most famous work is undoubtedly Liberation in the Palm of the Hand, a Lamrim text based on notes taken over twenty-four days during Pabongka's 1921 Lamrim teachings at Chuzang, which intertwined the Swift Path and Mañjūśrī's Own Speech Lamrim systems along with the instructions on the Seven-Point Mind Training.
During the turbulent years following the Communist Chinese takeover of Tibet in 1949, Trijang Rinpoche stayed close to the Dalai Lama. In 1954, he accompanied the Dalai Lama to Beijing on the ill-fated meeting with Mao Tsedong, and, in 1959, he went into exile with him to India.
In India, Trijang Rinpoche continued teaching and travelling throughout the Tibetan communities such as Buxa, Dalhousie and later in the Karnataka settlements. Ganden Monastery was re-established in Lama Camp no.1 in Mundgod, and a residence, Trijang Labrang was established there for his use. Apart from teaching to the assemblies of Ganden, Sera and Drepung, Trijang Rinpoche also regularly taught in Bodh Gaya and Dharamsala. During the late 1960s and early 1970s, he frequently met with Ling Rinpoche Tubten Lungtok Tendzin Trinle (1903-1983), the Dalai Lama's senior tutor, in order to exchange teachings and empowerments.
Trijang Rinpoche travelled widely internationally, teaching and giving empowerments in countries such as the United Kingdom, France, Germany and Switzerland, amongst others. In 1966, Trijang Rinpoche performed the site blessing ritual for the TibetanInstitute in Rikon. Later, in 1968, he consecrated the building together with Ling Rinpoche. During this 1966 trip to Europe, a delegation which included Trijang Rinpoche also met with Pope Paul VI (1897-1978, r. 1963-1978) in the Vatican, following the instructions of the Dalai Lama.
Trijang Rinpoche's most famous students and lineage holders include figures such as the Fourteenth Dalai Lama, Zong Rinpoche Lobzang Tsondru Tubten Gyeltsen (, 1905-1984), Loden Sherab Dagyab Rinpoche , Dakpo Lama Rinpoche Jampa Gyatso , Denma Locho Rinpoche, Gelek Rinpoche, Geshe Rabten (, 1920-1986) and Lama Yeshe ( 1935–1984), all of whom were instrumental in diffusing the Gelug teachings internationally.
Trijang Rinpoche passed away on November 9, 1981.
Sources:
Blo bzang dpal ldan bstan 'dzin yar rgyas. Khri byang rin po che'i rnam thar kha skong. In The Collected Works of Blo bzang dpal ldan bstan 'dzin yar rgyas, vol. 4, pp. 11-407. Mundgod: Zemey labrang, gaden shartse monastic college. TBRC W14376.
Blo bzang ye shes bstan 'dzin rgya mtsho, 1965. Rnam grol lag bcangs su gtod pa'i man nag zab mo tshan la ma nor ba mtshuns med chos kyi rgyal po'i thugs bcud byan chub lam gyi rim pa'i nams khrid kyi zin bris gsun rab kun gyi bcud bsdus gdams nag bdud rtsi'i snin po. Sarnath: Mongolian Lama Guru Deva.
Blo bzang ye shes bstan 'dzin rgya mtsho, 1975. Dga' ldan khri chen byang chub chos 'phel gyi skye gral du rlom pa'i gyi na pa zhig gis rang gi ngang tshul ma bcos lhug par bkod pa 'khrul snang sgyu ma'i zlos gar.India: [s.n.].
His Holiness the Dalai Lama of Tibet, 1997. My Land and My People. New York; Warner Books.
Kar rgyal don grub. 1992. Khri byang blo bzang ye shes bstan 'dzin rgya mtsho. In Mdo khams cha phreng gi lo rgyus gser gyi snye ma, pp. 101-108. Dharamsala: Bod kyi dpe mdzod khang. TBRC W21499.
Pabongka Rinpoche and Trijang Rinpoche, 1997. Liberation in the Palm of Your Hand. Boston: Wisdom Publications.
Pabongka Rinpoche, Trijang Rinpoche and Geshe Lobzang Tharchin, 1990. Liberation in Our Hands: The Preliminaries. Howell: Mahayana Sutra & Tantra Press.
Thub bstan 'jam dbyangs. 1999. Bka' drin zla med 7 skyabs mgon rgyal ba'i yongs 'dzin skyabs rje khri byang rdo rje 'chang mchog gi sku par. In Rdzong chos chos 'byung bdud rtsi'i zil mngar, p. 352. Mysore: Zongkar Chode Monastery. TBRC W00EGS1017102.
Joona Repo
June 2011
Source : http://www.treasuryoflives.org/biographies/view/Trijang-03-Lobzang-Yeshe-Tendzin-Gyatso/4309
---
MORE GREAT ARTICLES:

View video on YouTube: http://www.youtube.com/watch?v=bnOiZuFY6Fw
This is a trailer for a documentary on the State Oracle of Tibet (http://www.inspiration-productions.com/english/). Maud Kristen, a renowned French medium, visits Northern India, the bastion of Tibetan civilization in exile, to discover their oracle system. 
She meets Thupten Ngodup, the medium of Nechung, in Tso Pema and follows him on his pilgrimage to the sacred places of Guru Rinpoche, the famous saint who introduced Buddhism to Tibet.
Nechung has been one of the spiritual protectors of Tibet since the 8th century and has, over the years, developed a special relationship with the Dalai Lamas. Nechung manifests through Thupten Ngodup as a state oracle and advises the Tibetan government and the Dalai Lama on important issues…
Maud Kristen is a clairvoyant and psychic, and she became famous in the late 1980s because of her public demonstrations of her gifts of precognition and the many experiments in parapsychology in which she has participated. She is actively campaigning for recognition and a serious study of psychic phenomena by the scientific community.
Source : http://fr.wikipedia.org/wiki/Maud_Kristen
---
MORE GREAT VIDEOS:

View video on YouTube: http://www.youtube.com/watch?v=KQdVpV6kzhg
Excerpt from the video :
It was during the time of the 13th Dalai Lama that Nechung's prophecies started to falter. This supports the idea that Nechung's time as a protector is ending and the time of Dorje Shugden to emerge as an universal protector is at hand. For example, a victory against the British promised by Nechung in 1888 did not occur. Tibetans suffered a devastating defeat. (See The Water-Bird and Other Years, p. 19-29; and another British military invasion in 1904, p. 20. See also Portrait of a Dalai Lama, p. 437.) Later, Nechung is also believed to have prescribed the wrong medicine that caused the Thirteenth Dalai Lama's death. p. 440 (extracted from http://dorjeshugden.com/wp/?p=1404)
Thubten Gyatso, His Holiness the Dalai Lama, was the sovereign of Tibet from 1879 to 1933 and became known as "the Great 13th". During his reign, he dealt with the "Great Game" between the British and Russian Empires and was for a time forced into exile in Mongolia by a British attack. He also had to deal with problems with China and the emergence of the threat of communism.
He enacted many innovative reforms in Tibet and, following the collapse of the Manchu dynasty, asserted the independence of Tibet along with Mongolia and sent several hundred troops to aid Baron von Ungern in driving the Chinese republicans out of Mongolia to restore the Bogd Khan. He foresaw great trials and tragedies for Tibet in the future and predicted he would die sooner rather than later so that his next incarnation could have time to prepare. During the reign of the XIV Dalai Lama all of his prophecies were proven accurate.
---
MORE GREAT VIDEOS:

In ancient times and throughout history, an oracle is a person or agency considered to be a source of wise counsel or prophetic opinion. It may also be a revealed prediction or precognition of the future from deities, that is spoken through another object or life-form (e.g.: augury and auspice).
In the ancient world, many sites gained a reputation for the dispensing of oracular wisdom: they too became known as "oracles," and the oracular utterances, called khre-smoi in Greek, were often referred to under the same name — a name derived from the Latin verb o-ra-re, to speak.
Tibet
In Tibet, oracles have played, and continue to play, an important part in religion and government. The word "oracle" is used by Tibetans to refer to the spirit that enters those men and women who act as media between the natural and the spiritual realms. The media are, therefore, known as kuten, which literally means, "the physical basis".
The Dalai Lama, who lives in exile in northern India, still consults an oracle known as the Nechung Oracle, which is considered the official state oracle of the government of Tibet. The Dalai Lama has, according to a custom that has endured for centuries, consulted the Nechung Oracle during the new year festivities of Losar. Before fleeing from Tibet however, he consulted the oracle of Dorje Shugden. Another oracle he consults is the Tenma oracle, for which a young Tibetan woman is the medium for the goddess. The Dalai Lama gives a complete description of the process of trance and spirit possession in his book Freedom in Exile.


China
Oracles were common in many civilizations of antiquity. In China, the use of oracle bones dates as far back as the Shang Dynasty, (1600–1046 BC). The I Ching, or "Book of Changes", is a collection of linear signs used as oracles that are from that period. Although divination with the I Ching is thought to have originated prior to the Shang Dynasty, it was not until King Wu of Zhou (1046–1043 BC) that it took its present form. In addition to its oracular power, the I Ching has had a major influence on the philosophy, literature and statecraft of China from the time of the Zhou Dynasty (1122 BC – AD 256).


Egypt
The earliest known oracle was in the renowned temple of Per-Wadjet. This was an important site in the Pre-dynastic era of Ancient Egypt, which includes the cultural developments of ten thousand years from the Paleolithic to 3100 BC. The temple was dedicated to the worship of Wadjet and may have been the source for the oracular tradition that spread to Ancient Greece from Egypt. The Per-Wadjet tradition continued through the entire history of the Ancient Egyptian culture. The later Greeks called both the goddess and the city, Buto.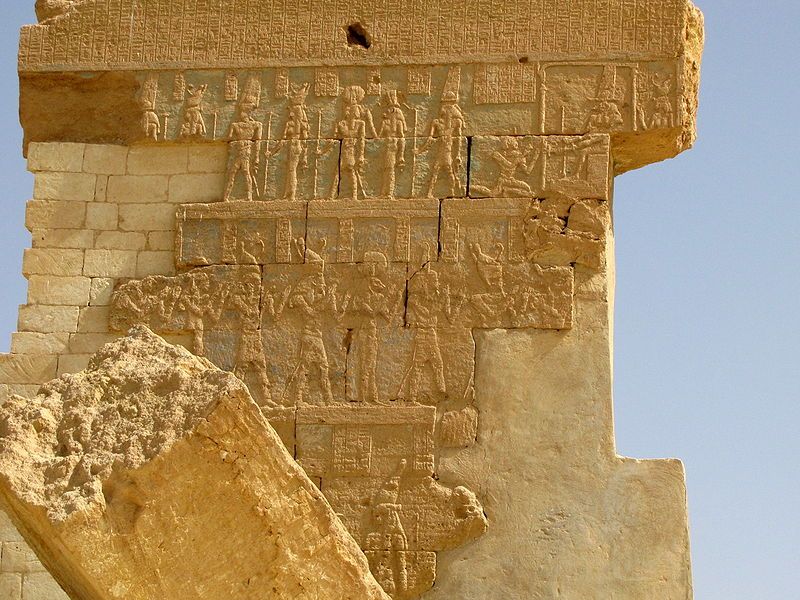 The remains of the oracle temple of "Amun" at Siwa Oasis.
Another oracle of note lay in Egypt during the Eighteenth dynasty (1550–1292 BC), is a temple dedicated to Amun, a god who rose to importance during that time. The Greeks associated him with Zeus. Alexander the Great once visited it, and although no record of his query remains, the oracle is thought to have hailed him as Amun's son, influencing his conceptions of his own divinity.


Greece
The earliest tradition of oracular practice in Hellenic culture is from the archaic period shortly after arrival of the Hellenes in their current place of settlement c. 1300 BC. The oracle was associated with the cults of deities derived from the great goddess of nature and fertility, the pre-eminent ancient oracle — the Delphic Oracle — who operated at the temple of Delphi. Oracles were thought to be portals through which the gods spoke to man. In this sense they were different from seers (manteis in Greek) who merely interpreted signs sent by the gods through bird signs, animal entrails and other various methods.
The Pythia, the oracle at Delphi, only gave prophecies the seventh day of each month out of a nine-month working period; thus, Delphi was not the major source of divination for the ancient Greeks. Many wealthy individuals attempted to bypass the hordes of people attempting a consultation by making additional animal sacrifices to please the oracle lest their request go unanswered. As a result, seers were the main source of everyday divination.
The temple was changed to a center for the worship of Apollo during the classical period of Greece, and priests were added to the temple organization — although the tradition regarding prophecy remained unchanged. The apparently always-female priestess continued to provide the services of the oracle exclusively. It is from this institution that the English word, oracle, is derived.
The Delphic Oracle exerted considerable influence throughout Hellenic culture. The Greeks consulted her prior to all major undertakings, wars, the founding of colonies, and so forth.
The semi-Hellenic countries around the Greece world, such as Lydia, Caria, and even Egypt also respected her and came to Delphi as supplicants. Croesus of Lydia consulted Delphi before attacking Persia, and according to Herodotus was told, "If you cross the river, a great empire will be destroyed." Believing the response favorable, Croesus attacked, but it was his own empire that ultimately was destroyed by the Persians.
She allegedly also proclaimed Socrates to be the wisest man in Greece, to which Socrates said that, if so, this was because he alone was aware of his own ignorance. After this confrontation, Socrates dedicated his life to a search for knowledge that was one of the founding events of western philosophy. This oracle's last recorded response was given in 393 AD, when the emperor Theodosius I ordered pagan temples to cease operation.
Dodona is another oracle devoted to the Mother Goddess identified at other sites with Rhea or Gaia, but is here called Dione. The shrine of Dodona was the oldest Hellenic oracle, according to the fifth-century historian Herodotus and, in fact, dates to pre-Hellenic times, perhaps as early as the second millennium BC when the tradition spread from Egypt. It became the second most important oracle in ancient Greece, which later was dedicated to Zeus and to Heracles during the classical period of Greece.
During the period, in Crete lay another important oracle, sacred to Apollo. It ranked as one of the most accurate oracles in Greece.


India
In ancient India, the oracle was known as Akashwani, literally meaning "voice from the sky" and was related to the message of God. Oracles played key roles in many of the major incidents of the epics Mahabharat and Ramayana. An example is that Kamsa, the evil uncle of lord Krishna, was informed by an oracle that the eighth son of his sister Devaki would kill him.


Mesoamerica
In the migration myth of the Mexitin, i.e., the early Aztecs, a mummy-bundle (perhaps an effigy) carried by four priests directed the trek away from the cave of origins by giving oracles. An oracle led to the foundation of Mexico-Tenochtitlan. The Yucatec Mayas knew oracle priests or chilanes, literally 'mouthpieces' of the deity. Their written repositories of traditional knowledge, the Books of Chilam Balam, were all ascribed to one famous oracle priest who correctly had predicted the coming of the Spaniards and its associated disasters.


Nigeria
The Igbo people of southeastern Nigeria in Africa have a long tradition of using oracles. In Igbo villages, oracles were usually female priestesses to a particular deity, usually dwelling in a cave or other secluded location away from urban areas, and, much like the oracles of ancient Greece, would deliver prophecies in an ecstatic state to visitors seeking advice. Though the vast majority of Igbos today are Christian, many in Nigeria today still use oracles.
In Igboland of present-day Nigeria, many different oracles were regularly consulted. Two of these became especially famous: the Agbala Oracle at Awka and the Chukwu Oracle at Arochukwu.


Scandinavia
In Norse mythology, Odin took the severed head of the mythical god Mimir to Asgard for consultation as an oracle. The Havamal and other sources relate the sacrifice of Odin for the oracular Runes whereby he lost an eye (external sight) and won wisdom (internal sight; insight).
Source: FROM WIKIPEDIA
---
MORE GREAT ARTICLES:

Like many ancient civilizations of the world, the phenomenon of oracles remains an important part of the Tibetan way of life. Tibetans rely on oracles for various reasons. The purpose of the oracles is not just to foretell the future. They are called upon as protectors and sometimes used as healers. However, their primary function is to protect the Buddha Dharma and its practitioners.
In the Tibetan tradition, the word oracle is used for a spirit which enters those men and women who act as mediums between the natural and the spiritual realms. The mediums are, therefore, known as kuten, which literally means, "the physical basis."
In early times it is believed that there were hundreds of oracles throughout Tibet. Today, only a few survive, including those consulted by the Tibetan government. Of these, the principal one is the Nechung oracle. Through him manifests Dorje Drak-den (Nechung), the principal protector divinity of the Tibetan government and the Dalai Lama. It is because of this that Nechung Kuten is given the rank of a deputy minister in the exiled Tibetan government hierarchy.
In his autobiography, Freedom in Exile, His Holiness the Dalai Lama writes:
"For hundreds of years now, it has been traditional for the Dalai Lama, and the Government, to consult Nechung during the New Year festivals. In addition, he might well be called upon at other times if either have specific queries. I myself have dealings with him several times a year This may sound far-fetched to twentieth-century western readers. Even some Tibetans, mostly those who consider themselves 'progressive', have misgivings about my continued use of this ancient method of intelligence gathering.
But I do so for the simple reason that as I look back over the many occasions when I have asked questions of the oracle, on each one of them time has proved that his answer was correct. This is not to say that I rely solely on the oracle's advice. I do not. I seek his opinion in the same way as I seek the opinion of my Cabinet and just as I seek the opinion of my own conscience. I consider the gods to be my 'upper house'. The Kashag constitutes my lower house. Like any other leader, I consult both before making a decision on affairs of state. And sometimes, in addition to Nechung's counsel, I also take into consideration certain prophecies.
"In one respect, the responsibility of Nechung and the responsibility of the Dalai Lama towards Tibet are the same, though we act in different ways. My task, that of leadership, is peaceful. His, in his capacity as protector and defender, is wrathful.
However, although our functions are similar, my relationship with Nechung is that of commander to lieutenant: I never bow down to him. It is for Nechung to bow to the Dalai Lama. Yet we are very close, friends almost. When I was small, it was touching. Nechung liked me a lot and always took great care of me. For example, if he noticed that I had dressed carelessly or improperly, he would come over and rearrange my shirt, adjust my robe and so on.
"Nechung has always shown respect for me. Even when his relations with the Government have deteriorated, as they did during the last few years of the Regency, he invariably responds enthusiastically whenever asked anything about me. At the same time, his replies to questions about government policy can be crushing. Sometimes he just responds with a burst of sarcastic laughter. I well remember a particular incident that occurred when I was about fourteen. Nechung was asked a question about China.
Rather than answer it directly, the Kuten turned towards the East and began bending forward violently. It was frightening to watch, knowing that this movement combined with the weight of the massive helmet he wore on his head would be enough to snap his neck. He did it at least fifteen times, leaving no one in any doubt about where the danger lay.
"Dealing with Nechung is by no means easy. It takes time and patience during each encounter before he will open up. He is very reserved and austere, just as you would imagine a grand old man of ancient times to be. Nor does he bother with minor matters: his interest is only in the larger issues, so it pays to frame questions accordingly. He also has definite likes and dislikes, but he does not show them very readily.
"Nechung has his own monastery in Dharamsala, but usually he comes to me. On formal occasions, the Kuten is dressed in an elaborate costume consisting of several layers of clothing topped by a highly ornate robe of golden silk brocade, which is covered with ancient designs in red and blue and green and yellow. On his chest he wears a circular mirror which is surrounded by clusters of turquoise and amethyst, its polished steel flashing with the Sanskrit mantra corresponding to Dorje Drakden.
Before the proceedings begin, he also puts on a sort of harness, which supports four flags and three victory banners. Altogether, this outfit weighs more than seventy pounds and the medium, when not in trance, can hardly walk in it.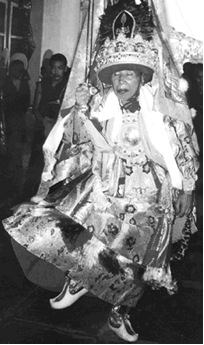 The Tibetan state oracle
New Year prophecy of Nechung oracle
Dharamsala, India 1999
"The ceremony begins with chanted invocations and prayers, accompanied by the urgings of horns, cymbals and drums.
After a short while, the Kuten enters his trance, having been supported until then by his assistants, who now help him over to a small stool set before my throne. Then, as the first prayer cycle concludes and the second begins, his trance begins to deepen. At this point, a huge helmet is placed on his head. This item weighs approximately thirty pounds, though in former times it weighed over eighty.
"Now the kuten's face transforms, becoming rather wild before puffing up to give him an altogether strange appearance, with bulging eyes and swollen cheeks. His breathing begins to shorten and he starts to hiss violently. Then, momentarily, his respiration stops. At this point the helmet is tied in place with a knot so tight that it would undoubtedly strangle the Kuten if something very real were not happening. The possession is now complete and the mortal frame of the medium expands visibly.
"Next, he leaps up with a start and, grabbing a ritual sword from one of his attendants, begins to dance with slow, dignified, yet somehow menacing, steps. He then comes in front of me and either prostrates fully or bows deeply from the waist until his helmet touches the ground before springing back up, the weight of his regalia counting for nothing. The volcanic energy of the deity can barely be contained within the earthly frailty of the kuten, who moves and gestures as if his body were made of rubber and driven by a coiled spring of enormous power.
"There follows an interchange between Nechung and myself, where he makes ritual offerings to me. I then ask any personal questions I have for him. After replying, he returns to his stool and listens to questions put by members of the Government. Before giving answers to these the Kuten begins to dance again, thrashing his sword above his head. He looks like a magnificent, fierce Tibetan warrior chieftain of old.
"As soon as Dorje Drakden has finished speaking, the Kuten makes a final offering before collapsing, a rigid and lifeless form, signifying the end of the possession. Simultaneously, the knot holding his helmet in place is untied in a great hurry by his assistants, who then carry him out to recover whilst the ceremony continues.
"Surprising as it may seem, the oracle's replies to questions are rarely vague. As in the case of my escape from Lhasa, he is often very specific. But I suppose that it would be difficult for any scientific investigation either to prove or disprove conclusively the validity of his pronouncements.
The same would surely be true of other areas of Tibetan experience, for example the matter of tulkus (reincarnate lamas)."
Mediums of Nechung
The earliest account of Nechung can be traced back to his relationship with the great Indian Spiritual King Kunchog Bhang, who was an emanation of Arya Avalokiteshvara. In 750 AD, the Dharma protector had a special connection with the Tibetan King Tri-Song Deu-Tsan.
However, it was only in 1544 AD that for the first time the spirit of Nechung was possessed in a human being. Thus, Drag Trang-Go-Wa Lobsang Palden became the first medium of Nechung. During the reign of the Great Fifth Dalai Lama, Gangkyi-Pa Tsewang Pelbar was recognized as the fourth medium of Nechung or Tibet's State Oracle.
At that time, Nechung monastery had around 50 monks.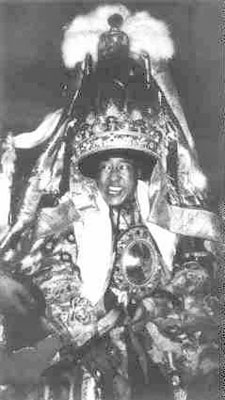 Nechung Kuten
Venerable Thupten Ngodup
(Medium of the State Oracle)
November 1997
After the passing away of the Great Fifth Dalai Lama, the Regent Desi Sangye Gyatso (1653-1705) ruled Tibet, and Kongpo Lobsang Gyatso succeeded the previous medium. It was during this period that Nechung monastery flourished extensively.
The sixth medium, Ngawang Gyatso brought some major changes in the liturgical tradition of Nechung monastery. He instituted the entire cycle of practices comprising of the retreat, the accomplishment, and the ritual tradition of Sog-Khang Drub-Pa Chen-Mo (Grand immutable Life Shelter), a primary meditational retreat practice on Hayagriva and Gyal-Po Ku-Nga (Five Dharma Kings), and the complimentary ritual fire offering, invocation rite and the cross-thread rituals (Doe) and longevity rites, as are explained in Shal-Treng Kar-Poi Gyud (White Crystal Tantra).
The medium also introduced Sog-Khang Nam-Shad Lak-Pe Kun-Shay (Omniscience Through Reading the Commentary of the Life Shelter) and others.
The Seventh Medium, Tsangyang Tamdin, also known as Lobsang Tashi, instituted the rites of Dag-Dun Bum-Sum (Self-generation, Generation In-front and Vase-generation) of the Thirteen Deities of Yamantaka, as well as the grand consecration rite of Ge-Leg Char-Beb (Auspicious Shower).
Lhalungpa Shakya Yarphel became the eighth medium of Nechung during the reign of the Tenth Dalai Lama, Tsultrim Gyatso (1816-1837) and remained so, until the first part of the Thirteenth Dalai Lama's rule. During this time, Nechung monastery then had 115 monks.
This medium of Tibet's State Oracle restored Zhi-sum (Three Basic Rites) of the monastic discipline. He also founded retreat cells on the hills of Lhalung, where there used to be a meditation cell belonging to Lhalung Pelgyi Dorjee, the Buddhist monk responsible for killing Lang Dharma, the anti-Buddhist king. The medium Lhalungpa Shakya Yarphel built Pehar Chog (chapel) at the old Me-Ru monastery.
It was during his time that Nechung monastery received Dra-Chyis Phun-Rab estate and Min-Drug estate and others. Drapchi Phunrabpa Tsering Palden also voluntarily offered the exquisite golden roof placed atop Nechung monastery and the 21 gold-coated statues of Tara, a human-sized statue of Avalokiteshvara Sem-Nyid Ngal-So, as well as a silver cascade altar containing two statues made of Sha-li bronze and Zhi-Khim bronze.
For the assembly hall below, he offered a special Guru Nang-Srid Zil-Non statue, and a pair of gold butter lamp pots, known as Kal-Zang Chod-Kong (Auspicious Butter Lamp Pot) that could each retain about four kilograms of butter.
In short, Drapchi Phunrabpa Tsering Palden offered all his wealth, property and belongings to Nechung monastery as a resource for the conduct of future ceremonial activities.
During the same period, Barn-Rim monastery in Kongpo region also came under Nechung's administrative control. The general masses serving the government estates voluntarily offered a portion of their taxes to the government as offerings to Nechung monastery and requested the monastery to accept them as its subjects.
Besides, a small monastery known as Lha-Ri Zim-Bug or Pad-Me Zim-Bug of Phung-Po Ri-Bo-Che in the Tsang region and two nunneries located in Ki-Lung area of Phenpo also became branch monasteries of Nechung monastery.
Lobsang Sonam of Kham became the ninth medium of Tibet's Nechung Oracle, and Lhalungpa Gyaltsen Tharchin became the tenth medium. Lobsang Sonam was reinstalled as the eleventh medium. While he was in trance, the State Oracle pronounced a prayer for the speedy return of the Thirteenth Dalai Lama.
After the demise of the Great Thirteenth Dalai Lama, Lobsang Namgyal (ca. 1935) of Derbag, near Nechung monastery, became the twelfth medium. He accompanied the Regent, Reting Rinpoche, to Samye monastery at the Samye restoration ceremony.
When the Tibetan government requested him to perform a trance in the presence of Guru Nga-Dra-Ma's statue, the oracle through him made prophesies regarding the search for the reincarnation of the Thirteenth Dalai Lama. The oracle left a resource for the conduct of ceremonial rituals at Nechung monastery, especially for the conduct of Avalokiteshvara Dro-Wa Kun-Drol rituals.
In 1945, Lobsang Jigme of Lhasa was publicly proclaimed to be the new and the thirteenth medium of Tibet's State Oracle. He became the first Nechung kuten (medium) to rise from the ranks of Nechung monastery. His predecessors had all come from else-where.
In 1949, during a trance performed at Tsom-Chen Nyi-Od (Sunny Hall), the oracle gave clear prophesies concerning the spiritual and temporal issues relating to Tibet.
Likewise, during a trance performance at the main hall of Drepung monastery, it left clear-cut prophesies to remove obstacles and hindrances to the life of the present Dalai Lama, Tenzin Gyatso.
The medium also offered costumes and built a special altar for the Thousand golden statues of the Buddha and the Twenty-one Taras housed in Nechung monastery's middle storey called Zam-Ling Zim-Chung (Universal Chamber).
During the 1959 Tibetan national uprising against China's invasion and occupation of Tibet, the State Oracle, Nechung, communicating through his medium Venerable Lobsang Jigme, left very clear prophesies about the escape route to be followed by His Holiness the Dalai Lama into exile in India.
Venerable Losang Jigme, who also escaped to India, following the Chinese occupation of Tibet, continued to serve as the medium of Tibet's State Oracle until he passed away in Dharamsala on April 26, 1984.
The present and the fourteenth medium of the State Oracle is Venerable Thubten Ngodup. Born in 1957 in Phari, Tibet, he and his family fled the country after the Chinese invasion. He came to Dharamsala in 1969 and joined Nechung monastery in 1971.
The first time Venerable Thubten Ngodup was possessed by Nechung's spirit was on March 31, 1987. After this, His Holiness the Dalai Lama privately had Venerable Thubten Ngodup perform a trance in his presence, during which His Holiness tested him in accordance with tradition.
Later on, a number of trances were requested and he also went on a retreat of Hayagriva, the meditational deity Padma Wangchen and of Guru Rinpoche's La-Drub (Self-generation) practice.
On September 4, 1987, Venerable Thubten Ngodup was recognized by His Holiness the Dalai Lama as the new medium of the State Oracle of Tibet and an official ceremony to this effect was held at Nechung monastery in Dharamsala, the seat of the Tibetan government in exile.
Source : http://www.bibliotecapleyades.net/sociopolitica/sociopol_shambahla01a.htm
---
MORE GREAT ARTICLES:

View the original video on YouTube: http://www.youtube.com/watch?v=049hESiYrbQ
A CNN video explains how the Dalai Lama relies on spirit oracles for political advice on Tibet and China,
for instance, with the State Oracle of Tibet in Dharamsala.
Dalai Lama asks Spirit Nechung for Political Advice
View the original video on YouTube: http://www.youtube.com/watch?v=049hESiYrbQ
Nechung's advice on Tibetan affairs has been sough by HH Dalai Lama for hundreds of years.
---
MORE GREAT VIDEOS: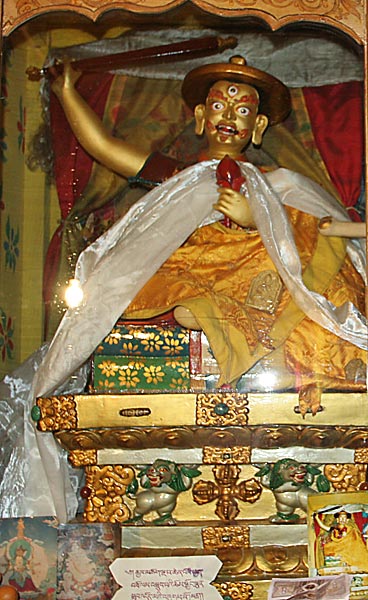 Dorje Shugden is an enlightened Being, an emanation of the Buddha of Wisdom, Manjushri, who arose as a Dharma Protector 350 years ago. He emanated as a Dharma Protector in order to best safeguard the precious teachings of the Second Buddha known as Lama Tsongkhapa, to benefit all sentient beings.
During these degenerate times and due to our karma, Dorje Shugden is the most helpful Dharma Protector for us, because he is swift, powerful and benevolent. He removes our obstacles, protects us and our loved ones, and provides conducive conditions for a successful life and spiritual practice. Above all, he grants us our virtuous and spiritual wishes quickly.

"Dorje" is defined as diamond – the hardest element which cannot be destroyed. In the Buddhist context, indestructibility refers to the fully enlightened mind.
"Shug" means "power" and "Den" means "immovable". Altogether, "Dorje Shugden" means "Diamond of Immovable Power."

A Dharma Protector is a being who manifests in a wrathful form in order to: 
Avert inner and outer obstacles to Dharma practice and to the achievement of spiritual realizations
Create conducive conditions for the practice of Dharma
(Source: Heart Jewel by Geshe Kelsang Gyatso and http://www.westernshugdensociety.org)


Dharma Protector practice is very valuable for helping to remove immediate worldly obstacles, problems and hindrances in our spiritual practice; and to provide conducive conditions for us to engage more effectively in our Dharma work and practice.
There are two kinds of Dharma Protectors: Enlightened Protectors who are emanations of Buddhas, such as Palden Lhamo (an emanation of Tara), six-armed Mahakala (Avalokiteshvara), Dorje Shugden (Manjushri), and Setrap Chen (Amitabha). There are also unenlightened Dharma Protectors, such as Nechung, who may be spirits that were oath-bound by Lamas to stop causing harm and to serve and protect the Dharma as a Protector instead.
We can take refuge in Enlightened Protectors but not in unenlightened Protectors.

As emanations of the Wisdom Buddha, every incarnation that arose before Dorje Shugden manifested was a fully enlightened being. Each incarnation contributed greatly towards the growth of Dharma throughout the Buddhist world. Dorje Shugden's lineage of incarnations includes past great Mahasiddhas (highly attained practitioners), renowned Buddhist scholars, monastics of high moral discipline and outstanding Dharma teachers.


Manjushri

- Dorje Shugden is an emanation of Manjushri, the Buddha of Wisdom.


- Manjushri emanated during the time of Buddha Shakyamuni as one of Shakyamuni's direct disciples.


- Manjushri had already achieved full Enlightenment in a previous age, long before the time of Buddha Shakyamuni.


- In the Sutra Revealing the Abode of Manjushri, Buddha explains how Manjushri manifests countless emanations to help sentient beings.

Mahasiddha Birwapa




-  Manjushri manifested rebirth as the Mahasiddha Birwapa


-  During the day, he studied and meditated on the Sutra teachings and during the night he engaged in highly advanced practices.


-  Whenever he did his prayers, Buddhas like Vajrayogini and celestial beings with whom he had a particularly strong karmic connection would come to his room to participate in the ritual feast.


-  He was nicknamed "Birwapa", which means "bad man" because the monks in Nalanda Monastery where Birwapa studied saw the celestial beings in his room as ordinary women and believed that he was breaking his ordination vows and bringing bad reputation to the monastery.


-  Due to Birwapa's extraordinary deeds, many people developed faith in him and in the Buddhist teachings. In this way, he led many people onto a spiritual path.


Detailed Lineage >>

Sakya Pandita

-  Birwapa later incarnated in western Tibet as the great Lama of the Sakya Tradition, Sachen Kunga Gyeltsen, more commonly known as Sakya Pandita.


-  He was very special even as a young child. Once, he dreamt that the great Indian Pandit Vasubandhu gave him teachings on his text Treasury of Phenomenology. When he awoke, he had memorized the entire text, which was almost 50 pages long.


-  Sakya Pandita's name spread far and wide, reaching even to the Chinese Emperor who developed deep faith in him and the Buddhadharma.


Detailed Lineage >>

Butön Rinchen Drub




-  Sakya Pandita took rebirth as Butön Rinchen Drub in western Tibet. When Butön was a child, he could converse with Manjushri and displayed attainment of compassion and Bodhicitta in his speech and action.


-  In this life, he focused mainly on teaching and writing. He translated many scriptures from Sanskrit into Tibetan and wrote 26 volumes of commentaries on Dharma practice (Kangyur – the spoken words of the Buddha & Tangyur – the commentaries of Buddhist teachings)


Sakya Pandita and Butön Rinchen Drub showed practitioners how to meditate correctly and practice effectively to develop great wisdom and concentration.


Detailed Lineage >>

Duldzin Drakpa Gyeltsen

- Butön Rinchen Drub was later reborn in central Tibet as Duldzin Drakpa Gyeltsen, who became one of Lama Tsongkhapa's principal disciples.

- Duldzin Drakpa Gyaltsen's main activity was to help the teachings of Lama Tsongkhapa to flourish.

- He was especially famed for his pure morality and for upholding his vows very purely. His very name, "Duldzin", means "Holder of the Vinaya".

- Duldzin Drakpa Gyeltsen oversaw the full building of Gaden Monastery, the first and most prominent monastery of the Gelugpa school of Buddhism.

- Lama Tsongkhapa's disciples believed that Duldzin Drakpa Gyeltsen and Lama Tsongkhapa were equal in terms of their realizations, abilities, and wisdom. The position of Gaden Tripa – representing Tsongkhapa on earth, after his passing – was offered first to Duldzin. However, Duldzin declined the honour and offered it to Gyaltsab Je, choosing instead to devote his life to protecting and spreading Lama Tsongkhapa's teachings.

- It was with this commitment and devotion to the Dharma that Duldzin first made a promise to arise as a Dharma Protector specially to protect the Middle view of Nagarjuna, as taught by Lama Tsongkhapa.

Panchen Sonam Drakpa

- Duldzin Drakpa Gyeltsen was later reborn in central Tibet as the special Lama Panchen Sonam Drakpa. Like Duldzin, he devoted his whole life to make Lama Tsongkhapa's lineage and teachings flourish everywhere.


- He was the Spiritual Guide to the 3rd Dalai Lama.


- This Lama was unique in that he was the only person who has ever become the abbot of all three main Gelug monasteries – Gaden, Sera and Drepung in a single lifetime. He was also the Abbot of Gyuto Tantric College and became the 15th Gaden Tripa.


- Panchen Sonam Drakpa wrote many commentaries to both Sutra and Tantra. To this day at Drepung Loseling, the largest Gelugpa monastery, as well as at Gaden Shartse, monks qualify for their Geshe degrees by relying principally upon the scriptures of this great teacher.



Tulku Drakpa Gyeltsen




- Tulku Drakpa Gyeltsen lived in Drepung Monastery during the time of the 5th Dalai Lama. They were both disciples of the First Panchen Lama, Losang Chokyi Gyeltsen. Their affinity went back to the time when Tulku Drakpa Gyeltsen – in his previous incarnation as Panchen Sonam Drakpa was the Spiritual Guide to the 3rd Dalai Lama.

- Tulku Drakpa Gyeltsen was so highly attained that Tibetan, Mongolian and Chinese nobility and royalty would travel immense distances just to make offerings and request teachings from him. His attainments were often likened to those of the Dalai Lama himself.

It was in this lifetime that Tulku Drakpa Gyeltsen fulfilled his promise to become a Dharma Protector and arose as Dorje Shugden.
Duldzin Drakpa Gyeltsen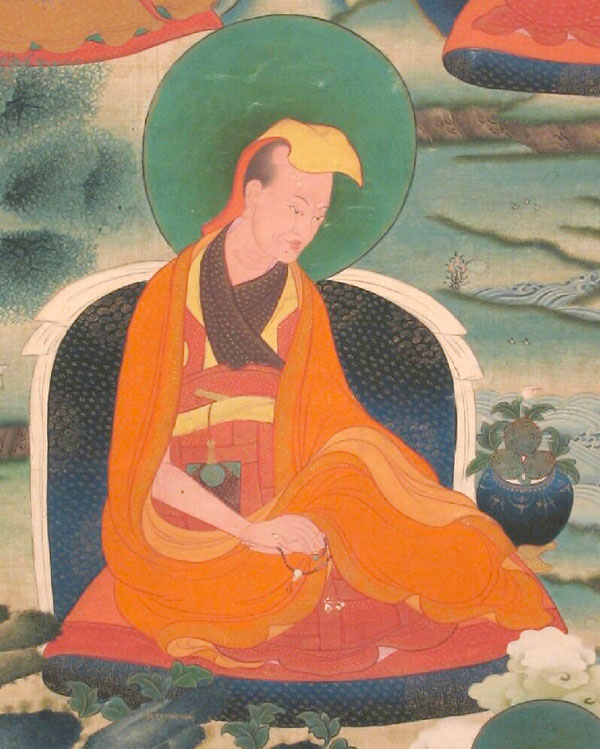 The plan for the "birth" of Dorje Shugden began during the time of Duldzin Drakpa Gyeltsen. He was the great disciple of Lama Tsongkhapa and was reputed to be a very pure and steadfast holder of the Vinaya. Nechung, a worldly spirit, was oath-bound by Guru Rinpoche, the 8th century Indian master, to be the general Dharma Protector to protect the Buddhadharma. It was Nechung who requested Duldzin Drakpa Gyeltsen to make a promise to protect Nagarjuna's priceless Middle view, as taught by Lama Tsongkhapa.
At one of Lama Tsongkhapa's teachings, Nechung emanated as a white dove and flew continuously around the teaching hall. After the teachings ended, Duldzin stayed behind, as he could see through the dove's disguise. He requested Nechung to reveal himself and asked him what he wanted. Nechung transformed into a young boy dressed in white and told Duldzin that the precious teachings that Lama Tsongkhapa had given of Nagarjuna's Middle view required special protection. Then Nechung asked Duldzin to become the Chief Protector of these teachings. Duldzin promised that he would, and Nechung said that when the right time came, he would remind him of this promise. After Duldzin completed building Gaden Monastery, he went into retreat in a cave and passed away there.
Several lifetimes later, Duldzin reincarnated as Tulku Drakpa Gyeltsen. During an audience with Nechung, who spoke through an oracle, Nechung reminded Tulku Drakpa Gyeltsen about his promise. At first, Tulku Drakpa Gyeltsen could not recall such a promise. Then, Nechung gave him some blessed rice to eat to help him remember. Upon eating the rice, Tulku Drakpa Gyeltsen remembered his promise instantly and agreed to fulfil this promise; to ensure that Lama Tsongkhapa's teachings would spread and grow.
However, Tulku Drakpa Gyeltsen was very gentle and did not have any anger at all in his mindstream to manifest as a wrathful Dharma Protector. Understanding this, Nechung told Tulku Drakpa Gyeltsen that he would orchestrate a situation for the wrath to rise within him. Only then would Tulku Drakpa Gyeltsen be able to arise as the Dharma Protector.


(Source: http://www.dorjeshugdenhistory.org/trode-khangsar-7.html)

The Death of Tulku Drakpa Gyeltsen
Tulku Drakpa Gyeltsen lived during the reign of the 5th Dalai Lama. There was political and religious conflict at the time. To unite the country, the Dalai Lama was placed on the throne, given the title "Religious-King and Holder of the Buddhist Faith" and had supreme political and religious authority over Tibet. Tremendous effort was put into establishing the position of the Dalai Lama during these times of uncertainty, and into eliminating oppositions and potential threats. One such threat was Tulku Drakpa Gyeltsen.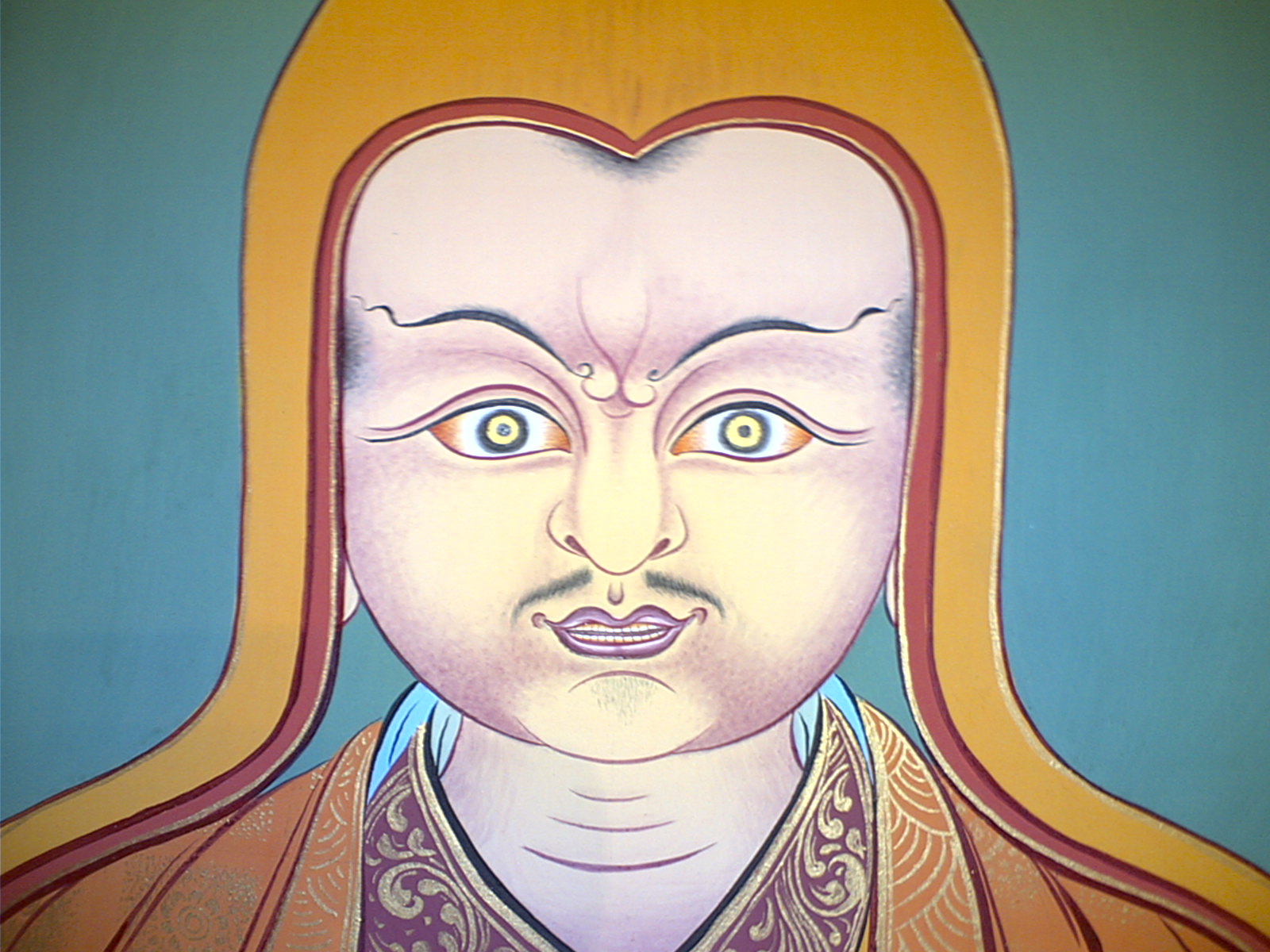 Tulku Drakpa Gyeltsen was perceived as a threat because:
He was also nominated as a potential reincarnation of the 4th Dalai Lama
He was later confirmed as the incarnation of Panchen Sonam Drakpa, who had been the tutor to the 3rd Dalai Lama
He held equal status as the 5th Dalai Lama, and they were both students of the 4th Panchen Lama, Lobsang Chökyi Gyaltsen
His Dharma knowledge and pure spiritual practice was often regarded as equal to that of the Dalai Lama
He was more popular than the 5th Dalai Lama, and had more students and received more offerings than the 5th Dalai Lama.
His growing popularity and influence caused continued tension and jealousy among the Dalai Lama's followers. The Dalai Lama's ministers were very concerned for the security of His Holiness' position among the Tibetans. To secure the Dalai Lama's and their own positions, the ministers plotted the demise of Tulku Drakpa Gyeltsen, without the knowledge of the Dalai Lama.
Sonam Rabten, the principal executive of the Dalai Lama and his protégé, Norbu, tried many times to assassinate Tulku Drakpa Gyeltsen, but failed. Tulku Drakpa Gyeltsen simply did not have the karma to be killed. When they tried to poison him, nothing happened. By Tulku Drakpa Gyeltsen's attainments, he was able to simply dispel the poison from his body. When they tried to stab him, eyes would appear on his body where he was stabbed, and stare back at them.
Out of compassion and commitment to his promise to become a Dharma Protector, Tulku Drakpa Gyeltsen told them that the only way he could be killed was if they were to suffocate him by stuffing a khata down his throat. His assailants then managed to kill him that way.
After his death, official documents concerning Tulku Drakpa Gyeltsen's previous incarnations were tampered with; Butön Rinchen Drub and Panchen Sonam Drakpa's names were removed from Tulku Drakpa Gyeltsen's lineage prayers. The position of Tulku Drakpa Gyeltsen was officially diminished. In addition, Sonam Rabten and Norbu killed members of Tulku Drakpa Gyeltsen's family and seized their property and land.  They also issued a ban on the search of Tulku Drakpa Gyeltsen's reincarnation, after they had dismantled his residence in Drepung and relocated his reliquaries The ban has lasted to this day. All the above was recorded in the autobiography of the 5th Dalai Lama.


(Source: The Great Deception by the Western Shugden Society and http://www.dorjeshugdenhistory.org/trode-khangsar-6.html)

Manifestation of Wrath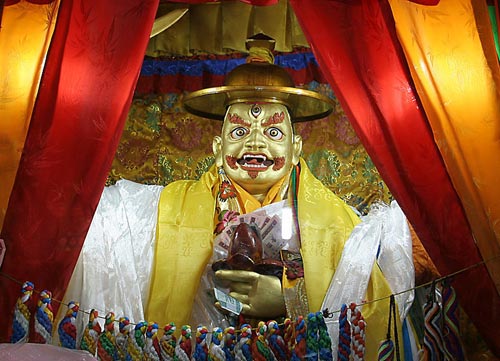 At the time of his death, a slight amount of fierce energy resembling wrath arose in Tulku Drakpa Gyeltsen and this enabled him to arise as the wrathful Dharma Protector, Dorje Shugden. Thousands attended Tulku Drakpa Gyeltsen's funeral. However the funeral pyre could not be lit for his cremation ceremony. During the funeral, the 5th Dalai Lama finally heard what had happened and that it was his own people who had killed Tulku Drakpa Gyeltsen. With great dismay, he wrote a prayer which expressed his great remorse for what had happened and praised Tulku Drakpa Gyeltsen's qualities. This was sent down to the funeral and read aloud by one of Tulku Drakpa Gyeltsen's assistants.
After this was read, the funeral pyre immediately caught fire. From the fire, a large plume of smoke arose and covered all Lhasa in the shape of a large, black hand. Great disturbances arose throughout Lhasa. Livestock and crops died, there were earthquakes, the weather was turbulent and chaos prevailed. This was due to the cumulative negative karma accrued by those who had plotted to murder a High Lama.
The 5th Dalai Lama also experienced difficulties and inauspiciousness. Many began to fear that Tulku Drakpa Gyeltsen had become an angry spirit and powerful rituals to pacify and destroy him were conducted. However, all efforts were in vain. Nothing could destroy this 'spirit' because he wasn't one. He had actually manifested as the great Dharma Protector: Dorje Shugden.


Enthronement as the Dharma Protector
The 5th Dalai Lama finally realized the gravity of the situation and understood that Tulku Drakpa Gyeltsen had not taken rebirth as a vengeful spirit but had arisen as a Dharma Protector. He deeply regretted the attempts to destroy what he thought was a spirit, and recognized Dorje Shugden as an enlightened Dharma Protector in whom he would take refuge.
The Dalai Lama then wrote an official proclamation and prayer, recognizing Dorje Shugden as an undisputed Dharma Protector and a direct emanation of Tulku Drakpa Gyeltsen. He also constructed Trode Khangsar as a place of worship for Dorje Shugden which still exists in Tibet to this day.

Prayer by the 5th Dalai Lama to Dorje Shugden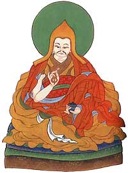 HUM
Though unmoving from the sphere of primordial spontaneity,
With wrathful turbulent power, swifter than lightning,
Endowed with heroic courage to judge good and bad,
I invite you with faith, please come to this place!
Robes of a monk, crown adorned with rhinoceros leather hat,
Right hand holds ornate club, left holds a human heart,
Riding various mounts such as nagas and garudas,
Who subdues the mamos of the charnel grounds, praise to you!
Samaya substances, offerings and torma, outer, inner and secret,
Favorite visual offerings and various objects are arranged.
Although, previously, my wishes were a bit dense,
Do not stop your powerful apparitions, I reveal and confess!
Now respectfully praising with body, speech, and mind,
For us, the masters, disciples, benefactors and entourages,
Provide the good and avert the bad!
Bring increase like the waxing moon in spiritual and temporal realms!
Moreover, swiftly accomplishing all wishes,
According to our prayers, bestow the supreme effortlessly!
And like the jewel that bestows all wishes,
Always protect us with the Three Jewels!
(This prayer can be recited by anyone at anytime, and does not require any initiation or empowerment)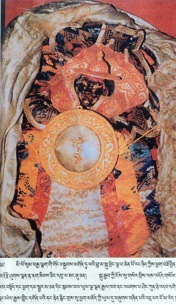 The 5th Dalai Lama also crafted a famous statue of Dorje Shugden with his own hands.
This statue was originally placed in Trode Khangsar but now can be seen to this day in
Gaden Phelgyeling Monastery in Kathmandu, Nepal.