Versatile Ven Geshe Tenzin Dorje of Shar Gaden Monastery is the current school principal, the library director and now the preceptor. He has unparalleled skills in numerous fields yet it is his humility and desire to keep a low profile that makes him respected and well-loved by many. May he continue his dharma activities and lead us from the front as he usually does.
Source : https://www.facebook.com/photo.php?fbid=3509660033753&set=a.1385199763574.48875.1639429371&type=1&theater
---
MORE GREAT ARTICLES:

The most venerated Geshe la, Thupten Thinley Rinpoche, who turned the wheel of dharma with great dedication and love for nearly one and half months at Shar Gaden Monastery is making prayers here at the five-day-long Great Prayer Festival. Many participants, who were endowed with good karma, were fortunate enough to receive wisdom from Rinpoche.
Source : Shar Gaden Facebook
---
MORE GREAT ARTICLES:

View video on YouTube: https://www.youtube.com/watch?v=ACz7wizCM7k
On 23rd, September 2011, Venerable Abbot Jetsun Lobsang Phende conferred the Manjushri Jenang, also known as the Permitting Empowerment, to the Shar Gaden students at the request of the teachers' association. The spiritual event was conducted for the students to improve their learning skills in their daily educational activities. Manjushri is also known as the Buddha of Wisdom and his practice is supreme for learning.
---
MORE GREAT VIDEOS:

View video on YouTube: Part 1: http://www.youtube.com/watch?v=agWuhaoM5g0
"The Great Prayer Festival is dedicated to the long life of holy Gurus of all traditions, for the survival and spread of Dharma to the minds of all sentient beings and for world peace"
It is so wonderful to see the scenes from Shar Gaden at their Monlam 2011 festival. Monks young and old joined together in the celebration.
[1:51-1:53] Many young monks making khata offerings to the erudite Kyabje Trijang Rinpoche.
View video on YouTube: Part 2: http://www.youtube.com/watch?v=khqdCxjIEPU
Long horns are being played by the monks. The sound of the long horns mimic the trumpeting of the elephants. Long horn music is also used to welcome high lamas coming to teach or give a discourse. It is similar to how Buddha Shakyamuni was welcomed wherever he went with a lot of fanfare and pomp.
View video on YouTube: Part 3: http://www.youtube.com/watch?v=vLnWkMgTJgc
The monks are in a procession during the Monlam festival 2011 singing the Gaden 'Migtsema' tune. The melody of the conch signifies the gentle spreading of the dharma. Buddhism is not spread through the use of force. The video concludes when the monk procession returns back to Shar Gaden Monastery.
---
MORE GREAT VIDEOS:

Video by Ven. Lozang Gyaltsan. Extracted from his Facebook:
This is how the young monks of Serpom begin their school-day at 9 a.m. assembling in the courtyard to chant Gangloma, a prayer to have a sharp, fresh mind for acquiring knowledge. Their day really begins with puja [6 -7:30 a.m.]~Lozang Gyaltsan
(Serpom Monastery is one of the foremost educational institutions of Tibetan Buddhism in the world today. Many of the monks start their training in Buddhist Philosophy, rituals and practice from a very young age. There are many qualified teachers, masters and monks in Serpom located in South India (5 hours from Bangalore). Supporting institutions such as Serpom, Shar Gaden Monastery and their likes are vital for the continuous survival of Buddha's lineage in its complete form. We send our wishes and prayers for all the brave Sangha of these monasteries who we will continue to support to the best of our abilities.
The video shows the discipline instilled in the future teachers here in the Monastic courtyard invoking the blessings of Manjushri early in the morning before their studies daily. Beautiful, inspirational, and a blessing to see. We thank Lozang for this video very much.
Admin)
---
Ganglongma (English)

Homage to Manjushri, The Buddha of Wisdom
Obeisance to my Guru and Protector, Manjushri,
Who holds to his heart a scriptural text symbolic of his seeing all things as they are,
Whose intelligence shines forth like the sun, unclouded by delusions or traces of ignorance,
Who teaches in sixty ways, with the loving compassion of a father for his only child,
all creatures caught in the prison of samsara, confused in the darkness of their ignorance,
overwhelmed by their suffering.
You, whose dragon-thunder-like proclamation of Dharma
arouses us from the stupor of our delusions and frees us from the iron chains of our karma;
Who wields the sword of wisdom hewing down suffering wherever its sprouts appear,
clearing away the darkness of ignorance;
You, whose princely body is adorned with the one hundred and twelve marks of a Buddha,
Who has completed the stages achieving the highest perfection of a Bodhisattva,
Who has been pure from the beginning,
I bow down to you, O Manjushri;
With the brilliance of your wisdom, O compassionate one,
Illuminate the darkness enclosing my mind,
Enlighten my intelligence and wisdom,
So that I may gain insight into the Buddha's words and the texts that explain them.
Mantra: OM AH RA BA TSA NA DHI
---
MORE GREAT VIDEOS:
View video on YouTube: http://www.youtube.com/watch?v=JpXWxOlBsg4
Lama Michel Rinpoche and his entourage came to Shar Gaden on the 17th November 2010 for a
5 day-long visit for their Documentary project. Later, they will be visiting Serpom Monastery in Mysore.
This filming is most likely related to the documentary project called 'Lineage'. For more information about
'Lineage', check out the site's previous coverage on this documentary http://dorjeshugden.com/wp/?p=6008
---
MORE GREAT VIDEOS:

View video on YouTube: http://www.youtube.com/watch?v=hsbRgygwjMw
Shar Gaden Monks conducting prayer rituals in Füssen, Germany. Enjoy the beautiful chanting and the
sound of the ritual items being played by the monks, such as the damaru, long horns and ritual cymbals.
---
MORE GREAT VIDEOS:

View video on YouTube: http://www.youtube.com/watch?v=qJVKM-SaIOw
A short informative video about the Educational Program that takes place in Shar Gaden Monastery.
Narrated by a volunteer English Teacher.
This video gives an account of what is a typical day at Shar Gaden Monastery for the monks. Starting from
the moment they wake to how their day ends. There are currently over 700 monks in Shar Gaden.
---
MORE GREAT VIDEOS:

An update from Shar Gaden Monastery of the recently held four-day Taktse Dubcho Ritual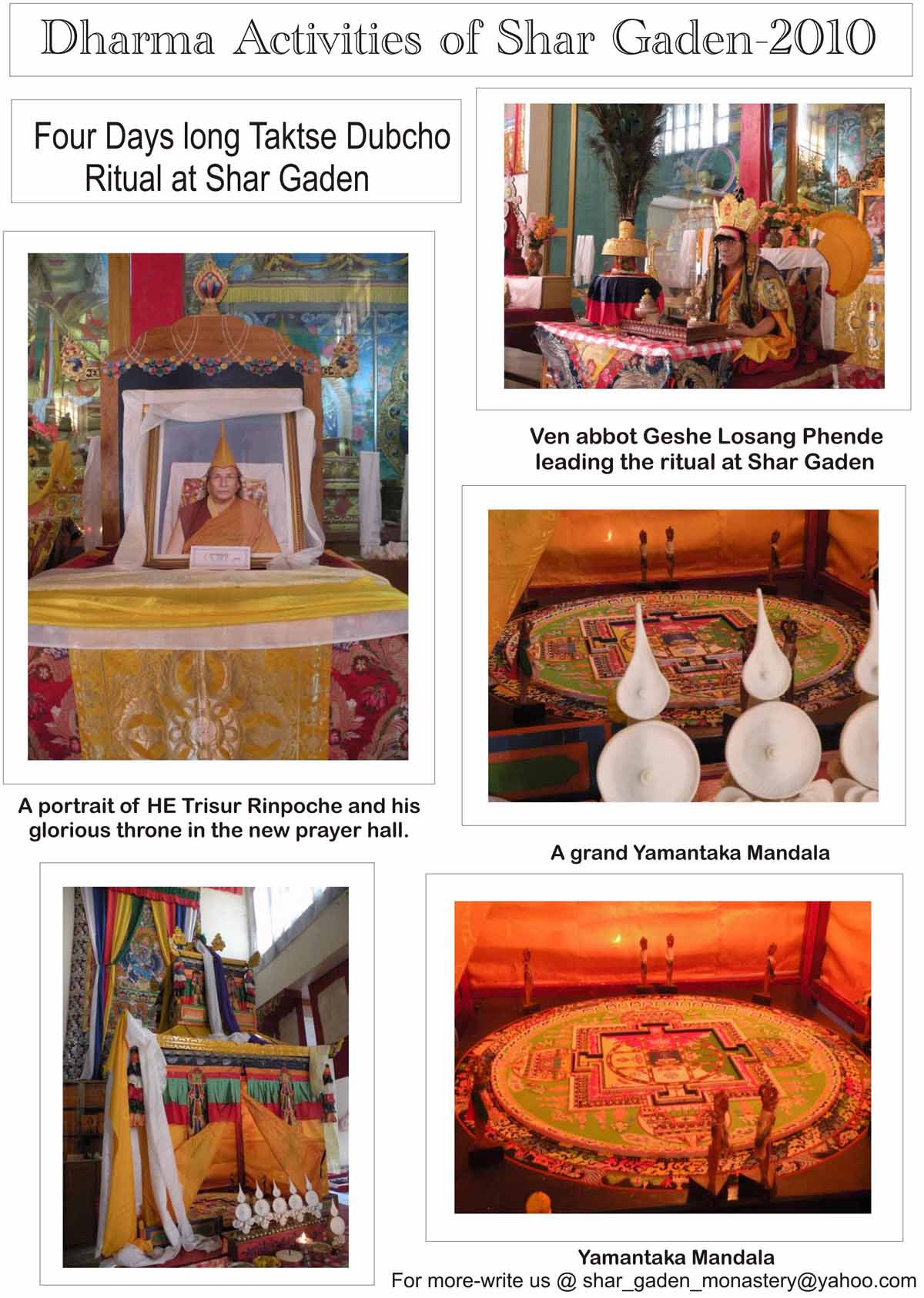 View the video on YouTube:
http://www.youtube.com/watch?v=v4KGwJh6gvg
The Oracle taking trance in full regalia of wrathful Dorje Shugden

View the original video on YouTube:
http://www.youtube.com/watch?v=t2AUPI901Ew
Grand Audience for the public with Dharmapala Setrap and Dorje Shugden
---
MORE GREAT VIDEOS:
View the original video on YouTube:
Part1 Part2 Part3 Part4 Part5
With 600 Tulkus, Geshes, Masters and monks keeping the lineage alive, Shar Gaden is located in
Mundgod South India. It is next to Gaden Monastery and 25 minutes away from Drepung. We can
access this great institute via Bombay or Bangalore. From Bombay/Bangalore you may take train or
Bus which is 8-10 hours to the nearest city of Hubli. From Hubli it is one hour away by taxi.
Since His Holiness the Dalai Lama has said that all Dorje Shugden practitioners must separate from
the Monasteries and the general populace of non-Dorje Shugden practitioners in all ways, this
monastery was formed. All Tibetans who do not practice Dorje Shugden may not have any association
with those that do was the strict decree. As a result many tulkus, geshes, senior practitioners and
monks had no choice but to sadly leave their respective monasteries out of respect for His Holiness
Dalai Lama's decree. They gathered and joined to have Shar Gaden Monastery. Shar Gaden
Monastery was not formed to counter or oppose His Holiness the Dalai Lama in anyway, but to have
the freedom to practice as they have been from the instructions of their root gurus.
H.H. Kyabje Trijang Choktrul Rinpoche's ladrang has also joined Shar Gaden leaving Gaden Shartse
Monastery, where his line of incarnations have been for hundreds of years. Domo Geshe Rinpoche
also has joined.
This video shows Shar Gaden Monastery today alive with practice, debates, pujas, torgyas, and
teachings. They have been ostracized by the whole Tibetan community who are not allowed to have
ANY ASSOCIATION WITH THEM. We need to give them our support now to keep the lineage alive for
future generations. Share this video with others. Shar Gaden's existence is hope, strength, light and
practice exemplified. Its continuation offers us great encouragement.
Obviously Shar Gaden Sanghas are experts in doing many types of beneficial pujas such as Tara,
Medicine Buddha, Dorje Shugden's various rituals, pujas, fire offerings, mandalas, Heart Sutra,
Pelden Lhamo, Namse, Kalarupa, Mahakalas, etc. Wonderful to sponsor a puja for birthday,
anniversary, death, marriage, special events, or just to clear obstacles for whatever plans you may
have.
Do contact, support, visit and do whatever you can for our Sangha who wishes to practice their
lineage as it has been done for 350 years now. It is the least we can do to help safeguard this holy
lineage which is going through obstacles at this time but will shine forth bright in the future as
predicted.
Administration
Mailing address:
Shar Gaden Monastery
Lama Camp #-1, P.O. Tibetan Colony
Mundgod 581411
Distt-Karwar (Karnataka State), INDIA
---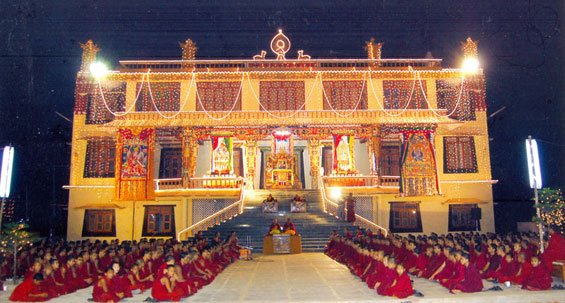 These are recent photos of Shar Gaden Monastery, Mundgod, South India, which separated from Gaden Monastery because the monks held strong to
their commitments towards their Gurus and refused to give up the practice of Dorje Shugden. Today it is a flourishing monastery of around 550 monks,
and increasing.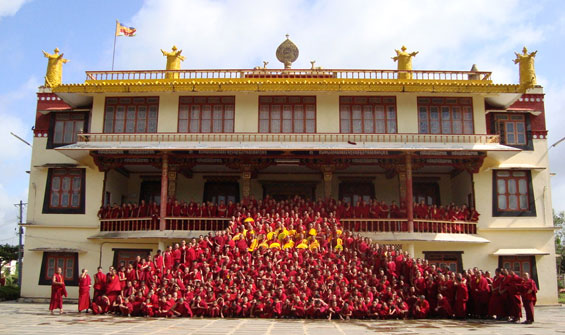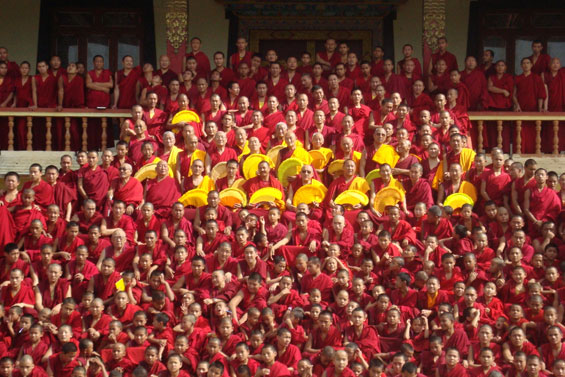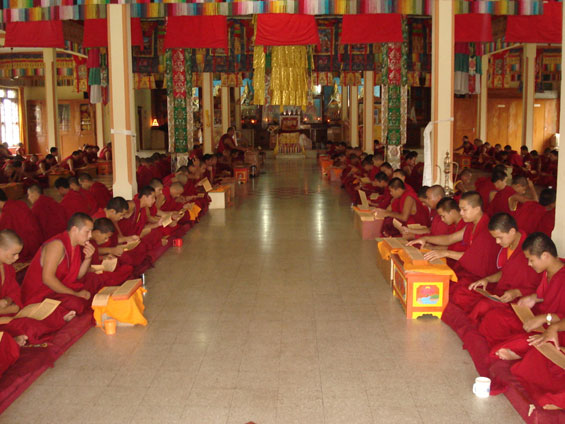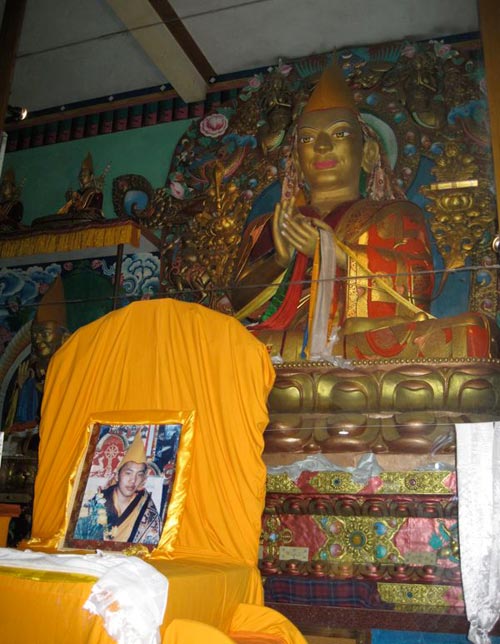 Lama Tsongkhapa with Kyabje Trijang Rinpoche's throne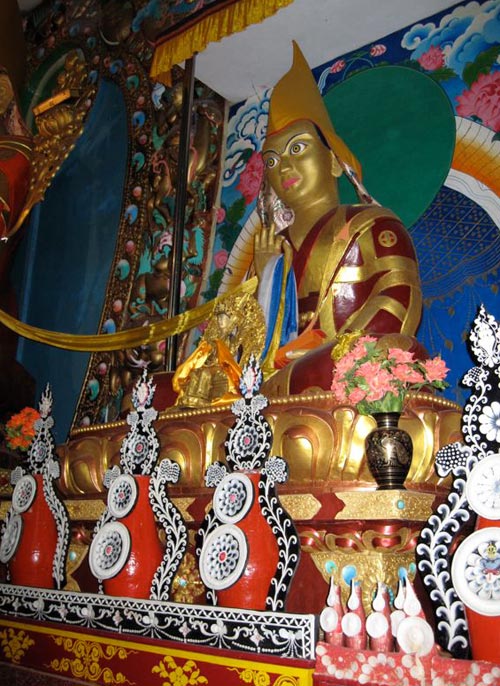 Kedrup Je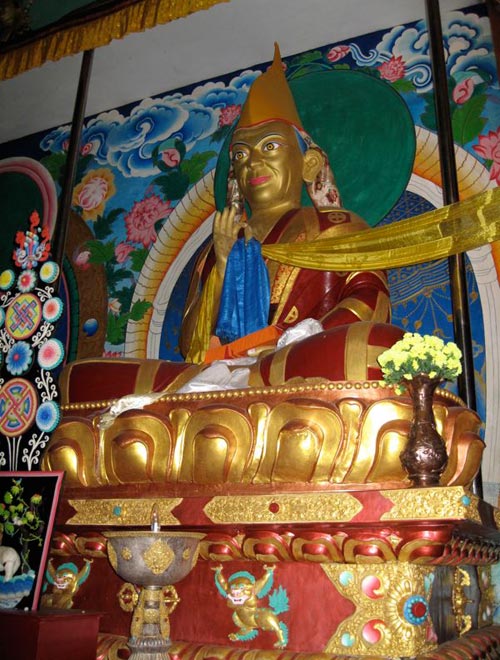 Gyaltsab Je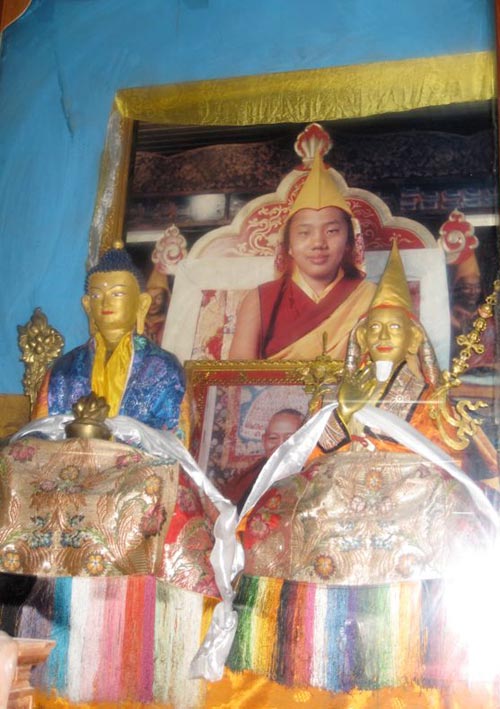 Kyabje Trijang Rinpoche and Kyabje Zong Rinpoche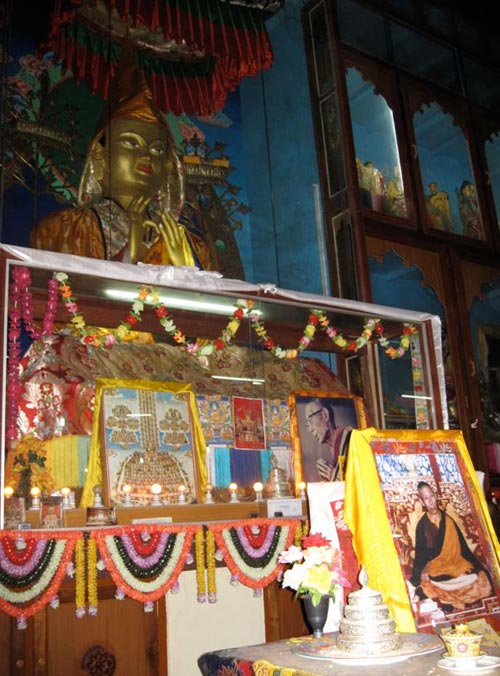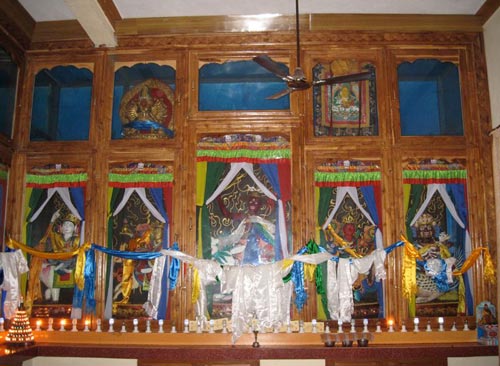 Five Forms of Dorje Shugden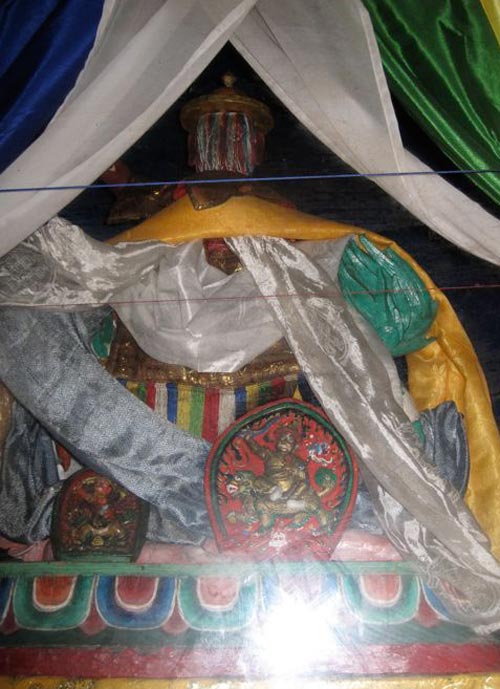 Dorje Shugden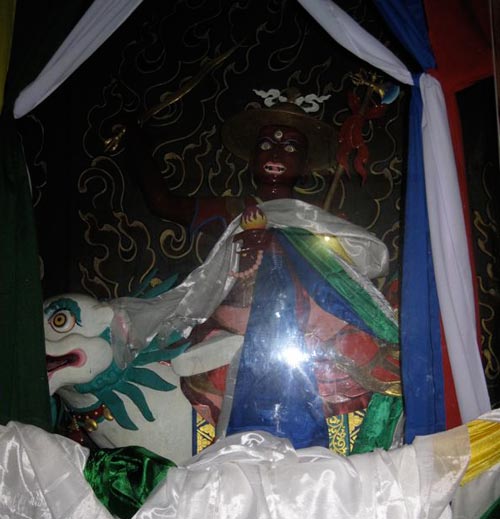 Dorje Shugden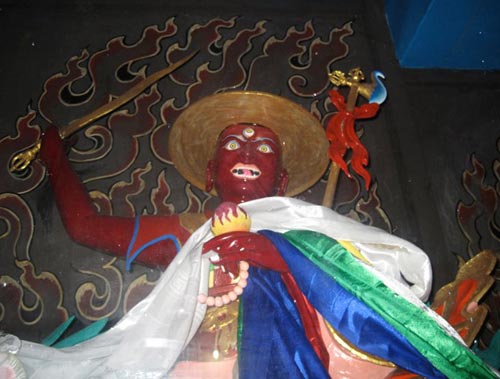 Dorje Shugden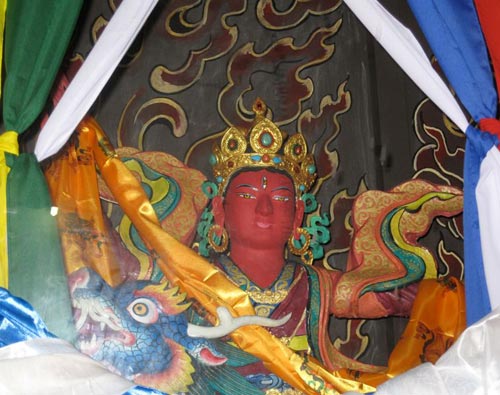 Wangtse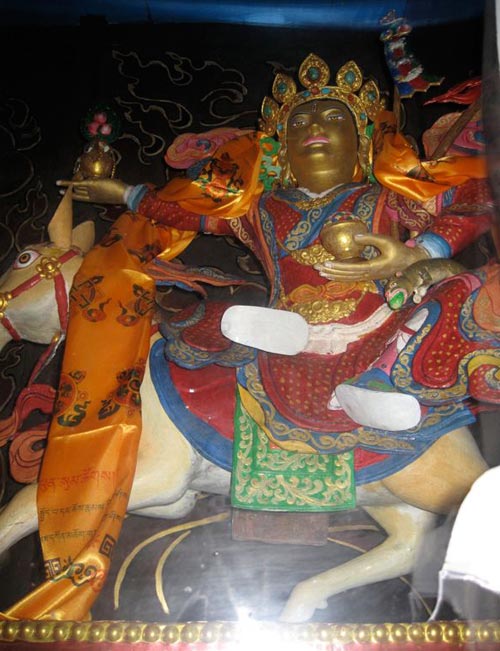 Gyenze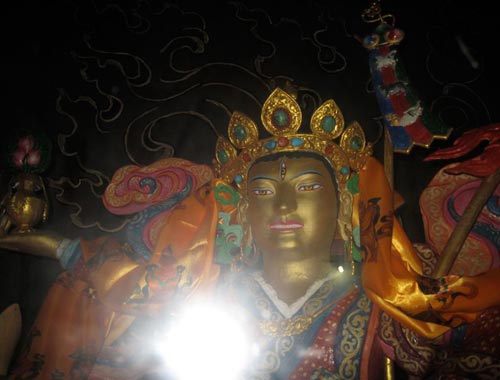 Gyenze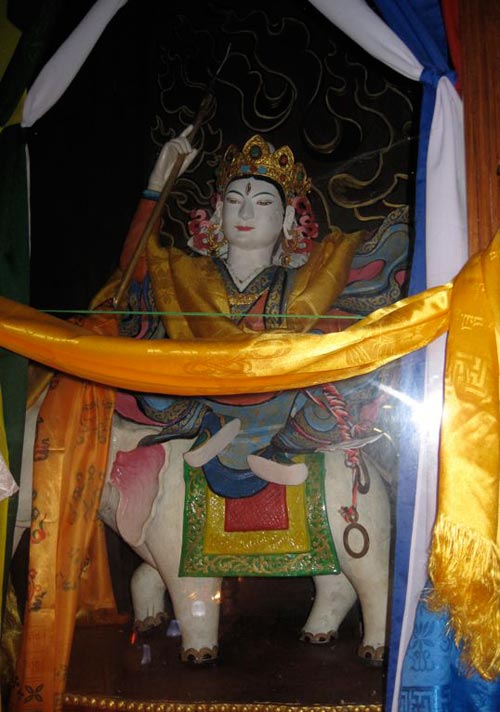 Shitse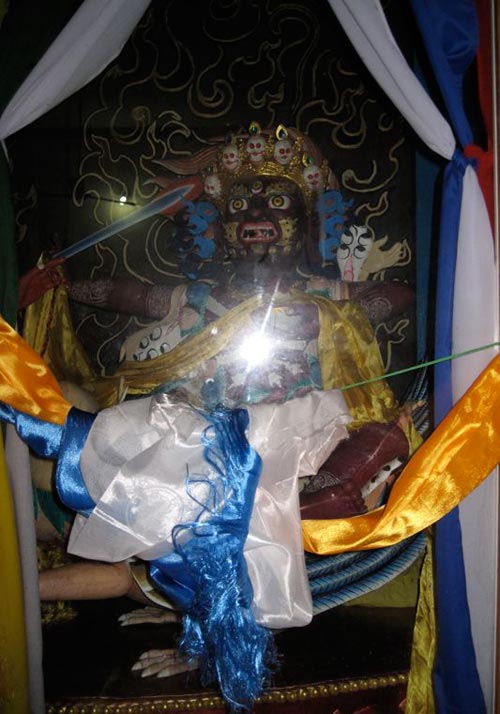 Trakze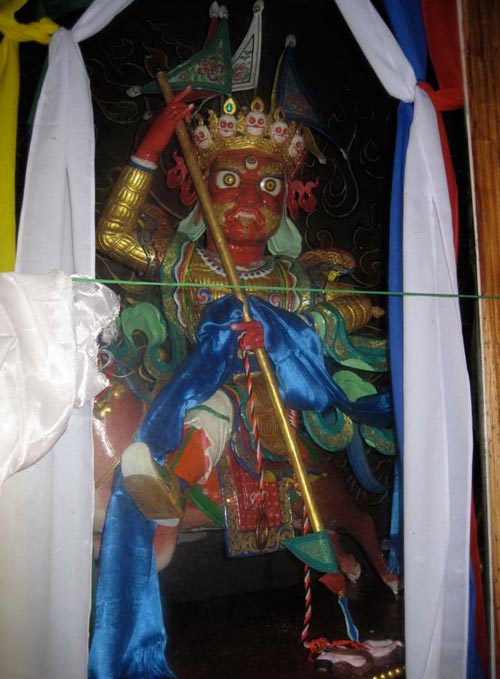 Kache Marpo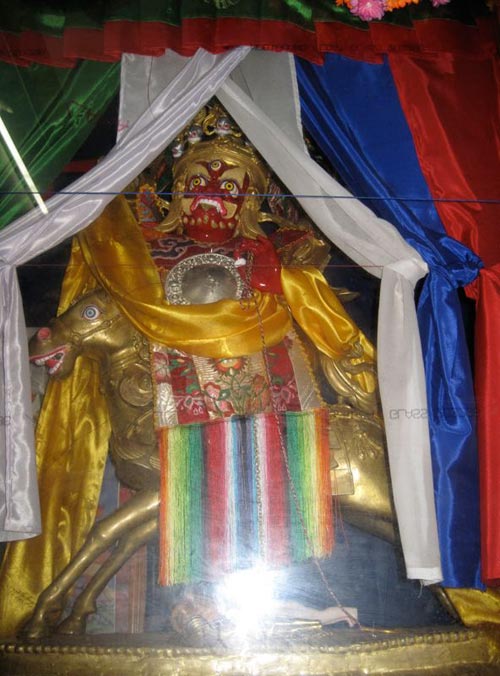 Setrap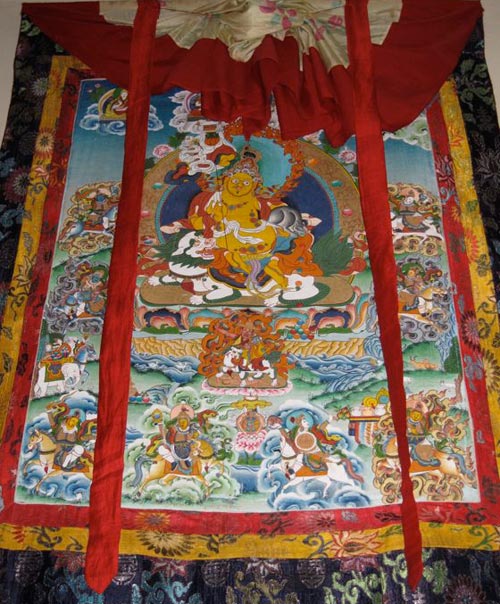 Namtose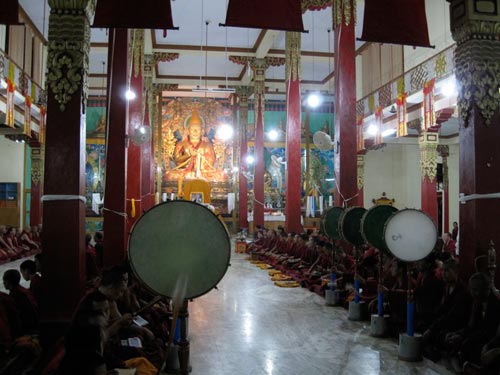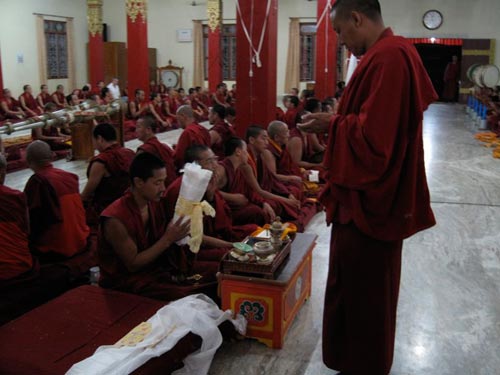 Performing Dorje Shugden's Torgya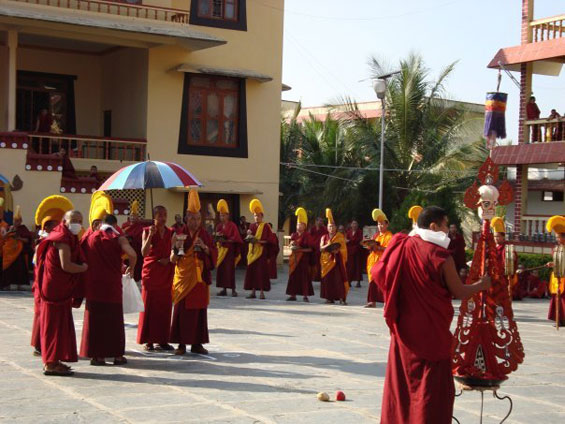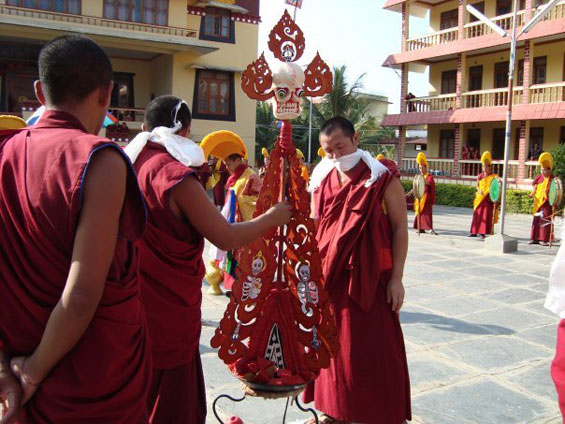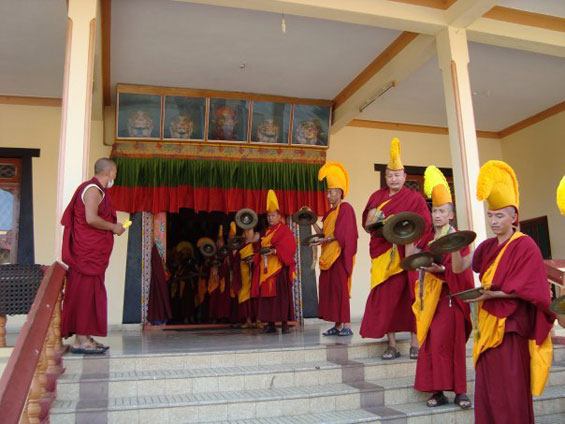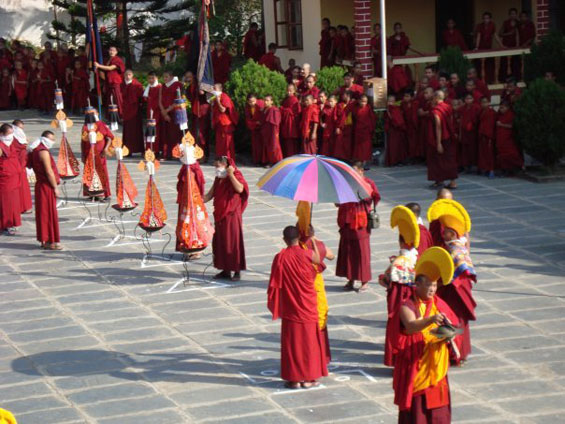 This is a card from the Shar Gaden Namling Buddhist Cultural Association, they have a guest house in Delhi, please
support them by patronizing the guest house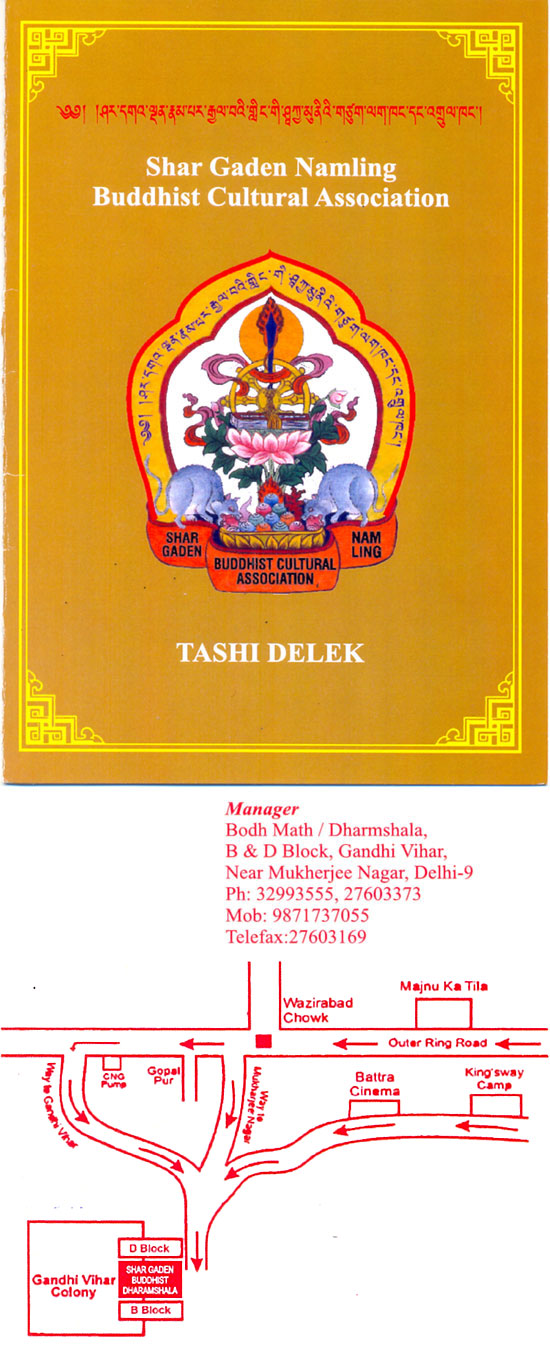 ---
MORE GREAT VIDEOS:

View the video on YouTube: http://www.youtube.com/watch?v=jzkYk-VwuHM
Watch this video of Geshe Thupten teaching lamrim in Shar Gaden as well as beautiful
photos of the monastery during the opening ceremony.
---
MORE GREAT VIDEOS: