View the original video on YouTube:  http://www.youtube.com/watch?v=Ehr8ePFyWoY
In the 17th Century, the Fifth Dalai Lama had Trode Khangsar built in dedication to the Protector Dorje Shugden.
The main image
inside was also commissioned by the 5th Dalai Lama. By the end of the 17th Century, the Fifth Dalai Lama's Regent Desi Sangye Gyatso entrusted Trode Khangsar to Riwo Choling, a Gelug Monastery.
Today it is in full use and located behind the main Chapel of Jowo Buddha or central Cathedral of Lhasa just off the
main circumambulation circuit or barkor.
Many pilgrims visit and monks are available daily performing
pujas/ceremonies to Dorje Shugden daily. It is open to tourists.
This chapel is over 350 years old in the heart of Lhasa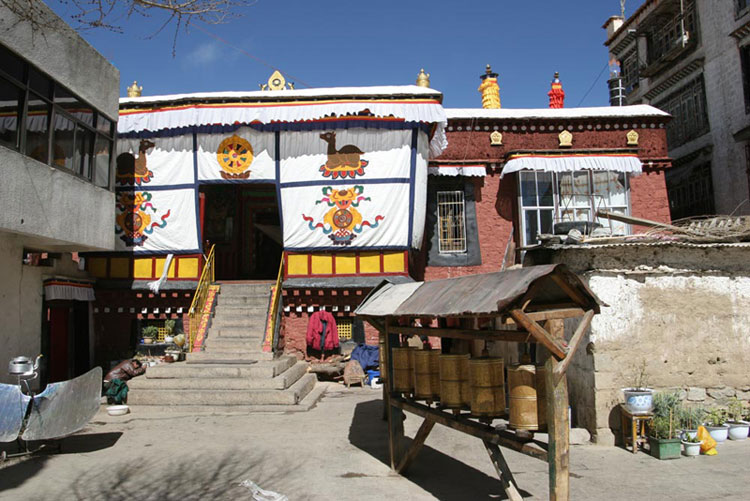 Dorje Shugden Chapel is 8 mins walk from Jokhang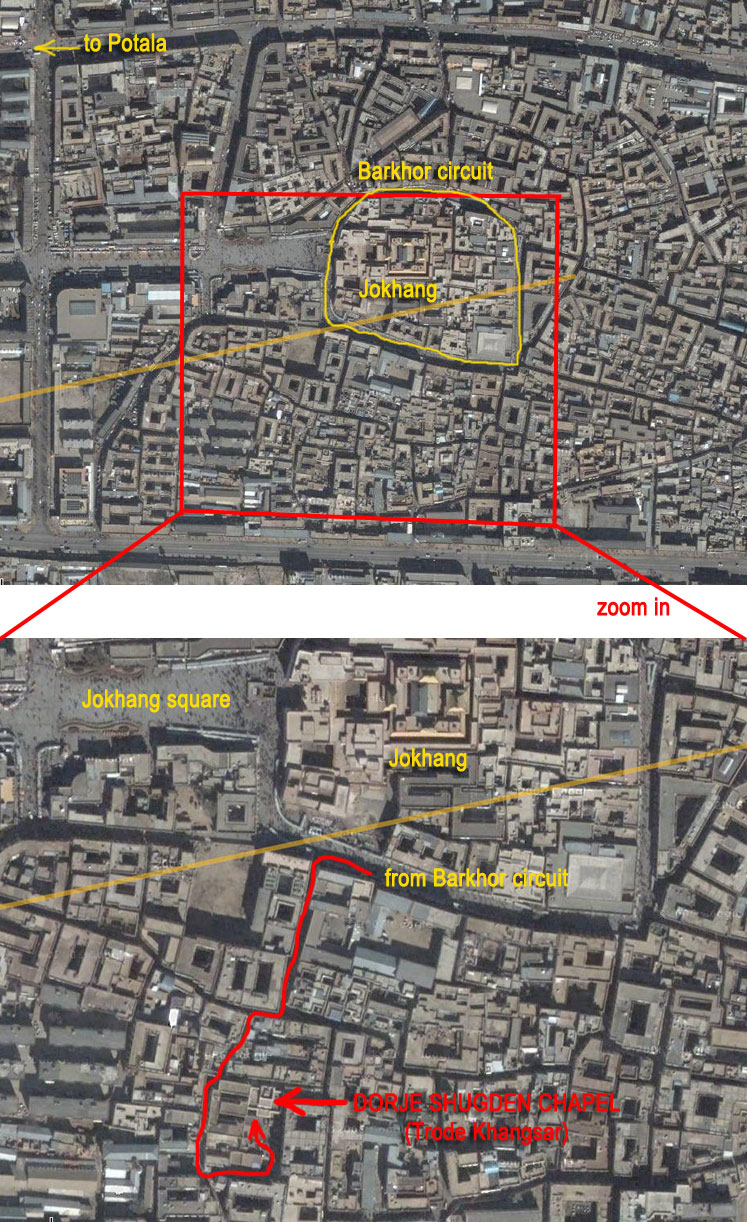 More information on Trode Khangsar can be found in this book, page 195-199. It is available on Amazon.com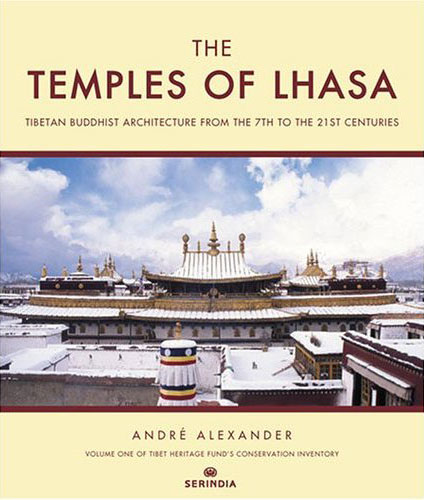 Book Details
Hardcover: 336 pages


Publisher: Serindia Publications; illustrated edition edition (November 15, 2005)


Language: English
(from the front flap of this book) The Temples of Lhasa is a comprehensive survey of historic Buddhist sites in the
Tibetan capital of Lhasa. The study is based on the Tibet Heritage Fund's official five-year architectural conservation
project in Tibet during which the author and his team had unlimited access to the buildings studied. The documented
sites span the entire known history of Tibetan Buddhist art and architecture from the 7th to the 21st centuries.
The book is divided into thirteen chapters, covering all the major and minor temples in historic Lhasa. These include
some of Tibet's oldest and most revered sites, such as the Lhasa Tsuklakhang and Ramoche, as well as lesser-known
but highly important sites such as the Jebumgang Lhakhang, Meru Dratsang, and Meru Nyingpa. It is illustrated with
numerous color plates taken over a period of roughly fifteen years from the mid-1980s to today and is augmented with
rare photographs and reproductions of Tibetan paintings. This book also provides detailed architectural drawings and
maps made by the project. Each site has been completely surveyed documented and analyzed. The history of each site
has been written — often for the first time — based on source texts and survey results, as well as up-to-date technology
such as carbon dating, dendrochronology, and satellite data. Tibetan source texts and oral accounts have also been
used to reconstruct the original design of the sites. Matthew Akester has contributed translations of Tibetan source
texts, including excerpts from the writings of the Fifth and Thirteenth Dalai Lamas.
This documentation of Tibetan Buddhist temple buildings is the most detailed of its kind, and is the first professional
study of some of Tibet's most significant religious buildings. The comparative analysis of Tibetan Buddhist
architecture covers thirteen centuries of architectural history in Tibet.
MORE GREAT MONASTERIES: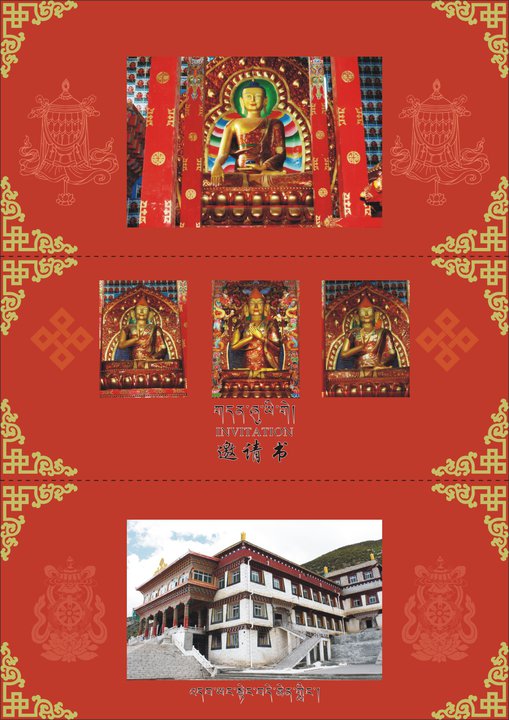 Yangting Dechen Ling Monastery in Kham, Tibet has successfully completed the construction of the new main prayer hall recently after long hard-work and dedications. The original monastery was founded by Yogi Je Lodö Namgyal who was one of the foremost disciples of Je Tsongkhapa in 1421, a couple of years after Jamchen Chöje Shakya Yeshi founded Sera Monastery in 1419 in Tibet
The officials of Yangting Dechen Ling have announced the date of Inauguration Ceremony of this huge mesmerizing hall on 10th August 2010, it will be a four-day long event with diverse programs. This monumental hall was built specifically in order to spread and preserve the Pure Je Tsongkhapa Tradition and pure Buddha Dharma in General.
This is the Monastery in Tibet that His Holiness Gaden Trisur Lungrik Namgyal Rinpoche hails from. Gaden Trisur Rinpoche decided to keep on practicing Dorje Shugden so he has joined Shar Gaden Monastery.
This is another Dorje Shugden monastery!
Source: Shar Gaden Facebook
More photos of Yangting Dechen Ling Monastery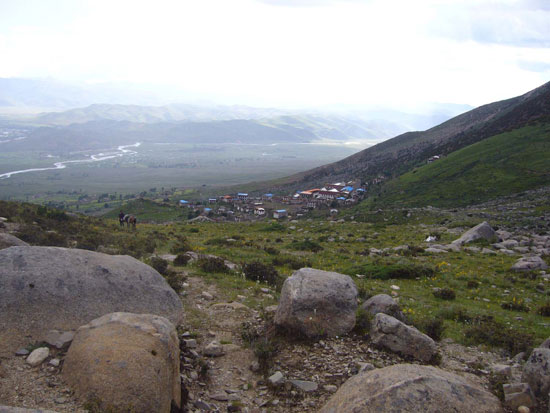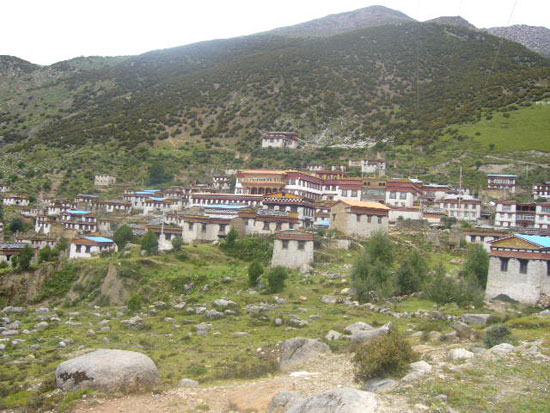 A Dharma Protector is an emanation of a Buddha or a Bodhisattva whose main functions are to avert the inner and outer obstacles that prevent practitioners from gaining spiritual realizations, and to arrange all the necessary conditions for their practice.
In Tibet, every monastery had its own Dharma Protector, but the tradition did not begin in Tibet; the Mahayanists of ancient India also relied upon Dharma Protectors to eliminate hindrances and to fulfil their spiritual wishes.
Though there are some worldly deities who are friendly towards Buddhism and who try to help practitioners, they are not real Dharma Protectors. Such worldly deities are able to increase the external wealth of practitioners and help them to succeed in their worldly activities, but they do not have the wisdom or the power to protect the development of Dharma within a practitioner's mind.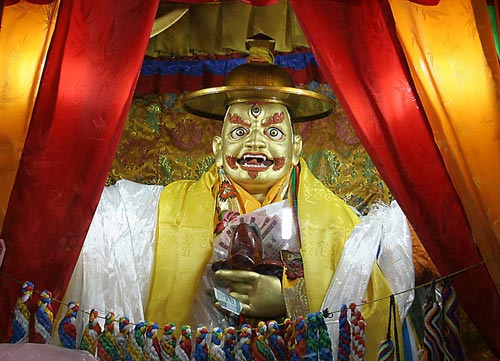 It is this inner Dharma – the experiences of great compassion, bodhichitta, the wisdom realizing emptiness, and so forth – that is most important and that needs to be protected; outer conditions are of secondary importance.
Although their motivation is good, worldly deities lack wisdom and so sometimes the external help that they give actually interferes with the attainment of authentic Dharma realizations. If they have no Dharma realizations themselves, how can they be Dharma Protectors?
It is clear therefore that all actual Dharma Protectors must be emanations of Buddhas or Bodhisattvas. These Protectors have great power to protect Buddhadharma and its practitioners, but the extent to which we receive help from them depends upon our faith and conviction in them. To receive their full protection, we must rely upon them with continuous, unwavering devotion.
Buddhas have manifested in the form of various Dharma Protectors, such as Mahakala, Kalarupa, Kalindewi, and Dorje Shugden. From the time of Je Tsongkhapa until the first Panchen Lama, Losang Chökyi Gyaltsän, the principal Dharma Protector of Je Tsongkhapa's lineage was Kalarupa. Later, however, it was felt by many high Lamas that Dorje Shugden had become the principal Dharma Protector of this tradition.
There is no difference in the compassion, wisdom, or power of the various Dharma Protectors, but because of the karma of sentient beings, one particular Dharma Protector will have a greater opportunity to help Dharma practitioners at any one particular time.
We can understand how this is so by considering the example of Buddha Shakyamuni. Previously the beings of this world had the karma to see Buddha Shakyamuni's Supreme Emanation Body and to receive teachings directly from him.
These days, however, we do not have such karma, and so Buddha appears to us in the form of our Spiritual Guide and helps us by giving teachings and leading us on spiritual paths. Thus, the form that Buddha's help takes varies according to our changing karma, but its essential nature remains the same.
Among all the Dharma Protectors, four-faced Mahakala, Kalarupa, and Dorje Shugden in particular have the same nature because they are all emanations of Manjushri.
However, the beings of this present time have a stronger karmic link with Dorje Shugden than with the other Dharma Protectors. It was for this reason that Morchen Dorjechang Kunga Lhundrup, a very highly realized Master of the Sakya tradition, told his disciples, "Now is the time to rely upon Dorje Shugden." He said this on many occasions to encourage his disciples to develop faith in the practice of Dorje Shugden.
We too should heed his advice and take it to heart. He did not say that this is the time to rely upon other Dharma Protectors, but clearly stated that now is the time to rely upon Dorje Shugden. Many high Lamas of the Sakya tradition and many Sakya monasteries have relied sincerely upon Dorje Shugden.
In recent years the person most responsible for propagating the practice of Dorje Shugden was the late Trijang Dorjechang, the root Guru of many Gelugpa practitioners from humble novices to the highest Lamas. He encouraged all his disciples to rely upon Dorje Shugden and gave Dorje Shugdän empowerments many times.
Even in his old age, so as to prevent the practice of Dorje Shugdän from degenerating he wrote an extensive text entitled Symphony Delighting an Ocean of Conquerors, which is a commentary to Tagpo Kelsang Khädrub Rinpoche's praise of Dorje Shugden called Infinite Aeons.
(Source: http://www.wisdombuddhadorjeshugden.org/dorjeshugden-about.php)
MORE GREAT ARTICLES:

Beautiful photographs and video footage of snowy Tibetan landscape scenes and the rich Tibetan culture
and people. This photo/video montage is accompanied by Tara's beautiful mantra and
ends with a lovely dedication.
View video on YouTube: http://www.youtube.com/watch?v=cj5ybSE2qhU
View the video on YouTube: http://www.youtube.com/watch?v=7XdiRw7sQjo
Tibetan spiritual leader Dalai Lama offered prayers in Dharamsala to mark the 51st anniversary
of Tibetans' aborted uprising against the Chinese rulers….
Video 2
View the video on YouTube: http://www.youtube.com/watch?v=MkCOyqgUkaY
SFT Kolkata organised a Candle Light Vigil on this day to commemorate the Uprising and to
stand in solidarity with the 6 million people of Tibet.
Video 3
View the video on YouTube: http://www.youtube.com/watch?v=_mZEgu8bt8k
51st Anniversary of Tibet Uprising, 10th March 2010 in Dublin
Video 4
View the video on YouTube: http://www.youtube.com/watch?v=2jIA_jNuq8Q
March 10, 2010 march to the Chinese Embassy in NYC as seen by Tenzin Loden Gyaldrong
MORE GREAT VIDEOS:

View the original video on YouTube: http://www.youtube.com/watch?v=gvZlkSYiwjo
The China sanctioned Panchen Lama pictured with Dorje Shugden as his backdrop is the
direct result of H.H. the Dalai Lama's ban and therefore fulfilling the prophecies that Dorje
Shugden will become the overlord of all dharma protectors during this kaliyuga period. He
will replace Nechung as the king of the emanated worldly protectors. While Nechung will
'retire' to a Buddha field due to his services. The Dalai Lama is creating the causes for all of
this to manifest.
MORE GREAT VIDEOS:
View the video on YouTube:http://www.youtube.com/watch?v=vVWijumtZSI
The Dalai Lama was enthroned age 5 in Lhasa Tibet in February 1940. Since then there has
been 68 years of unelected rule in which the Tibetan (and since 1959 the Tibetan exile
community) has had ONE political and religious leader whose decisions can never be
questioned.
MORE GREAT VIDEOS:

View the video on YouTube: http://www.youtube.com/watch?v=EQQLVqyLD2Y
The Dalai Lama urges Tibetans not to disrupt the Olympic torch relay in Tibet. Many people
attended Dalai Lama's talk as a group of protesters from around the world gathered outside
the hall.
MORE GREAT VIDEOS:

View the video on YouTube:http://www.youtube.com/watch?v=Uvwqnhjl8h4
CCTV blames Dalai Lama, saying he is behind the Tibet protests. Professor Robert
Thurman responded that Dalai Lama was surprised and was not involved in the
demonstration by young activists. Monks from Drepung monastery were caught innocently
while on their way to the monastery for a celebration.
MORE GREAT VIDEOS:

View the video on YouTube: http://www.youtube.com/watch?v=URh5szppPxk
Tibet's Spiritual Leader, the Dalai Lama, sits down with CNN's Sara Sidner and discusses
China, Tibetan autonomy and more.
MORE GREAT VIDEOS:

View the original video on YouTube: http://www.youtube.com/watch?v=3CvKLJmd_U8
News coverage of protests by Dorje Shugden practitioners over the ban the Dalai Lama has
placed on the practice. Is this ban about the hypocrisy of Dalai Lama? What is he lying about?
What this video.
MORE GREAT VIDEOS:

View the original video on YouTube: http://www.youtube.com/watch?v=049hESiYrbQ
A CNN video explains how the Dalai Lama relies on spirit oracles for political advice on Tibet and China,
for instance, with the State Oracle of Tibet in Dharamsala.
Dalai Lama asks Spirit Nechung for Political Advice
View the original video on YouTube: http://www.youtube.com/watch?v=049hESiYrbQ
Nechung's advice on Tibetan affairs has been sough by HH Dalai Lama for hundreds of years.
MORE GREAT VIDEOS:

Amazing video of Dorje Shugden's shrine and holy chants, long horns, and other offerings of sound. Must watch this video!
In 1622, the First Panchen Lama Lobsang Chokyi Gyeltsen recognized the boy to be the incarnation of Yonten Gyatso, the Third Dalai Lama, along with further confirmations from Protectors. The Panchen Lama gave him the name Lobsang Gyatso but the recognition was plagued with controversy. Even before the recognition, the boy had also been unsuccessfully recognized to be the reincarnation of a Kagyu Lama, the Fourth Tsurpu Gyaltsap Dragpa Dondrup.
Due to pressures by the Tsang Empire, Panchen Lama had to make great efforts to please the Tsangpa governor so arrangements could be made to bring the Fifth Dalai Lama to Drepung Monastery. At Drepung, the young boy was in competition for the position of Dalai Lama with another candidate, who was later identified as the incarnation of Panchen Sonam Dragpa, Tulku Drakpa Gyeltsen. In the end, the young Lobsang Gyatso was finally enthroned at Ganden Phodrang in Drepung Monastery at the age of six.
Lobsang Gyatso received his full monastic ordination in 1638. Lingme Shapdrung and the First Panchen Lama were the monastic preceptors and bestowed upon him the name Ngagi Wangchuk. The Fifth Dalai Lama studied at the feet of many leading Lamas of his day. He also began his monastic studies with his tutors, Lingme Shapdrung Konchok Chopel and the First Panchen Lama, in Prajnaparamita, Madhyamaka, Vinaya and Abhidharma.
He also trained in grammar and poetics, astrology and divination, and related topics, with Mondro Pandita. His accomplishments are legendary as he continues to be considered a significant lineage holder by the Nyingmapas. He trained with the lineage holders of the Changter and Zur tradition of the Kama. His own family also maintained good relations with the Drukpa Kagyu via his cousin Pagsam Wangpo, who was recognized as the Fifth Gyalwang Drukpa.
In 1637, Gushri Khan marched into Tibet with a contingent of 800 soldiers, purportedly on a pilgrimage but most likely to assert political control over Tibet. This was not unusual as the Mongols tribes were fragmented and various tribal leaders sought to reestablish the ideal patron-priest model created by Kubilai Khan and Chogyal Pagpa in the 13th century. It seems that Gushri's incursion into Tibet was at the invitation of Sonam Chopel, the Fourth Dalai Lama's treasurer and was part of his covert mission to find a Mongol ally in the Gelug struggle against the Tsang forces who were Kagyupas.
In the Fifth Dalai Lama's autobiography, not long after Tulku Dragpa Gyaltsen's death Nechung possessed an oracle and told the Fifth Dalai Lama that there were disturbances in the teahouse. True enough, the Fifth Dalai Lama had visions of a monkey about eight years old appearing. Then, the Great Protector told him to go far away from where Tulku's body was being cremated, and so he went to the Potala Palace where he engaged in purification practices. While he had hoped for signs that the trouble was over, he continued to receive disturbing dreams of a monk who became an animal and other inauspicious signs. This may indicate that he was already aware at this point of foul play associated with the regent and that he was feeling guilty by his association with the regent.
Actually, the Fifth Dalai Lama's apology and recognition of Dorje Shugden as the reincarnation of Tulku Dragpa Gyaltsen, is not clearly mentioned in his autobiography. This is only more clearly elucidated in later years by other highly attained lamas. However, accounts of the Fifth Dalai Lama attempting to subdue or destroy Dorje Shugden through various rituals and the building of shrines are found in writings of both Dorje Shugden detractors and proponents, as well as in the Great Fifth's own autobiography. Other events associated to Tulku Dragpa Gyeltsen remain obscure or even completely omitted from his biography.
According to the White Conch Dictionary, the Fifth Dalai Lama later founded Trode Khangsar, which was on the south side of old Lhasa as a Dorje Shugden shrine. Trode Khangsar was taken care of by monks of Riwo Choling Monastery of Lhoka in Southern Tibet. There was a caretaker from Riwo Choling that performed regular propitiation service and a Dorje Shugden oracle was even established there. Morchen Kunga Lhundrup, who contributed to the first major Dorje Shugden rituals, mentions Trode Khangsar in his autobiography so it was clear that Trode Khangsar existed and was founded since the time of the Great Fifth. On the east side near the outer gate of Trode Khangsar was a smaller shrine, Monkyi Khangsar where Kache Marpo was invoked. It is interesting to note that among the Great Fifth's prolific works, is also a propitiation to Kache Marpo, the principal attendant to Dorje Shugden.
The Dalai Lama spent the next several decades consolidating power, a process that involved the construction of the Potala Palace, a declaration of himself as the emanation of the Bodhisattva Avalokitesvara (the patron protector of Tibet), a state visit to Beijing, and the invocation of the Golden Age of the Tibetan Empire by tracing his previous incarnations to King Songtsen Gampo. The Dalai Lama continued to consolidate his power through the removal of all remaining rivals by suppressing the Jonang tradition and by forcing the Karma Kagyu to return Gelug Monasteries that were converted into Karma Kagyu during the reign of the Tsangpa Kings. It was known that many Kagyu institutions converted to the Gelugpa lineage during that time.
Under the Fifth Dalai Lama, the city of Lhasa flourished. Foreign traders and intellectuals came in droves to the city that acted as a confluence of the arts, medicine, and architecture. He established a wide infrastructure of taxation and administration for both secular governance and religious governance of the monasteries. He was also a prolific writer, with his written works spanning histories and religious commentaries, which are all collected into a collection of more than thirty large volumes.
The Fifth Dalai Lama's death was famously hidden under a shroud of mystery. In 1682, Desi Sangye Gyatso concealed the knowledge of the Dalai Lama's passing for 15 years. In the meantime, he himself continued to consolidate Gelug power of Tibet, and had the Dalai Lama's remains mummified and entombed. He also searched and found the incarnation so that within the same year that the death was announced, the 15-year-old Sixth Dalai Lama could be immediately enthroned.
MORE GREAT BIOGRAPHIES:

View the original video on YouTube: http://www.youtube.com/watch?v=QNQpCACYim8
This is a short clip from Penn and Teller about the state department documents that
reveal the details about money the Dalai Lama received from CIA.
Footages in Tibet of the CIA training site, the first firearms drop, interviews with guerrilla trainees…
View the original video on YouTube:: http://www.youtube.com/watch?v=W5_TP6xVTsc
Interesting historical documentary featuring footage and rare black and white photos of CIA training of Tibetan guerrillas,
interviews with CIA trainers and Tibetan trainees
View the original video on YouTube: http://www.youtube.com/watch?v=PvWn6oLXUco
Webster Tarpley debunks some of the myths about Tibet and the Dalai Lama on Russia Today.
Precious video footage of Dalai Lama and Panchen Lama's trip to China meeting Mao